Leftover cupcakes or cake? No problem! This easy summer Berries and Cream Trifle is filled with layers of liqueur-soaked cake, plenty of fresh berries of the season and a light mascarpone cream. The perfect refreshing dessert during the hot summer months ahead.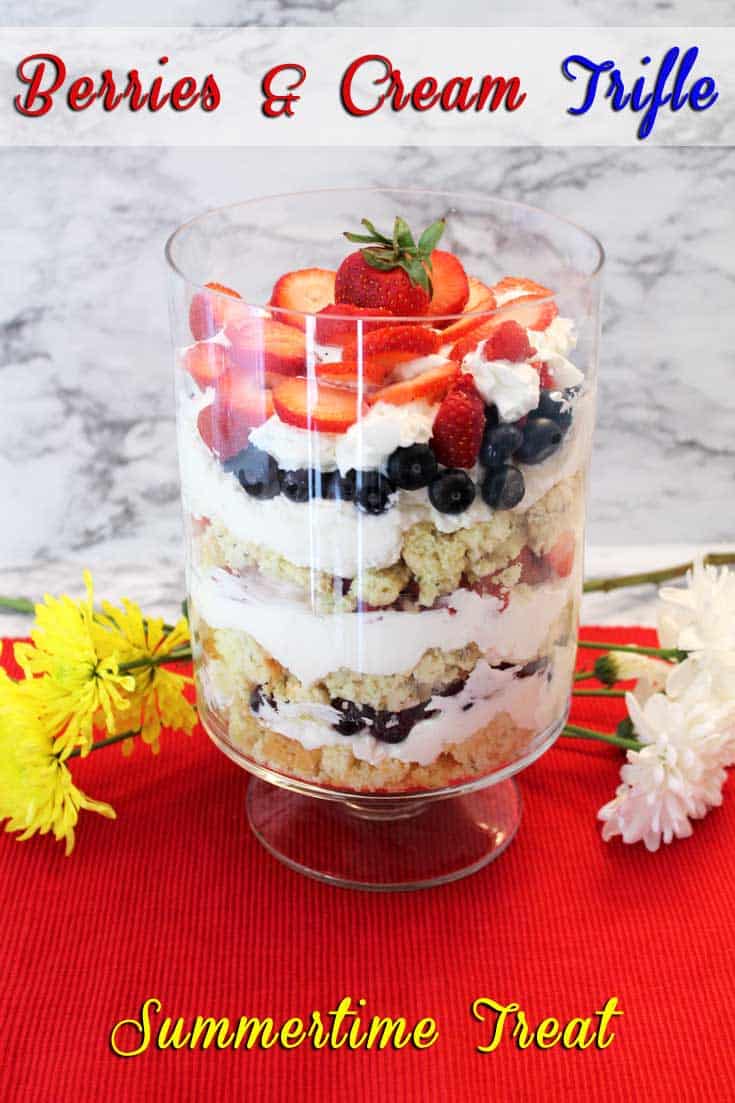 It's not often but sometimes I have leftover cupcakes or cake and I want to do something different with it. After all, with only two people in the house you can get tired of the same old, same old, really fast. Enter this easy & delicious trifle.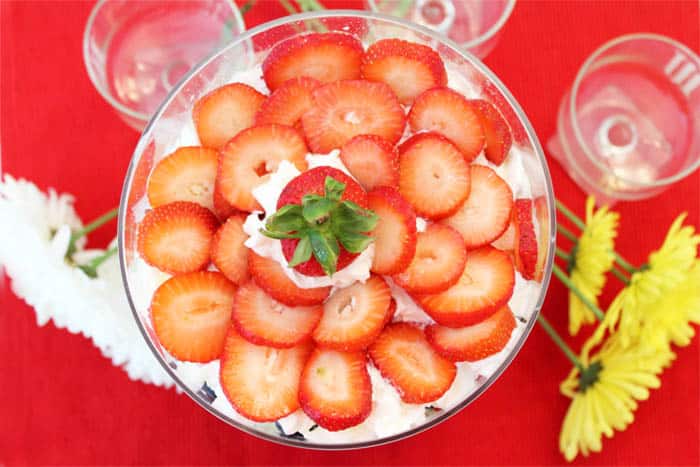 It's summertime, well it has been for a while in Florida, and berries are on special all over the grocery stores now. They all look so juicy and good and perfect for this refreshing summertime dessert.
I like to use strawberries and blueberries, as I did in my single-sized Strawberry Shortcakes or healthy Blueberry Crepes, in my fruit desserts but blackberries and raspberries would work just as well. 'Cause really, what fruit doesn't go well with cream cheese and whipped cream. Right?!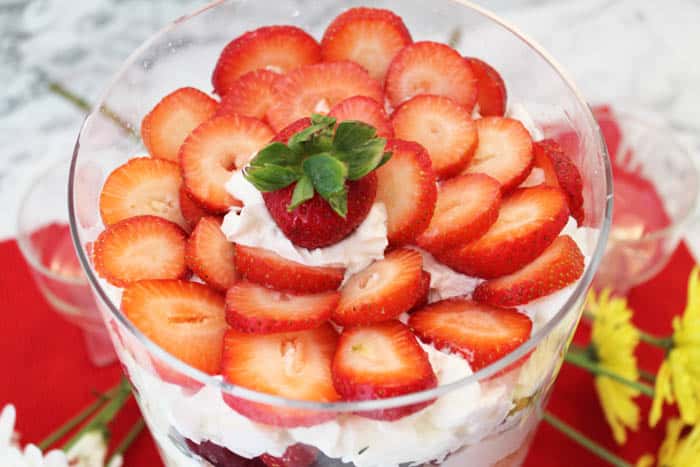 There are many variations in light creams you can use in a trifle but I chose a combination of mascarpone cheese and cream cheese with a little sugar and vanilla to complement my berries.  Mascarpone can be very expensive and there really isn't any need to use just that cheese to make this dessert taste awesome. Mix with some Cool Whip and it turns into a light, creamy mixture that is not too heavy in the hot summer weather.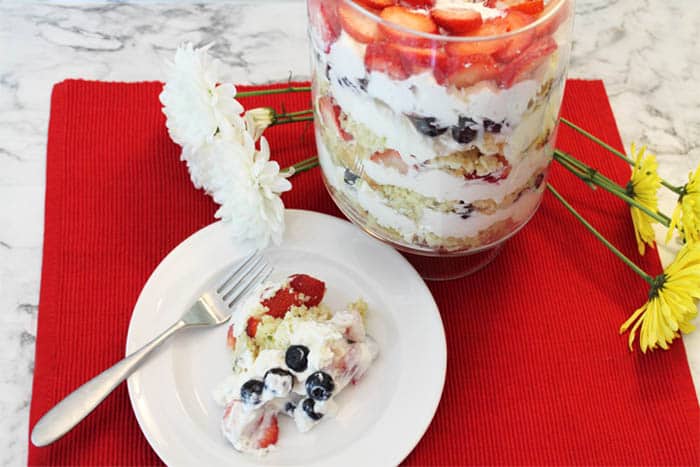 If your cupcakes or cake are stale or if you just want the extra flavor (yep, go ahead and do it) soak them with a little liqueur. I used a new one on the market called Stroopwafel. It is a caramel and vanilla flavored liqueur that tastes like the Stroopwafels from the Netherlands. If you're like me, you had no idea what they were, so I looked it up. A Stroopwafel is a waffle made from two thin layers of baked dough with a caramel-like syrup filling in the middle. Sounded good to me!
Now comes the fun part! It's just a matter of layering the cake soaked in Stroopwafel liqueur, or your favorite liqueur, berries, mascarpone cream mixture and repeat all the layers several times. Top with whipped cream and decorate with a "berry" pretty pattern on top. (Sorry, couldn't help myself 🙂 )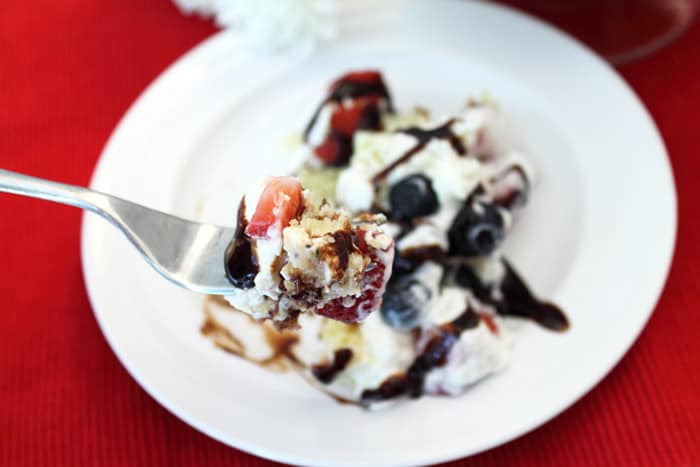 Voila! One beautiful, light and simply delicious dessert. Make it for a special occasion or for a patriotic dessert for the upcoming holidays.
Hope you have a safe & memorable Memorial Day! Take the time to remember and honor all those that gave their lives to make our country a great and free nation.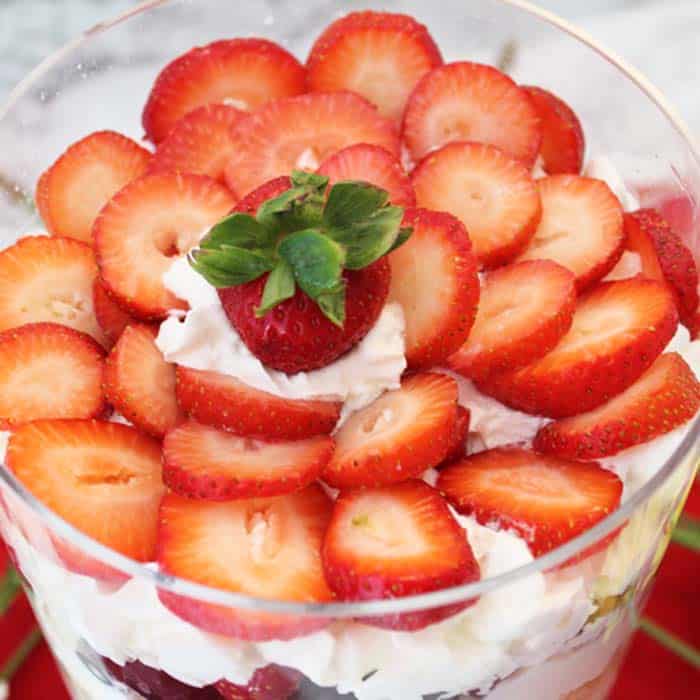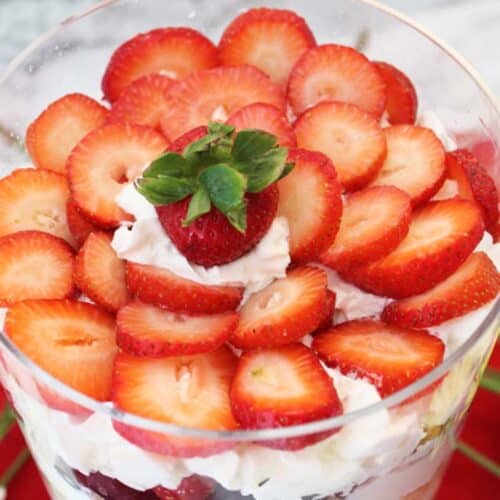 SUMMER BERRIES & CREAM TRIFLE
This easy summer Berries and Cream Trifle is filled with layers of cake, fresh berries & a light mascarpone cream. The perfect dessert for summer.
Ingredients
1

cup

mascarpone

1

cup

cream cheese

2/3

cup

sugar

1/3

cup

Stroopwafel

or other flavored liqueur

2

cups

Cool Whip

Leftover cupcakes, cut up

(I used about 7 or 8 or any vanilla flavored cake)

3

Tablespoons

Stroopwafel

or other flavored liqueur

1

pint

blueberries

1

pint

strawberries,

cut up + additional sliced ones for topping

Whipped cream
Directions
In a large mixing bowl, combine mascarpone, cream cheese and whip until smooth. Add sugar and liqueur and beat again until smooth.

Fold in Cool Whip.

In a large trifle dish, place 1/3 of the cut-up cupcakes/cake in bottom. Drizzle with 1 tablespoon liqueur.

Place 1/2 of the blueberries over cake layer.

Spoon 1/3 of cream on top of berries.

Repeat with another layer of cake with a drizzle of liqueur and strawberries.

Repeat cream and both berry layers again.

Just prior to serving, finish with a topping of whipped cream and a design with the sliced strawberries.

Chill.
DON'T MISS A RECIPE!