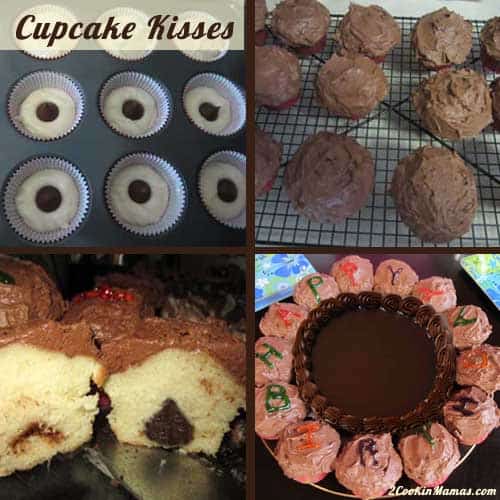 My daughter's birthday was around the corner and I wanted to make her favorite cheesecake but I wanted to make something my young grandson and his friends that were coming to the party would also enjoy. So I decided to make the little ones, who always love chocolate, cupcakes with a hidden kiss inside.  They were a huge hit and they loved the surprise kiss inside. As you can see I even managed to write out each of the letters of Happy Birthday on the cupcakes. Easy to make, easy clean up and delicious too! By the way, the cheesecake with ganache on top was a hit with the grown-ups too! (recipe coming soon)
Cupcake Kisses with Chocolate Buttercream Frosting
Ingredients:
Cupcakes
White Boxed Cake Mix (I used Pillsbury Moist Supreme Classic White Cake Mix with pudding in the mix)
1 cup water
⅓ cup canola or vegetable oil
3 eggs
18-24 Hershey's KISSES (use milk chocolate for kids and dark chocolate for adults)
Chocolate Buttercream Frosting
1 cup unsalted butter (do not substitute salted), room temperature
3 cups confectioner's sugar
1 Tablespoon vanilla extract
dash of salt
½ cup unsweetened cocoa powder
3 Tablespoons heavy cream
Directions:
Cupcakes
Preheat oven to 350 degrees. Spray cupcake pan (try the Wilton Nonstick Muffin Pan) with Pam or line with paper cupcake liners.
Follow directions on cake box for preparing cupcake batter. Fill each cupcake pan ½ way, place kiss on top then fill the rest of the way to top.
Bake in oven for 18-22 minutes. Remove to wire rack and let cool for 10 minutes before removing from pan. Let cool completely on wire rack before frosting.
Chocolate Buttercream Frosting
Beat butter for a few minutes until creamy, turn down mixer, and slowly add confectioner's sugar until thoroughly mixed. Increase mixer speed and add vanilla, salt, cocoa powder and heavy cream and beat for an additional 3 minutes.
Note: If icing is too thick you can add a little milk and if too thin add a little more confectioner's sugar.
Frost cupcakes and enjoy!
Makes 16 cupcakes.