This Chocolate Raspberry Dessert Sushi Roll is unlike anything you've ever had! It's not really sushi but a rich, light as air chocolate cake filled with cheesecake filling and stuffed with raspberries. It's decadent, delicious & show-stopping! Perfect for Valentine's Day, Christmas or your next party.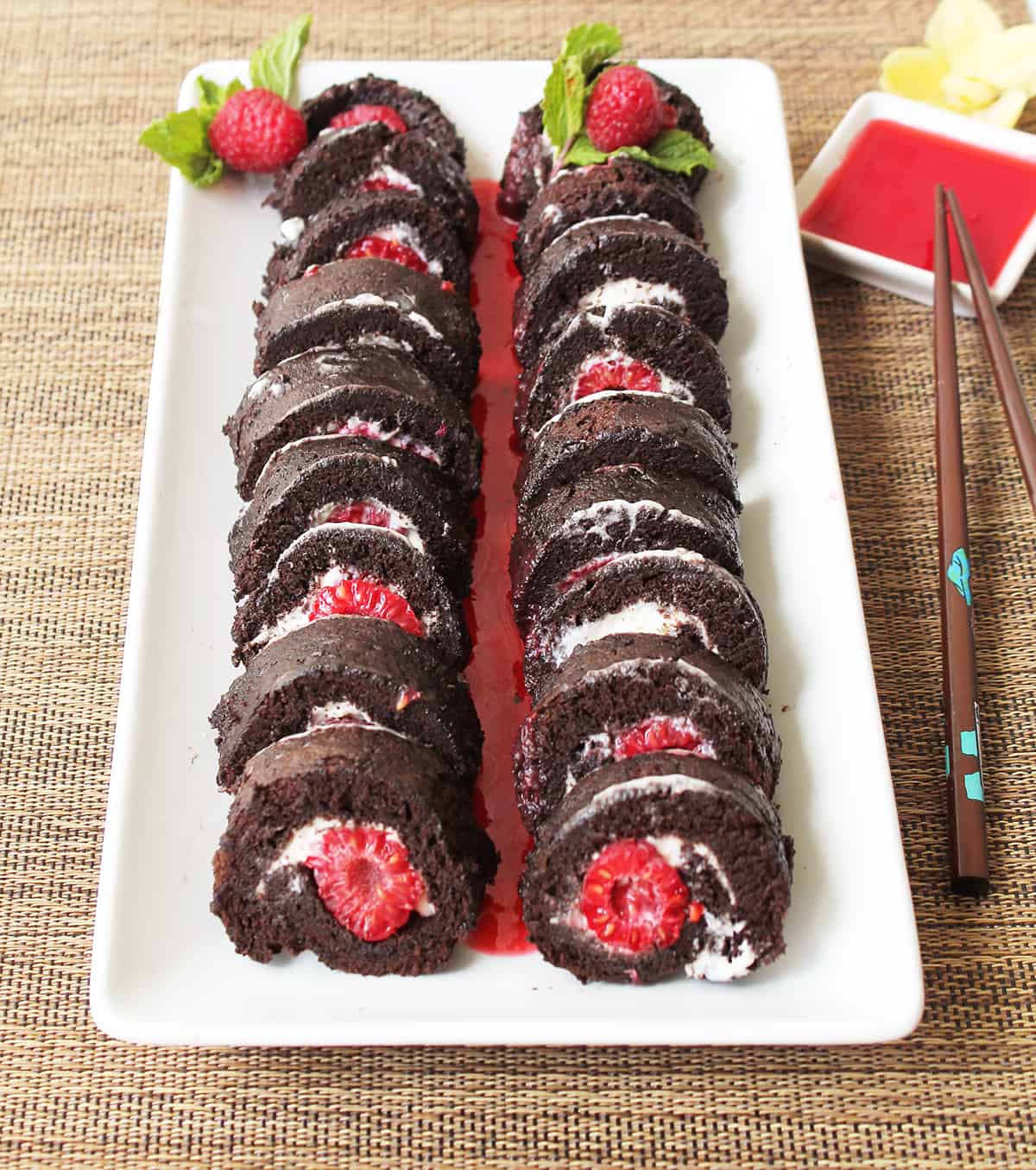 I know, you're probably thinking "sushi as dessert?" but this fruit sushi is totally amazing! I mean, not only does it remind me of one of my favorite meals, sushi, but it's delicious and fun to make too! And it combines two of my favorite flavors - chocolate and raspberries!
I love raspberries! You can tell by my abundance of recipes containing this luscious and healthy fruit. Recipes like Raspberry Smoothies, Raspberry Iced Tea, Raspberry Lemonade Popsicles and this Chocolate Raspberry Dessert. And don't get me started on chocolate! Combined with this raspberry sauce, well, it's the be all and end all of sensational flavor! Try it with my Chocolate Torte and Molten Chocolate Cupcakes and see if you don't agree.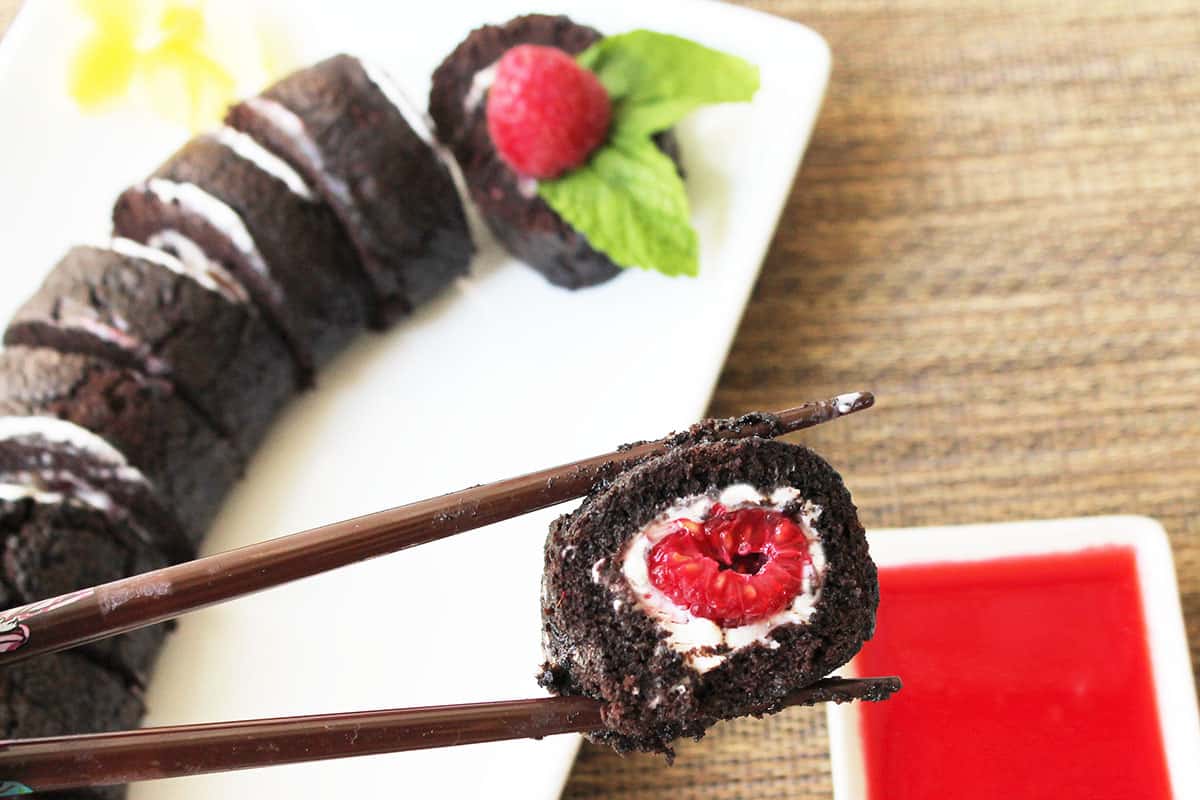 Facts about raspberries
Did you know they were one of the most consumed berries in the world? Yep, everyone knows they are nature's candy and oh so much better for you than all that sugary processed stuff. Eating more berries and other plant foods is a great way to improve your health too. Just look at the benefits:
1 cup has only 64 calories, 1.5 grams protein, only .8 grams fat, and 15 grams of carbohydrates, 8 of which are fiber.
Excellent source of antioxidants & polyphenols which decrease damage from free radicals reducing the risk of cancer and heart disease.
Contains large quantities of Vitamin C (1 cup has 54% of your RDA) and manganese as well as Vitamins E & K, folate, iron, and potassium.
High amounts of flavenoids have proven to help keep memory sharp.
Overall, berries & other plant foods can help decrease the incidences of diabetes and obesity, increase energy, and aid in weight loss.
Dessert that looks like sushi
Dessert is always something I make when I'm expecting company. So I thought it would be fun to make one that was a little something different, one that would be remembered by all. And what could be more fun than a dessert that looks like sushi? And serve it with chopsticks! Believe me, this Chocolate Raspberry Cake Roll is a showstopper!
It's an easy recipe with just a few extra steps to create that sushi illusion. A light as air cake is made on a sheet pan so it is thin and easy to roll up. Then a creamy no-bake cheesecake filling is spread on top with a line of raspberries for the center. Roll, slice and serve! Sounds like fun, right?! Just check out the few tips below that will help make this the easiest chocolate sushi roll you've ever made.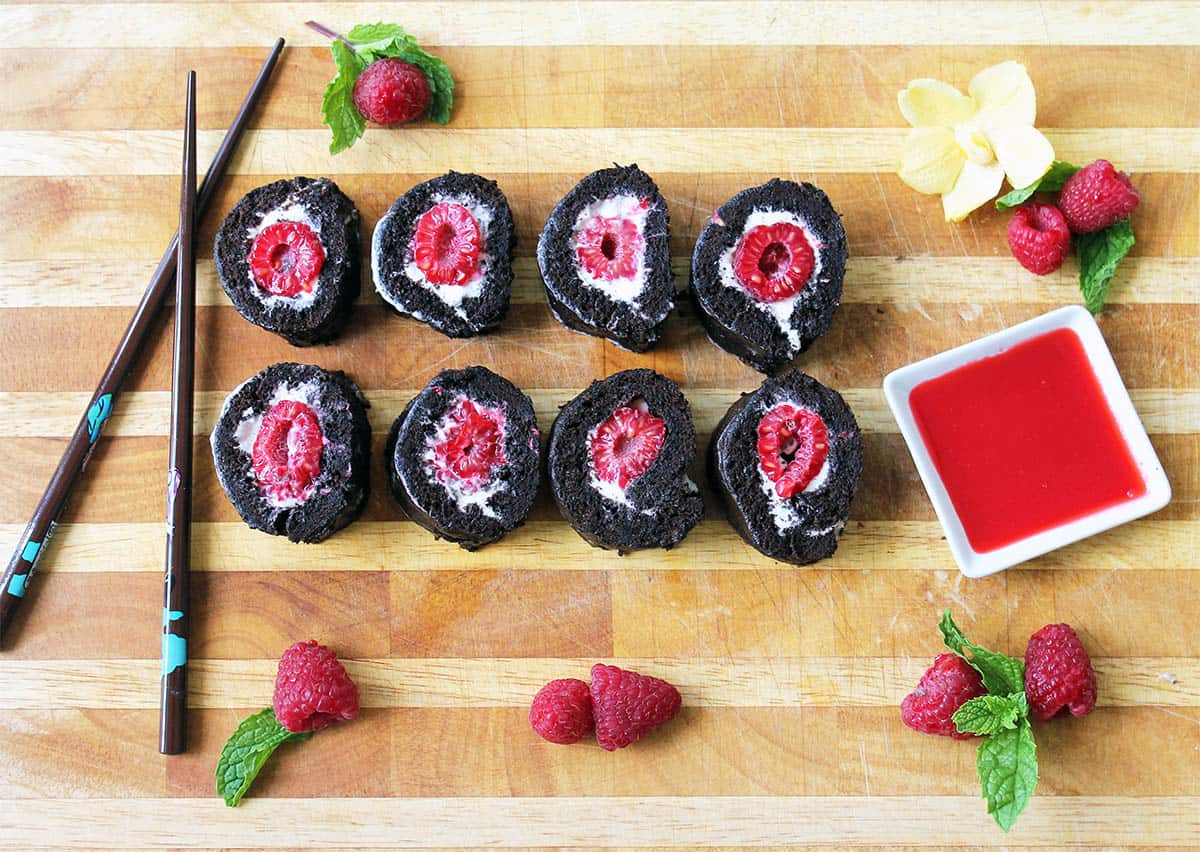 Tips and variations
What is a roll cake?
A roll cake, otherwise known as a Swiss roll, cream roll or roulade, is a sponge cake that is filled with whipped cream, jam or frosting then rolled into a log.
How do I roll a cake and keep it from cracking?
Make the cake thin by baking it on a sheet pan then roll up immediately after taking it out of the oven. Use a linen towel sprinkled with powdered sugar to prevent it from sticking. Keep it rolled until cool and ready to fill.
Can I make this without making a cake from scratch?
Most definitely! You can use a chocolate boxed cake mix, Duncan HInes15.25-oz size works well. Beat 3 eggs, beaten until soft peaks form, then combine with cake mix, ½ cup water and ¼ cup vegetable oil. Bake at 375 for 14-16 minutes. Test with toothpick for doneness.
What other flavors can I make?
There are as many combinations as your imagination conjures up. Try a lemon cake with an almond cream or raspberry filling or maybe stay with chocolate and fill it with a caramel or peanut butter frosting. Of course, vanilla cake is always a good option and goes with any flavored filling from strawberry to lemon custard to chocolate cream.
How to make Chocolate Raspberry Cake Roll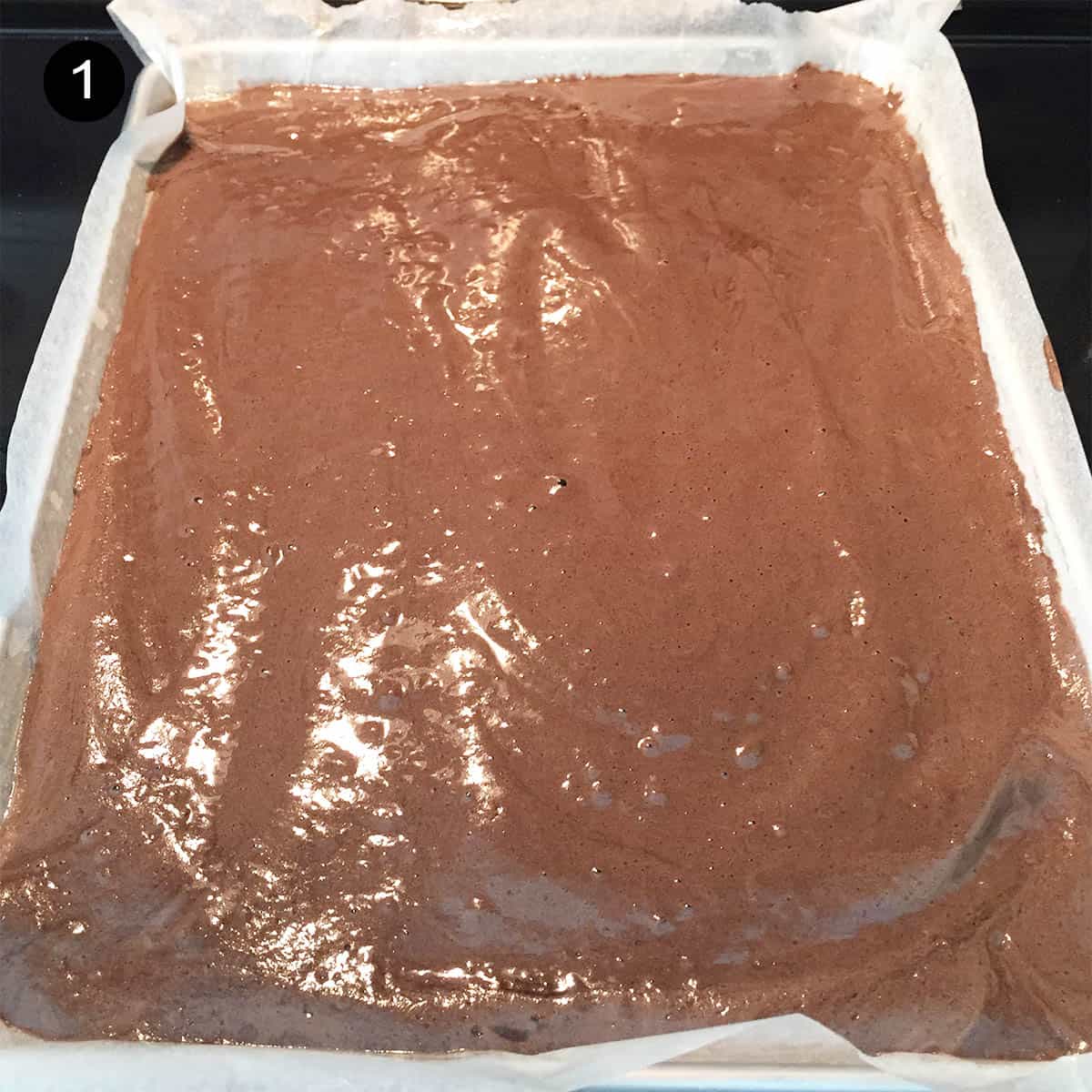 Mix batter and fold in egg whites. Pour into a sheet pan that has been sprayed with nonstick spray and lined with parchment paper that has also been sprayed. When lining the pan, you want the parchment to hang over the edges to give you something to grasp to help you remove it when it's done. (photo 1)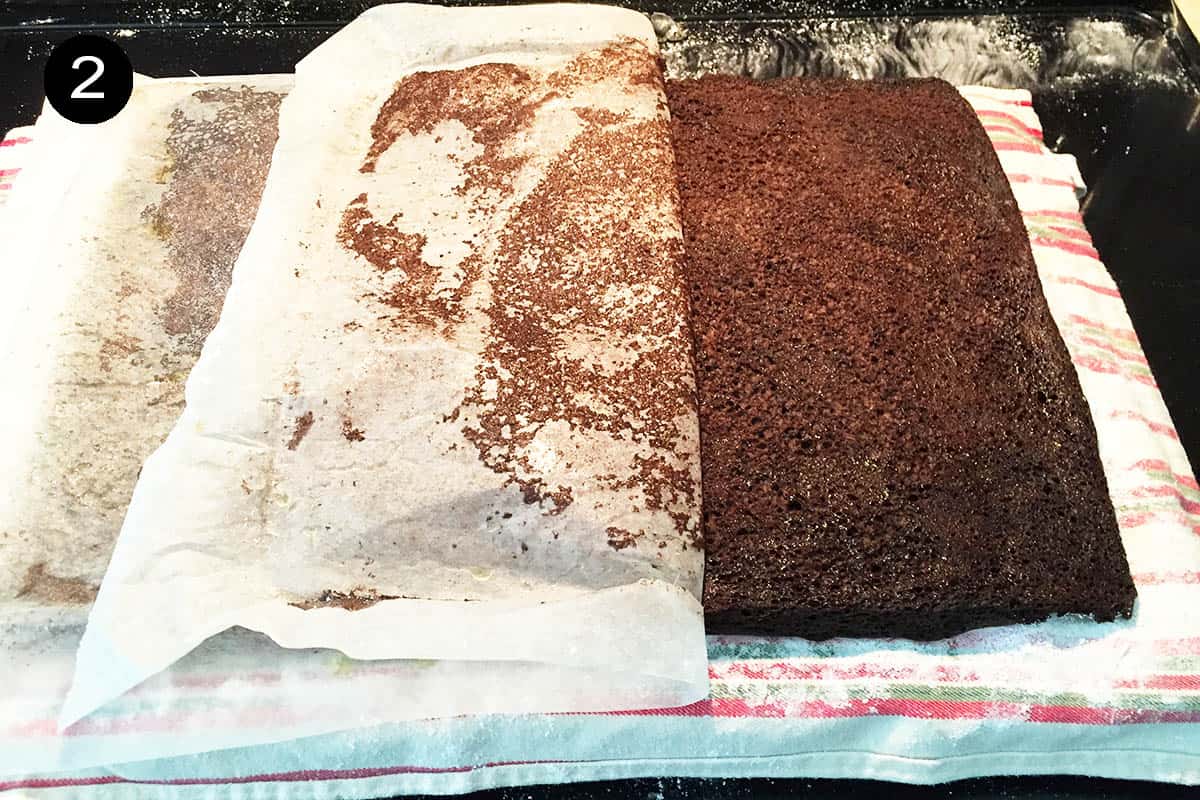 To make the cake easy to roll, sprinkle a linen towel with powdered sugar. When cake is done, lay the towel over the cake, place another sheet pan or a wooden cutting board over the towel then flip carefully. Peel off parchment paper. (photo 2)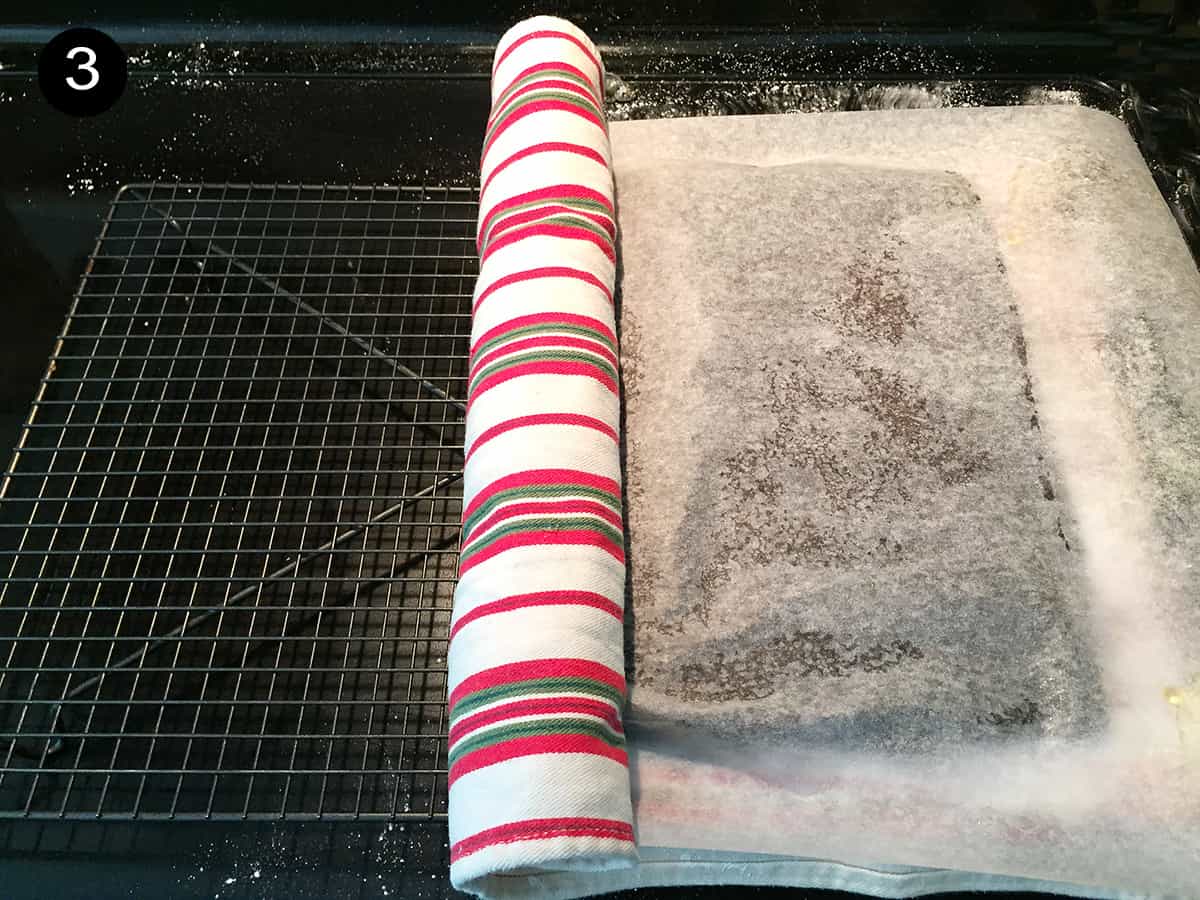 Prepare a clean piece of parchment paper, spray with nonstick spray and lay the sprayed side over the cake. Place the towel over the parchment paper and roll the cake immediately, starting with the narrow end. Yes, the towel and parchment paper will be inside the rolled cake. Place on wire rack to cool. (photo 3)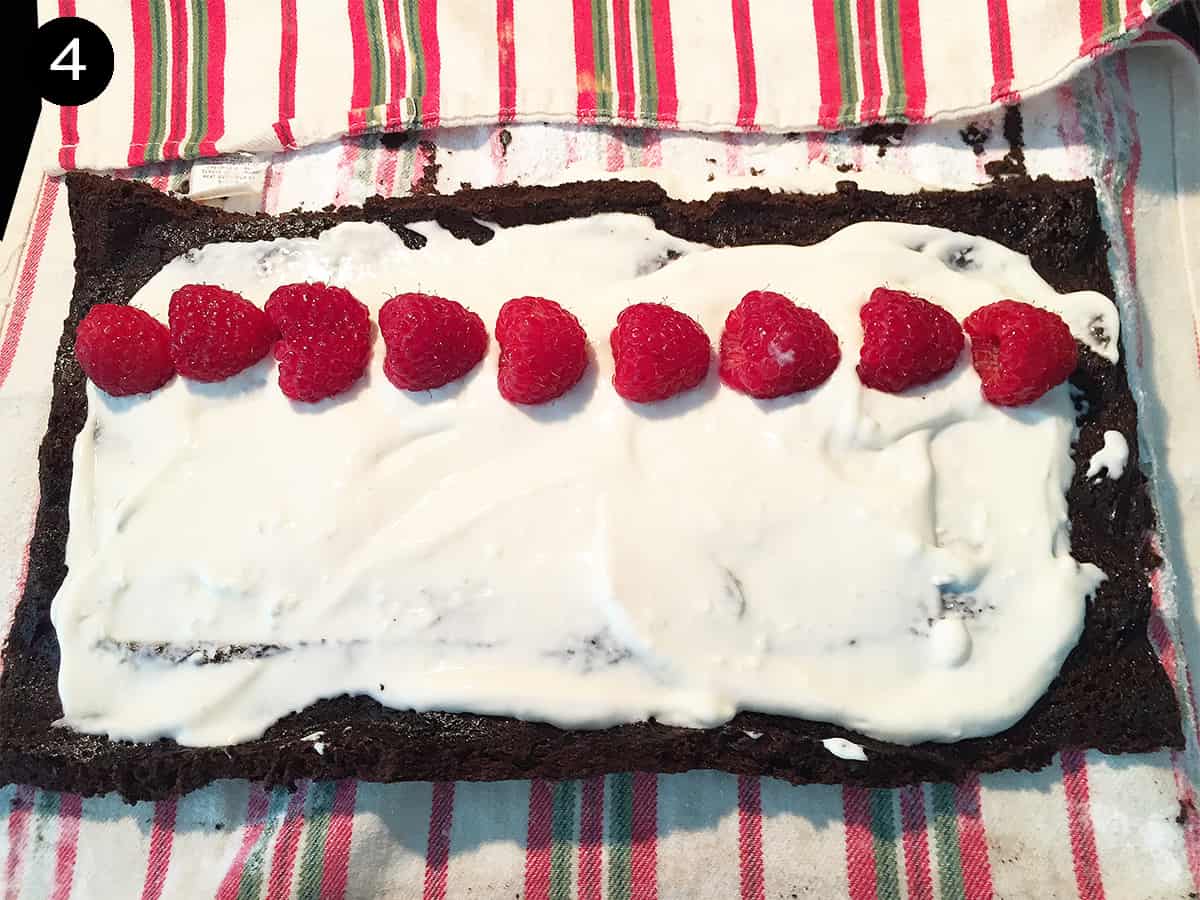 Unroll the cake. Divide into 2 or 3 sections, cutting across the narrow width. I do this to make it more the size of a sushi roll instead of a large Swiss roll. Spread each section with cheesecake filling and lay a row of raspberries close to one end. Reroll the cake, this time using the towel to lift and guide, to make a nice tight roll. DO NOT roll the towel into the cake! (photo 4)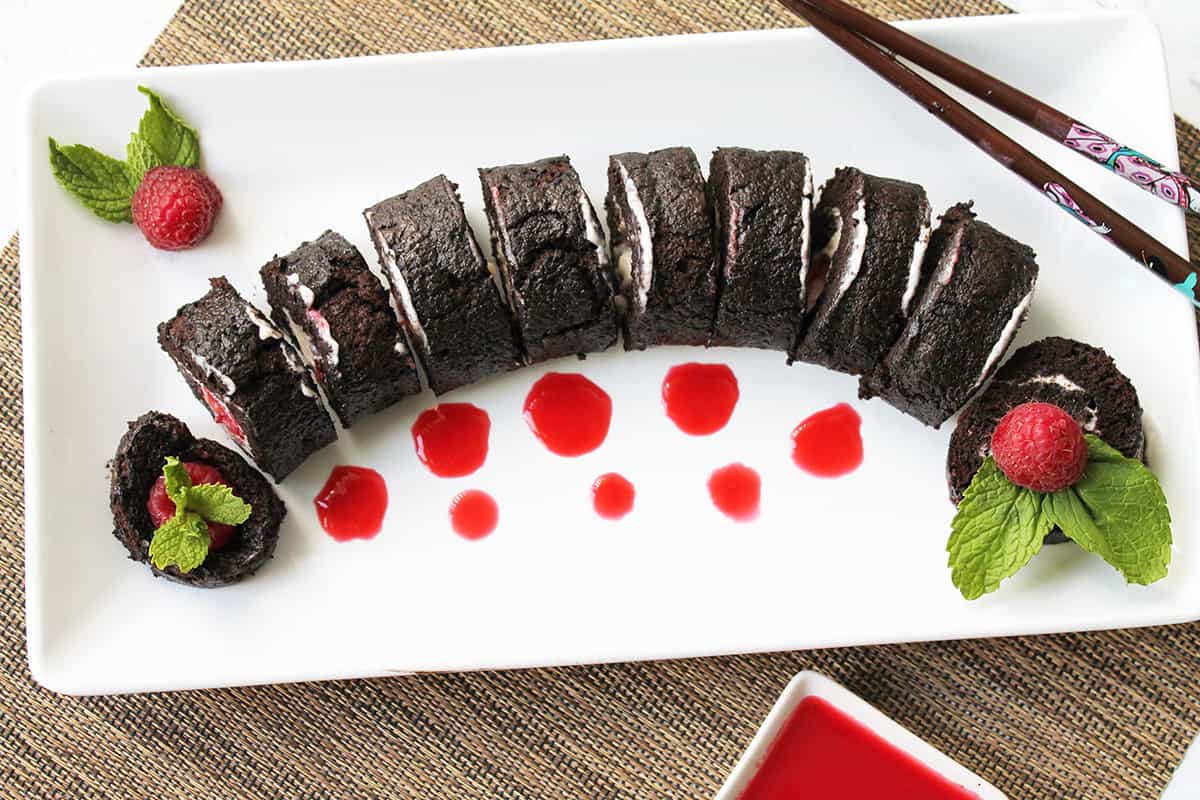 Voila! One gorgeous dessert! And one Chocolate Sushi Recipe that will make a definite impression. A great ice breaker for any get-together or the perfect sweet to share with your sweetheart on Valentine's Day. Be adventurous and eat this sushi dessert with chopsticks or just use your fingers. After all, any way is a good way as long as it gets into your mouth! lol Dip a slice of this chocolate sushi in the raspberry sauce and you'll be saying OMG at the first taste. Enjoy!
More Fruity Desserts
Peach Cobbler with Cake Mix - Three ingredients is all it takes to whip up this summery peach dessert. Eat it warm with a scoop of ice cream on top.
Mini Bundt Strawberry Shortcake - Plump juicy strawberries are sandwiched between light as air mini bundt cakes so you don't have to share!
Summer Berry Trifle - Layers of cake, cream, and your favorite berries make this a spectacular red, white and blue dessert.
Cocktail Cupcakes - Rich chocolate cake topped with raspberry frosting and raspberry cocktail pearls. You have to see this one!
Find lots of fruit dessert recipes here on 2CM!
Love quick & easy recipes? Follow me on Instagram, Facebook and Pinterest for all the latest recipe inspiration! Plus join my

email list

and receive a free e-book.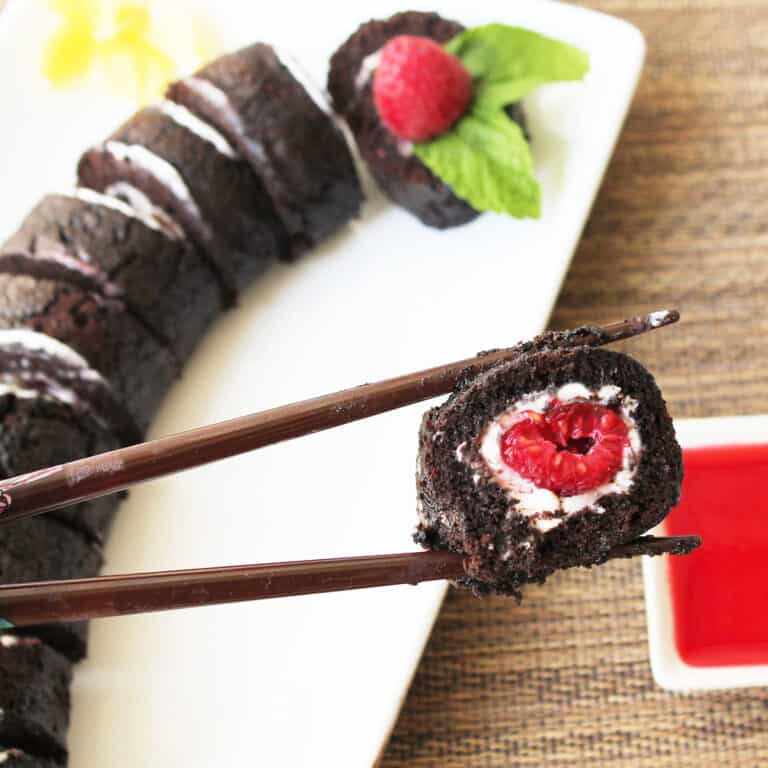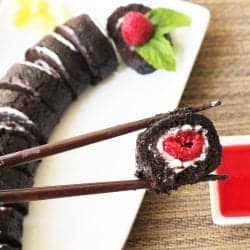 Chocolate Raspberry Dessert Sushi Roll
This raspberry sushi roll is unlike anything you have ever had. Because it's not really sushi but a rich chocolate cake filled with cheesecake filling and raspberries. It's decadent, delicious & show-stopping!
Print
Rate
Ingredients
Cake
4

eggs

separated

½

cup

granulated sugar

⅓

cup

granulated sugar

1

teaspoon

vanilla

½

cup

all-purpose flour

⅓

cup

Hershey's dark chocolate cocoa

½

teaspoon

baking powder

¼

teaspoon

baking soda

⅛

teaspoon

salt

⅓

cup

water

2

Tablespoons

powdered sugar
Cheesecake Filling
4

oz

cream cheese

softened

5

teaspoons

granulated sugar

½

cup

sour cream

1

teaspoon

vanilla extract

4

oz

whipped topping or whipped cream
Raspberry Sauce
1 ½

cups

raspberries

(about 1 pint)

⅛

cup

granulated sugar

1 ½

teaspoons

lemon juice

1

teaspoon

Grand Marnier or Chambord

(optional)

1

pint

raspberries for roll filling

Mint leaves for garnish
Instructions
Cake
Preheat oven to 375 degrees. Spray a large cookie sheet with sides with nonstick spray. Line bottom and sides with parchment paper and spray paper with nonstick spray as well.

In a medium bowl, mix together flour, cocoa, baking powder & soda and salt. Set aside.

In a large bowl, beat the egg whites until soft peaks form. Add ½ cup sugar slowly and continue beating until stiff peaks form. Set aside.

In a large bowl, beat egg yolks with vanilla for 5 minutes, adding remaining ⅓ cup sugar after the first 3 minutes. Add dry ingredients alternately with water and continue to beat until mixture is smooth.

Fold egg whites into chocolate batter and blend well. Pour into prepared pan and spread evenly.

Bake 12-13 minutes or until center of cake springs back when lightly touched. You should also see the cake pulling away slightly from sides of pan.

While cake is baking, spread a linen towel with 2 tablespoons of powdered sugar. When cake is done, remove from oven, place towel over the cake then another cookie sheet. Flip over carefully. Remove parchment paper.

Spray a clean piece of parchment paper with nonstick spray and place over cake, sprayed side down. Roll cake with towel and paper immediately starting from the narrow end. Place on wire rack to cool completely.
Cheesecake filling
While cake is cooling prepare filling.

In a medium bowl beat cream cheese until smooth. Add sugar slowly and beat until well incorporated. Add sour cream and vanilla until just combined.

Fold in whipped topping. Place in refrigerator until ready to use.
Raspberry Sauce
In a small saucepan, place raspberries and crush slightly. Add sugar and lemon juice and bring to boil, stirring often. Reduce heat and continue to simmer for 10 minutes, continuing to stir often. Remove from heat and stir in liqueur if using. Place in sealed jar and refrigerate until ready to serve.
To assemble
Unroll cake carefully. Divide into 2 or 3 section, cutting across the narrow length. I moved my smaller sections to a wooden cutting board to make rolling them easier.

Place roll section flat and cover with cheesecake filling. Place raspberries in a row along long length. Starting from long side, roll into small roll. Move to a platter. Repeat with remaining sections. Cool in refrigerator so cheesecake filling sets.

When ready to serve, remove from refrigerator, Place on cutting board, and using very sharp knife, cut into sushi-sized sections. Serve on platter garnished with raspberries and mint leaves. You can drizzle some sauce over top, make patterns on the platter or serve on the side.

Makes about 30-36 small sushi.
Nutrition
Calories:
339
kcal
|
Carbohydrates:
50
g
|
Protein:
7
g
|
Fat:
14
g
|
Saturated Fat:
7
g
|
Trans Fat:
1
g
|
Cholesterol:
116
mg
|
Sodium:
163
mg
|
Potassium:
306
mg
|
Fiber:
7
g
|
Sugar:
34
g
|
Vitamin A:
523
IU
|
Vitamin C:
22
mg
|
Calcium:
94
mg
|
Iron:
2
mg
This post has been updated with more tips and clearer photos. It was first published on May 20, 2015.