Chocolate Raspberry Cocktail Cupcakes are rich chocolaty cupcakes flavored with raspberry vodka, topped with raspberry buttercream frosting & sprinkled with vodka caviar. It's a cocktail & dessert all in one!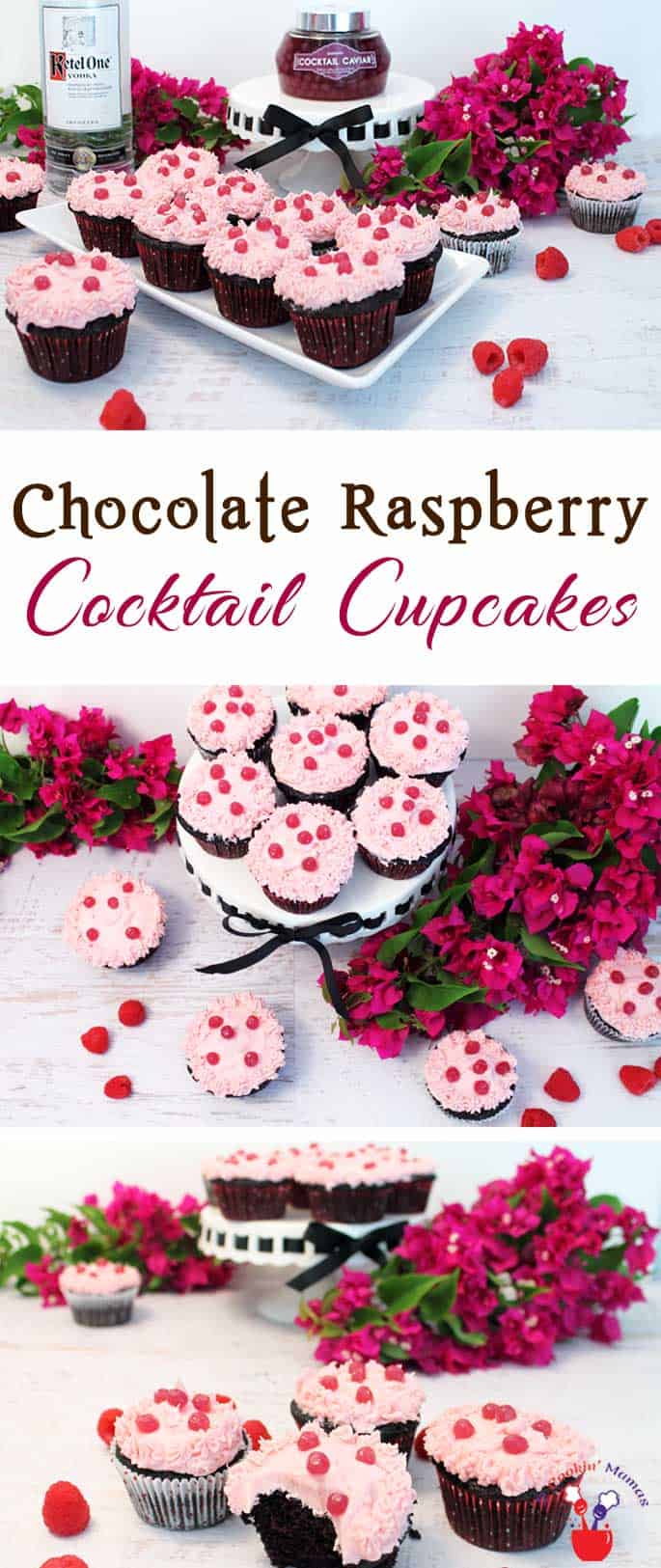 Cocktail cupcakes??? I bet that was your first question as soon as you saw the recipe title. Well, I have to tell you, this recipe has its fair share of vodka, hence the cocktail in the title, and a little cocktail caviar topper too. What!!!???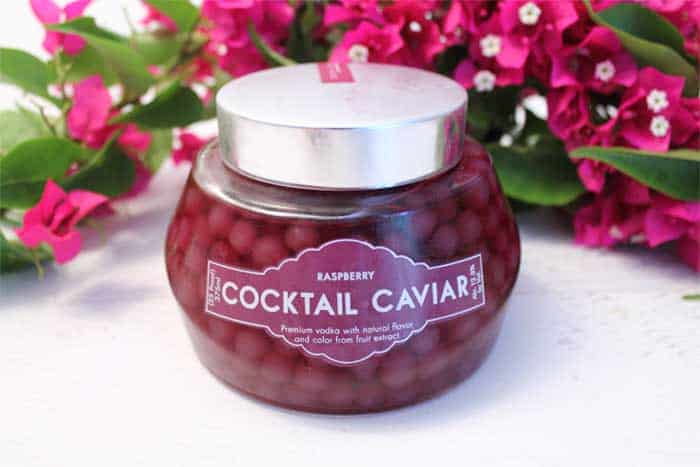 OK, let me start at the beginning. My husband and I were shopping in Total Wine, one of my favorite places to go, and they were demonstrating a new product that day. One of the products was called Cocktail Caviar. It's a pretty intriguing name wouldn't you say? So we just had to stop and hear all about it.
First, we wondered what those little balls we were seeing were made of. The sales woman told us they were balls of pure vodka contained in a shell made of seaweed. Yay for the vodka, not so sure about the seaweed.
She went on to say the company worked long and hard at making a shell that would hold its shape when put in another liquid but would dissolve easily in the mouth. Ummm, OK, seaweed sounded pretty strange but we were game.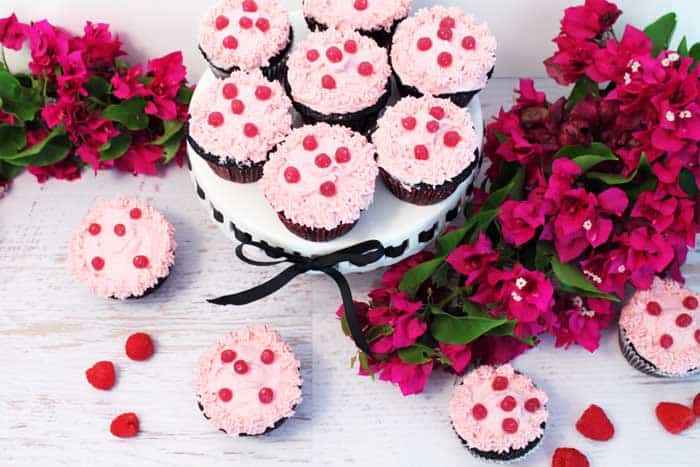 She plopped some of the raspberry flavored caviar in a small glass of champagne and we took a sip, making sure we got a few of the little caviar balls with it. Oh boy, were they ever delish!
There was no taste of seaweed and we got a shot of raspberry vodka as they popped in our mouths along with the fizz from the champagne - yep, we were hooked! We bought one jar for us and an extra jar for our upcoming family vacation. What was the verdict? They were a hit! And we found they pack quite a punch too!
Once I got home, I was determined to find other uses for these little balls of deliciousness. Of course, my first thought was a dessert of some kind. And what goes great with raspberry flavor - chocolate. Duh! So my vodka chocolate raspberry cupcakes were born.
I took my favorite chocolate cupcake recipe and exchanged the water for raspberry vodka. Not having any flavored vodka in the house I decided to make my own.
I muddled about ½ cup raspberries in ½ cup vodka in a small jar and let it sit overnight. It's not as potent as making a flavored vodka you can store, which has to sit for about a week, but it's perfect for this recipe.
You can use it as is with all the raspberry pieces, which I did, or you can strain it before adding to the batter.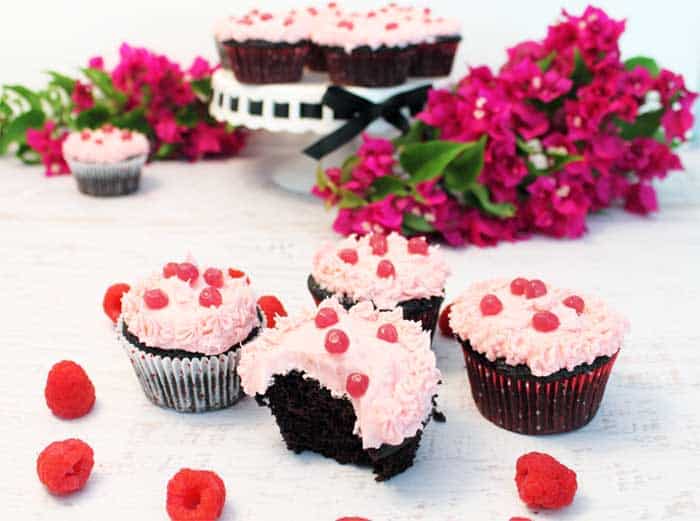 I also slipped in a little Cointreau, like it needed more liquor! And made it even richer by using buttermilk instead of regular milk. They came out surprisingly light, super moist, and full of rich chocolate flavor. In other words, perfectly yummy!
The frosting wasn't even necessary they were so good as is but it was like icing on the cake. (sorry for the pun). I flavored my favorite buttercream icing with more raspberries to complement the raspberries in the cupcake and what came out was a pretty pink cupcake.
Then all I had to do was add my caviar to the top and, voila, Chocolate Raspberry COCKTAIL Cupcakes!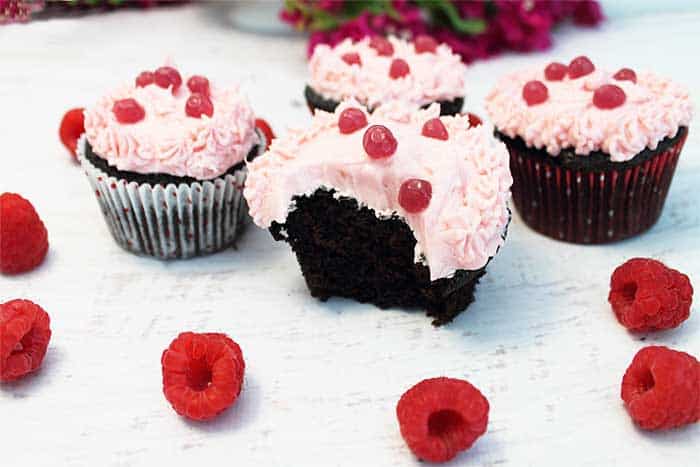 Just a note, I did learn that the caviar has to be added just before serving as the little balls don't hold the vodka when sitting outside of a liquid. Aside from that, the cupcakes were not only delicious but the added little shots of vodka were a fun twist.
I am sure I don't have to tell you that these cupcakes are for adults only. But they're perfect for your next cocktail party, girls night in, Christmas, and Valentine's Day. They are festive and a real conversation starter.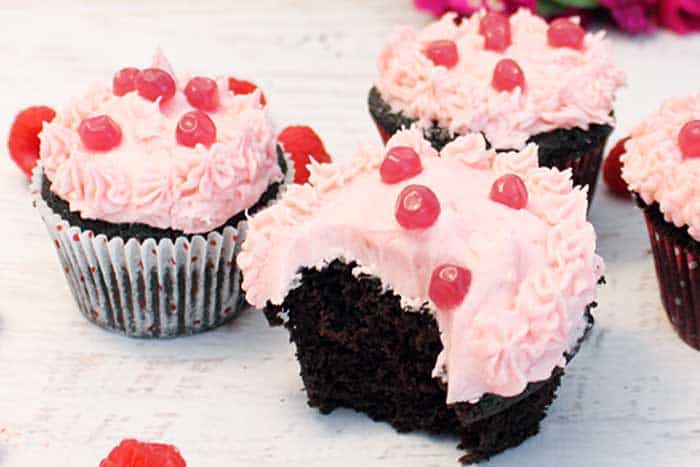 If you love cupcakes but want something for the entire family, you'll love our Chocolate Carrot Cake Cupcakes.
If you love raspberry and chocolate, try my Dessert Sushi with fresh raspberries, moist chocolate cake, and cheesecake filling.
Enjoy & Cheers!
Find lots of easy dessert recipes here on 2CM!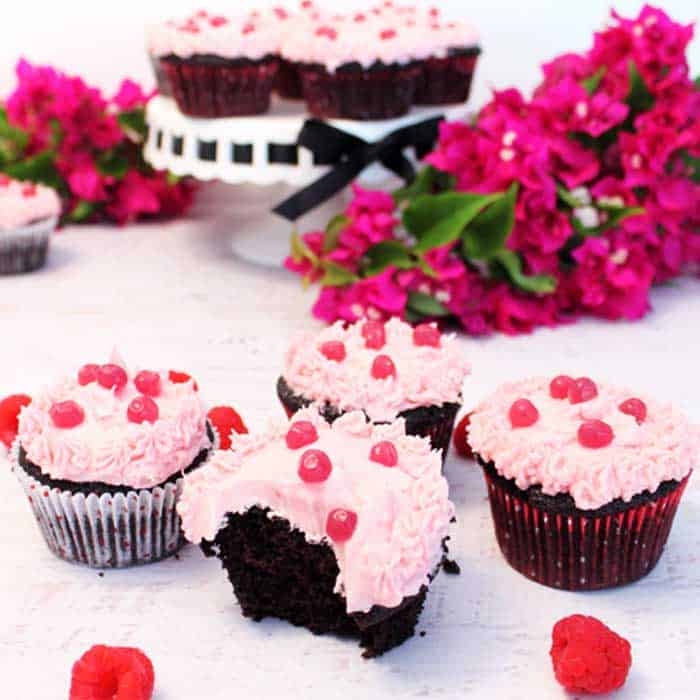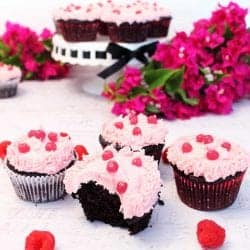 CHOCOLATE RASPBERRY COCKTAIL CUPCAKES
Chocolate Raspberry Cocktail Cupcakes are rich chocolaty cupcakes flavored with raspberry vodka & topped with vodka caviar. Cocktail & dessert all in one!
Print
Rate
Servings:
12
-16 cupcakes
Ingredients
Chocolate Raspberry Cake
1-½

cups

all-purpose flour

⅓

cup

cocoa powder

1

teaspoon

baking soda

1

teaspoon

baking powder

½

teaspoon

salt

1

cup

sugar

1

egg

⅔

cup

buttermilk

⅓

cup

coconut or vegetable oil

2

Tablespoons

Chambord or Cointreau

½

cup

vodka with ½ muddled raspberries or Raspberry Vodka
Raspberry Buttercream Frosting
½

cup

butter

2

cups

confectioners sugar

1

Tablespoon

Chambord

Cointreau or cream

⅛

cup

raspberry puree

Garnish: Cocktail Caviar

(optional)
Instructions
Preheat oven to 350 degrees. Line a 12-cup muffin pan with liners. (may have a little batter left over)

In a large bowl, combine flour, cocoa powder, baking powder, baking soda, salt and sugar.

Add egg, buttermilk, oil, Chambord and raspberry vodka (see note below for homemade) to dry ingredients.

Beat with an electric mixer until well combined.

Divide evenly between muffins cups, filling about ¾ full.

Bake for 18-20 minutes.

Remove and let cool for about 5-7 minutes. Turn upside down to release cupcakes. Place on wire racks to finish cooling.

While cupcakes are cooling prepare frosting.

First, prepare raspberry puree.

Place raspberries in blender and puree.

Push through a strainer so all seeds are removed.Set aside.

Cream confectioners sugar and butter in a small bowl until creamy.

Add Chambord and puree and continue beating until well incorporated.

If icing is too thin, add more confectioners sugar.

Frost cupcakes. Decorate with Cocktail Caviar.
Notes
If making your own raspberry vodka, place ½ cup vodka and ½ cup mashed raspberries in a small jar. Cap jar, shake,then let sit for about 24 hours.
This post has been updated and was first published on August 13, 2017.
DON'T MISS A RECIPE!