Whip up this easy Turkey Apple Pesto Flatbread for a healthy gameday appetizer and watch it disappear! And the walnut pesto is great on sandwiches too!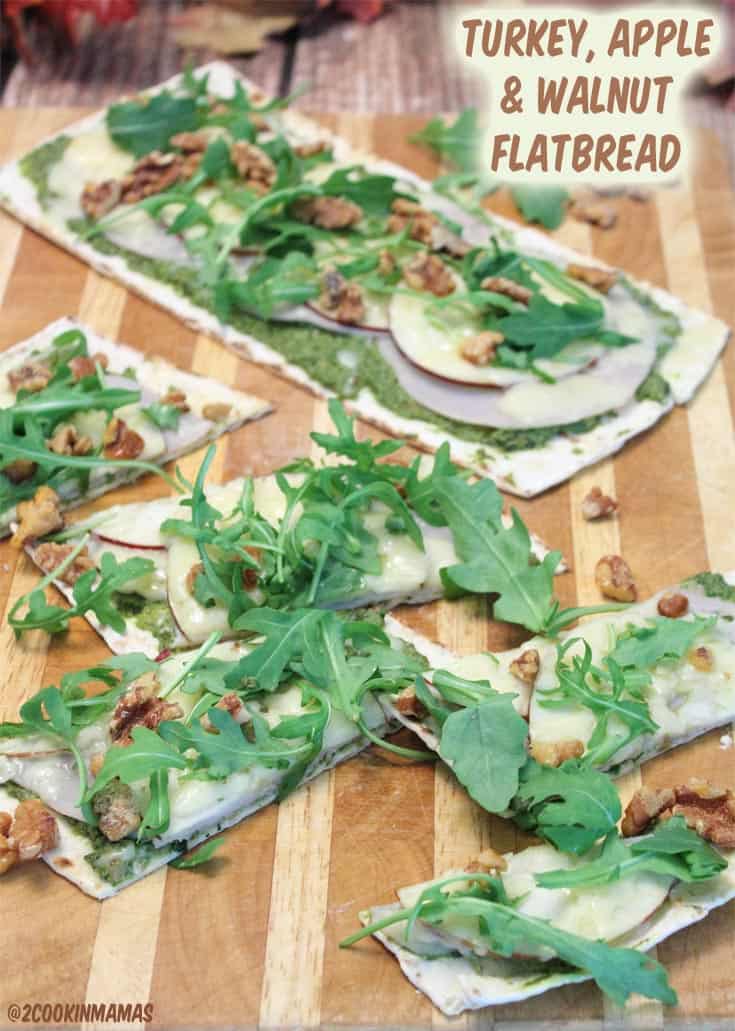 This is one of my favorite times of year. Not only for the cooler weather and changing leaves but because it's FOOTBALL season! I love football and everything that goes with it. I can still remember going to football games with my Dad, and once I had kids, I continued the tradition. I even coached several cheerleader squads including my daughter's squad and watched my son play football for a short time. I guess you could say I was well indoctrinated into the sport.
Now, I don't know about you, but when a football game comes on every weekend, it is snack time at our house. I was inspired by Nuts.com to develop a healthy snack option for football games that used nuts in a unique and creative way.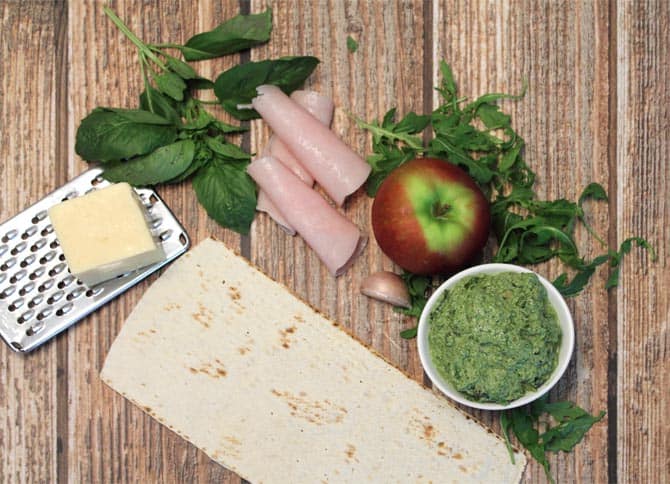 All my friends, including my husband and I, are always watching our weight and snacking can be a bad thing but, if done in a healthy way, it can also be a good thing. Think low-fat, high protein, nutrient-dense food that gives your body an energy boost while satisfying your appetite. Believe me, it's not as hard as it sounds! Just check out our easy flatbread below and then hop on over and check out Nuts.com for more deliciously healthy snacking options.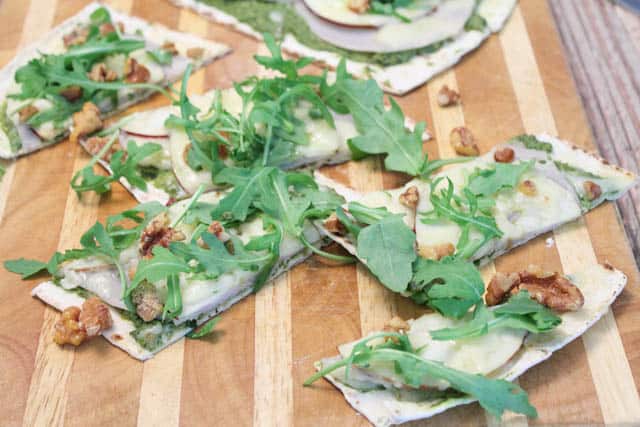 In our flatbread today, I decided to up the health quotient by adding walnuts. Now you are probably wondering why I used walnuts, besides the fact that they go so well with apples, well let me tell you. Walnuts, as are many nuts, are high in omega 3's and anti-inflammatory nutrients. Eating 1-3 ounces of walnuts a day can improve cardiovascular function, increase bone stability and lower the risk of certain cancers, prostate and breast, among them. Walnuts also contain melatonin which can help with much needed sleep. Impressive aren't they?!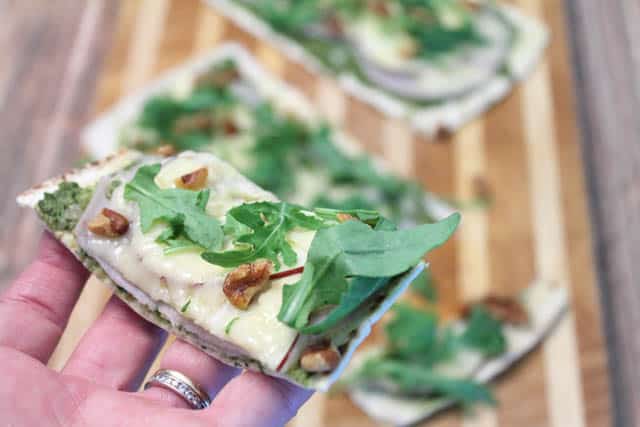 You can enjoy this flatbread as a healthy snack or even a healthy lunch for that noontime game. And it is good both fresh and hot out of the oven or as a cold sandwich the next day (just roll it up and you're all set). I assure you, it will appease those big game-time appetites (and without the guilt) as it is loaded with low-fat turkey, thinly sliced apples, a little cheese, fresh walnut-basil pesto then topped with lots of arugula and more nuts. They'll be begging for more!
Turkey Apple Pesto Flatbread
Ingredients:
Walnut Pesto
1/2 cup fresh basil leaves
1/2 cup fresh arugula (rocket) leaves
1/2 cup walnuts
1/4 cup Parmesan or Pecorino Romano cheese, grated
2 Tablespoons shredded Honeycrisp apple (about 1/3 of a large apple)
1 clove garlic
1/4 cup olive oil
salt & pepper to taste
Flatbread Filling
6-8 slices deli-style turkey (I like Applegate products as they are antibiotic and nitrate-free)
1 organic apple, sliced thin (about 8-10 slices)
1 cup white cheddar cheese, shredded
Topping
Directions:
Preheat oven to 375 degrees. Spray a cookie sheet with non-stick spray.
Prepare pesto by adding all ingredients but olive oil into a blender (I love my Ninja Blender for jobs such as this) and blend. Slowly add in olive oil and continue blending until smooth. Set aside.
Place 2 flatbreads on prepared cookie sheet and bake for 2 minutes. Remove from oven.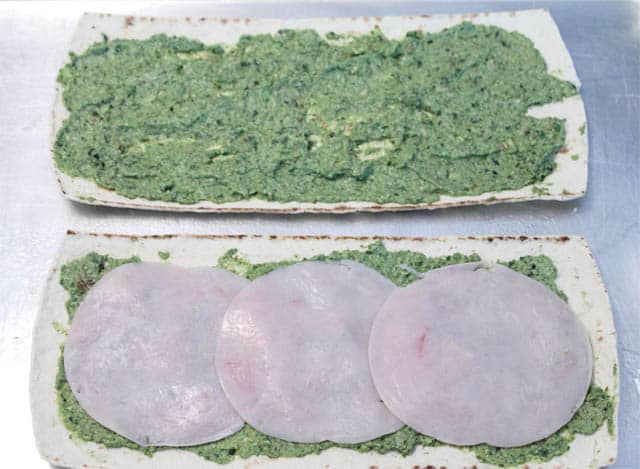 Spread a layer of pesto on each flatbread. Top with 3-4 turkey slices.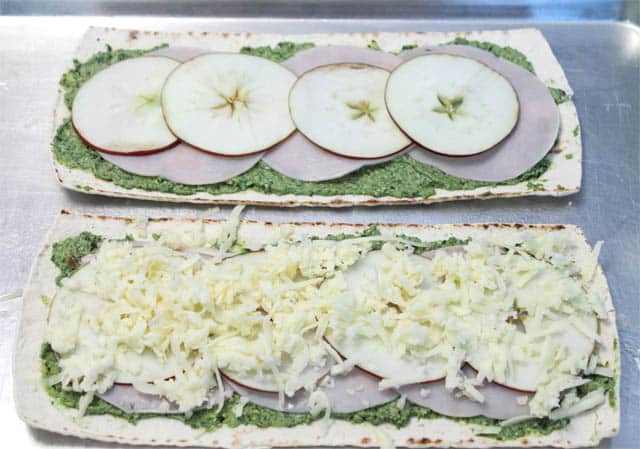 Place 4 slices of apple, easily sliced thin with a mandolin, over the turkey slices then sprinkle with cheese.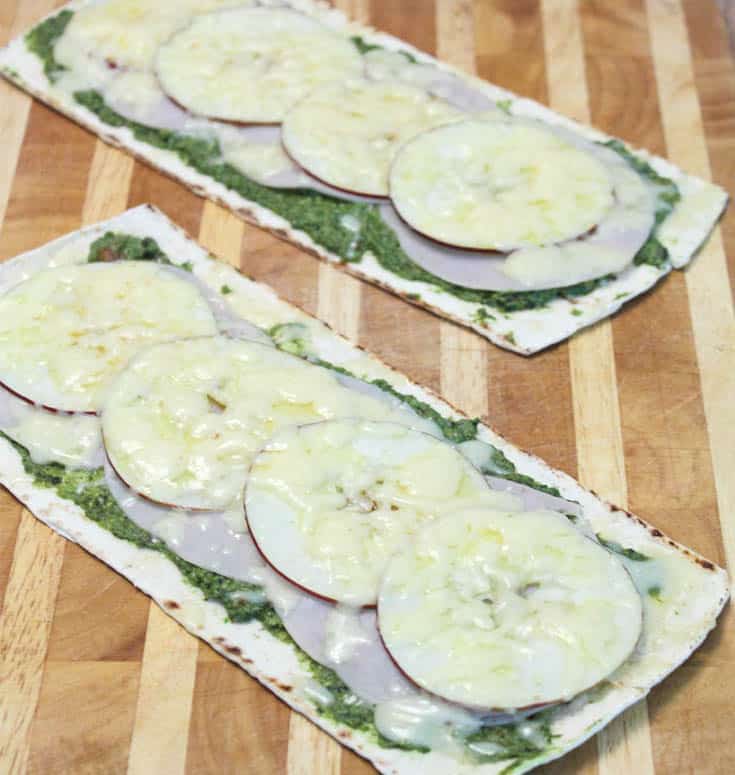 Place back in oven for about 4-5 minutes or until cheese has melted.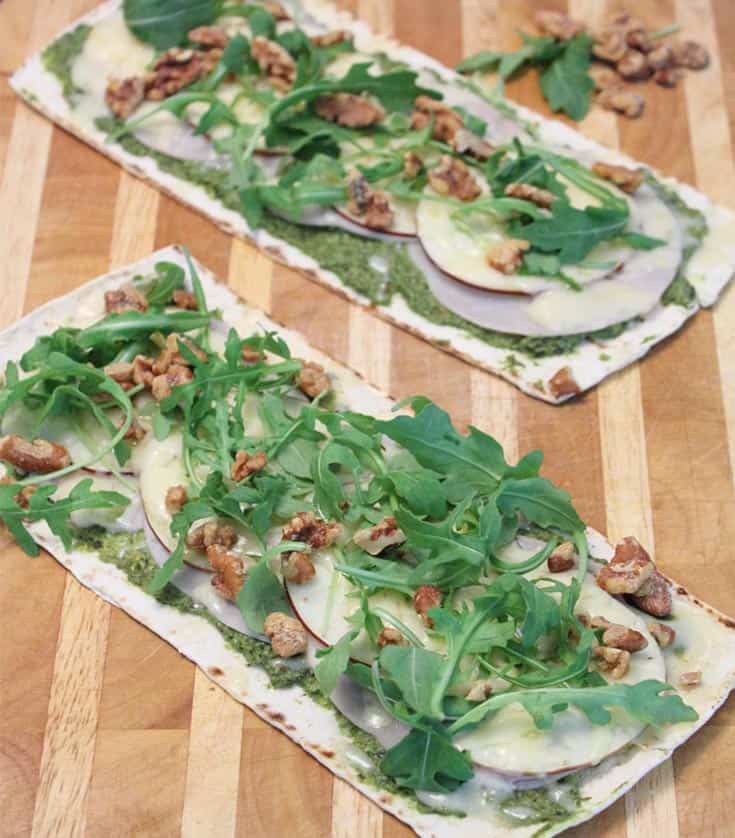 Remove breads to cutting board, sprinkle with arugula and walnuts then cut at an angle with pizza cutter. Serve warm.
Makes 2 large flatbreads.
Love more appetizers? Check out our Appetizers & Snacks here.
Your support of clicking through to visit our advertisers and/or purchasing items through our affiliate links, located throughout this post, generates the revenue that helps to keep this page going and is very much appreciated.