An easy Homemade Turkey Pastina Soup to make with leftover Thanksgiving or Christmas turkey. Just boil the bones to create a rich, healthy broth, add some vegetables and pastina or your favorite noodles and enjoy this warm comfort food on a cold winter's day!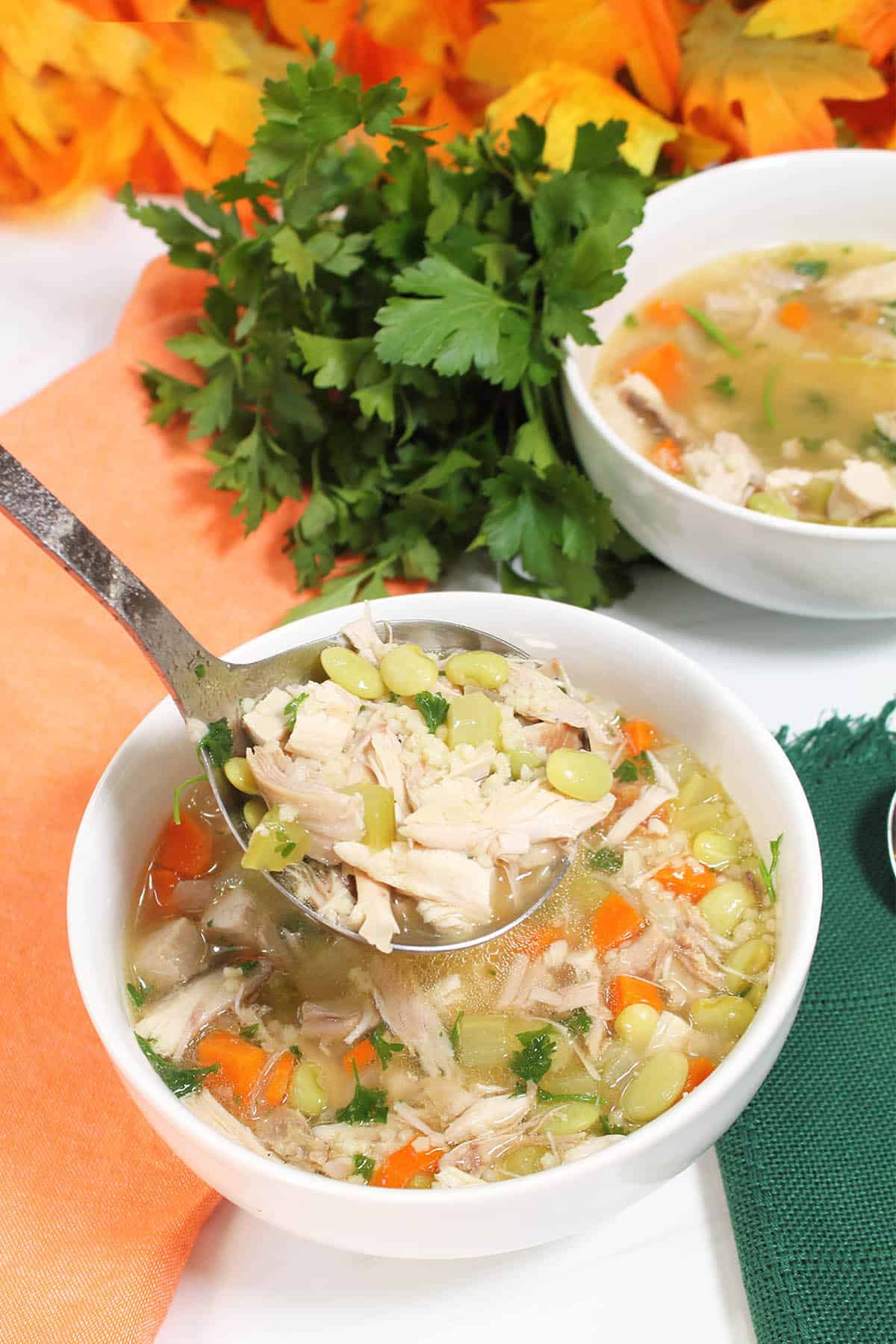 Do you have turkey on both Thanksgiving and Christmas? Isn't it strange that we seem to forget about this delicious poultry the rest of the year and have it so close together during the holidays? Well, I for one am super happy with that because I get to make this incredible long-standing family favorite recipe twice!
My Dad was the soup chef in our house and he used to make either his Vegetable Beef Soup or this Turkey Pastina Soup and let mom take the night off. It's a family recipe that dates back years and a soup that we always look forward to eating.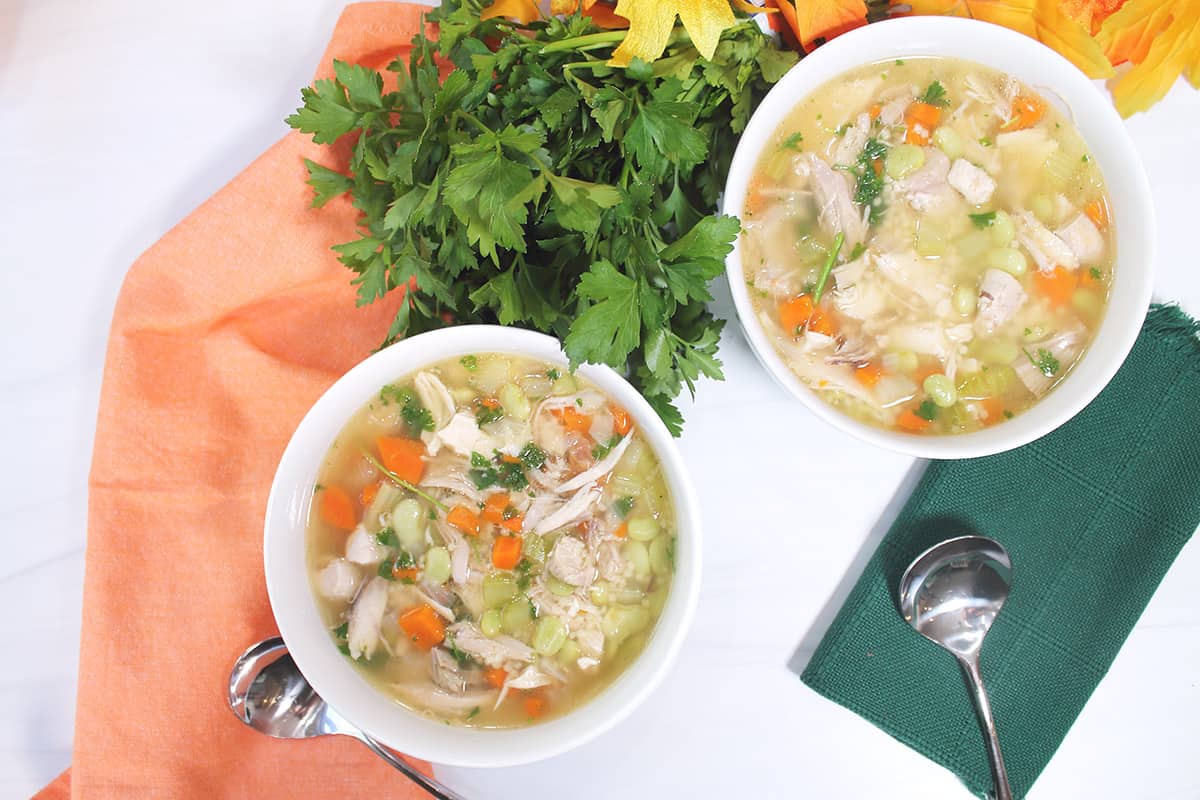 In fact, even our guests during the holidays begged my dad for his homemade turkey soup so they could take some home. My daughter even swears that it can cure the common cold too!
Why You'll Love This Turkey Soup Recipe
Easy to make
A great way to use leftovers from turkey to vegetables
It's warm comfort food on a cold day
So rich and meaty that it can be served for lunch or dinner. It's perfect served with a side of dinner rolls.
And it's healthy too!
Variations
Meat - You can substitute 2 roasting chickens for the turkey
Vegetables - sub green beans for lima beans or add any leftover veggies like peas, red bell peppers, mushrooms, white beans, zucchini, chopped tomatoes and corn. In fact, just about anything but brussels sprouts.
Herbs - add in even more flavor with herbs like thyme, rosemary and sage
Noodles - opt for orzo, quinoa, wild rice or your favorite pasta in lieu of pastina. I do recommend you use a small pasta as it will make it easier to eat.
Ingredients for Turkey Noodle Soup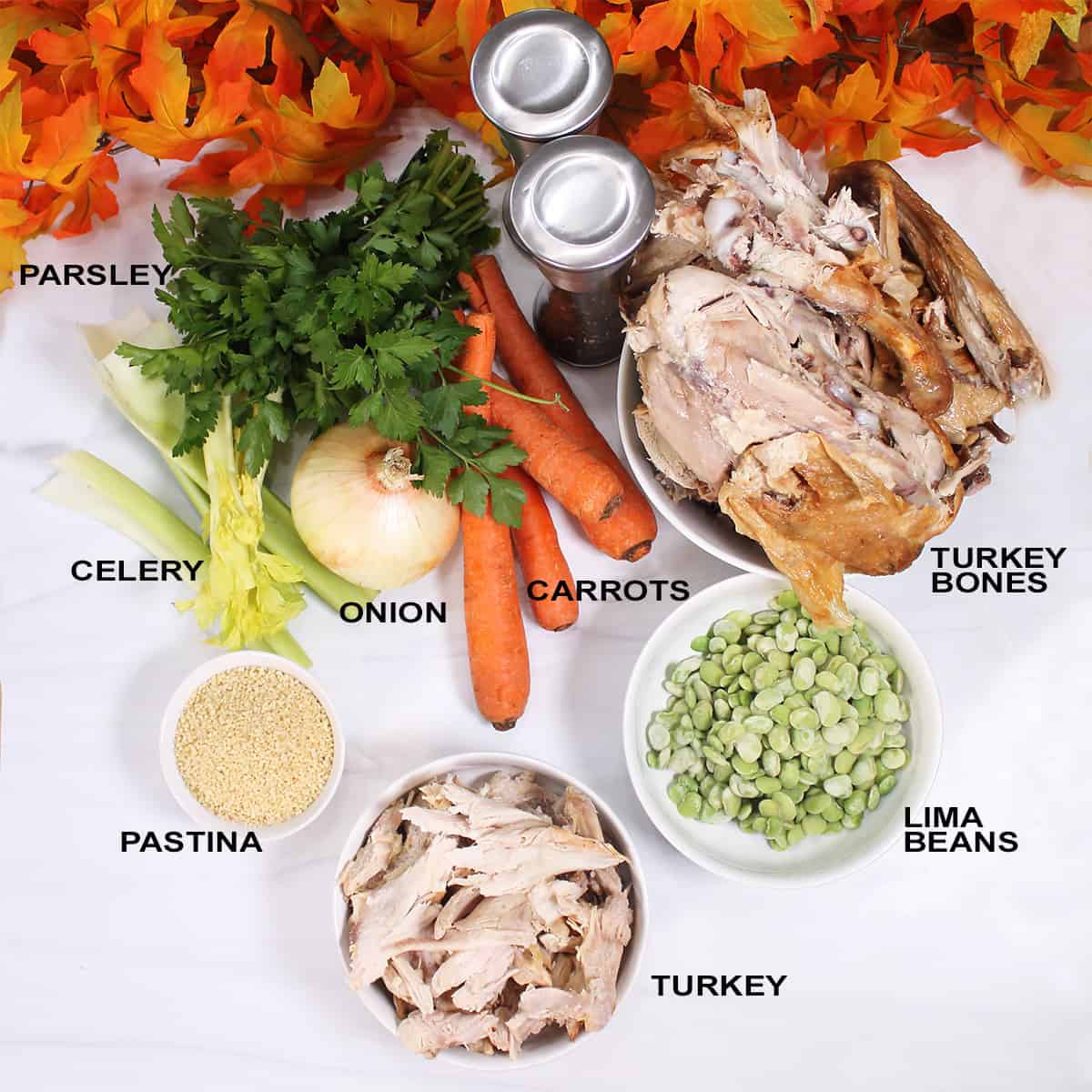 While the turkey carcass and bones are simmering gather the remaining simple ingredients. See variations above for different vegetable and noodle options.
How to Make Leftover Turkey Soup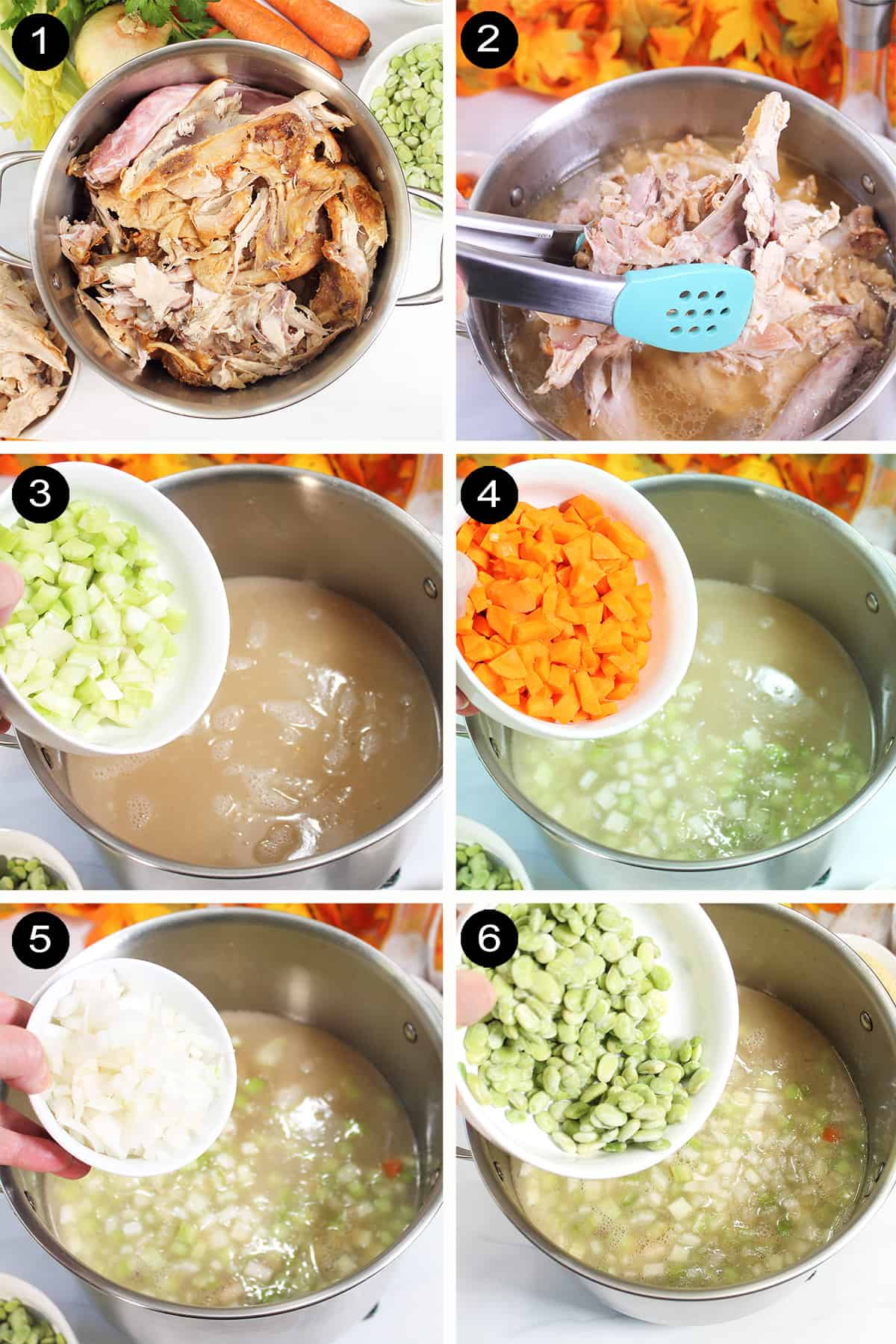 Place the turkey carcass and any other bones such as from the wings, legs and neck into a large stockpot. Cover with water, bring to a boil, then turn down and let it simmer for 4-8 hours or however long you have. The longer it simmers, the richer the broth.
Once done, remove the bones from the stock. I like to use a colander and strain the stock into a lage bowl. The set the bones aside to cool a little. You'll be pulling any meat you can find off the bones to use in the soup at the end.
Place the borth back into the rinsed stockpot and add celery.
Add chopped carrots.
Continue to add onions. You can even add a bit of diced red bell pepper as well.
Now add lima beans. I like to use frozen baby limes but you can sub in green beans, white beans, or even peas. Cook all these vegetables for about 15 minutes.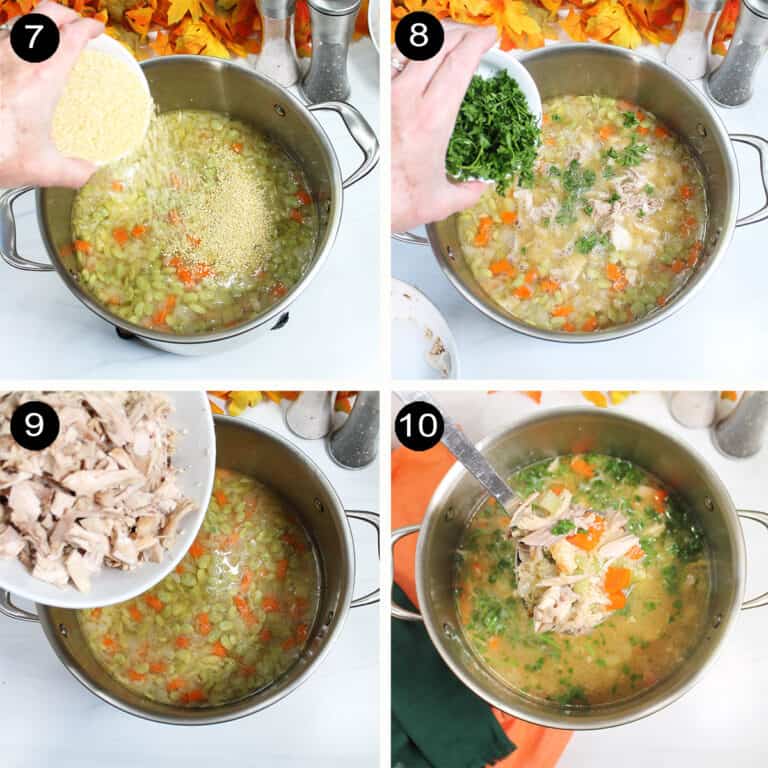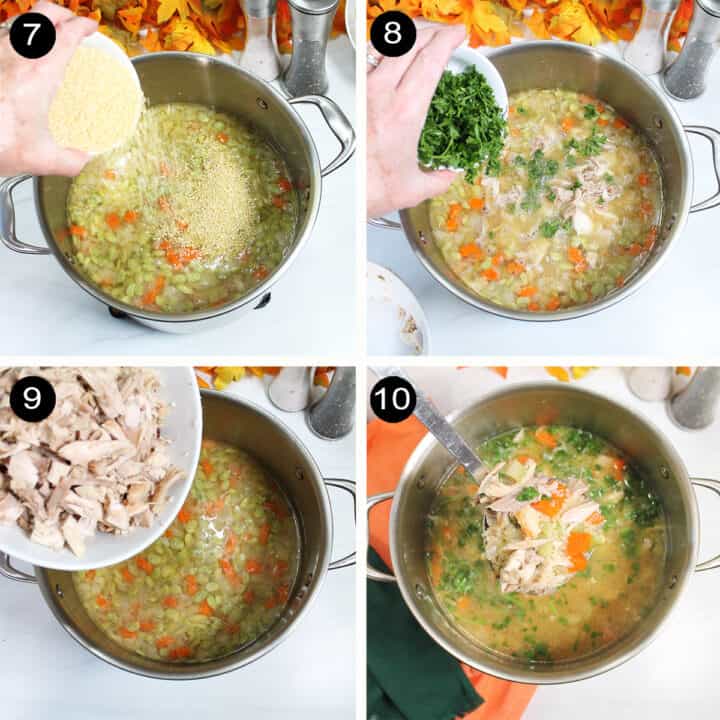 Pour in the pastina, or your favorite noodles, orzo or rice and cook for the recommended time on the package.
When the pastina is done, add fresh parsley.
Take the meat you removed from the turkey carcass as well as any extra you may have from your dinner, chop it inot bite-sized pieces and add to soup.
Stir and enjoy!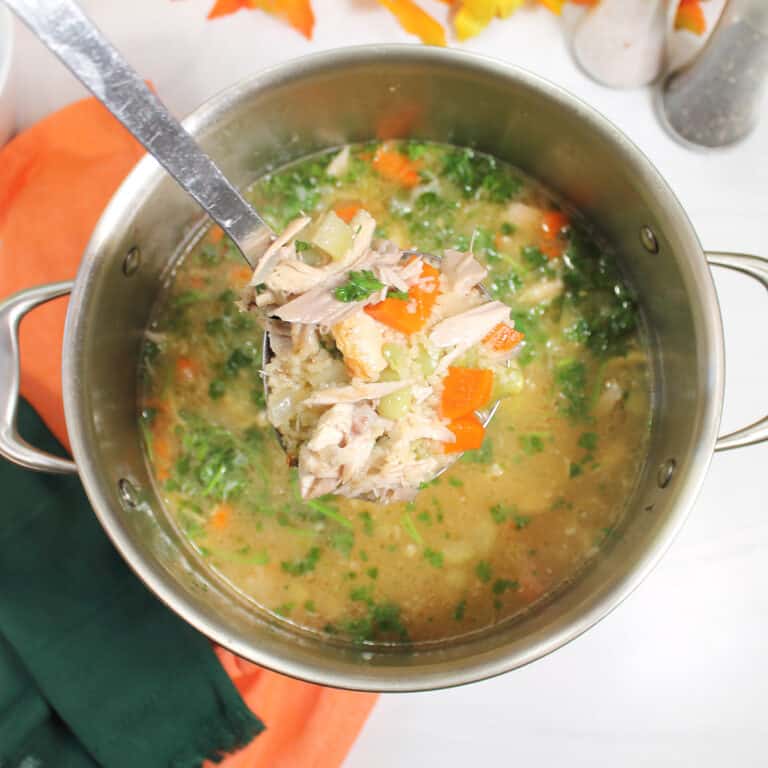 This soup is pure comfort food at its best! It's full of rich flavors and it's hearty and healthy too! Great for warming up the family on cold days or freeze it to use later in the winter season.
How long will this turkey vegetable soup keep?
It will keep 4-6 days in the refrigerator or 6 months in the freezer. I like to freeze it in individual portions so I can take some out whenever I feel like some homemade soup.
More Recipes for Your Leftover Turkey
Turkey Tetrazzini is an incredible combination of pasta, tossed with turkey and mushrooms, in a rich cream sauce that's flavored with sherry, cheddar cheese, and bacon. 
Easy Turkey Pot Pie made even easier using Pillsbury crescent rolls or pie crust
Turkey Enchilada Casserole is a warm comfort meal made up of layers of turkey and cheese and takes just 15 minutes of prep.
More Homemade Soups
Easy Black Bean Chicken Soup - Canned black beans and your favorite salsa help this deliciously hearty soup come together in 20 minutes.
Creamy Corn Chowder - Chicken, corn, and vegetables are nestled in a thick creamy base that you'll think is chock full of calories but it's not! A healthy comfort food to get you through the winter! 
Instant Pot Wonton Soup from Tasty Oven is super easy to make with simple ingredients and only takes 20 minutes!
Blender Tomato Basil Soup - A quick, get it to the table soup that is both creamy and flavorful. Tomatoes, onion, garlic, and basil are blended together to a rich smooth finish.
Find lots of soup recipes here on 2CM!
LOVE QUICK & EASY RECIPES? FOLLOW ME ON INSTAGRAM, FACEBOOK, & PINTEREST FOR ALL THE LATEST RECIPE INSPIRATION! PLUS JOIN MY EMAIL LIST AND RECEIVE A FREE E-BOOK.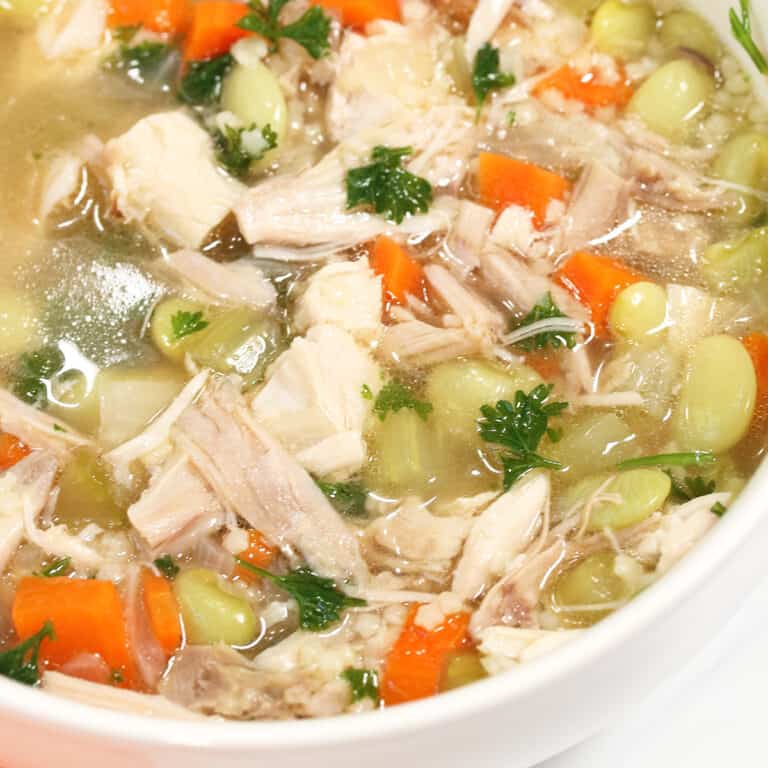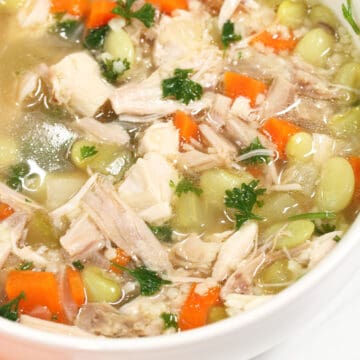 Homemade Turkey Pastina Soup
Here's an easy homemade turkey soup to make with leftover Thanksgiving turkey. Add some vegetables, noodles and voila - hot healthy soup for a cold day!
Print
Rate
Servings:
10
-12 servings
Ingredients
All bones,

legs and wings from a 14-18 lb turkey

½

large onion,

chopped

3-4

stalks celery,

chopped

3-4

carrots,

chopped

8-

oz

package frozen lima beans

1

cup

pastina/pasta or gluten free pasta

1

cup

fresh parsley,

firmly packed, chopped

4

cups

turkey,

chopped

Salt & pepper to taste
Instructions
Place bones in a tall, large pot and cover with water. Heat to boiling then turn down, cover, and simmer for 4-6 hours or longer. The longer you can let it simmer, the more taste it will have.

When it has simmered long enough, strain the broth through a colander so it will catch the bones. Rinse out the pot then return the broth to the pot.

Return liquid to boil and add onion, celery, carrots and lima beans. Cook for 15 minutes. Note, if you are using a longer cooking pasta then it can also go in with the vegetables. Since pastina takes only a few minutes to cook, add after the vegetables are done and cook according to package directions. Add parsley and stir.

While vegetables are cooking, remove turkey from the soup bones, chop and set aside. Add to soup mix when it has completed cooking. Salt and pepper to taste.
Notes
This can be made with 2 roasting chickens for a great chicken soup.
Nutrition
Calories:
226
kcal
|
Carbohydrates:
28
g
|
Protein:
18
g
|
Fat:
5
g
|
Saturated Fat:
1
g
|
Polyunsaturated Fat:
1
g
|
Monounsaturated Fat:
2
g
|
Trans Fat:
1
g
|
Cholesterol:
34
mg
|
Sodium:
344
mg
|
Potassium:
493
mg
|
Fiber:
3
g
|
Sugar:
5
g
|
Vitamin A:
3639
IU
|
Vitamin C:
12
mg
|
Calcium:
34
mg
|
Iron:
2
mg
This post has been updated with new photos and more information. It was first published on November 30, 2014.