White Chocolate Easter Bark with pretzels and Cadbury mini eggs is here just in time for Easter. With only 4 ingredients and some food coloring, it's a simple-to-make, fun, colorful, and delicious treat. And it's done in just 30 minutes!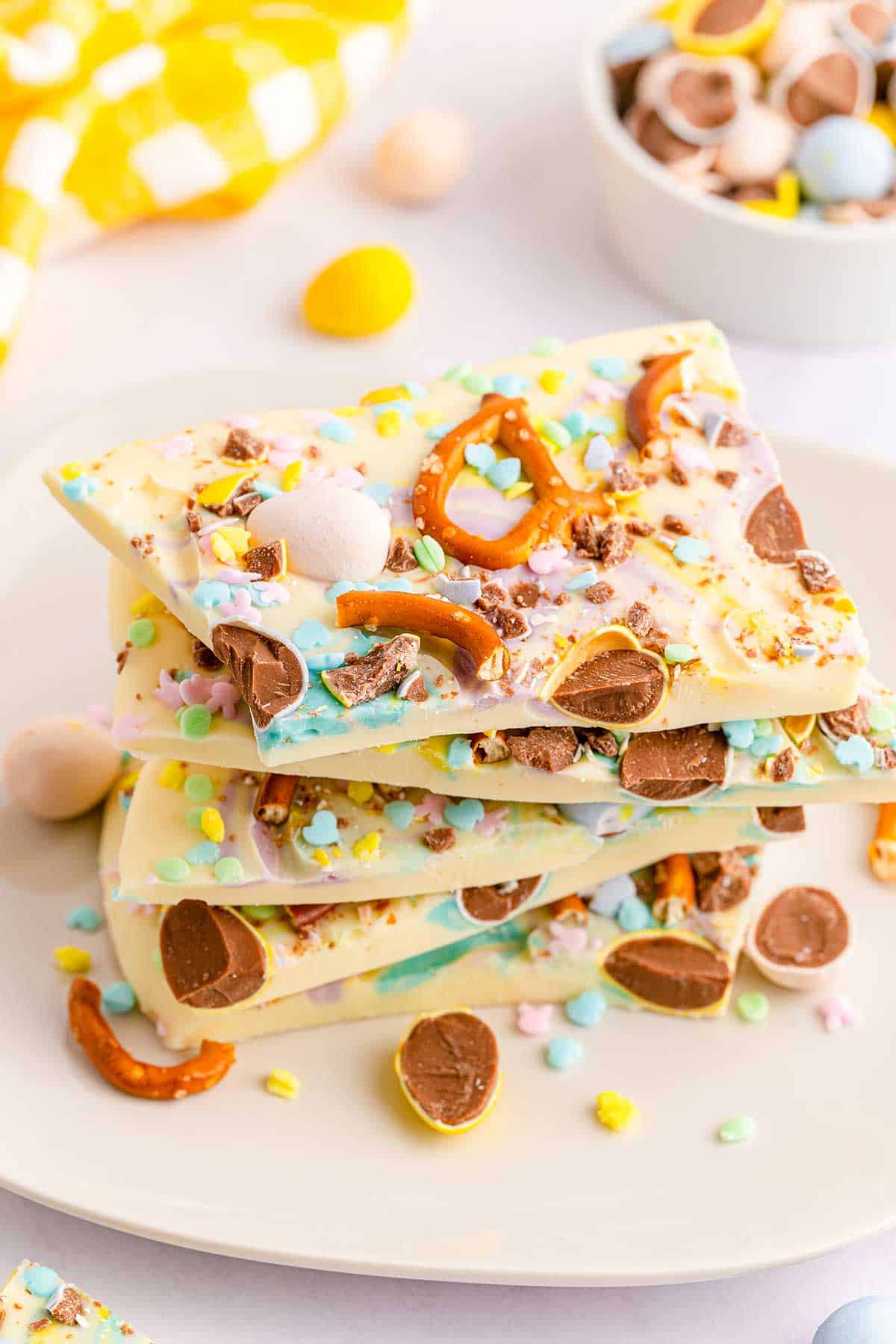 FYI - This post contains affiliate links. As an Amazon Associate, I earn from qualifying purchases. All links are products I use when making my recipes.
Easter Treats
With spring almost here and Easter around the corner, it's the perfect time to make this easy, fun, and colorful Easter bark. It's a decadent treat that brings both salty and sweet to the table.
This candy bark starts with a creamy white chocolate base that is topped with a crunchy mix of Easter-colored Cadbury mini eggs, pastel sprinkles, and salty pretzels. And the best part, it's done in 30 minutes!
Easter and spring desserts like this white chocolate bark are some of my favorites. Their bright colors and sweet-tart flavors always bring a smile and a reminder that spring is around the corner. Desserts like Easter Rice Krispie Treats, Sugar Cookie Bars, and Strawberry Lemon Cake are the perfect way to greet the season.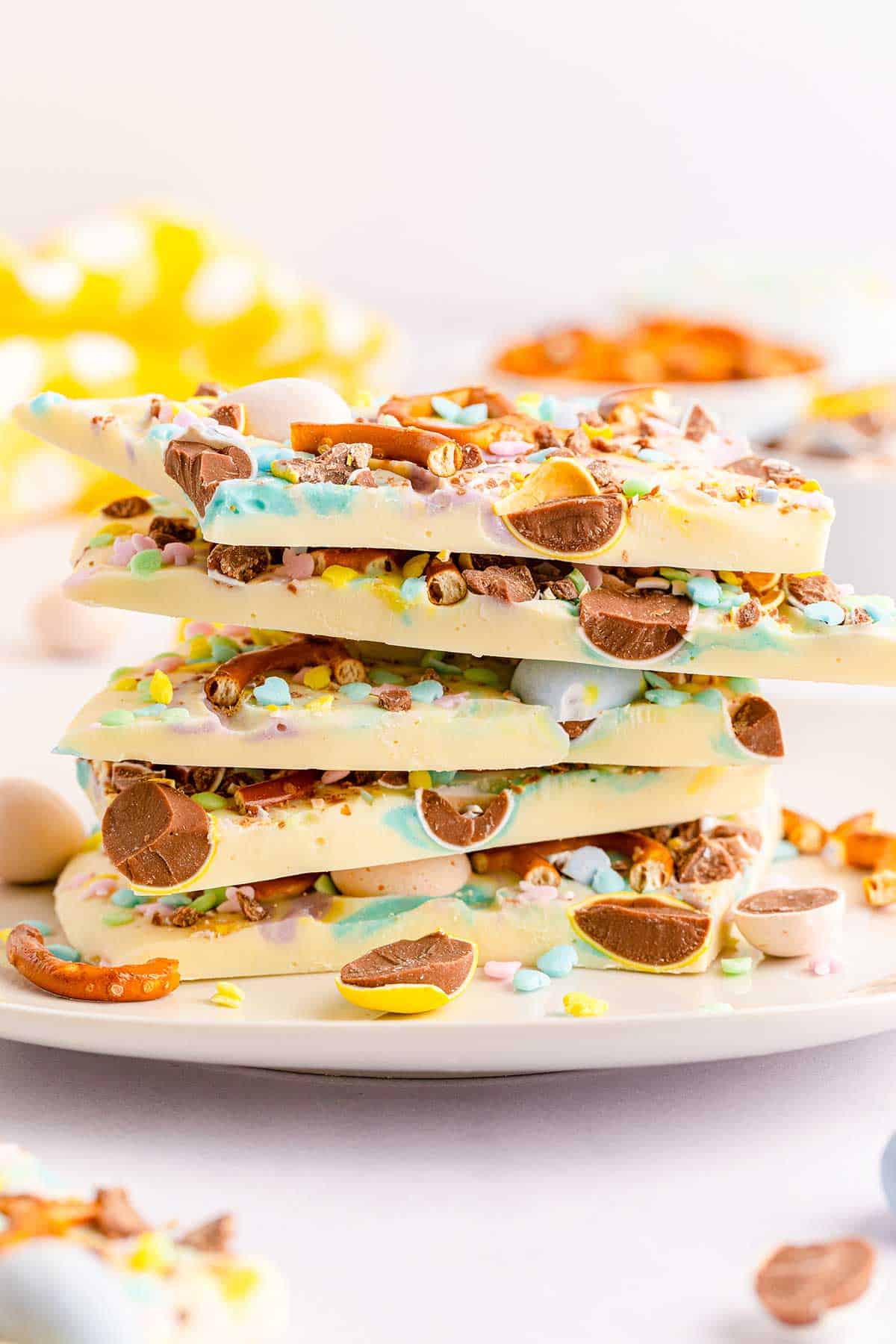 What is white chocolate bark?
White chocolate bark is a type of candy made from melted white chocolate that has been spread out and allowed to harden into a thin sheet or slab. The term "bark" comes from its rough, uneven texture that resembles the bark of a tree.
White chocolate bark can be made with a variety of toppings, such as nuts, dried fruits, candy pieces, pretzels, or sprinkles. The toppings are usually scattered on top of the melted white chocolate while it's still warm and soft, then allowed to set along with the chocolate as it cools and hardens.
One of the great things about white chocolate bark is that it's incredibly versatile and can be customized to suit any taste preference or occasion. It makes a great gift or party favor, and can even be used as a festive decoration during the holidays.
So if you're a fan of sweet treats, white chocolate bark might just be right up your alley!
Why You'll Love This Candy Bark Recipe
This Easter Bark is super easy to make with only 5 ingredients
It uses real white chocolate for a decadent and delicious treat
It's colorful and festive, perfect for Easter (and the kids' Easter baskets)
Kids love to help make this candy bark (and will probably have their fill of candy as they do, lol)
Sweet and salty all-in-one treat!
Easter White Chocolate Bark Ingredients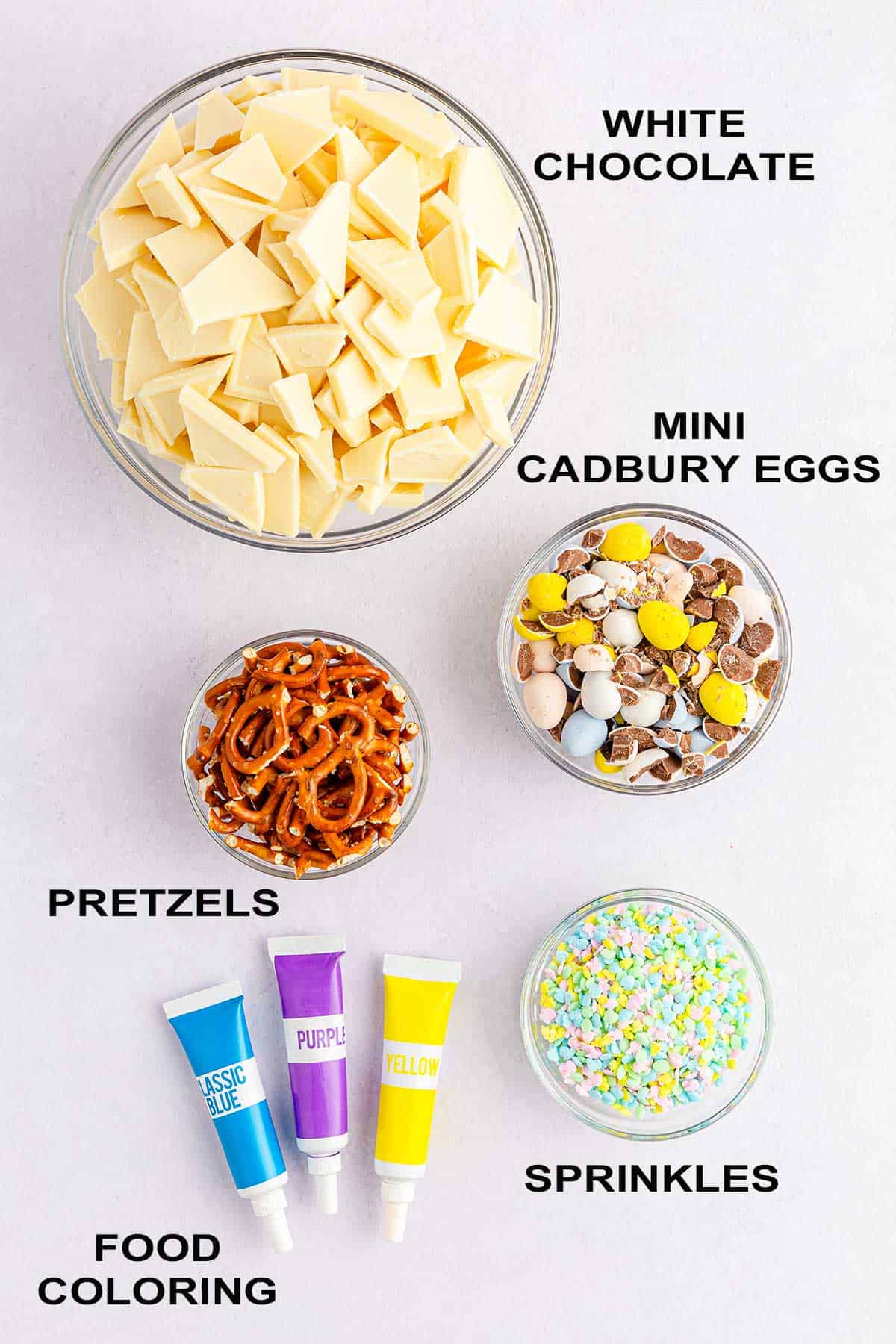 Premium white chocolate bars
Cadbury mini eggs or other pastel-colored small candies
Tiny pretzel twists
Sprinkles - any pastel-colored or Easter specialty sprinkles
Gel food coloring: blue, purple, and yellow
Best White Chocolate for Bark
Real white chocolate is best for melting and making bark because of its cocoa butter content. I recommend using Ghirardelli white chocolate bar.
Another great choice is white melting wafers that contain oil. These are specifically designed to melt easily. Ghirardelli also makes quality white melting wafers.
White Chocolate vs Almond Bark
While both white chocolate and almond bark are popular choices for making candy and other sweet treats, there are a few key differences between the two.
White chocolate is made from cocoa butter, sugar, and milk solids, and has a rich, creamy flavor. It's called white chocolate because it's made with cocoa butter, which is extracted from the cocoa bean and has a light color.
Almond bark, on the other hand, is a type of candy coating that is made from vegetable fats, sugar, and artificial flavors. It's designed to mimic the flavor and texture of chocolate, but doesn't contain any cocoa solids.
So while white chocolate and almond bark can both be used for candy making, they have some key differences in terms of ingredients and flavor.
If you're looking for a more authentic chocolate flavor, white chocolate is the way to go. If you're looking for a candy coating that's easy to work with and comes in a variety of flavors and colors, almond bark is a great option.
How to Melt White Chocolate
There are two methods for melting white chocolate, in a double boiler on the stovetop or in the microwave.
Double Boiler
Fill the bottom of the double boiler with about 1 inch of water and set it on the stove over low heat. If you don't have a double boiler, you can make one by placing a heat-safe bowl over a pot of simmering water.
Chop your white chocolate into small pieces to melt quickly and evenly. You can use a sharp knife or a food processor for this.
Place the chopped white chocolate in the top of the double boiler or the heat-safe bowl, and stir it occasionally as it melts. Make sure the water in the bottom pot does not boil, as the steam could get into the white chocolate and cause it to seize up.
Once the white chocolate has completely melted and is smooth, it's ready to be used in your recipe.
Microwave
Chop your white chocolate into small, even-sized pieces. This will help it to melt more evenly.
Place the chopped white chocolate into a microwave-safe bowl.
Microwave the white chocolate at 50% power in 20 to 30-second intervals, stirring in between each interval. Be sure to use a low power setting and take it slow to avoid burning the chocolate.
Continue microwaving and stirring until the chocolate is almost completely melted. It's important not to overheat the chocolate, so stop microwaving once it's almost melted and stir until it's completely smooth.
If the white chocolate is still lumpy after stirring, you can microwave it for a few more seconds on low power and stir again.
Once the white chocolate is completely melted and smooth, it's ready to be used in your recipe.
How to Color White Chocolate
Start with high-quality white chocolate that has a high percentage of cocoa butter. Lower-quality chocolate may not accept color as well and may not set properly.
Melt the white chocolate using your preferred method, such as a double boiler or microwave.
Once the white chocolate is completely melted and smooth, add a small amount of food coloring to the melted chocolate. You can use gel or oil-based food coloring for best results, as they won't cause the chocolate to seize up.
Stir the food coloring into the melted chocolate until it's fully incorporated. If you want a darker or brighter color, you can add more food coloring until you achieve the desired shade.
A few tips to keep in mind:
Always start with a small amount of food coloring and add more as needed. It's easier to make the color darker than it is to lighten it.
Avoid using water-based food coloring as it can cause the chocolate to seize up and become lumpy.
If you're having trouble getting the desired color, try using a color powder specifically designed for chocolate.
You can also use natural food coloring options like beetroot powder, turmeric, and spirulina powder to color white chocolate.
How to Make White Chocolate Easter Bark
Follow the steps above to melt the white chocolate.
Divide the white chocolate into 4 bowls. Three bowls with 3 ounces of white chocolate each and one with the remaining 11 ounces.
Drop 1-2 drops of gel or oil food coloring into the three smaller bowls and stir each one with a separate spoon. Add more if a darker color is preferred.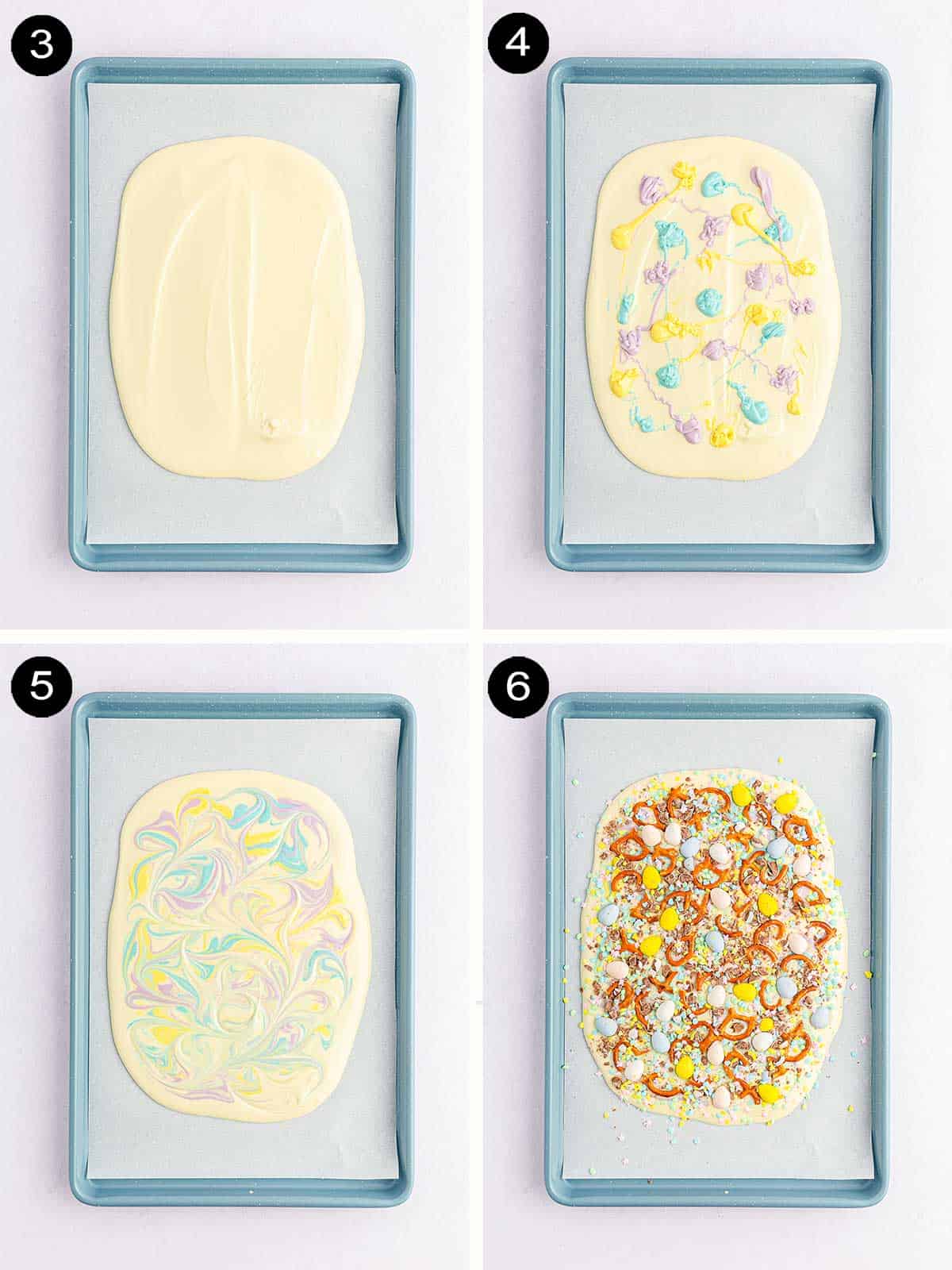 Pour the 11 ounces of white chocolate onto a parchment-lined baking sheet.
Drop little drops of colored white chocolate on top of the white chocolate base.
Swirl the chocolate with a knife or toothpick.
Immediately lay pieces of pretzel on top, followed by chopped or halved mini eggs, and finally, sprinkle with the colorful sprinkles.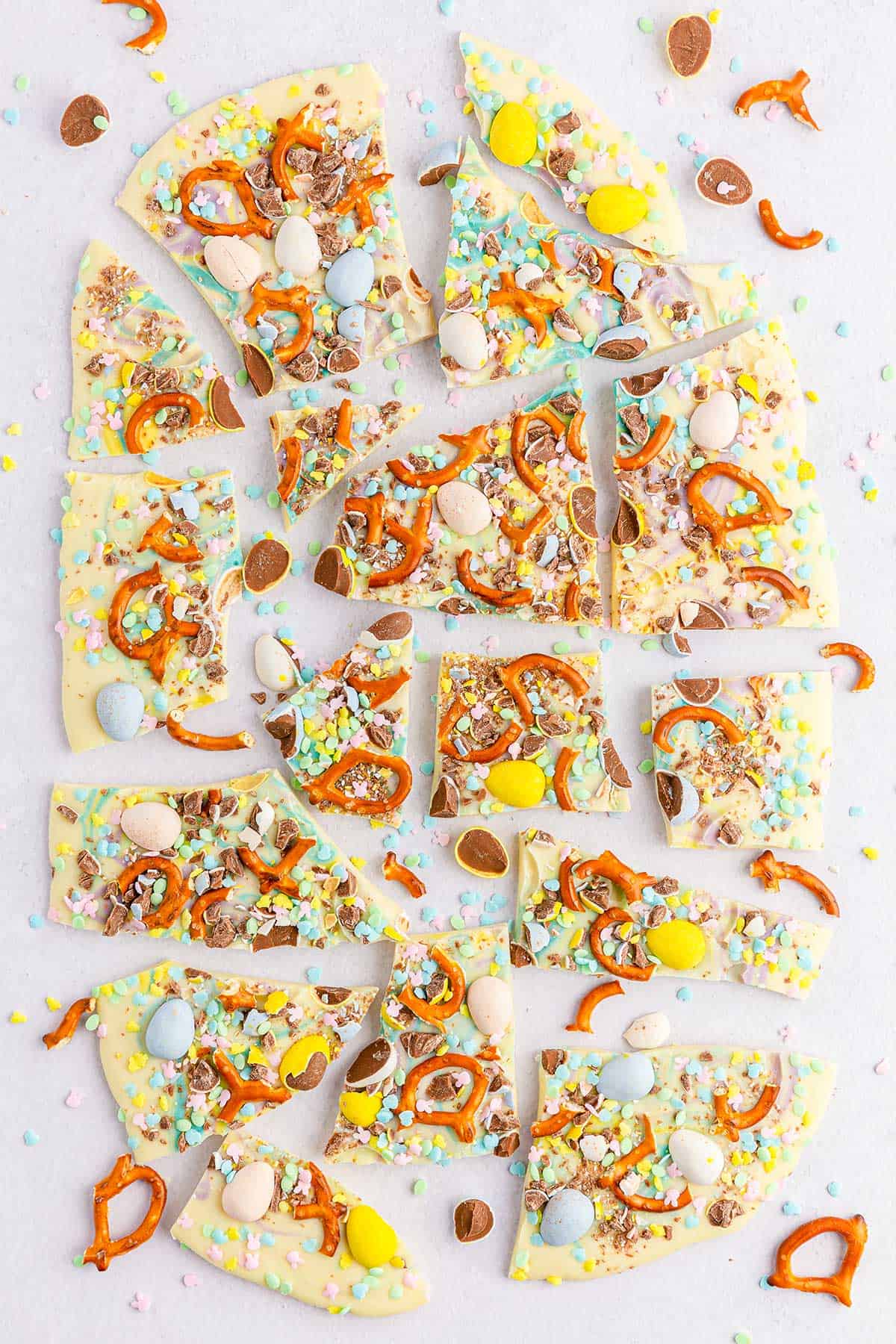 Place the white chocolate bark in the refrigerator for 15-20 minutes then, once well chilled and solid, break apart and enjoy.
Recipe Tips
Use high-quality ingredients. The better the ingredients, the better the candy tastes.
Make sure the bowl is completely dry. Water will make the chocolate seize.
Cool the bark at room temperature because the moisture in the refrigerator will soften the pretzels.
Recipe Variations
Candy - M&M's, mini marshmallows, jelly beans, or other easter candy.
Pretzels - Pretzel bites or sticks, cereal (Cheerios or Rice Chex), cookies (Golden Oreos or Nilla Wafers), or nuts.
White Chocolate - Dark chocolate or milk chocolate.
How to Store White Chocolate Bark
You can store candy bark in an airtight container or plastic ziptop bag at room temperature for up to 2 weeks. Keep it in a cool, dry place to prevent it from melting. You can also store it in the refrigerator.
Can you freeze white chocolate bark?
You can freeze white chocolate bark for up to 6 months. Note the pretzels may soften after freezing and thawing.
LOVE QUICK & EASY RECIPES? FOLLOW ME ON INSTAGRAM, FACEBOOK, & PINTEREST FOR ALL THE LATEST RECIPE INSPIRATION! PLUS JOIN MY EMAIL LIST AND RECEIVE A FREE E-BOOK.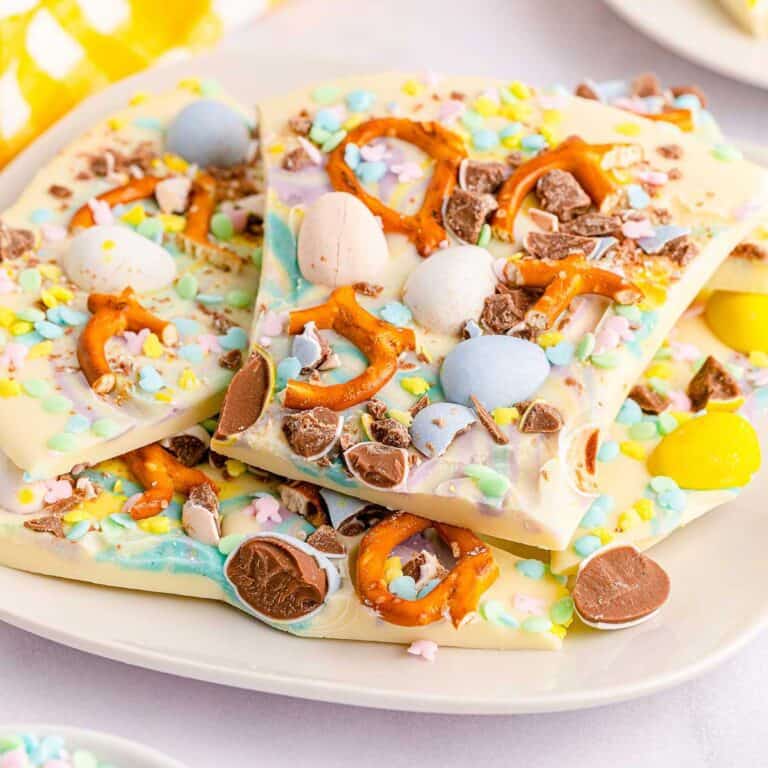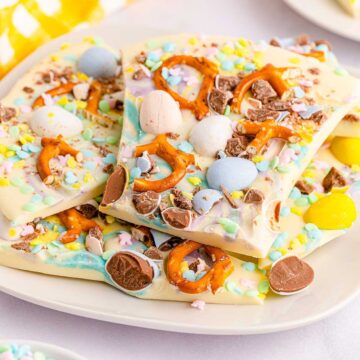 White Chocolate Easter Bark
White Chocolate Easter Bark is an easy, fun, and delicious Easter treat. Just 5 ingredients and 30 minutes are all it takes to make this colorful candy!
Print
Rate
Ingredients
20

oz

Ghirardelli premium white chocolate bars

broken into smaller pieces, 5 4-oz bars

½

cup

mini Cadbury eggs

roughly chopped

½

cup

tiny pretzel twists

broken into smaller pieces

Assorted sprinkles

Gel food coloring: blue, purple, yellow
Instructions
Line a quarter sheet pan or similar sheet pan with parchment paper. Set aside.

Place the broken up white chocolate bar in a microwave-safe bowl. Melt in 30-second increments, stirring in-between, at about 50% power, until melted. Do not overheat the chocolate as it will thicken and seize.

Divide the mixture by placing 3 ounces each into 3 separate bowls. Place a few drops of food coloring, a different color into each bowl, and stir well. Use separate spoons for each color.

Pour the remaining 11 ounces of plain melted white chocolate onto the prepared baking sheet. Spread it out evenly. not too thin as you want the bark to have some bulk.

Working quickly, drop small spoonfuls of each of the colors on top of the melted white chocolate. As an option, you can also drizzle it on top in alternating colors. Using a sharp knife or toothpick, make swirls of the colors throughout the white chocolate. (No need to be perfect, as it will be covered with mini eggs, pretzels, and sprinkles.)

Decorate the top of the bark with chopped mini eggs, pretzel pieces, and sprinkles.

Place the bark in the refrigerator for 15-30 minutes or until set completely.

Break the bar apart into pieces with your hands or with a knife. Store on the counter in an airtight container for up to 2 weeks, in the refrigerator for up to 1 month, or freeze for up to 2 months.
Notes
Make sure not to spread the white chocolate onto the parchment paper too thin. You want it to be slightly thick so that it can hold the mini Cadbury eggs and pretzels in place when it hardens.
Use any color food coloring you like although gel or oil are the best option. You only need 1-2 drops, a little goes a long way.
Use a high-quality premium baking white chocolate that melts easily and tastes good. I do not recommend using candy melts for these.
Nutrition
Calories:
281
kcal
|
Carbohydrates:
33
g
|
Protein:
3
g
|
Fat:
16
g
|
Saturated Fat:
10
g
|
Polyunsaturated Fat:
1
g
|
Monounsaturated Fat:
4
g
|
Cholesterol:
10
mg
|
Sodium:
86
mg
|
Potassium:
150
mg
|
Fiber:
0.2
g
|
Sugar:
30
g
|
Vitamin A:
14
IU
|
Vitamin C:
0.3
mg
|
Calcium:
100
mg
|
Iron:
0.3
mg