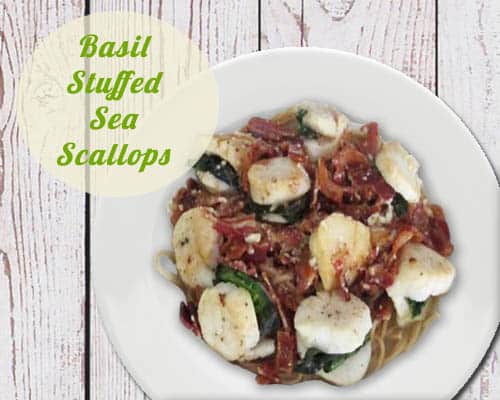 It's the end of National Seafood Month so what better seafood to end with than my favorite, sea scallops! They are a healthy source of lean protein that is rich in iron, which aids in strengthening the immune system, calcium, needed to strengthen bones and help muscle function, as well as providing high levels of Vitamin B12, magnesium, phosphorous, zinc and selenium.
I just happened to have some huge sea scallops in my freezer and my basil is going great guns on my patio so combining these seemed like a no-brainer. The dish goes together very quickly so it is ideal for those busy weeknights when you have to fit dinner in-between carting the kids all over town.
Hope you enjoy this quick and savory dish along with a nice glass of white wine.
Basil Stuffed Scallops
Ingredients:
1/4-1/2 lb. pasta, cooked (try quinoa pasta for a gluten free option)
4 pcs bacon, cooked & crumbled
3/4 lb. sea scallops (about 9 scallops)
salt & pepper to taste
9 fresh basil leaves
2 Tablespoons olive oil
1 teaspoon minced garlic or 2 cloves
3 Tablespoons lemon or lime juice
1/4 cup dry white wine or chicken broth
2 Tablespoons Parmesan or Pecorino-Romano cheese, grated
Directions:
Cook pasta according to package directions and keep warm.
Cook bacon and drain on paper towel. Crumble when cooled and set aside.
Rinse scallops and pat dry. Season with salt & pepper then cut through center horizontally almost to other side to make a pocket for stuffing. Stuff a leaf of basil into each scallop.
Heat oil in large skillet and saute garlic for 1 minute. Add scallops, making sure to keep them apart from one another, and brown on both sides, about 1-2 minutes each side. Remove from skillet and keep warm.
Add lemon juice and wine (I used a Chardonnay) to skillet, scraping to get brown bits from bottom of pan. Simmer for 1-2 minutes then add cheese and stir.
Place scallops on top of pasta, pour sauce over all and garnish with crumbled bacon.
Serves 2.
Wine Pairing: The best choice is always to serve the wine with which you prepared the dish, in this case a nice Chardonnay. A Chardonnay pairs very well with garlic dishes as it offsets some of its spiciness. If you prefer a lighter wine, you might try an Albarino or a dry Riesling. These wines work very well with strong herbal dishes as their crispness helps accentuate the flavors.
Love seafood? Check out these other great recipes.
Ahi Tuna with Roasted Red Pepper Sauce