If you love Asian flavors, you will love this healthy & easy baked soy glazed salmon dinner. A slightly sweet soy sauce glaze covers the salmon while it bakes. When done, garnish with sesame seeds for the perfect finishing touch.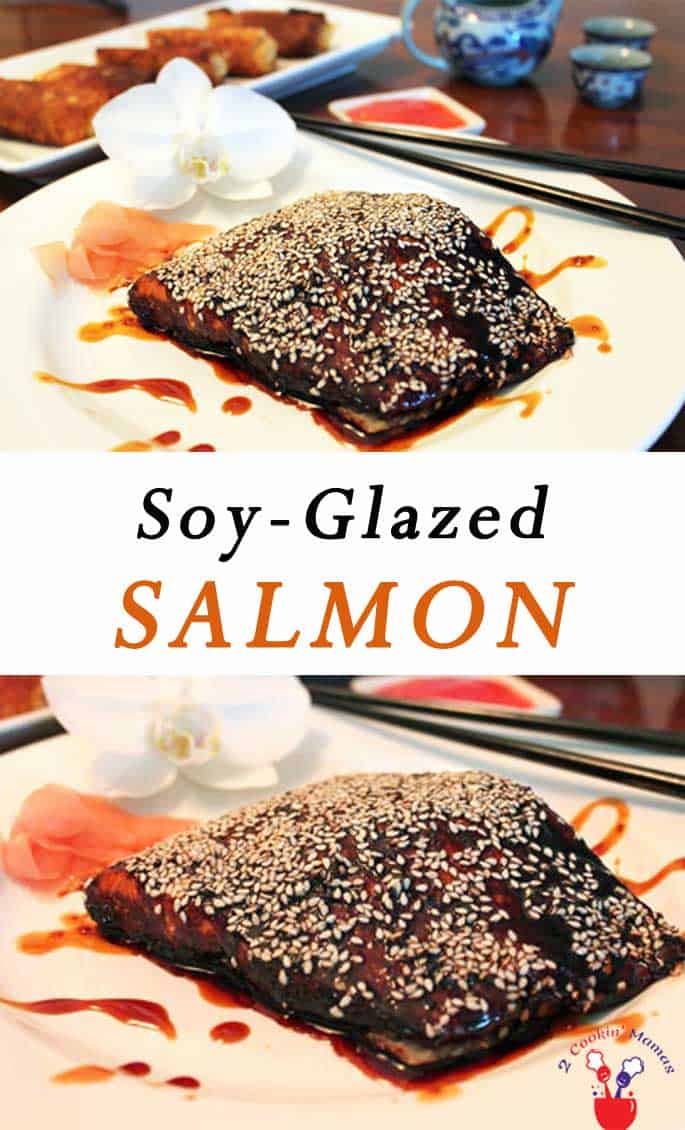 We have had a number of rainy days lately, which is a very odd occurence here in sunny South Florida, so I had to prepare a dish indoors instead of on our trusty grill. Fish was on the menu for today, and feeling in the mood for an Asian-inspired dish, I looked up one of my old standby recipes, soy glazed salmon.
The part that takes the longest is boiling the sauce down to thicken it, after that it is easy sailing. I also happened to make some homemade vegetable egg rolls to go with it to keep the Asian theme going. That recipe is coming up soon on the site along with my husband's sweet & sour sauce. (He really is a good cook too!)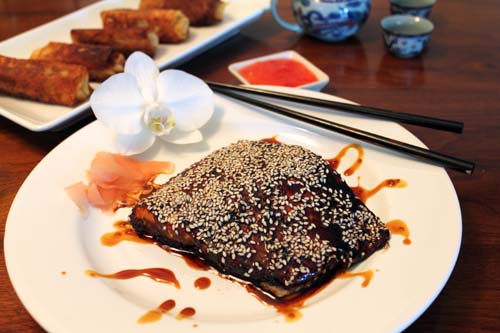 My husband really loved it and we both practically licked our plates clean! Hope you like it as much as we did. My husband particularly enjoyed it as he didn't have to get the grill out and cook. But I have to say he was a good sport and cleaned up for me since I did all the work.
Enjoy!
Love Salmon? Check out These Delicious Salmon Recipes
Baked Asian Salmon with Maple Glaze
Grilled Salmon with Thai Basil Sauce
Quick & Easy Grilled Salmon Skewers
Love quick & easy recipes? Follow me on Instagram, Facebook, Pinterest & Twitter for all the latest recipe inspiration! Plus join my email list here and receive a free e-book.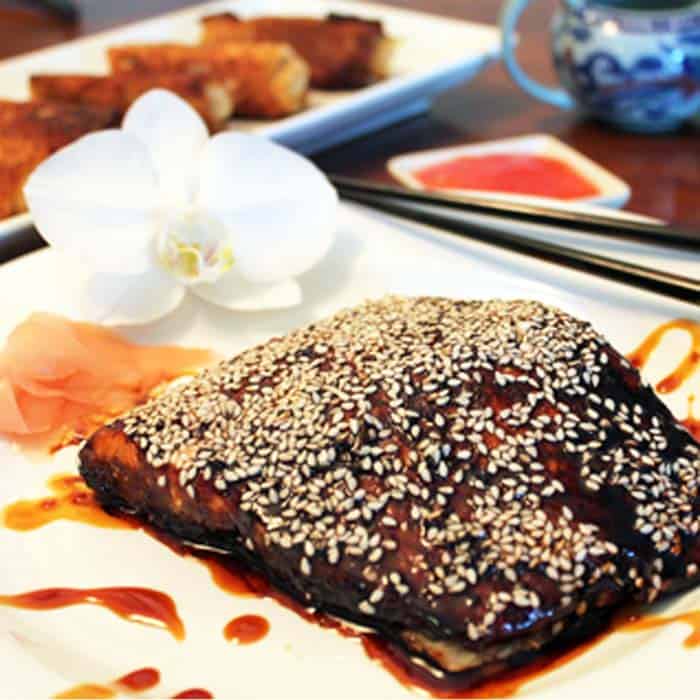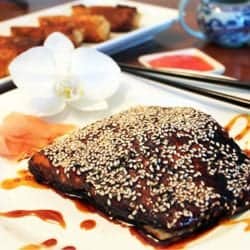 SOY GLAZED SALMON
Asian flavors dominate this healthy soy glazed salmon recipe. Just bake in our slightly sweet soy sauce glaze & you'll have dinner on the table in 30.
Print
Rate
Ingredients
½

cup

Tamari soy sauce

⅛

cup

honey

¼

teaspoon

minced garlic

2

pieces

about 7 oz. each salmon fillets

1-½

Tablespoons

sesame seeds
Instructions
In a small sauce pan, mix soy sauce, honey, and garlic. Cook over medium-high heat, stirring often, until glaze is reduced by about a third, 7 to 10 minutes.

Preheat oven to 450 degrees.

Set aside 1-½ tablespoons of the glaze to top the finished salmon.

Pour remainder into a shallow 2-quart baking dish. Place salmon pieces in dish and let stand 15 minutes. If the salmon has skin on one side, put the flesh side down first to marinate then turn pieces over just prior to cooking.

Place on middle shelf in oven and bake for 15 – 20 minutes. Remove from oven.

Turn oven to broil. Baste salmon with sauce from the baking dish then sprinkle with sesame seeds. Broil for 2-3 minutes, about 6? from heat, just until sesame seeds are toasted.

To serve, place salmon on serving plates and drizzle reserved glaze around plate or on top of salmon.