Indulge in all your favorite fall flavors with this delicious Caramel Apple Crumble Pie. Rich caramel-infused apples are topped with golden crumbs then drizzled with even more caramel. This delectable dessert captures the taste of autumn in every bite. Perfect for the season and Thanksgiving holiday.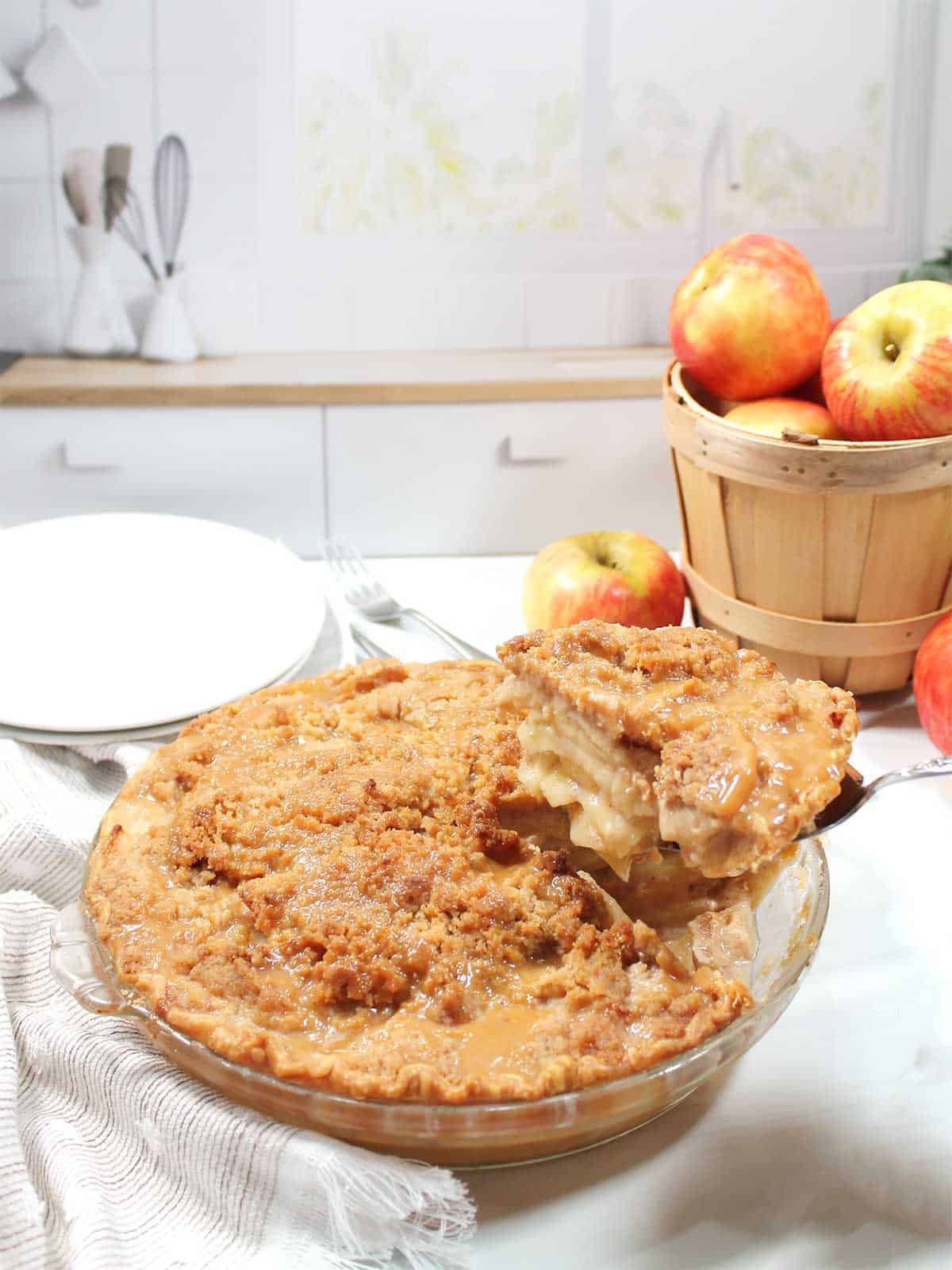 FYI - This post contains affiliate links. As an Amazon Associate, I earn from qualifying purchases. All links are products I use when making my recipes.
Homemade Pies for Every Season
Pie is the perfect dessert to bring people together from holiday celebrations to just a special treat for the family. From fall classics like apple pie and cherry pie to Thanksgiving favorites like Pumpkin Chiffon Pie and Pecan Pie to summer cookout favorites like tart Key Lime Pie or cool Coffee Ice Cream Pie. There is never "not a good time" to make a pie.
Homemade pies bring a feeling of love and home to the table with flavors and textures to please any palate. There are endless options for fillings, there are pies you bake and those you don't as well as a plethora of crust choices like an all-butter pastry crust, a store-bought crust, or your favorite cookie or graham cracker crust.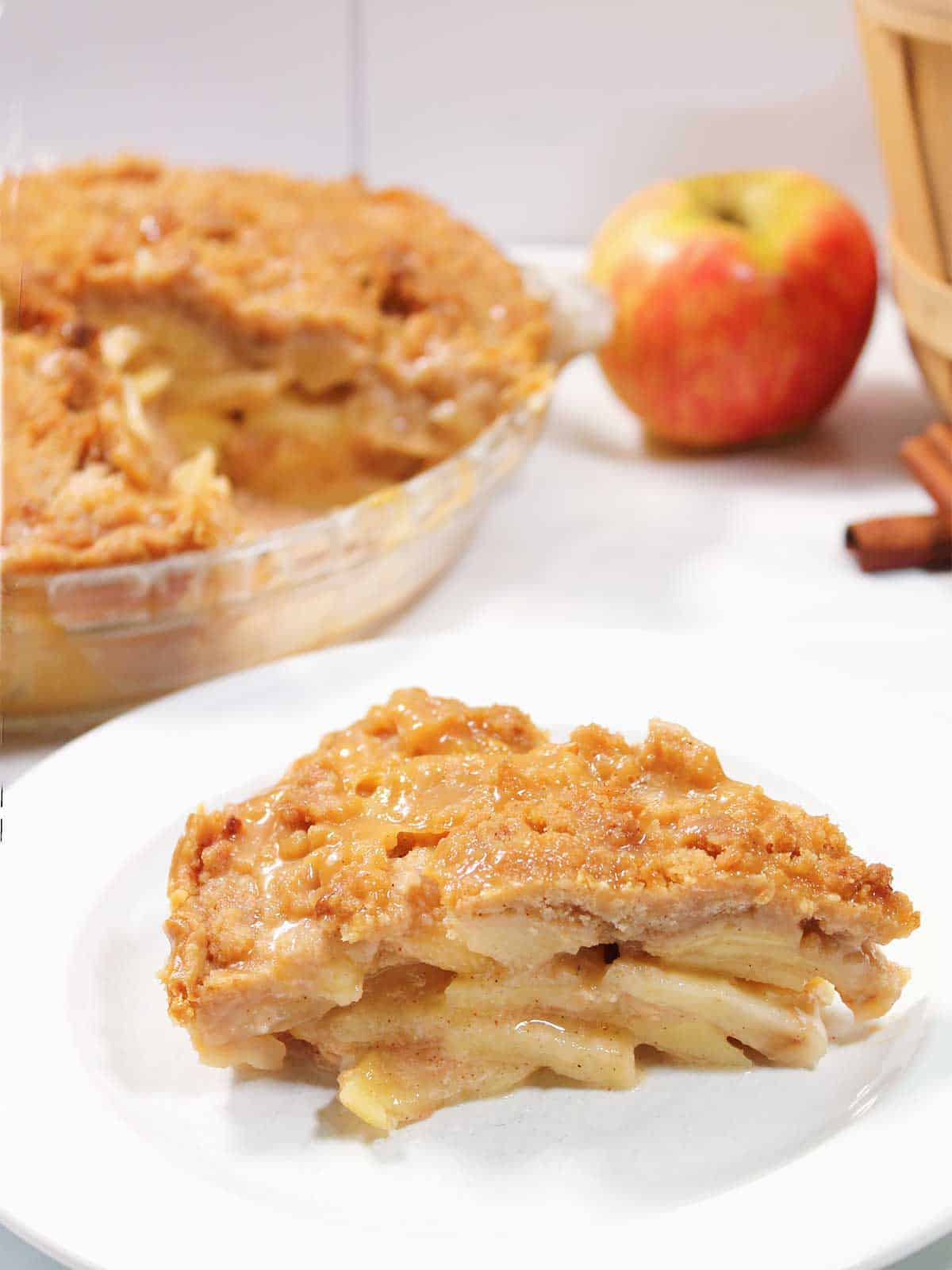 There are double-crust pies and easier single-crust pies like this blueberry galette or even easy no-bake alternatives like Grasshopper Pie. Or course, you don't need an excuse to bake a homemade pie. Pick your favorite filling, your favorite pastry or cookie crust, and serve it up with scoops of ice cream or swirls of whipped cream and simply enjoy!
Why You'll Love This Caramel Apple Crumble Pie Recipe
You don't have to cook the apples to make the apple pie filling.
Caramel inside and out! It's in the filling and on top of the crumb crust.
You can use a store-bought pastry pie crust for convenience or make your own pie crust.
The homemade caramel sauce is creamy which adds a special richness to the pie. Or you can use store-bought caramel sauce, about 1-½ to 1-¾ cups.
A great pie to make ahead of time and serve later.
Brings all the flavor of the fall apple season to the table with the nostalgic taste of caramel apples. Great dessert for the holidays or any time of year.
Ingredients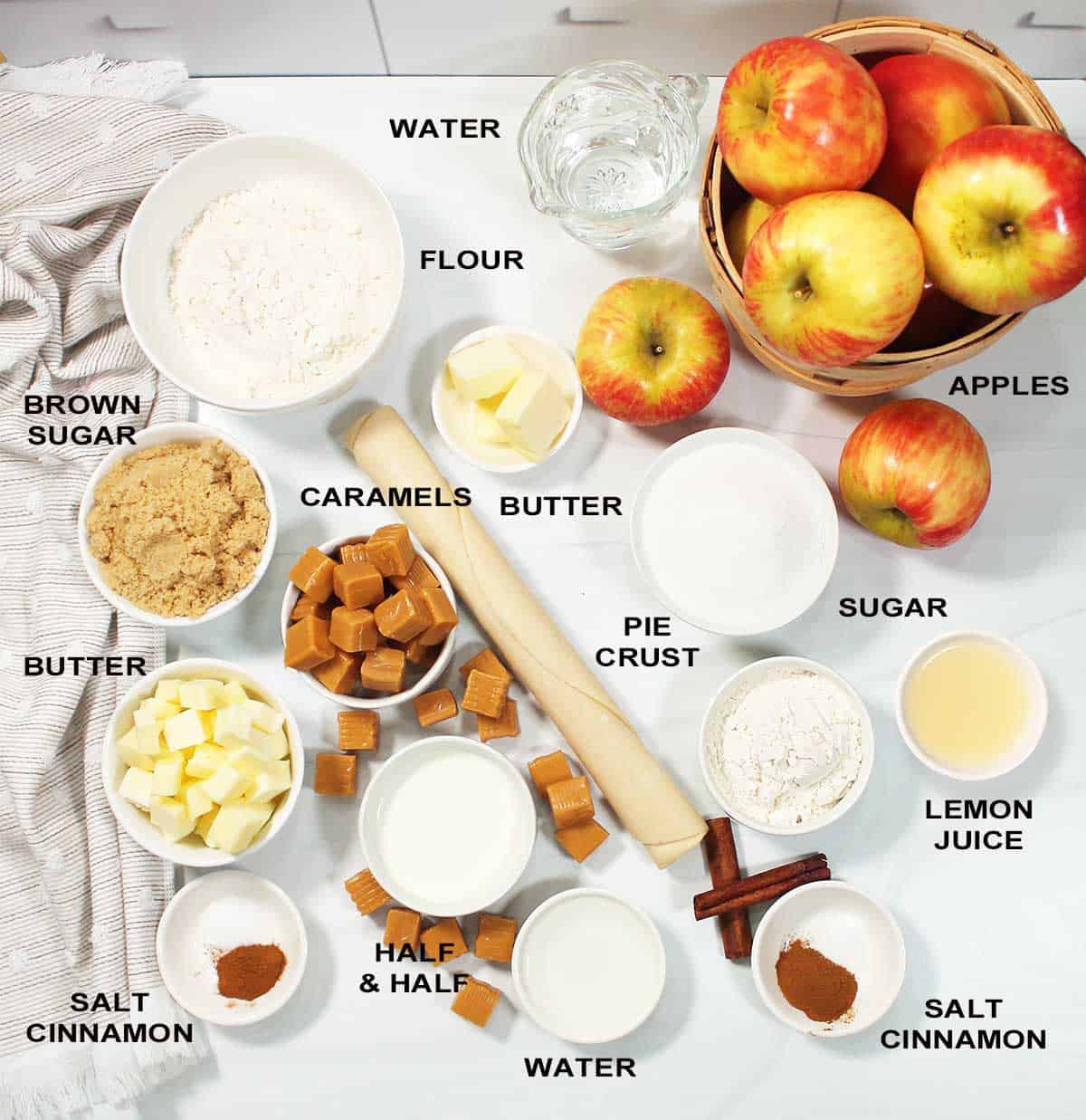 For the crust and caramel apple pie filling:
Pastry pie shell – either homemade pie crust or refrigerated premade crust
Apples - pared, cored, and sliced
Lemon juice - to keep the apples from browning
Water
White granulated sugar
All-purpose flour
Ground cinnamon
Salt
Butter
Ingredients for homemade caramel sauce for apple pie:
Caramels - Kraft brand recommended
Water
Evaporated milk or half and half
For the caramel apple pie crumb topping:
All-purpose flour
Light brown sugar
Butter
Ground cinnamon
Salt
Best Apples for Caramel Apple Pie
When making a caramel apple pie, the choice of apples is crucial. You want apples that retain their shape and don't turn to mush when baked. Additionally, since caramel is very sweet, it's often a good idea to choose apples that offer a mix of sweetness and tartness to balance out the flavors. Here are some of the best apple varieties for caramel apple pie:
Granny Smith: These are the classic pie apples. They're tart, crisp, and hold their shape well during baking.
Honeycrisp: These are sweet with a slight tartness and are also crisp. They have a juicy texture that can complement the caramel nicely.
Braeburn: They have a balanced sweet-tart flavor and a firm texture, making them a good choice for pies.
Jonagold: A cross between Jonathan and Golden Delicious, Jonagolds offer a blend of tartness and sweetness.
Northern Spy: This is an old favorite for pies. They're more tart than sweet and hold their shape very well.
Pink Lady (or Cripps Pink): They're crisp with a tangy-tart flavor that can counterbalance the sweetness of caramel.
Consider using a mix of two or more apple varieties. This can provide a more complex flavor profile and a balanced texture.
Equipment Needed
How to Make Caramel Apple Pie with Crumb Topping
Start this recipe with a store-bought pastry crust and place it in a deep dish pie plate. Crimp the edges and set aside.
To make apple filling: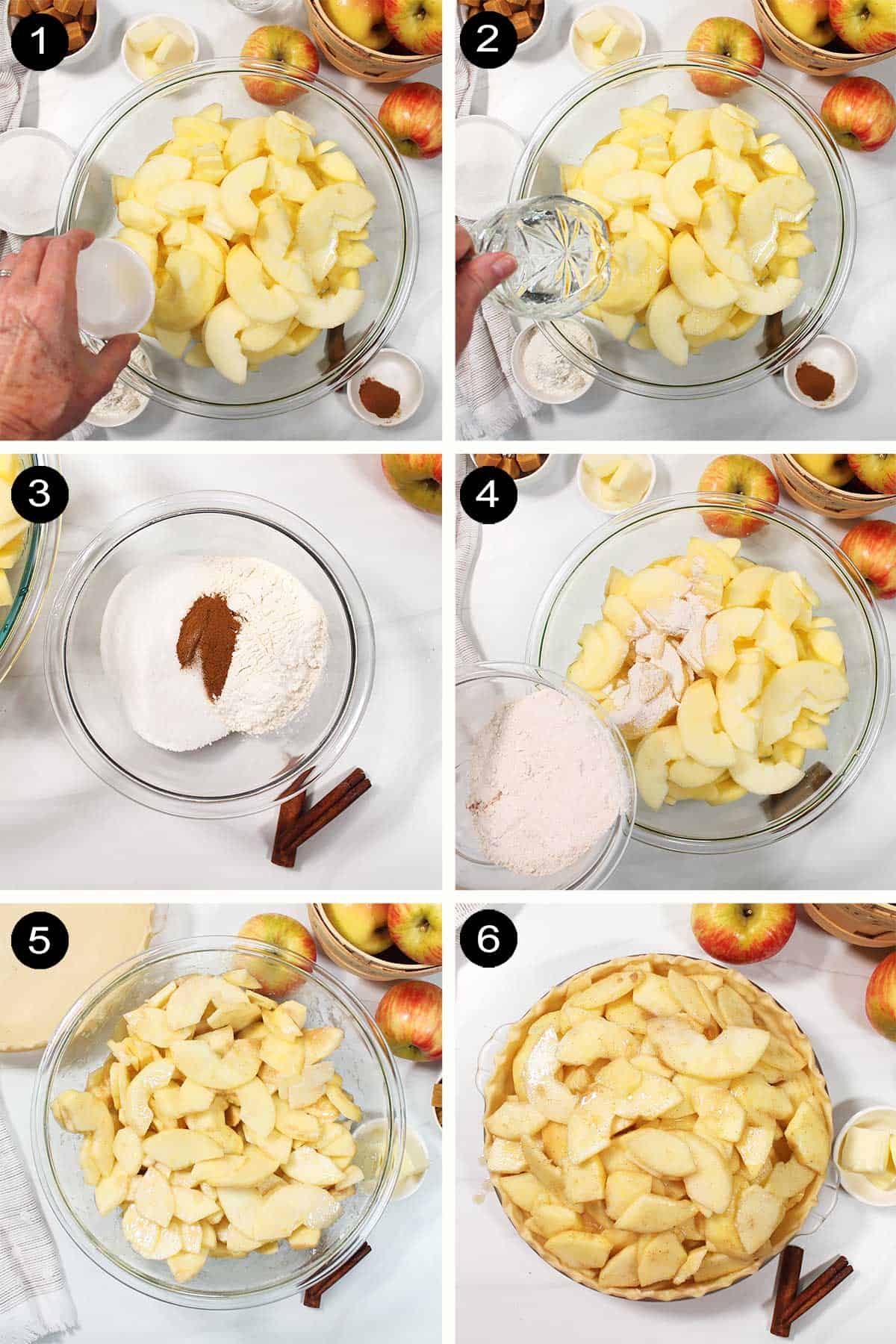 Peel, core, and slice apples and place in a large bowl. Sprinkle lemon juice on them as you go to prevent browning.
Add water and stir.
Combine sugar, flour, cinnamon, and salt in a small bowl.
Sprinkle on the apples.
Toss to coat.
Place apples in a deep dish pie plate that has been lined with a fluted pastry crust. They will be heaped above the rim but will shrink down as they are cooked.
To make caramel sauce: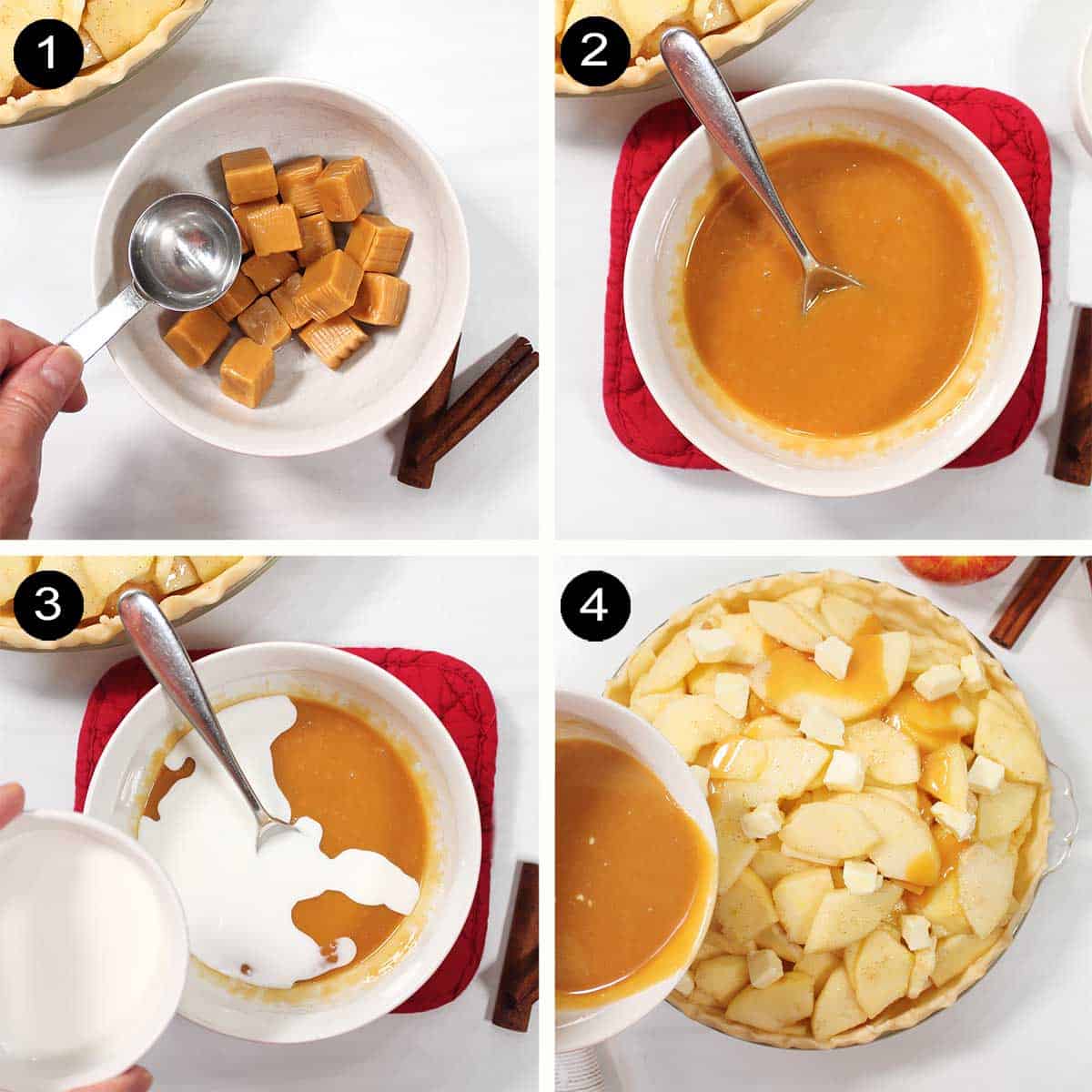 Place caramels in a small bowl and mix with 2 tablespoons of water.
Microwave in 30-second increments, stirring in between, until melted and smooth.
Stir in evaporated milk or cream and let cool slightly.
Dot the apples with butter then drizzle half of the caramel sauce over the apples in the pie crust.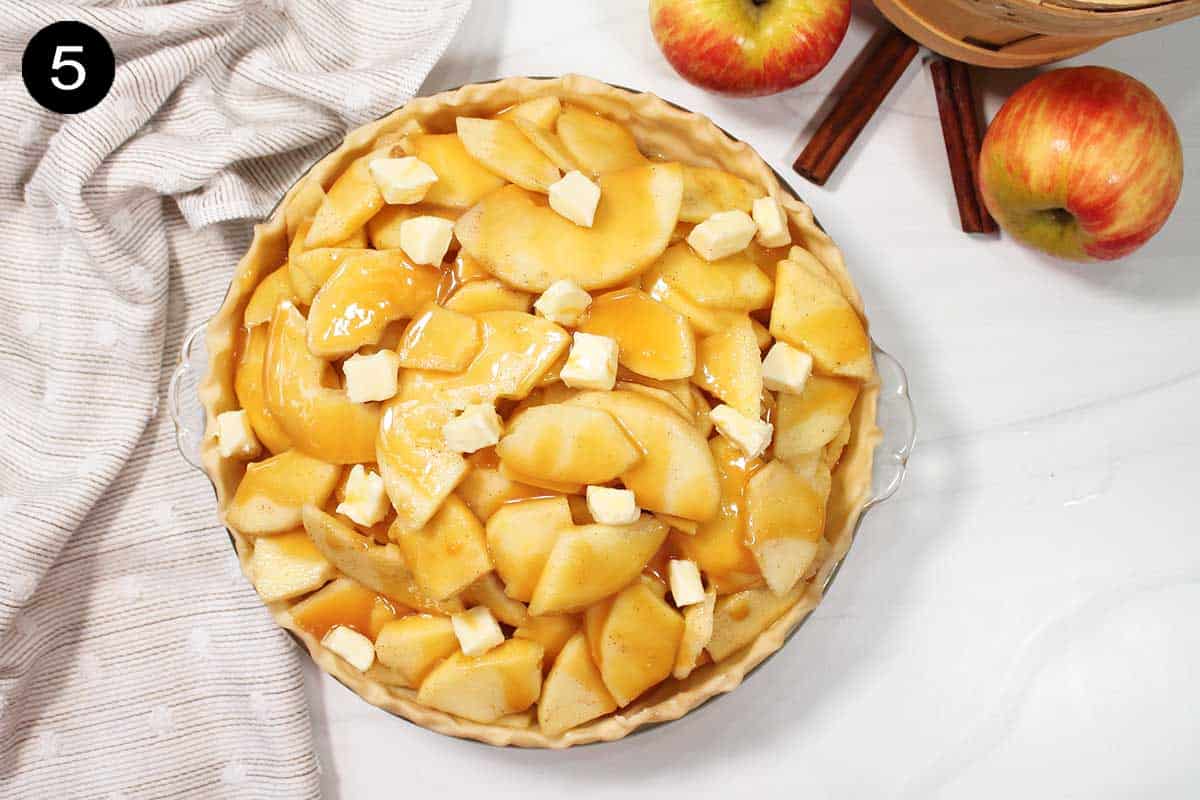 Ready for the crumble topping.
How to make crumble topping: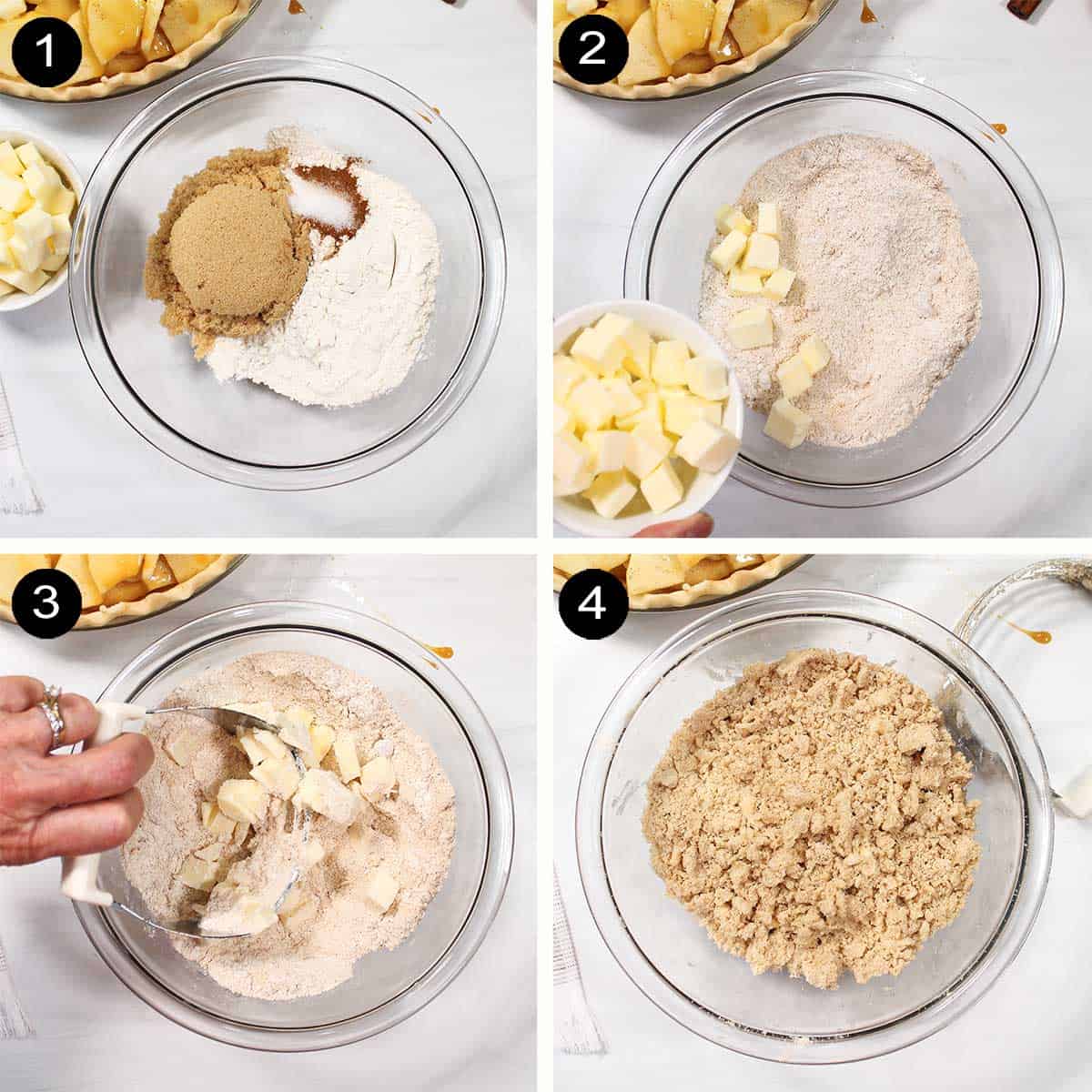 In a medium bowl, combine flour, brown sugar, salt, and cinnamon.
Add very cold cubed butter.
Using a pastry cutter or fork, cut the butter into the flour-sugar mixture.
Work it until it resembles small crumbs.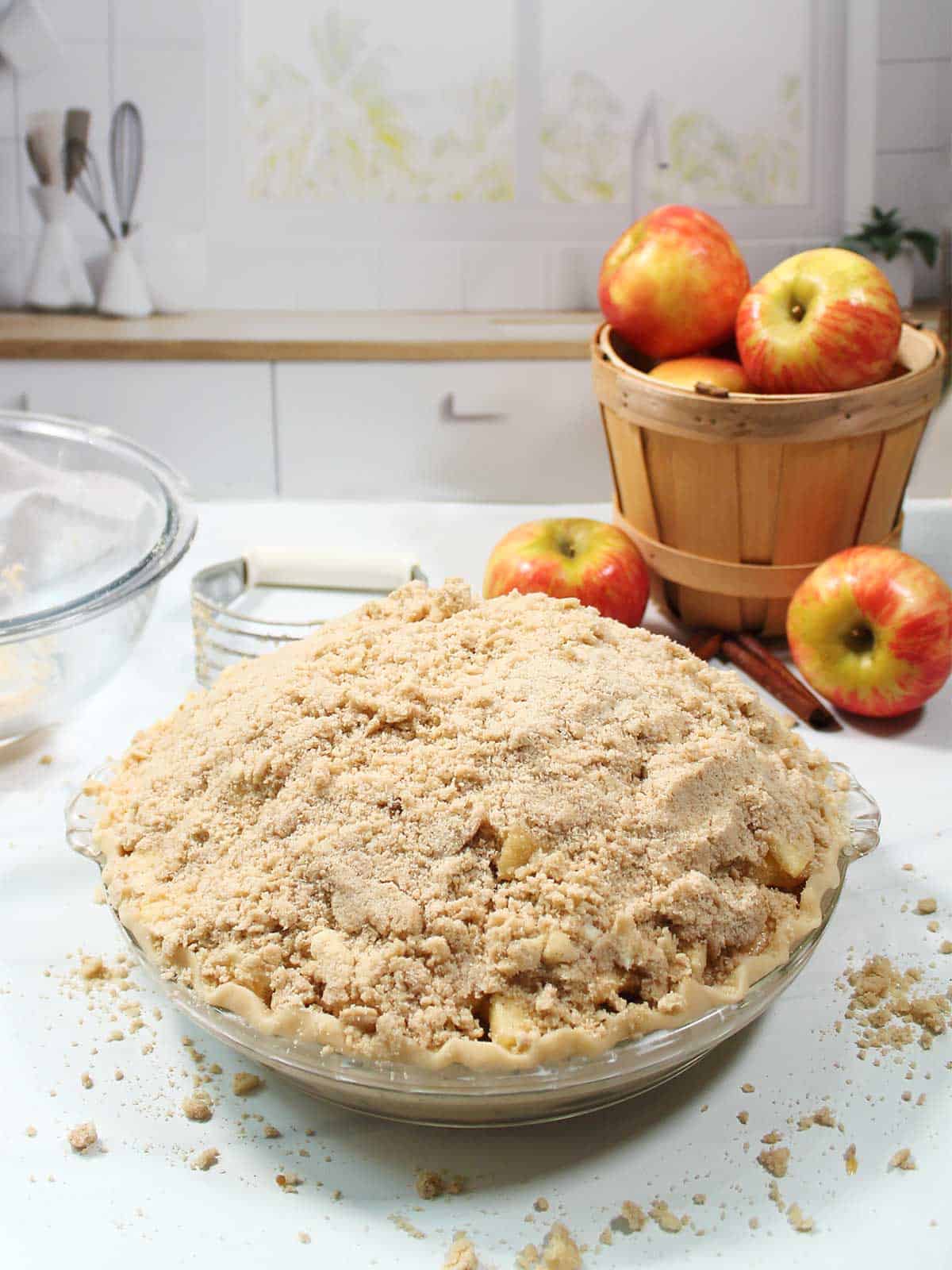 Pile the crumbs on top of the apples. Bake the pie at 375°F for 50-60 minutes or until the apples are tender.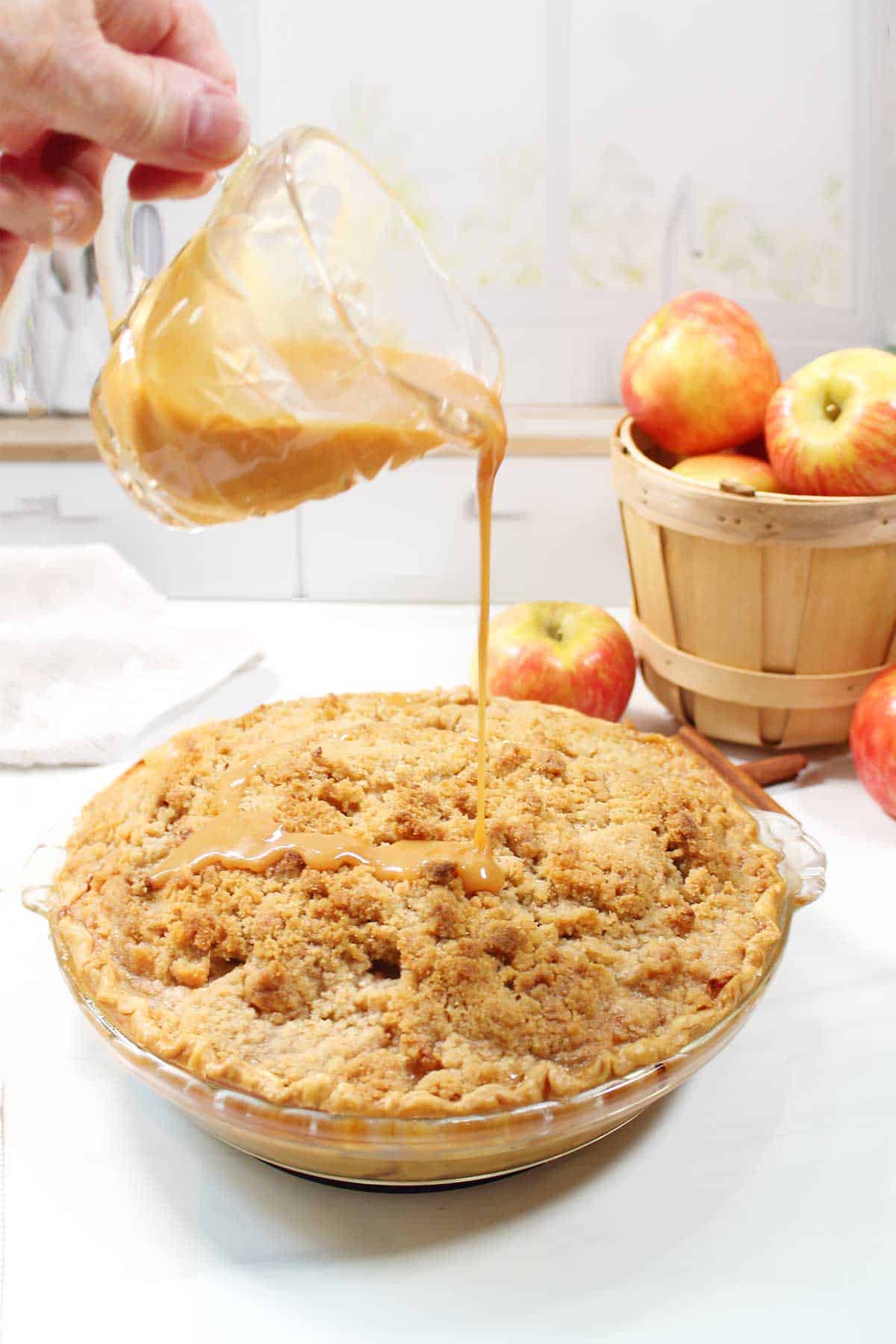 To finish, let the pie cool for 10 minutes then drizzle the baked pie with the remaining caramel sauce. Let cool on a wire rack then chill for at least 2 hours before serving. Serve as is or with a scoop of vanilla ice cream. 'Cause, why not! Enjoy!
Recipe Tips
For a crumbly and buttery topping, use cold butter when making the crumb. Use a pastry cutter, fork, or your fingers to mix until it forms crumbs.
To make coring and slicing apples quick and easy, use either an Apple Spiral Slicer or Apple Cutter Slicer.
Set the pie on a baking sheet to catch any drips or spills while it is baking.
The edges of the pie crust tend to brown or burn faster than the rest of the pie. Consider using a pie shield or a ring of aluminum foil around the edges to prevent the crust from browning too quickly.
Once baked, allow your pie to cool for a few hours. This helps the filling set and makes for neater slices when you serve it.
Recipe Variations
Apple Pear Caramel Pie - Substitute half of the apples with pears.
Bourbon Caramel Apple Pie - Substitute the water in the caramel sauce with bourbon.
Caramel Apple Cranberry Pie - Substitute up to 2 cups of apples with fresh or frozen cranberries.
Caramel Apple Crisp Pie - Add ¼ cup of oats to the crumb topping.
Caramel Apple Nut Pie - Add ¼ cup of chopped pecans or walnuts to the crumb topping.
Crust - Use a graham cracker crust or shortbread crust instead of the pastry crust.
Gluten Free - Use a gluten-free pie crust and use a gluten-free 1:1 baking mix for making the crumb topping.
Salted Caramel Apple Pie - Add ¼ teaspoon of salt to the caramel sauce.
How to Serve Caramel Apple Crumb Pie
This pie is best served at room temperature or slightly warm. Here are some ideas for serving it:
Caramel Sauce Drizzle - because there can never be too much caramel.
Ice cream - Vanilla, cinnamon, caramel, or salted caramel.
Whipped Cream - Plain, vanilla, or cinnamon.
How to Store, Freeze, and Reheat
Storing: Cool the pie to room temperature. If you plan to eat the pie within a day or two, simply cover it with plastic wrap or aluminum foil and store it at room temperature. For storage longer than two days, it's best to refrigerate the pie. Cover it tightly with plastic wrap or aluminum foil to prevent it from absorbing any refrigerator odors.
Freezing: Cool the pie to room temperature. Wrap the entire pie or individual slices with a layer of plastic wrap then a layer of aluminum foil or place the plastic-wrapped pie in a freezer-safe container or plastic freezer bag. Freeze it for up to 4 months. Thaw it in the fridge overnight.
Reheating: Reheat individual slices in a microwave in 20-second increments or until warm. Or reheat a whole pie in the oven at 350°F for 15 to 20 minutes.
Note: If you plan on freezing a whole pie, do not use a glass pie dish. Instead, use a metal pie plate or disposable aluminum pan. Freezing can cause glass dishes to crack.
More Apple Recipes
Here are some ways to enjoy apples from breakfast to dessert:
Find lots of delicious and easy dessert recipes right here on 2CM!
LOVE QUICK & EASY RECIPES? FOLLOW ME ON INSTAGRAM, FACEBOOK, & PINTEREST FOR ALL THE LATEST RECIPE INSPIRATION! PLUS JOIN MY EMAIL LIST AND RECEIVE A FREE E-BOOK.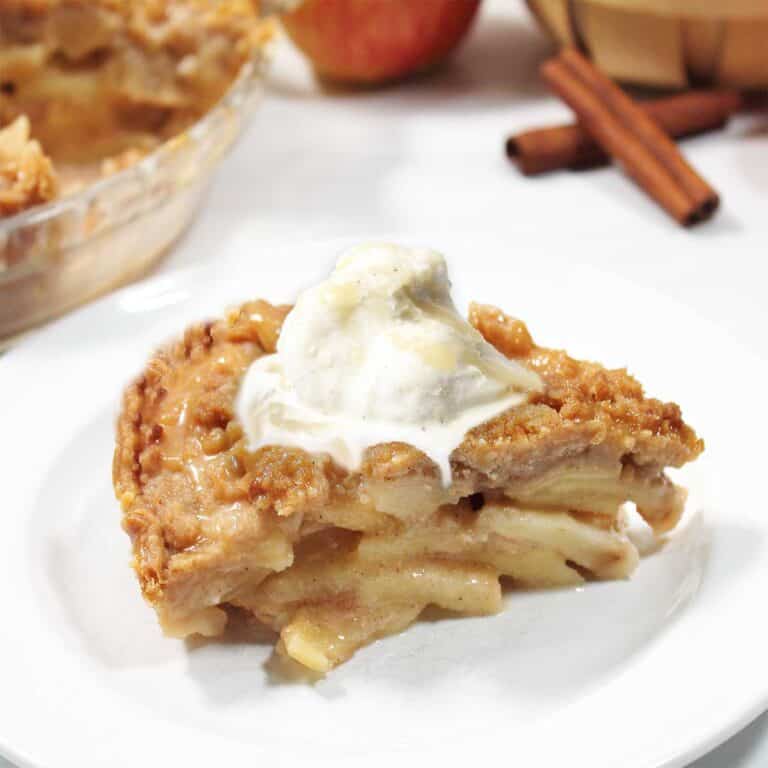 Caramel Apple Crumble Pie
Embrace autumn with this Caramel Apple Crumble Pie. Infused with caramel apples, golden crumbs, and a caramel drizzle, it's the ultimate seasonal treat.
Print
Rate
Ingredients
1

pie shell

either homemade or refrigerated premade crust
Apple Filling
9

cups

apples

cored and sliced (about 3 pounds or 9 medium apples)

1 ½

Tablespoons

lemon juice

¾

cup

water

¾

cup

white granulated sugar

⅜

cup

all-purpose flour

1

teaspoon

ground cinnamon

⅛

teaspoon

salt

3

Tablespoons

butter

sliced thin
Caramel Sauce
28

pieces

caramels

2

Tablespoons

water

¼

cup

evaporated milk or half and half
Crumb Topping
1

cup

all-purpose flour

⅔

cup

light brown sugar

½

cup

very cold butter

cut into small cubes

½

teaspoon

ground cinnamon

¼

teaspoon

salt
Instructions
Line a deep dish pie dish with pie crust.
Apple Filling
Peel, core and slice apples and place in a large bowl. Sprinkle lemon juice on them as you go to prevent browning.

Add water and stir.

In a small bowl, combine sugar, flour, cinnamon and salt.

Sprinkle on apples and toss to coat.

Place apples in pie crust and dot with butter. They will be heaped above the rim but will shrink down as they are cooked.
Caramel Sauce
Melt caramels with 2 tablespoons water in a microwave-safe dish in 30-second increments, stirring in between.

Stir in evaporated milk. Let cool slightly.

Drizzle half of the caramel sauce over the apples.
Crumb Topping
Place all ingredients for crumbs in a medium bowl. Using a fork, mash it all together until it resembles coarse crumbs.

Sprinkle on top of apples.
Baking
Bake for 50 to 60 minutes or until the apples are tender.

Remove the pie from the oven and let it rest for 10 minutes then pour the remaining caramel sauce over the top.

Let cool completely on a wire rack for at least 2 hours then chill in the refrigerator at least 2 hours before serving.
Notes
You can use 1 ½ to 1 ¾ cups jarred caramel sauce instead of homemade.
Nutrition
Calories:
466
kcal
|
Carbohydrates:
74
g
|
Protein:
4
g
|
Fat:
18
g
|
Saturated Fat:
9
g
|
Polyunsaturated Fat:
2
g
|
Monounsaturated Fat:
6
g
|
Trans Fat:
0.4
g
|
Cholesterol:
31
mg
|
Sodium:
286
mg
|
Potassium:
217
mg
|
Fiber:
3
g
|
Sugar:
49
g
|
Vitamin A:
397
IU
|
Vitamin C:
5
mg
|
Calcium:
71
mg
|
Iron:
1
mg