Quick & easy chipotle chicken quesadillas are kicked up a notch with chipotle peppers and topped with fresh tomatoes, cilantro and cheese. Makes a great dinner or appetizer.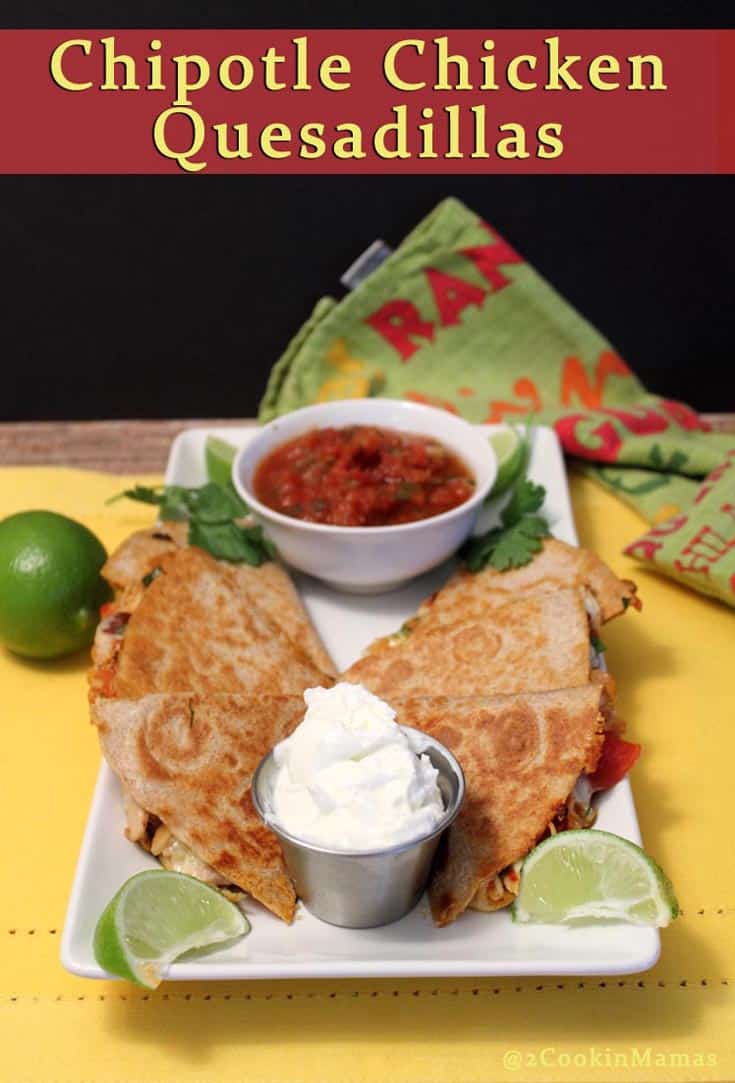 I am all about flavor and healthy meals and try to do my best to fix those types of meals for my husband and I. My Chipotle Chicken Quesadillas are a perfect example of a healthy meal with so much flavor it will blow your mind! This is just the type of meal that you might find in one of your HelloFresh boxes, which is why I am so excited to be part of this fantastic giveaway! HelloFresh has offered to give one lucky winner $500 worth of HelloFresh meals! That's like 50 deliciously healthy, under 30 minute meals to help you throughout the week. I sure wish I could win this awesome prize!

If you've been following my blog you know already how much I love Mexican. Just last week I featured my homemade Enchilada Sauce and during the previous week cooked up some awesome low-fat Turkey Chilaquiles. Today I am bringing you a kicked up quesadilla recipe that boasts boatloads of flavor and are perfect as an appetizer or as a full-fledged dinner.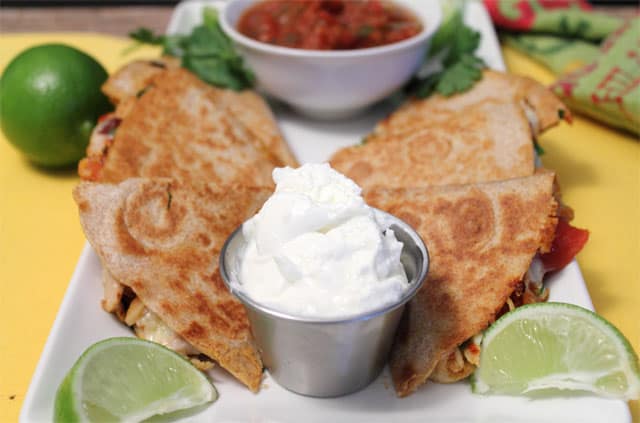 My husband actually found the recipe originally on Once Upon A Chef and made it for me. It was so delicious that I just had to make it again and share it with all of you. I really love the addition of chipotle peppers to the mix as they add a smoky, spicy edge to the dish. And the fresh tomatoes, onions and cilantro give it a fresh south of the border flavor. If you don't like very spicy dishes, take note that chipotle peppers can be hot so if you want the dish a little milder, cut down on the amount of peppers you use.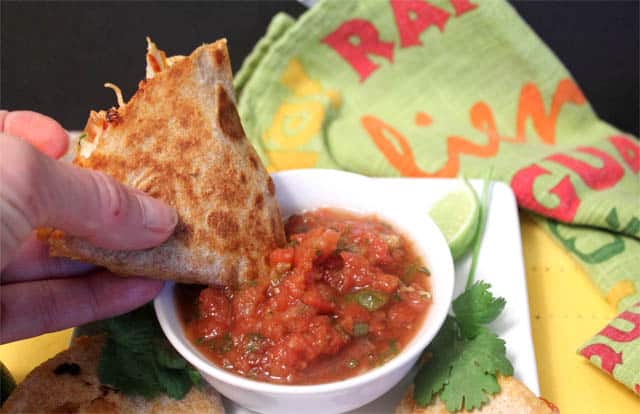 So what are you waiting for? Cook up a batch of these incredible quesadillas (you can even make the filling the day before) and then enter to win the HelloFresh giveaway below! (Giveaway has ended.)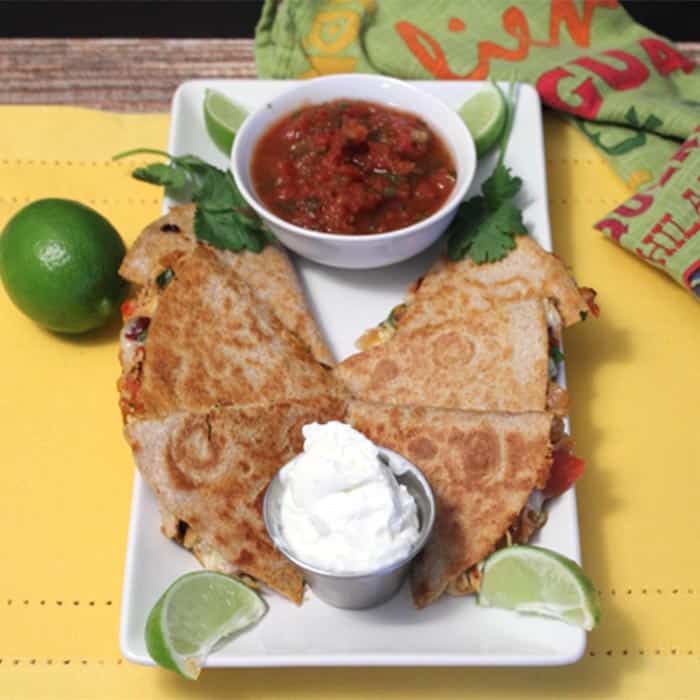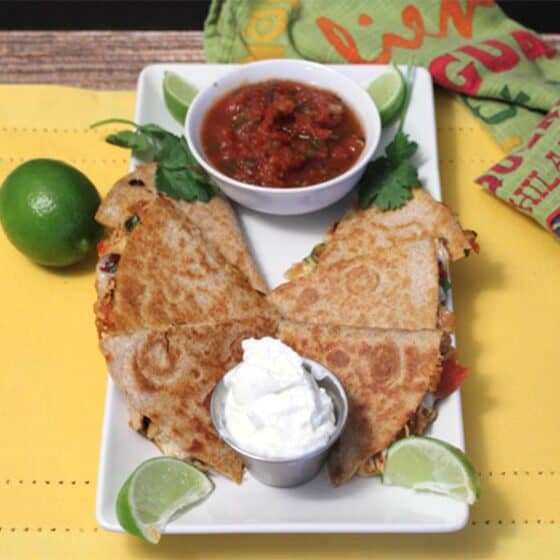 CHIPOTLE CHICKEN QUESADILLAS
A quick & easy chipotle chicken quesadilla that is kicked up a notch with chipotle peppers and topped with fresh tomatoes, cilantro and cheese.
Ingredients
3

Tablespoons

extra light olive oil

1

large red onion, chopped

4

garlic cloves, minced

4

chipotle peppers in adobo sauce

(you can add more or less to suit your taste)

4

ripe tomatoes, diced

3

scallions, sliced thin

2

Tablespoons

of honey

2-1/2

cups

cooked chicken, shredded

(I used a rotisserie chicken

1

teaspoon

salt

1/2

cup

cilantro, chopped

6

8" flour tortillas

4

cups

sharp cheddar cheese, shredded

Garnishes: sour cream, salsa, lime wedges, green onion
Directions
Heat olive oil in a large skillet over medium heat.

Sauté onion until soft and translucent, about 5 minutes.

Add garlic and cook an additional minute.

Stir in chipotle peppers and tomatoes and cook for about 20 minutes or until mixture has thickened.

Stir in scallions, honey, chicken, salt and cilantro. Keep over heat until chicken has warmed. At this point you can store in an airtight container in the refrigerator and make when you are ready or just keep it warm and prepare the tortillas.

Heat a flat griddle over medium heat.

Once hot, place a tortilla on the hot pan and wait for it to puff up.

Turn it over and sprinkle about 1/2 cup cheese over top. Wait for it to melt slightly then add about 1/3 cup filling to one half of the tortilla.

Fold the tortilla in half and brown both sides.

Repeat with remaining tortillas.

Let tortillas rest a few minutes to make them easier to cut into wedges. Serve with your favorite sides.
Check out the great group of bloggers that are working together to bring you this amazing giveaway. Start now & share some love with them!
Seduction Meals, The Emotional Baker, The Merchant Baker,No Spoon Necessary, Leelalicious, Seasonal Cravings, The Gingham Apron, Tasty Ever After, The Skinny Pot, Kiwi and Carrot, Jar of Lemons, Sustaining the Powers, Beer Girl Cooks
Cake 'N Knife, That Square Plate, The Secret Ingredient Is, Kitchen of Eatin', Bessie Bakes, The Speckled Palate, Jeannie's Tried and True Recipes, Avocado Pesto, 2 Cookin' Mamas, Two Sisters Kitchens, Feast and West, Kim's Cravings, Brunch N Bites, Twin Stripe, Arousing Appetites
DON'T MISS A RECIPE!