When you realize how easy it is to make homemade baked tortilla chips you will never go back to store bought again! It's a simple recipe with just 3 ingredients - corn tortillas, olive oil and cayenne salt then pop in the oven. Fresh, warm chips in 15 minutes that go perfectly with your favorite salsa and guacamole.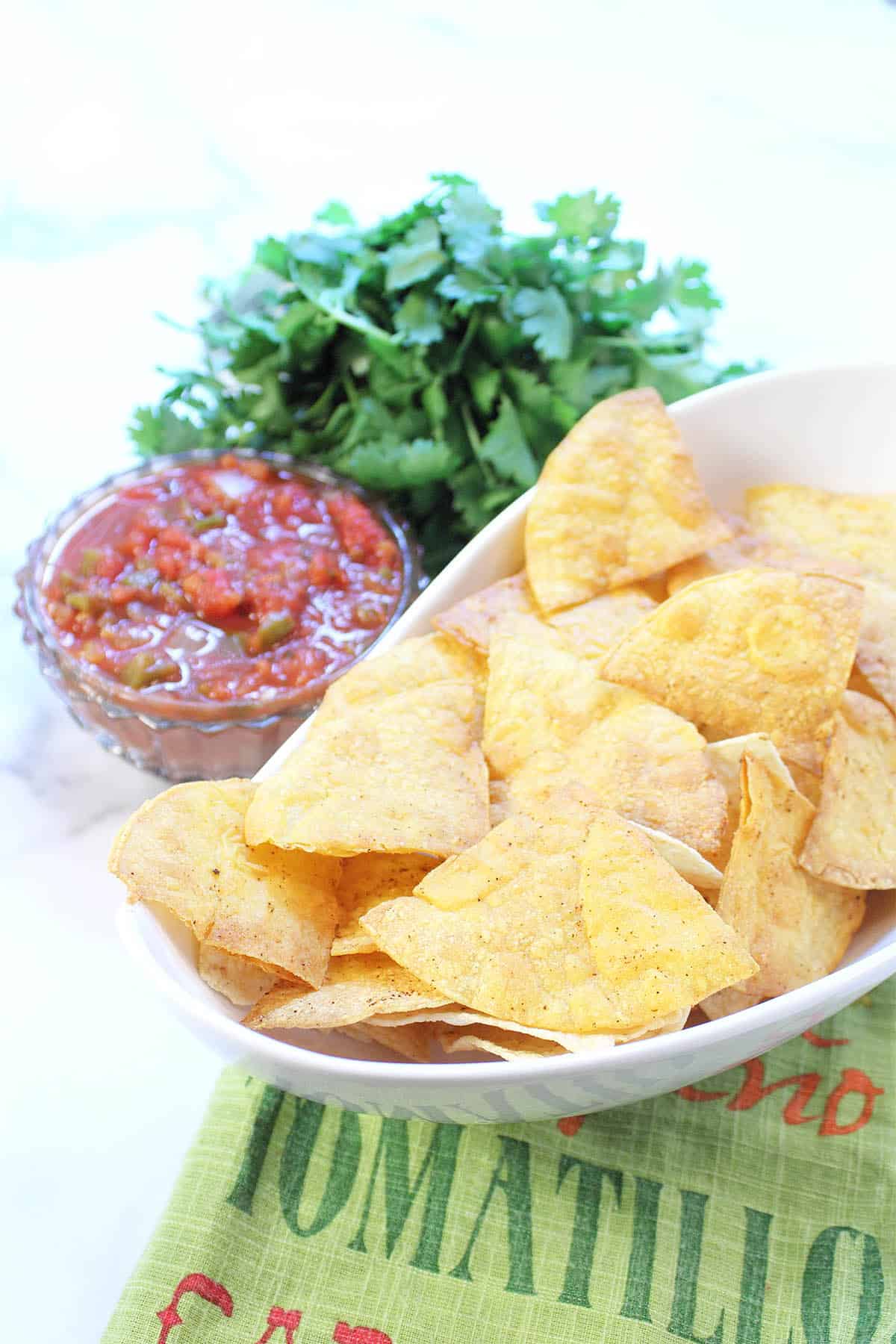 Last night I was all prepared to whip up some guacamole and serve with some chips as an appetizer to our Beef Enchiladas when I realized I had run out of tortilla chips. Oh no! And you know when you get your mind made up to have something you just can't possibly do without, right?! So I looked to see if there was a way I could make my own without making a quick dash to the store. Surprisingly other people must have found themselves in the same situation because the amount of recipes I found was staggering.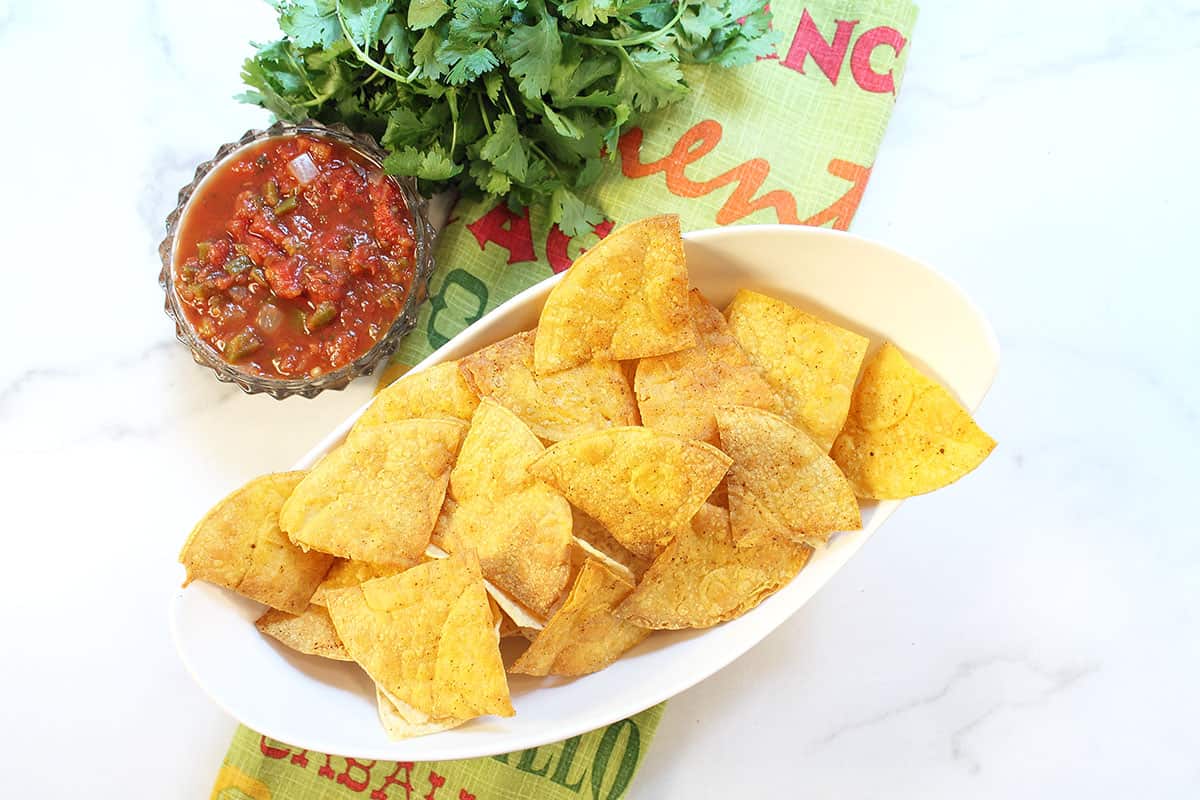 I took the best from each one of them, experimented quite a bit, (and we won't go into how many went into the circular file either) and I finally hit upon the combination I was looking for. The corn chips had to be crispy, they had to be tasty and they had to hold up to salsas and dips. (sounds like that old song "I need a hero") And they actually came out better than the ones you purchase in the bag! Hallelujah I've seen the light! Plus I can serve them warm just the way the Mexican restaurants do in our area. If you want a crispy, spicy tortilla chip warm from the oven this is your recipe!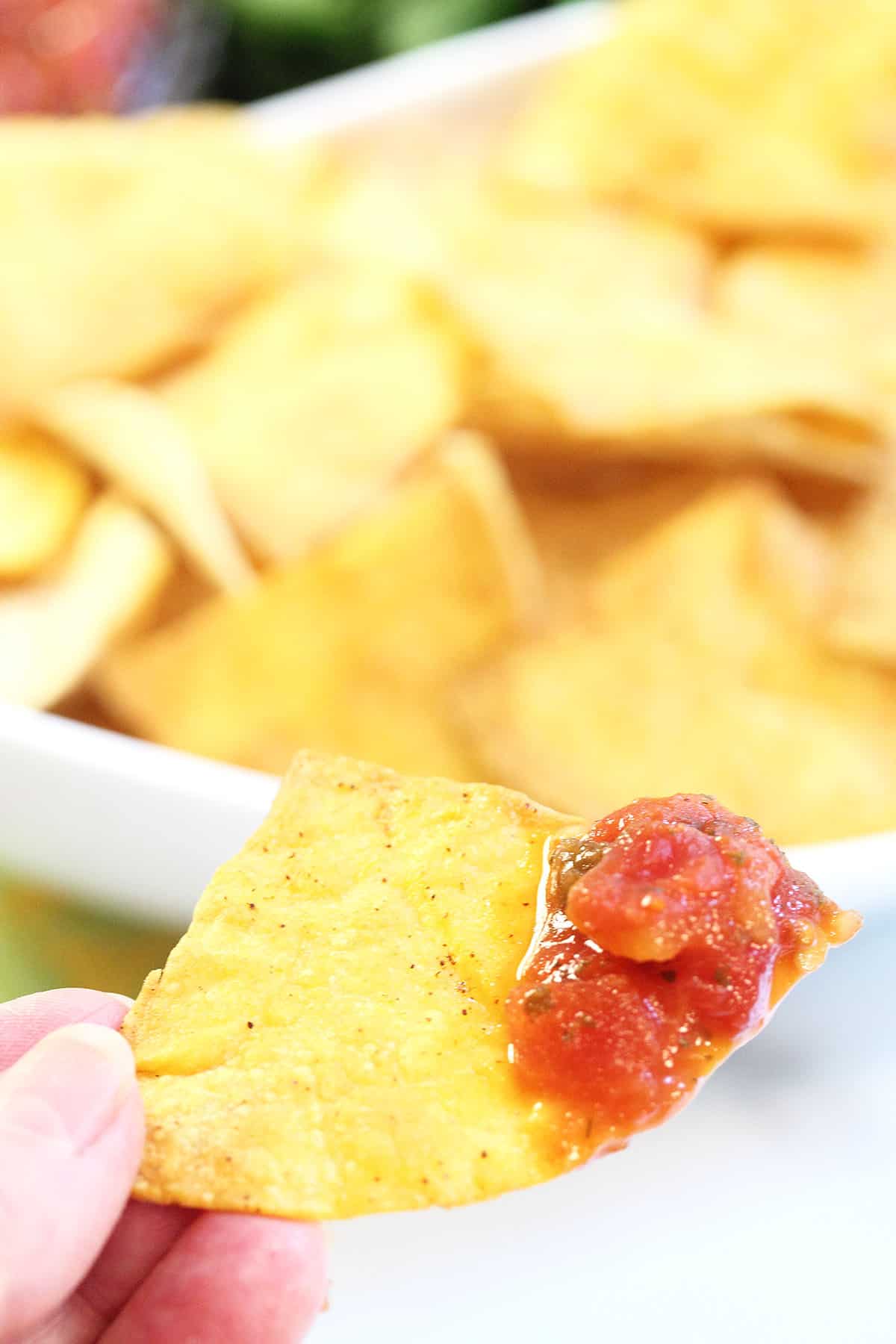 Tortilla chips come in all flavors
When you start making these tortilla chips as much as I do, you'll want to vary the seasonings for a change of pace. In place of the cayenne, try any of these flavors.
taco seasoning
chipotle powder
garlic powder
little lime juice brushed over the top then salt
go all out and mix a combination of 1 tablespoon olive oil, 2 teaspoons grated fine Parmesan cheese, ¾ teaspoon chili powder, ¾ teaspoon smoked paprika and ¼ teaspoon salt for a Doritos type flavor. Toss in a bag with the uncooked tortilla pieces then bake.
Frequently asked questions
Can I bake these without oil?
Actually you can! Just skip the oil step, sprinkle with salt and your favorite seasoning and bake as directed. Watch carefully as they can burn more easily than the ones with oil. By the way, there is no need to oil the cookie sheet as these have little water in them so they won't stick.
What type of tortillas should I use?
I use the small 6" corn tortillas in either white or yellow corn. You can opt to use flour but they will cook up a little differently. Check out my Cinnamon Tortilla Chips for a flour tortilla version.
How long will these homemade chips last?
Store them in an airtight resealable bag and they should last 3-4 days at room temperature. I haven't tested this theory as I never have any left!
What can I do to crisp these chips up again?
Place the chips on a cookie sheet in a 350 degree oven for 5-minutes.
Are these corn tortilla chips gluten-free?
They can be! Check the bag of corn tortillas that you purchase. If it says they are gluten-free, the resulting chips will be gluten-free.
Directions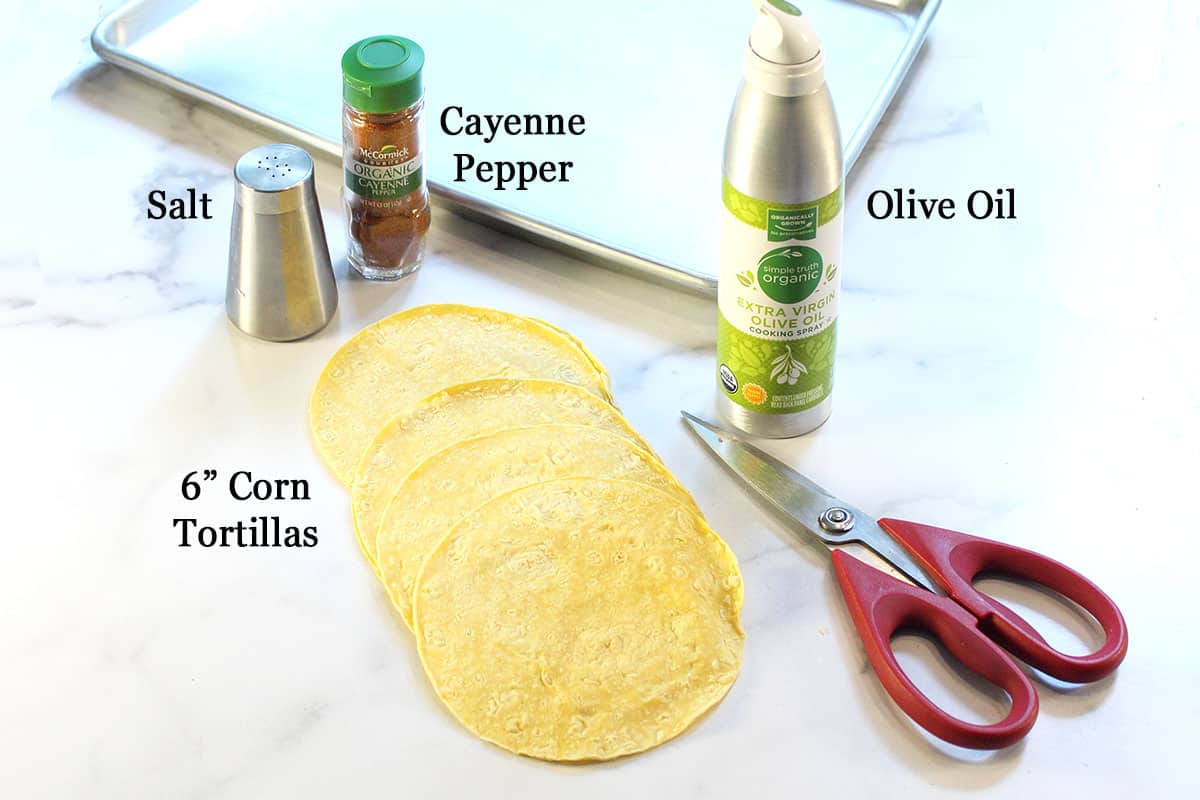 Gather ingredients. This recipe uses corn tortillas in lieu of flour tortillas which makes them a little healthier and gluten-free too.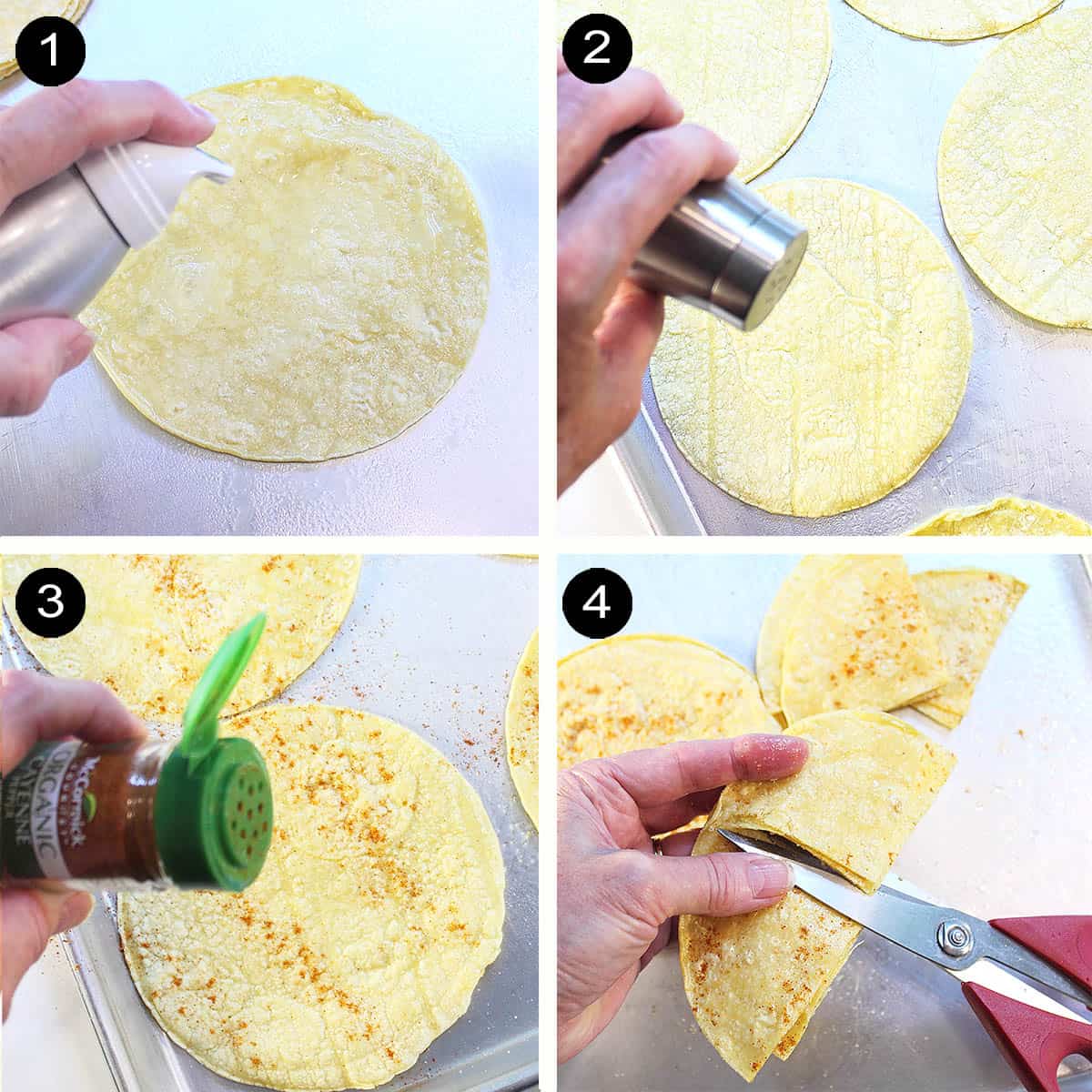 Spray each corn tortilla with olive oil or vegetable oil. You can also brush it on if you don't have the spray variety. (photo 1)
Sprinkle each tortilla with salt. You can use either regular table salt or sea salt. (photo 2)
If you like your chips with a little spice, add some cayenne pepper to each tortilla. (photo 3)
Cut the tortillas in fourths with either a kitchen shears, a pizza cutter or a sharp knife. (photo 4)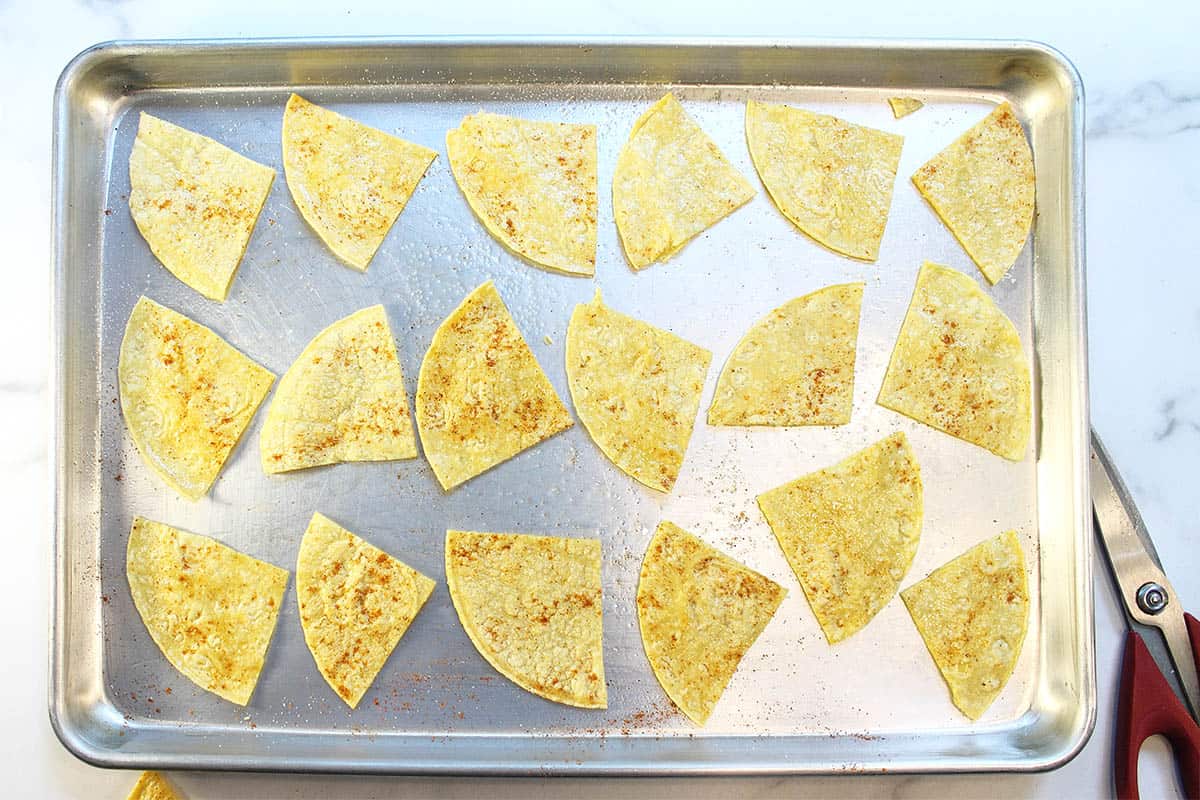 Place on cookie sheet making sure that they don't touch each other. This ensures all the chips will get crisp. Bake.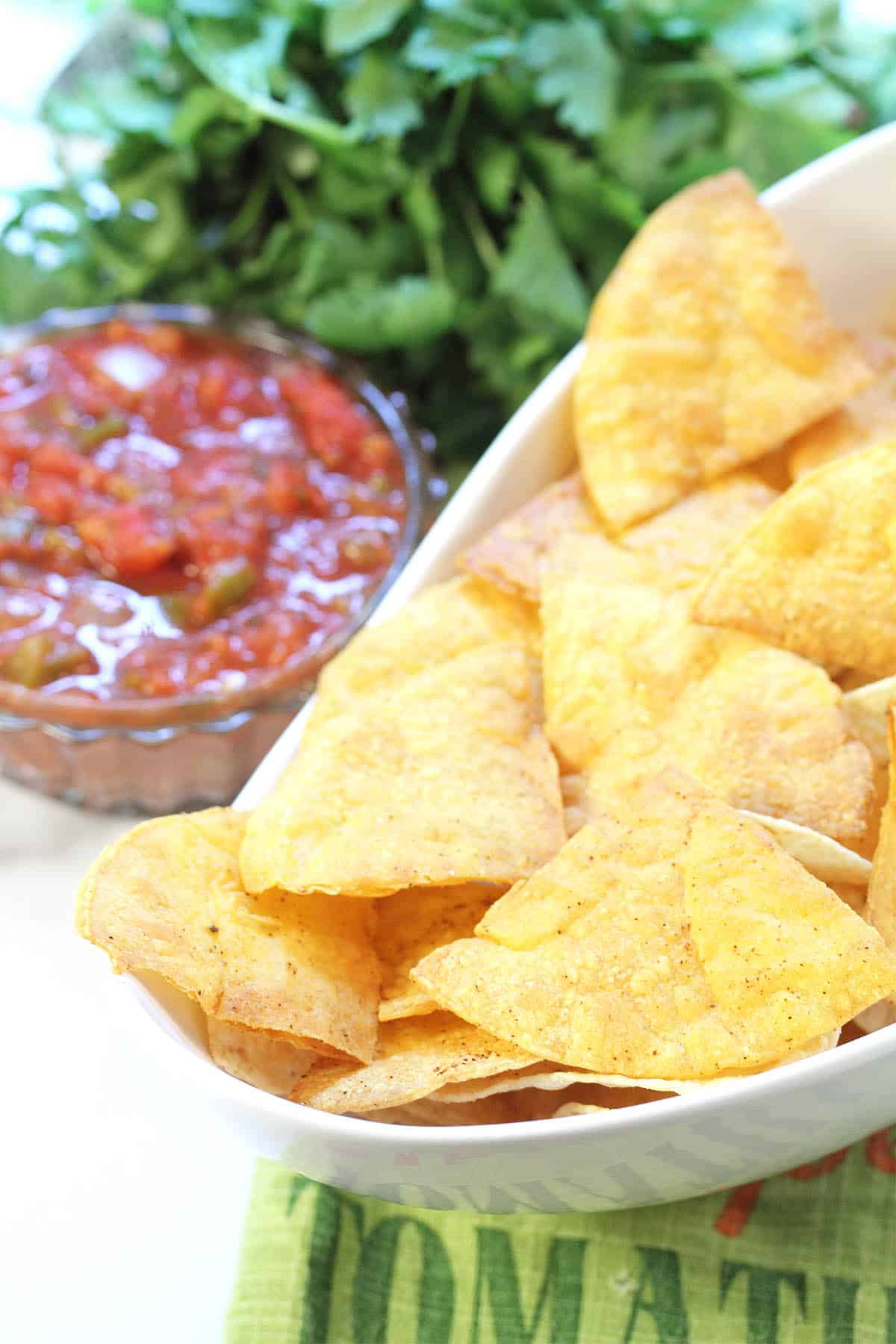 Serve with your favorite salsa or a guacamole with a twist such as this mango pineapple guacamole! Believe me, once you try these homemade corn tortilla chips for yourself, you won't go back to store-bought!
More Mexican recipes
Taco Tortilla Stack - Simply stack your ingredients between layers of tortillas and bake. A simple casserole for busy weeknights.
Smothered Chicken Burritos - if you love burritos, these will wow your socks off! Burritos stuffed with chicken, refried beans and cheese, then smothered in plenty of green chile enchilada sauce.
Breakfast Street Tacos - an easy breakfast for those busy school and work mornings. Just scramble some eggs, fry up some bacon (easy to keep cooked in the fridge and warm in the microwave) and put out all the fillers and let everyone make their own.
Love quick & easy recipes? Follow me on Instagram, Facebook, Pinterest & Twitter for all the latest recipe inspiration! Plus join my email list here and receive a free e-book.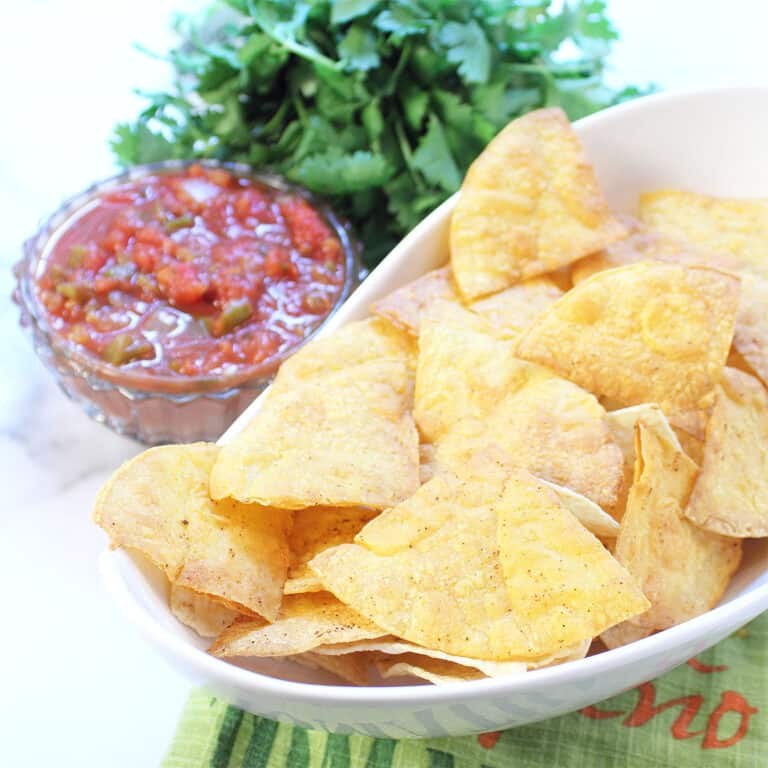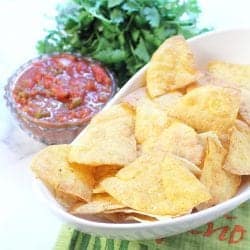 Ingredients
6

corn tortillas

olive oil spray

maybe 2-3 teaspoons

Cayenne pepper to taste

optional

Salt to taste
Instructions
Preheat oven to 400 degrees.

Spray both sides of tortillas with olive oil spray. Sprinkle with cayenne pepper and salt.

Cut tortillas into 4 quarters with a knife or a pair of scissors.

Place in a single layer on cookie sheet, making sure that they don't touch each other.

Place in preheated oven for 10 minutes, turning at the 7 minute mark. Check often after turning to make sure they aren't getting too brown. After 10 minutes is up to make sure they are crisp enough. If not place back in oven for 1 minute and check again.

Remove from oven and let cool for 5 minutes prior to serving as they will crisp up. If you like warm chips, they can be placed in a warm oven, about 225-250 degrees, for a short time (5-10 minutes).

Makes 2 servings. (Just a tip. I would at least double this recipe as they are very addictive!)
Nutrition
Calories:
211
kcal
|
Carbohydrates:
36
g
|
Protein:
5
g
|
Fat:
6
g
|
Saturated Fat:
1
g
|
Sodium:
620
mg
|
Potassium:
145
mg
|
Fiber:
5
g
|
Sugar:
1
g
|
Vitamin A:
208
IU
|
Calcium:
63
mg
|
Iron:
1
mg
This post has been updated with new photos and step-by-step directions. It was first published on February 24, 2014.