When you realize how easy it is to make homemade tortilla chips you will never go back to store bought. Just corn tortillas, salt & spice, pop in the oven and voila! Serve with your favorite Mexican salsa, guacamole and salads.

Last night I was all prepared to whip up some guacamole and serve with some chips as an appetizer to our Mexican meal when I realized I had run out of tortilla chips. And you know when you get your mind made up to have something you just can't possibly do without! So I looked to see if there was a way I could make my own without making a quick dash out to the store. Lo and behold I found quite a few recipes for homemade tortilla chips and, after some experimentation, they actually came out better than the ones you purchase in the bag! Warm and crispy with an added dash of cayenne and salt to suit our family's taste – and they came out perfect!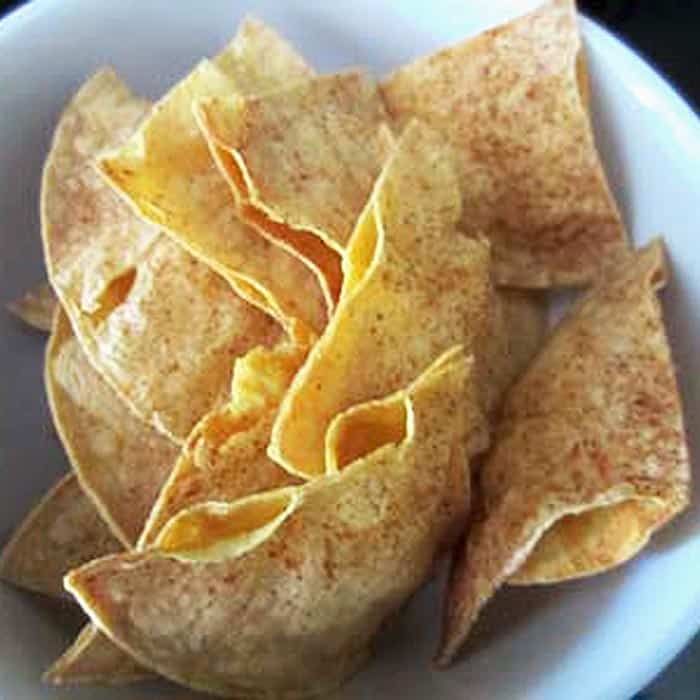 Serve with your favorite guacamole or one with a twist such as mango pineapple or even crab guacamole! And to make it feel like the real deal, serve it in a Mexican Molcajete
.
Believe me, once you try this recipe for yourself, you won't go back to store-bought!
Homemade Tortilla Chips
Ingredients:
6 corn tortillas
Cayenne pepper to taste
Salt to taste
Directions:
Preheat oven to 400 degrees.
Cut tortillas into 4 quarters with a knife or even a pair of scissors.
Place in a single layer on cookie sheet, making sure that they don't touch each other.
Place in preheated oven for 10-12 minutes. Check after the first 10 minutes to make sure they are not getting too crisp.
Remove from oven and let cool for 5 minutes prior to serving as they will crisp up. If you like warm chips, they can be placed in a warm oven, about 225-250 degrees, for a short time (5-10 minutes).
Makes 2 servings. (Just a tip. I would at least double it as they are very addictive!)


FOLLOW US FOR MORE DELICIOUSNESS!