These Chocolate Mint Cookie Bars are simple to make. They're like a thick, ooey, gooey version of your favorite chocolate chip cookie.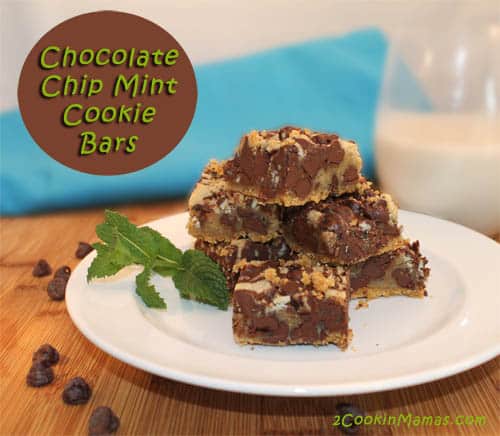 Did you know this month was national candy month? As if we needed a special month to enjoy candy! One of the things I love doing with candy is baking with it. Like my grandson's favorite Chocolate Candy Bar Cookies. or my M&M Chocolate Chip Cookies. It is always interesting to experiment with adding it to familiar dishes and see how they turn out. This recipe was actually thrown together because I had made a graham cracker crust for a recipe I am sharing as a guest blogger later this month and had extra left over. I also had a package of Andes Mints on hand that I hadn't done anything with since Christmas. So all I could think of was making some chewy cookie bars that would drip with mint chocolate and away I went.
When they came out of the oven, all warm and gooey I knew I had hit upon a good thing. I didn't know how good until some of the people at my husband's work asked for the recipe. And yes, I did send them to work with him because if I didn't I would have eaten the whole batch myself! So grab yourself a glass of milk and enjoy!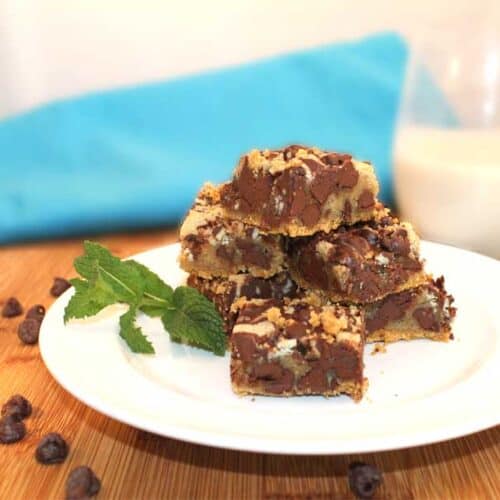 CHOCOLATE MINT COOKIES BARS
These Chocolate Mint Cookie Bars are simple to make. They're like a thick, ooey, gooey version of your favorite chocolate chip cookie.
Keywords:
bar cookies, chocolate, cookies, mint, recipe
Ingredients
Graham Cracker Base
1

cup

graham cracker crumbs

2-1/2

Tablespoons

sugar

1/4

cup

butter,

melted
Cookie Layer
1/2

cup

butter,

room temperature

3/8

cup

granulated sugar

3/8

cup

light brown sugar

1/2

teaspoon

vanilla

1

egg

1-1/8

cup

all purpose flour

1/2

teaspoon

baking soda

1/2

teaspoon

salt

1

cup

semi-sweet chocolate chips
Topping
1/2-3/4

cup

Andes Creme de Menthe candies,

chopped or baking chips if you can find them (add more or less to your liking)
Directions
Preheat oven to 350 degrees. Set aside an 8"x 8" square baking dish.

Make graham cracker crust by combining crumbs with sugar then pouring in melted butter. Mix well. Press into bottom of square baking dish. Bake for 8 minutes in preheated oven then set aside on wire rack to cool.

To prepare cookie dough:

In a medium bowl, cream together butter, sugars and vanilla until creamy. Add in egg and beat until well mixed.

Combine flour, baking soda and salt together in small bowl. Add to butter mixture and beat until well incorporated. Stir in chocolate chips.

Press cookie dough gently onto graham cracker crust being careful not to mix with crumbs.

Sprinkle desired amount of Andes candies on top of cookie dough.

Bake in preheated oven for 25 minutes. Remove to wire rack to cool. Cut into squares and store in airtight container.
DON'T MISS A RECIPE!