Warm up this winter with a sip of this piping hot peppermint patty coffee cocktail. This minty and rich drink is the perfect combination of bitter coffee, sweet chocolate, and bright notes of mint.
Peppermint Patty drink has all the flavors you love of your favorite chocolate peppermint patty candy. Just mix freshly brewed coffee with splashes of creme de cacao, peppermint schnapps, and Kahlua for the perfect drink to take the chill off a cold winter's day.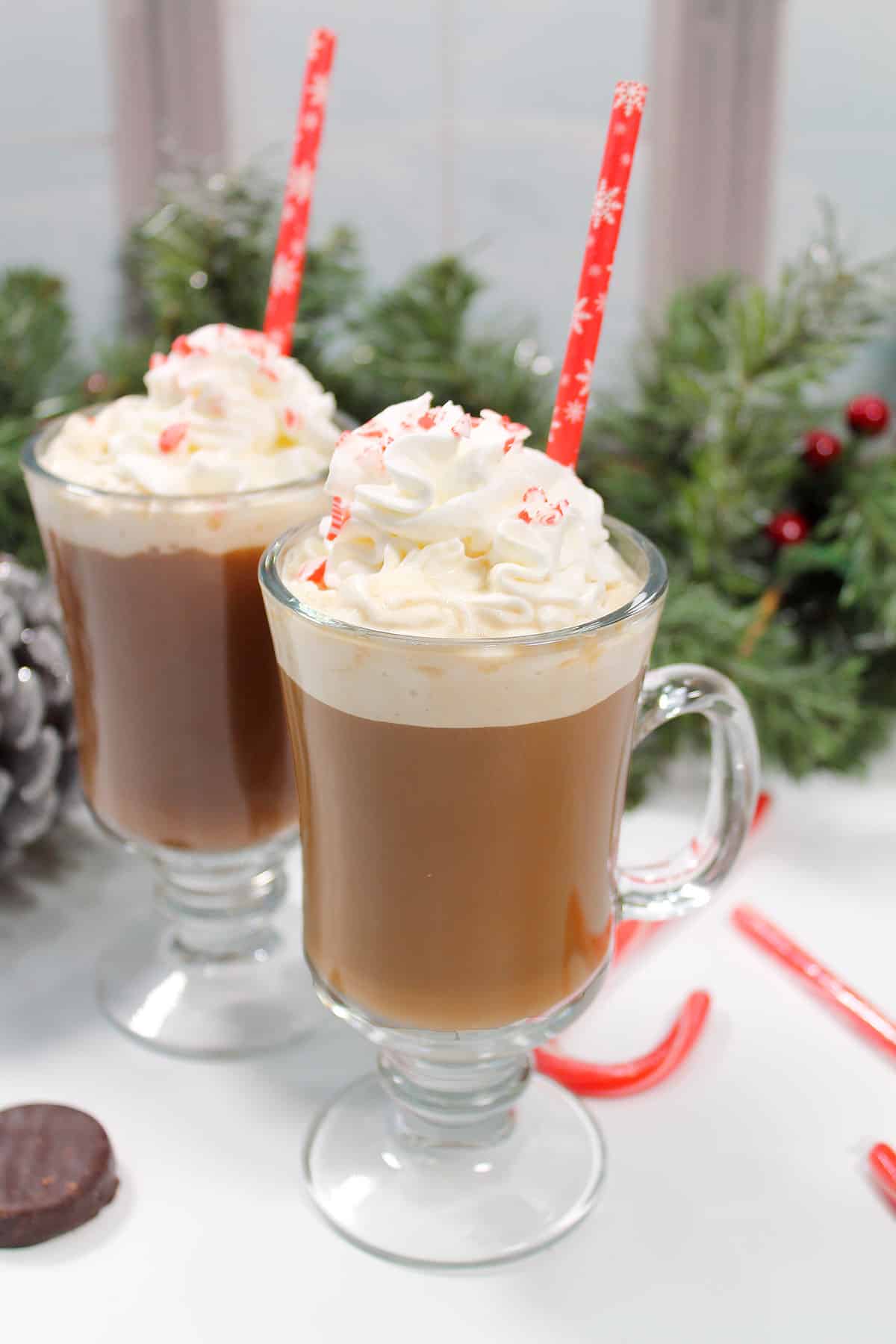 Winter Cocktails
'Tis the season for peppermint mochas! They are in every coffee shop. This peppermint patty cocktail takes everything you love about a peppermint mocha and gives it an alcoholic twist.
There are a lot of other ways to enjoy coffee-themed cocktails this winter too. You might enjoy a Kahlua Hot Chocolate, Irish Coffee, or perhaps a Mocha Latte Cocktail to take the chill off.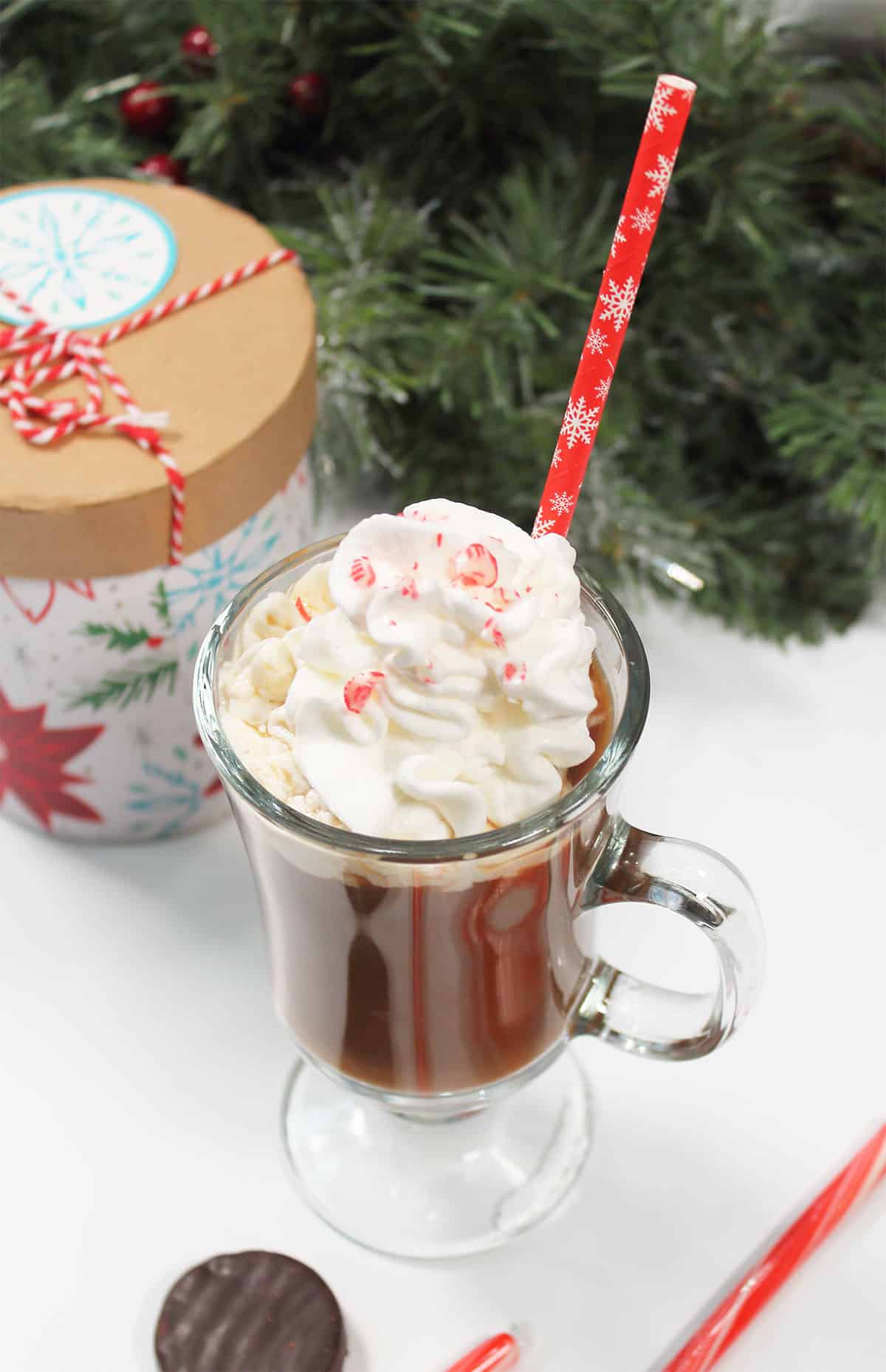 Why This is the Best Peppermint Patty Drink Recipe
This peppermint pattie drink is the best winter cocktail you'll make this year. The combination of peppermint schnapps, Kahlua, and Creme de cacao accentuates the freshly brewed coffee. The sweetened condensed milk lends that pop of sweetness that ties it all together.
Ingredients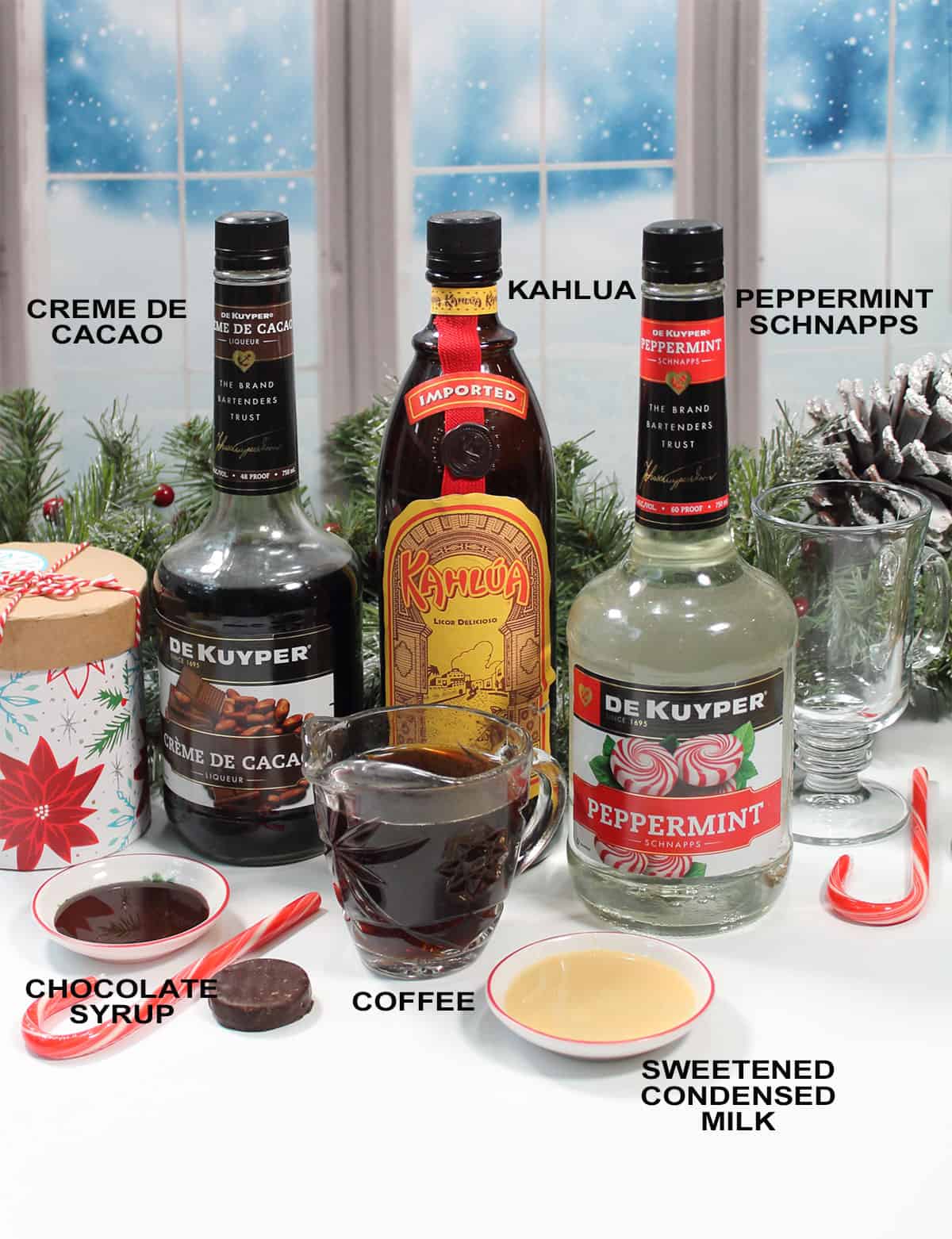 Hot Freshly Brewed Coffee
Creme de Cacao
Peppermint Schnapps
Kahlua Coffee Liqueur
Sweetened Condensed Milk (optional)
Whipped Cream makes the perfect garnish
Chocolate Syrup drizzle is optional but gives the drink even more chocolate flavor
How to Make a Peppermint Patty Drink
Coat the inside of a coffee mug with chocolate syrup (optional but totally worth it) then pour 8 ounces of coffee into the mug.
Add 1 ounce of creme de cacao.
Pour in peppermint schnapps.
Add 1-2 teaspoons of Kahlua or your favorite coffee liqueur.
Finally, add sweetened condensed milk. Add as much or as little as you like depending on the sweetness desired.
Stir well.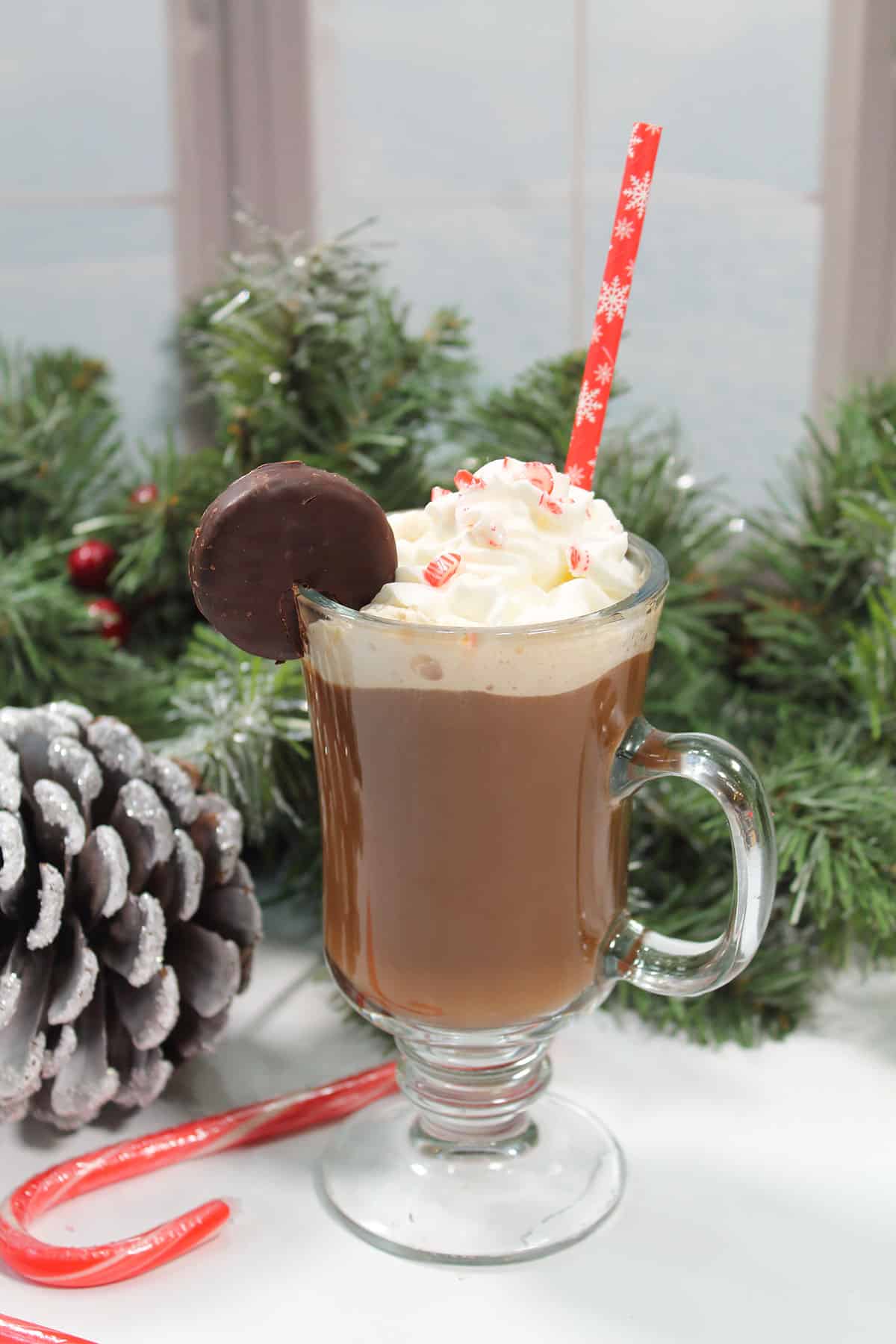 Dress your warm cocktail with whipped cream and a sprinkling of crushed candy cane pieces and garnish with a peppermint patty candy. Then sit back, relax and enjoy!
Recipe Variations
Peppermint Patty Drink with Baileys - add a tablespoon of Bailey's Irish Cream.
Peppermint Patty Hot Chocolate Cocktail - use your favorite hot chocolate instead of coffee.
Substitute creme de menthe for peppermint schnaps for a creamier drink with a little extra sweetness.
Iced Peppermint Patty Coffee Cocktail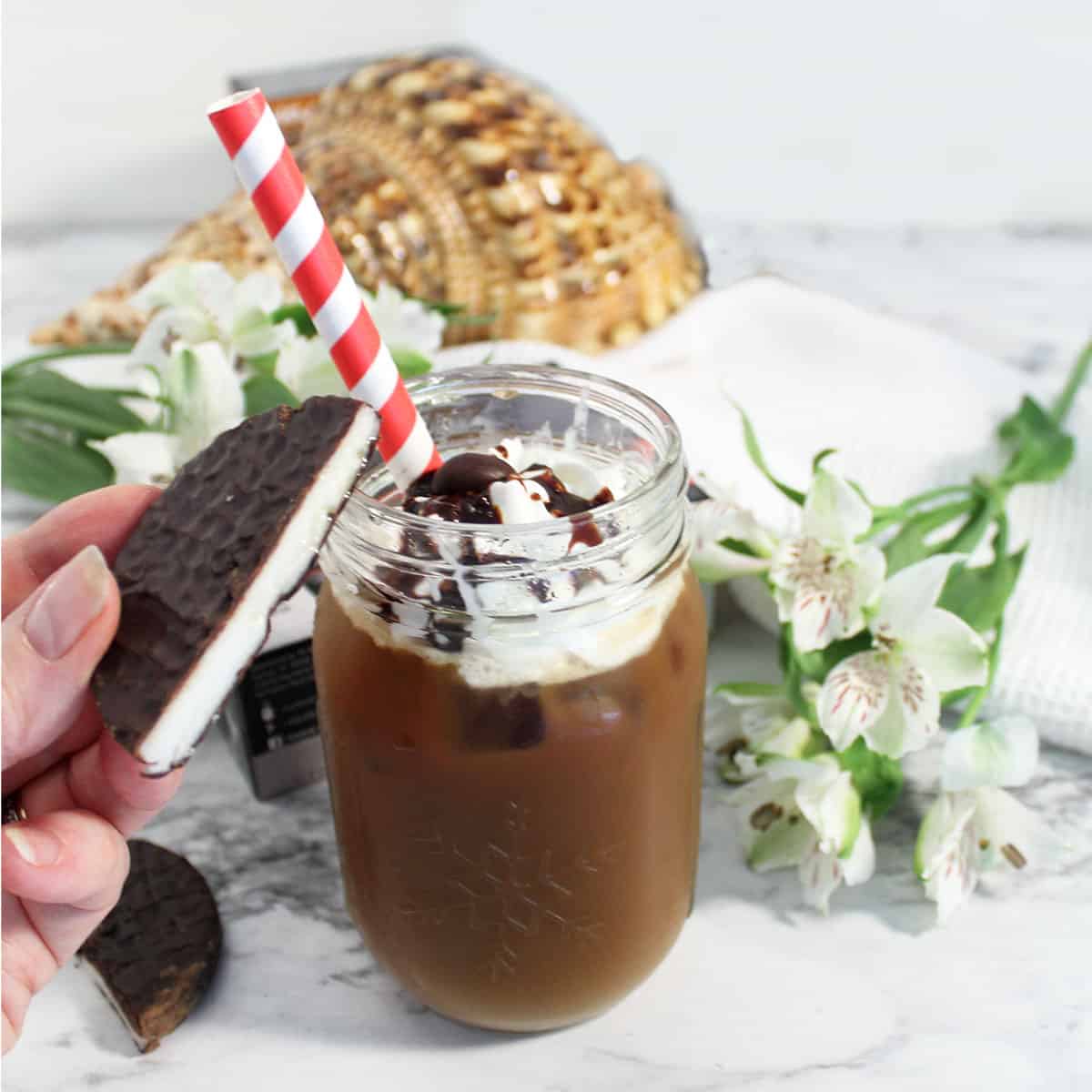 Don't want it hot? Here's how to make an iced peppermint patty cocktail:
Pour 8 ounces (1 cup) of cold coffee or cold brew coffee into a large, tall glass.
Add peppermint schnapps. creme de cacao, and Kahlua.
Add sweetened condensed milk if desired.
Add peppermint coffee creamer. Stir to combine.
Add ice.
Top with whipped cream and a drizzle of chocolate syrup if desired.
Peppermint Coffee Drink Garnishes
There are lots of ways you can garnish a minty coffee drink. Here are some ideas:
Candy Cane for a Stir Stick
Chocolate-Covered Espresso Beans
Chocolate Shavings or Mini Chocolate Chips
Chocolate Syrup Drizzle
Crushed Peppermint Candy
Spring of Fresh Mint
Sprinkles - Red and Green for Christmas
Whipped Cream
Frequently Asked Questions
What is Peppermint Schnapps?
Peppermint Schnapps is a sweet and minty liqueur made with neutral grain alcohol, peppermint extract, and sugar.
What does Peppermint Schnapps taste like?
Peppermint Schnapps has the same flavor as peppermint candy.
What is Creme de Cacao?
Creme de Cacao is a sweet chocolate-flavored liqueur made with vodka or whisky, cocoa beans, and vanilla. There is no cream in creme de cacao. The "creme" is a description of its syrup-like consistency.
What does Creme de Cacao taste like?
White Creme de Cacao tastes like milk chocolate with a slight vanilla accent. Dark creme de Cacao has a richer, darker chocolate flavor. Most cocktails are made with white creme de cacao.
LOVE QUICK & EASY RECIPES? FOLLOW ME ON INSTAGRAM, FACEBOOK, & PINTEREST FOR ALL THE LATEST RECIPE INSPIRATION! PLUS JOIN MY EMAIL LIST AND RECEIVE A FREE E-BOOK.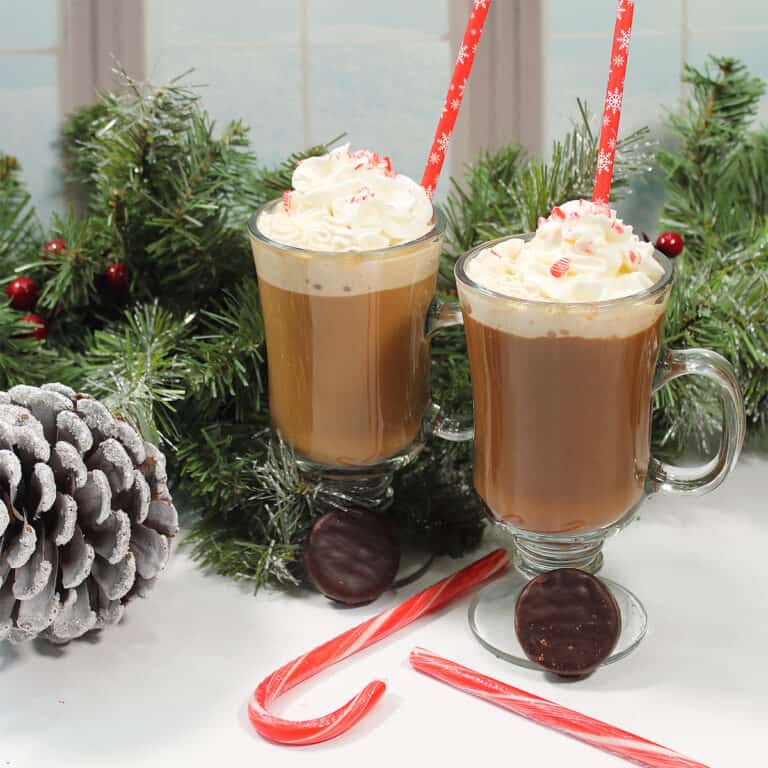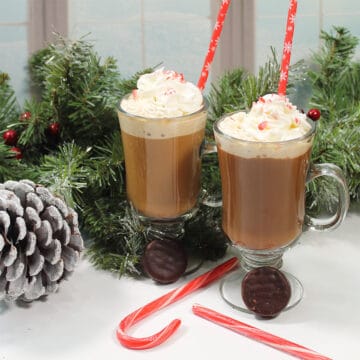 Peppermint Patty Coffee Cocktail
Peppermint Patty Coffee Cocktail is a warm drink with all the flavor of your favorite peppermint patty candy. Perfect for a cold winter's day! When summer rolls around, make it with iced coffee or cold brew with a splash of homemade peppermint patty creamer. 
Print
Rate
Ingredients
8

oz

freshly brewed coffee

1

Tablespoon

Creme de Cacao

1

Tablespoon

Peppermint Schnapps

1-2

teaspoons

Kahlua

1

Tablespoon

sweetened condensed milk

(optional)

Garnish: chocolate syrup

whipped cream, crushed candy canes
Instructions
Brew an 8-oz cup of coffee.

Drizzle the inside of a glass coffee mug with chocolate syrup.

Pour brewed coffee into mug.

Add creme de cacao, peppermint schnapps and Kahlua.

Add condensed milk to sweeten the coffee.

Top with whipped cream and sprinkle with crushed candy canes.
Nutrition
Calories:
134
kcal
|
Carbohydrates:
21
g
|
Protein:
2
g
|
Fat:
2
g
|
Saturated Fat:
1
g
|
Polyunsaturated Fat:
0.1
g
|
Monounsaturated Fat:
1
g
|
Cholesterol:
7
mg
|
Sodium:
30
mg
|
Potassium:
185
mg
|
Sugar:
13
g
|
Vitamin A:
53
IU
|
Vitamin C:
1
mg
|
Calcium:
61
mg
|
Iron:
0.1
mg
This post has been updated with new photos and easy-to-follow directions. It was first posted on February 20, 2019.