Nothing could be easier or more delicious than these Graham Cracker Chocolate Chip Bars. Just 3 ingredients, then a coating in powdered sugar, is all it takes to make these popular rich, decadent bars.Â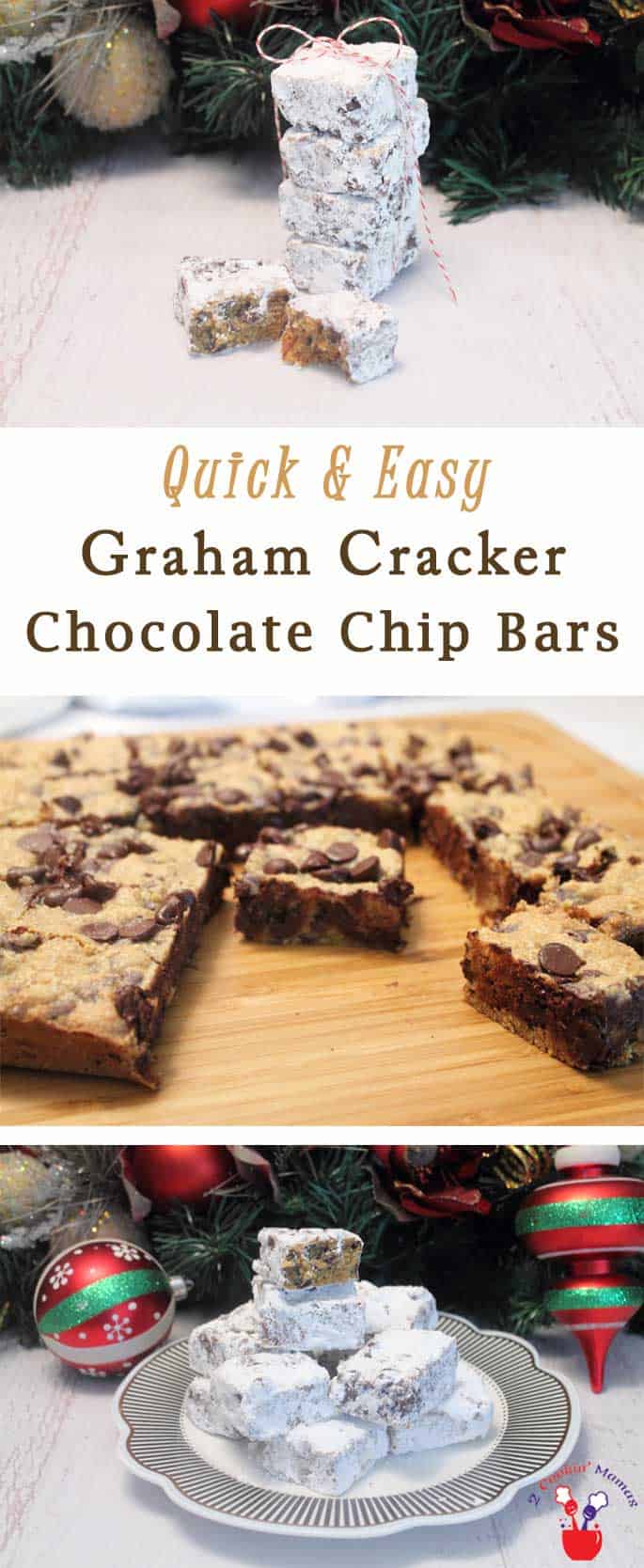 Today's recipe is all about simple and easy and you couldn't get more simple or easy than this recipe. This recipe has been in my family for years and was given to my mom by her favorite aunt, Bicki, which was the original name for these bars. I think I've made them just as long as my mom has now. My family expects me to make these every year and, being the good Mom that I am, I do just that. 🙂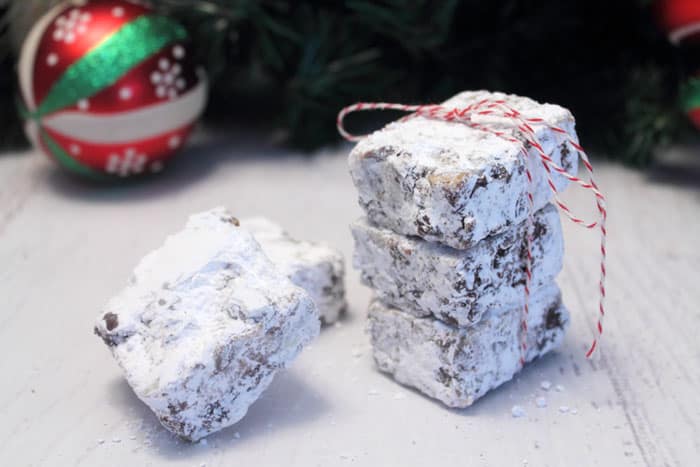 They are the simplest bars to make for the holidays and I've passed this recipe on to numerous people who've said they can't bake at all and they are amazed when they actually turn out so good.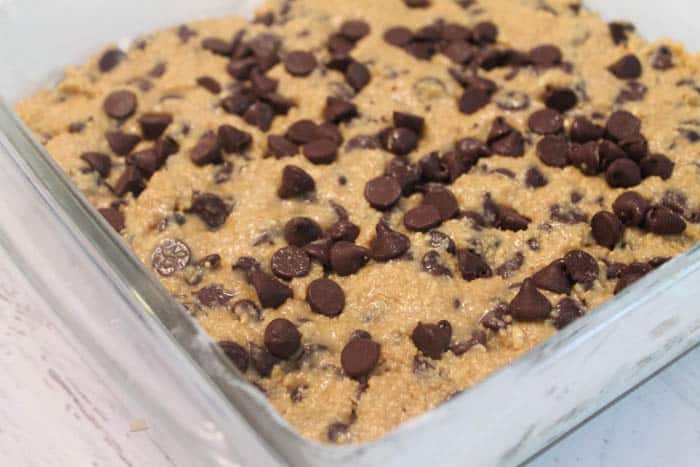 All you need is a large bowl, a square baking dish, graham cracker crumbs, chocolate chips and a can of condensed milk. Pour them all in the bowl and mix. It will be a very thick mixture. Do not add anything else to the batter! Pat into a greased and floured baking dish and bake.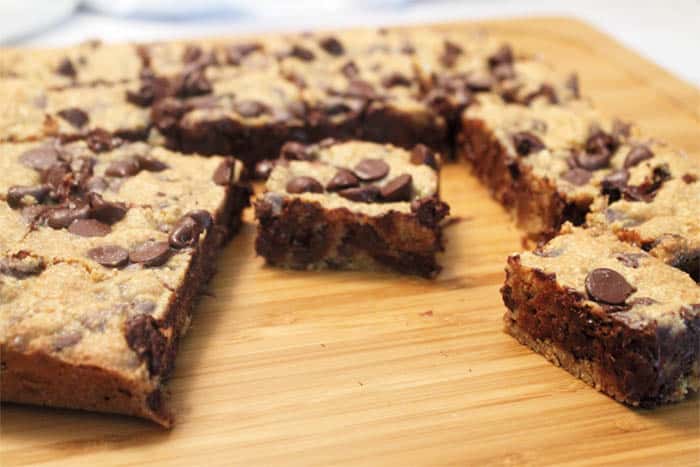 When you take them out of the oven you might not think they are done, but after 20-25 minutes, believe me, they are. Let cool then turn out onto a cutting board and cut into squares. Pop them into a ziploc bag filled with powdered sugar and shake.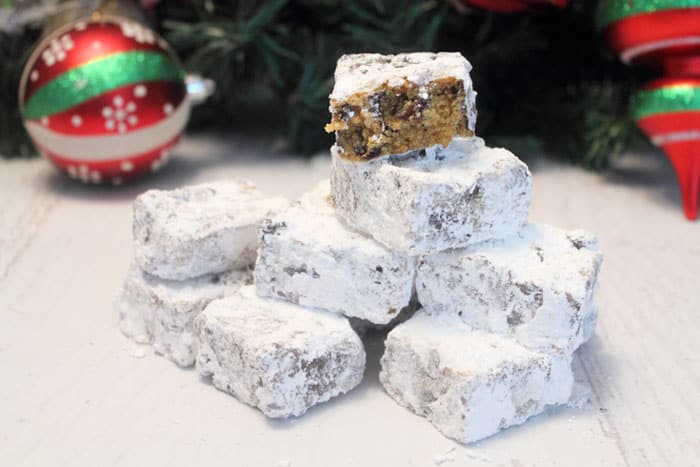 You have successfully made the most yummy, chocolaty squares of goodness ever! You might want to get your piece now as kids and big kids alike (umm, I wonder who that is?) will gobble them up.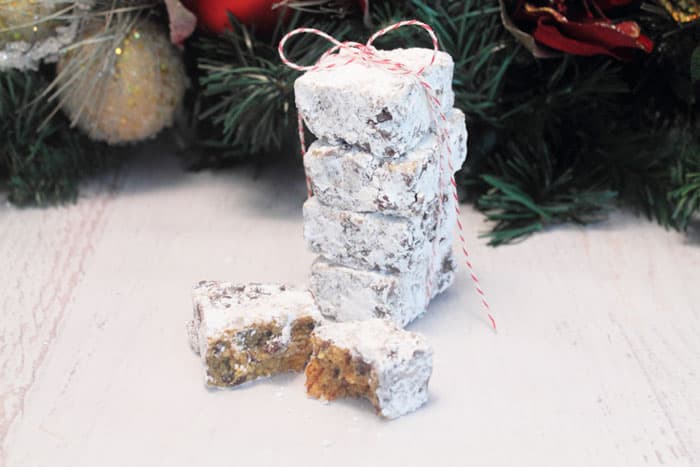 These are great bars to mail to relatives and friends, put in a cookie tin or serve on your cookie trays. Hope you enjoy!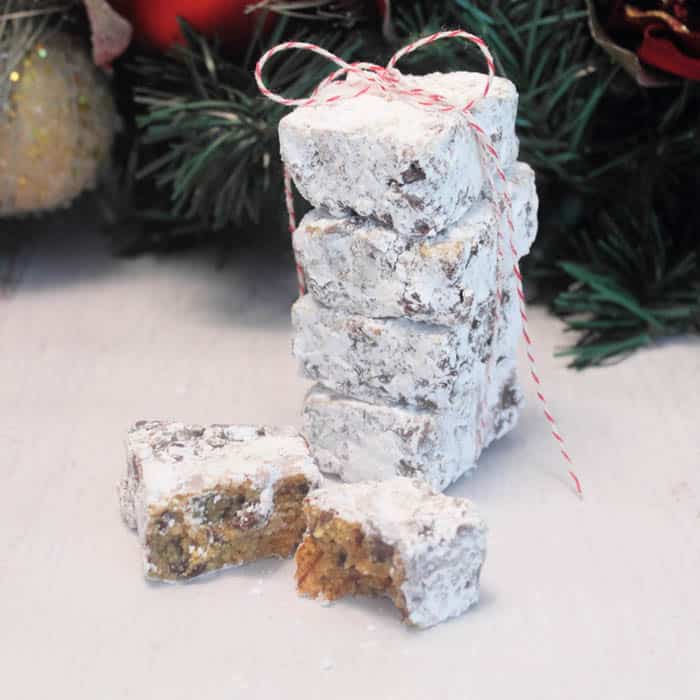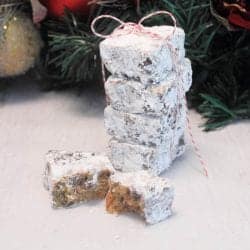 GRAHAM CRACKER CHOCOLATE CHIP BARS
Nothing could be easier or more delicious than these cookies. Graham crackers, condensed milk and chocolate chips, coated in powdered sugar, make this rich, decadent cookie a super star at holiday time.
Print
Rate
Ingredients
2

cups

graham cracker crumbs

1-¾

cups

semi-sweet chocolate chips

1

can condensed milk
Instructions
Preheat oven to 350 degrees. Grease and flour an 8" or 9: square baking dish.

Mix ingredients and press into prepared baking dish. Bake for 20-25 minutes. Remove from oven and cool in dish on wire racks. When cool, turn out of pan onto cutting board and cut into squares. Shake in a bag of confectioner's sugar and store in airtight cookie tin.

Christmas Cookie Marathon Series
Christmas Cookie Marathon
More Cookie Deliciousness
Cookies + Pudding = Scrumptious
Chocolate Peppermint Pudding Cookies
Pistachio Cherry Meltaway Cookies
Snowballs and Truffles
Simple and Delicious Cookies
Graham Cracker Chocolate Chip Bars
Seasonal Flavors - Peppermint and Eggnog