An easy to make Crab Martini piled high in a martini glass. It's a refreshing mix of crab meat, bell pepper, celery and onion, all flavored with a splash of vodka.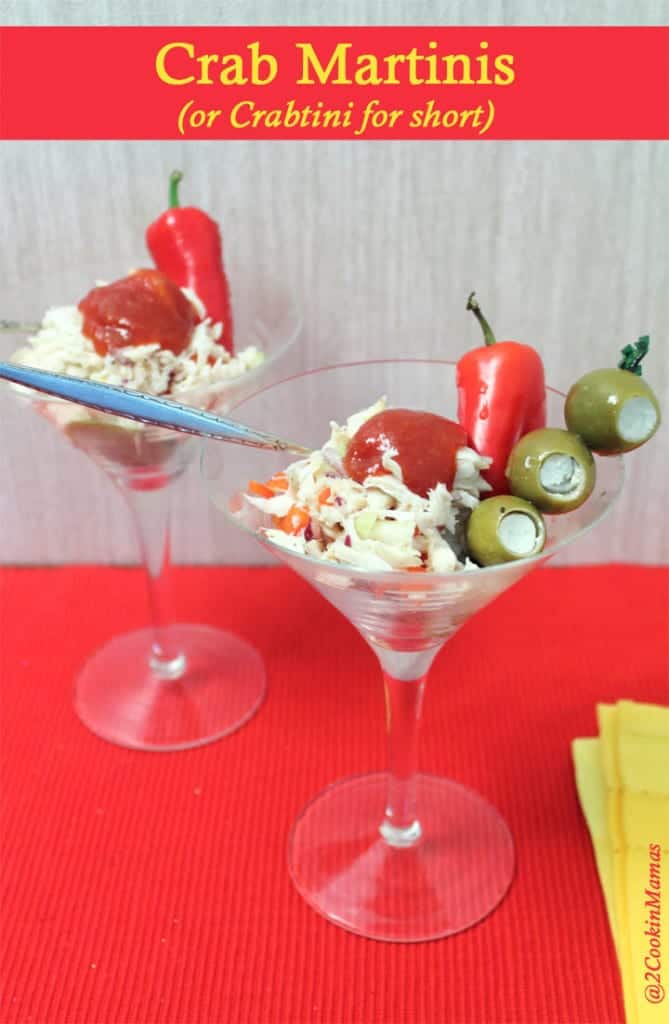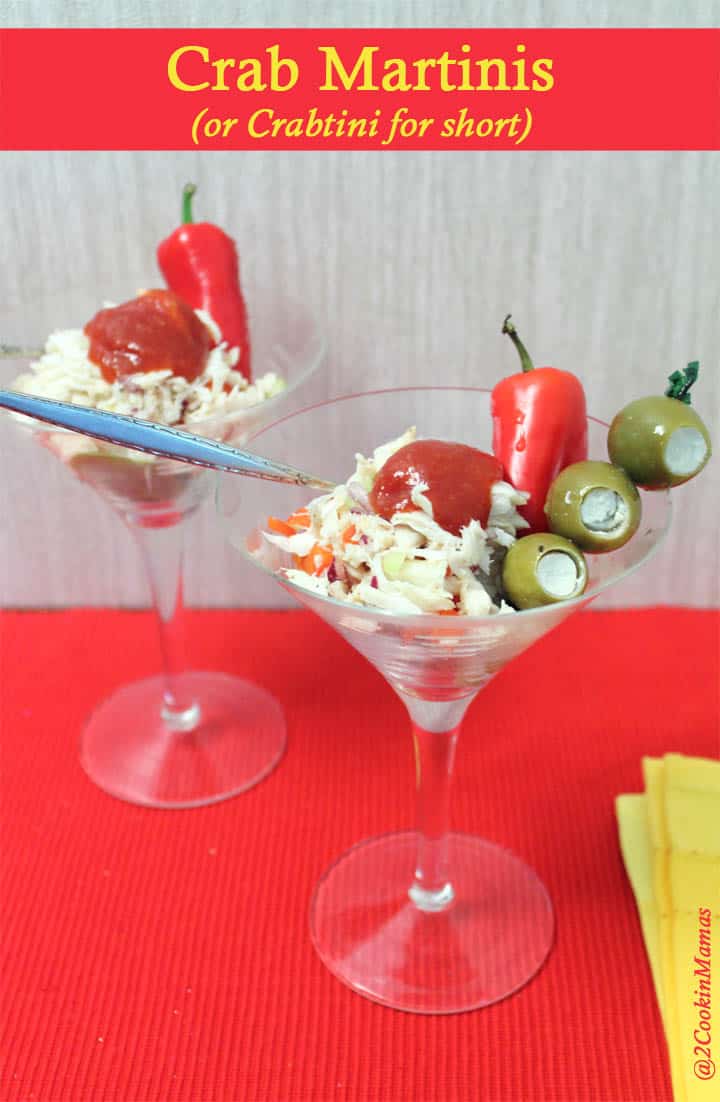 We love seafood in our family and one of our favorites is blue crab. I know it became my favorite during the time we lived on the eastern shore of Maryland. We caught some of the best crabs in traps we dropped over the side of a nearby seawall. And, of course, Marylanders knew how to fix them – boil them in Old Bay seasoning then dump them on a pile of newspapers that are scattered over the table. All I needed was a mallet and a small fork and I was good to go.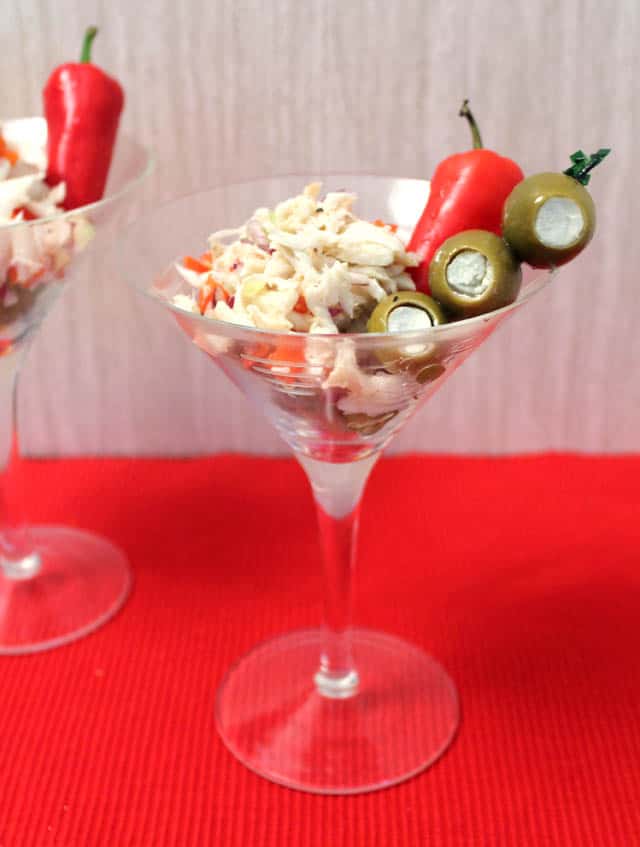 So for Valentine's Day I decided having one of our favorite foods would be a nice surprise. We always plan a dinner together for this special holiday and have so much fun preparing it together in the kitchen. This year Chuck, my wonderful Valentine of almost 45 years, decided on swordfish steaks with a little Ahi Tuna on the side for the main course, oh and some roasted potatoes on the grill, and I took care of the appetizer, this delicious Crab Martini, a side salad and a to-die-for dessert, Chocolate Espresso Mousse (recipe coming soon).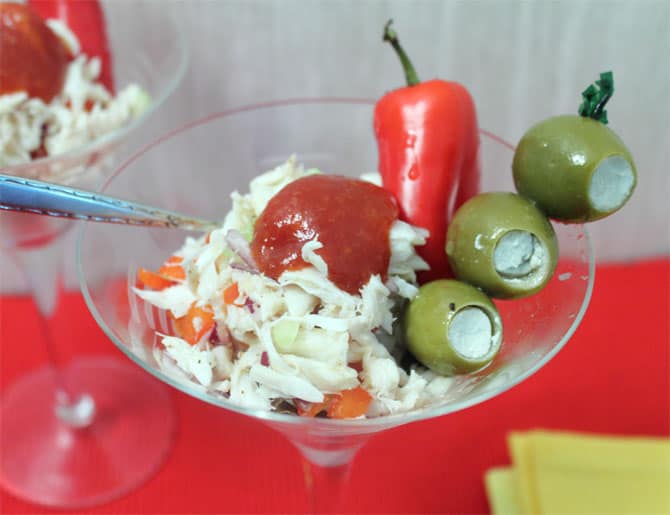 Everything turned out fantastic! And Chuck loved his Crab Martini especially when it was accompanied by a well-chilled dry martini (his favorite when served with stuffed blue cheese olives). He always tells me that he only orders martinis because of the olives, hence olives came in both the Crab Martini & his dry martini. Aren't I the good wife?!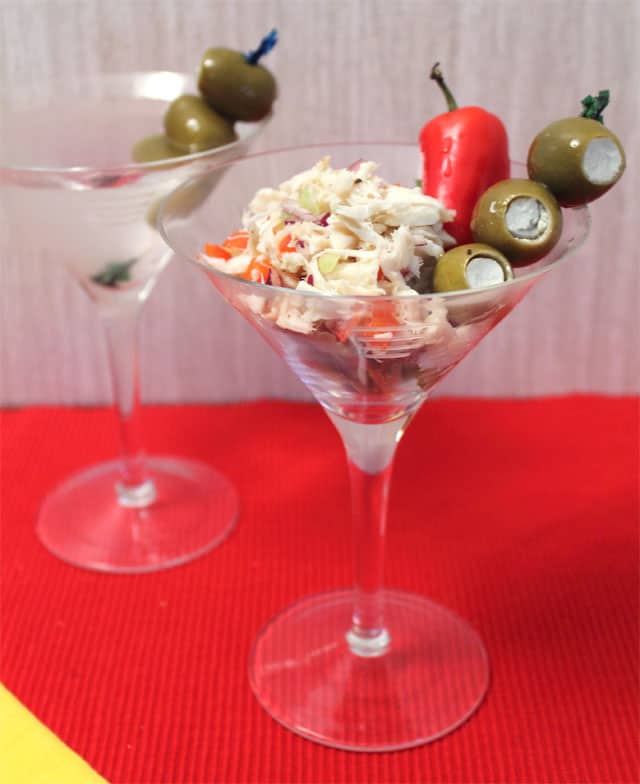 This Crab Martini, or maybe it should be called a Crabtini, is perfect for 2 or for a crowd. Whoever it's for – they will love it!
Crab Martini
Ingredients:
4-oz. Phillips jumbo lump crab meat
1 teaspoon red onion, finely chopped
1-1/2 teaspoons celery, finely chopped
1 Tablespoon red bell pepper, finely chopped
2 teaspoons unflavored vodka
Salt & pepper, to taste
Garnishes: fresh greens, mini red bell peppers, olives, cocktail sauce
Directions:
In a medium bowl, mix all ingredients & refrigerate for at least 2 hours to let flavors blend.
When ready to serve, prepare 2 martini glasses by lining bottom with some fresh greens.
Divide crab mixture into 2 equal portions and place in glasses on top of greens.
Garnish with a dollop of cocktail sauce, a mini red bell pepper and/or some olives.
Serves 2.
Adapted from a recipe found on phillipsfood.com.
Try our Crab-Stuffed Mushrooms if you just can't get enough of crab. I'm in!