These Cranberry Mimosas, aka Poinsettia Champagne Cocktails, are slightly tart with just a hint of orange. They're an easy-to-make light drink with just 3 ingredients - champagne, cranberry juice, and orange juice with an optional garnish of thyme. A delicious cocktail that's perfect for Thanksgiving, Christmas, New Year's Eve, or really any time!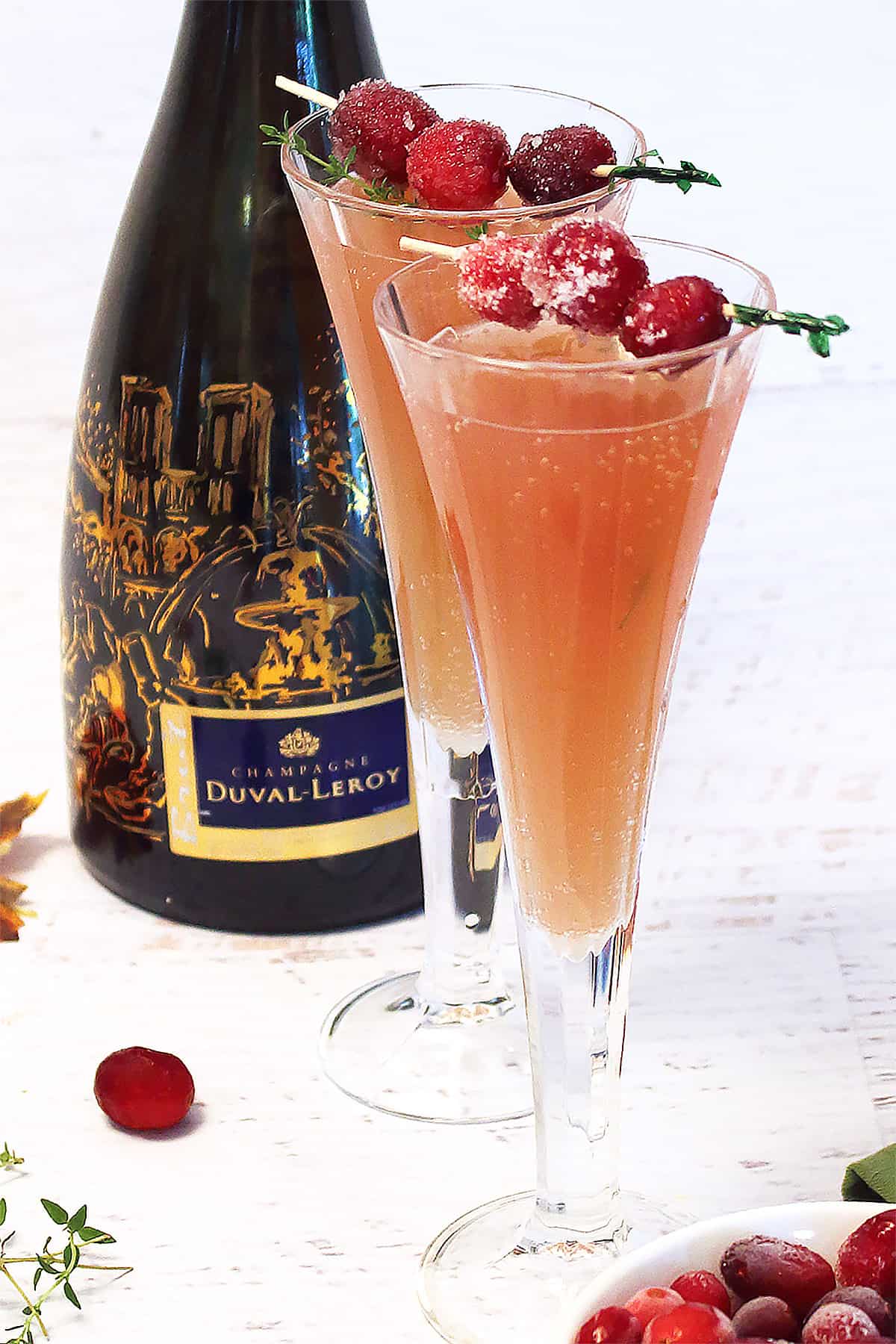 Mimosas are a popular drink in our house especially for special occasions and around the holidays. I love the traditional mimosa, which we have every Mother's Day, but his one has a special place in our hearts for the holidays. They've actually become a family tradition to serve on Christmas morning ever since our children became adults.
This one adds cranberry juice and a sprig of thyme to the usual mix, making it into a festive red and green Christmas mimosa or, as some call it, Poinsettia Champagne cocktail. Of course, the combination of champagne and cranberry would be perfect for Thanksgiving, New Year's Eve, or any special occasion too!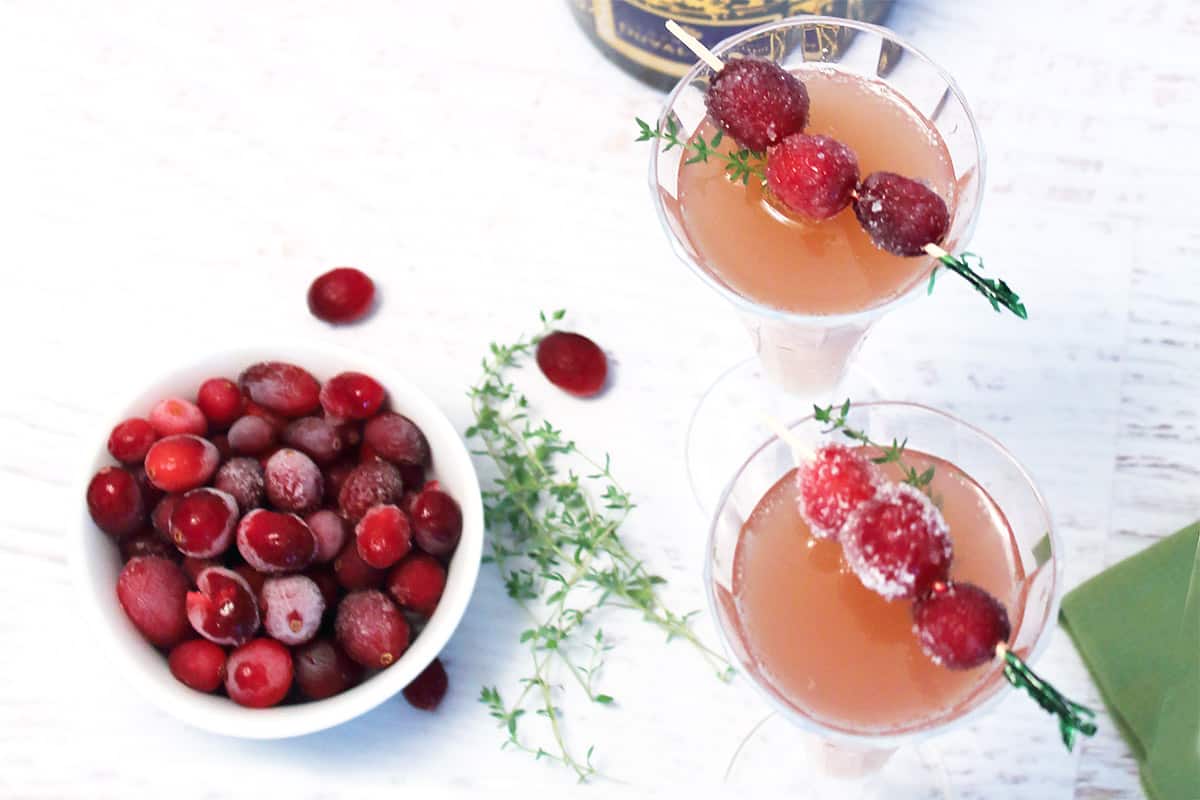 What is a Mimosa?
Mimosa is a cocktail comprised of champagne and orange juice or other chilled fruit juices. It is usually served in champagne flutes for special occasions such as weddings, parties and is a popular drink for brunch.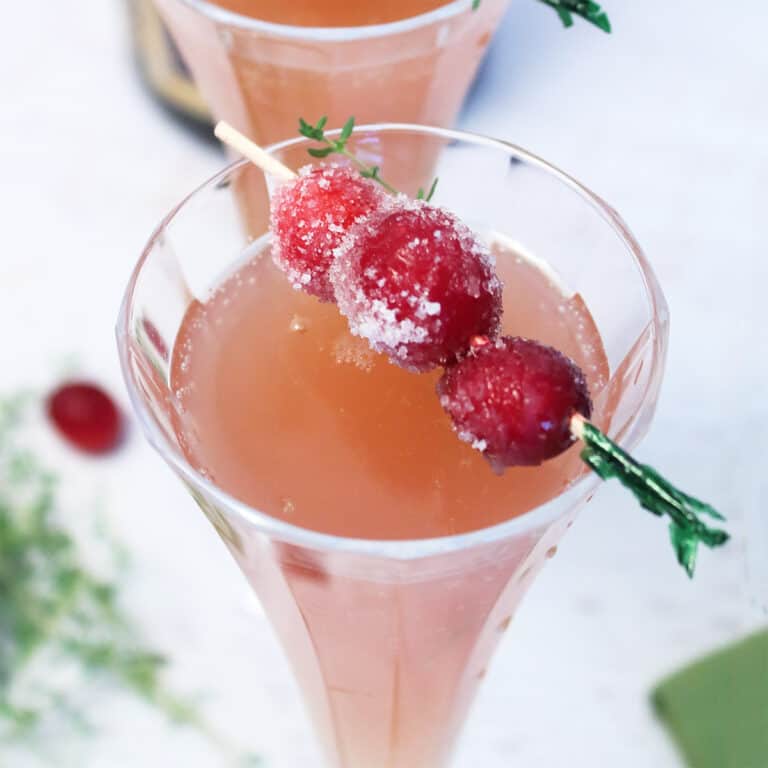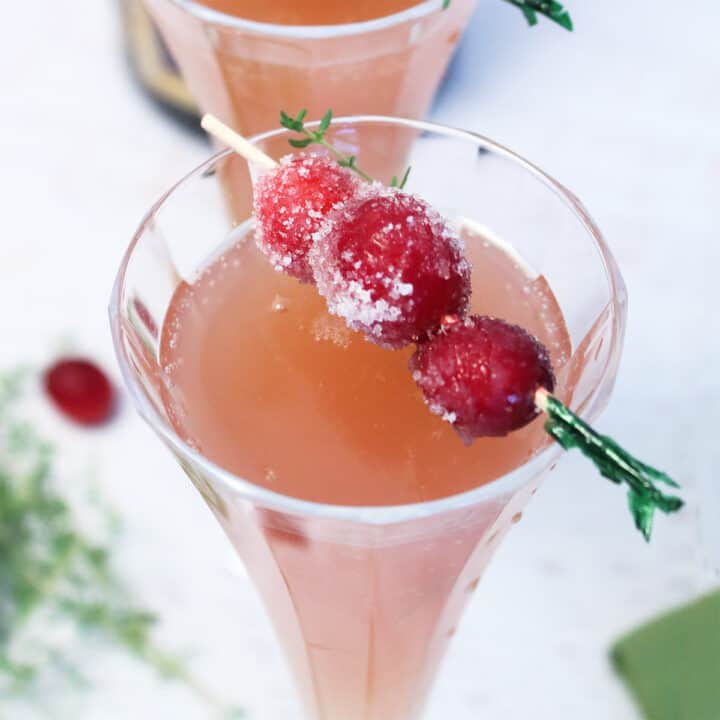 I had to make several test batches to get it just right, 'cause you know that you can't let champagne go to waste (picture happy face here), and found that adding something sweet, like orange juice, balanced out the tartness of the cranberries and the dryness of the champagne.
I also added sugared fresh cranberries for a colorful finishing touch to this holiday mimosa. You could also add a sprig of thyme in the glass which, I must say, looks very elegant, as well as adding a wonderful aroma and a touch of Christmas greenery.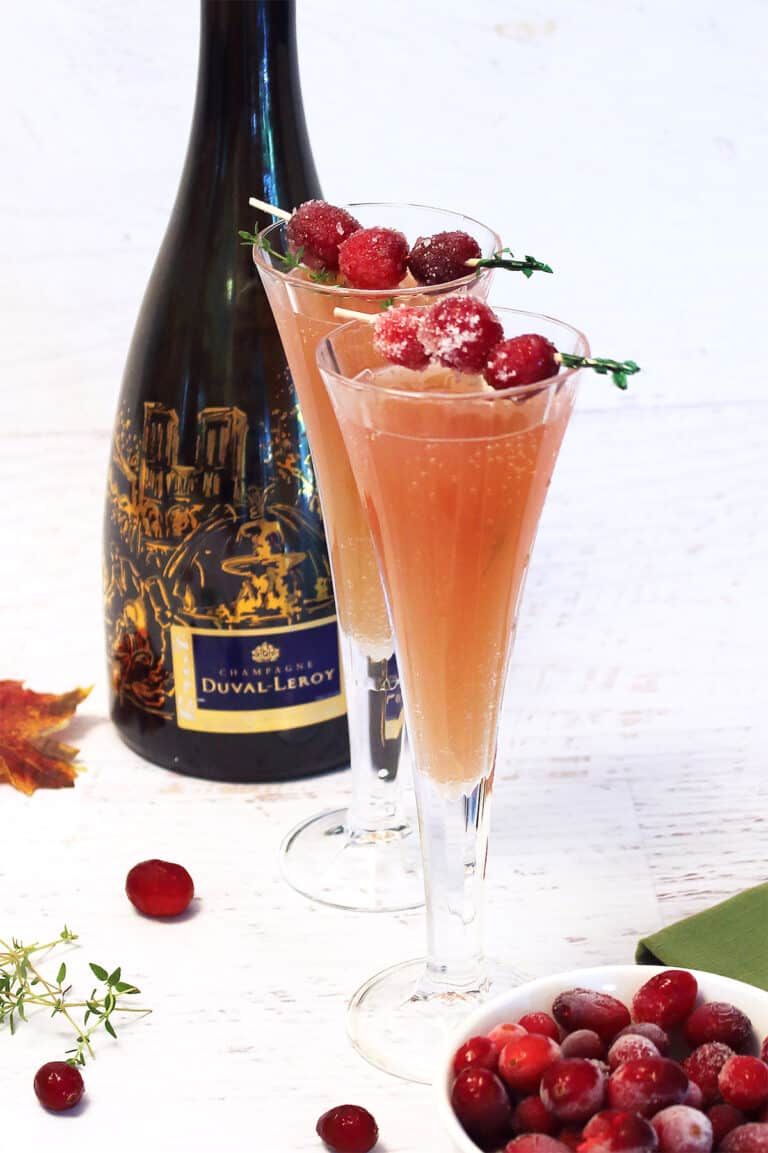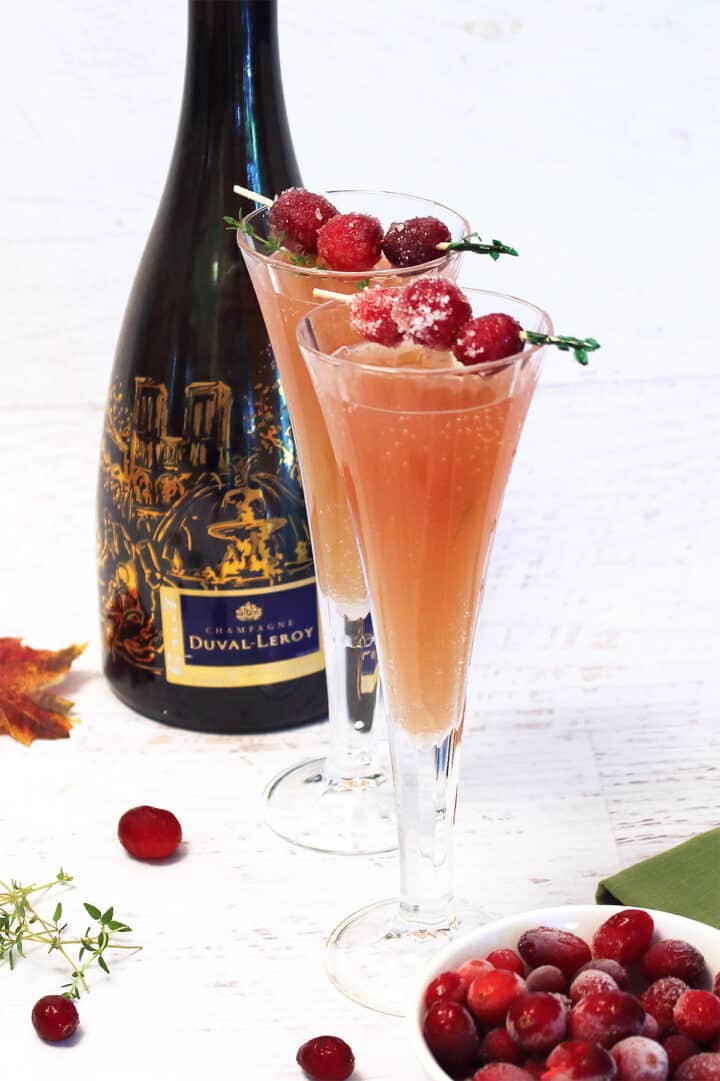 This cranberry orange mimosa was really, and I mean really, delicious! The color put everyone in the holiday spirit and the tart cranberry flavor with the whiff of thyme with each sip put the perfect finishing touch on our holiday get-together.
Frequently Asked Questions
What kind of champagne do you use for mimosas?
You can opt for any champagne from very dry to sweet, sparkling wine, Spanish Cava or Prosecco which are slightly sweeter and less costly options. Check out this champagne graph that shows all your champagne options.
Is cranberry juice and cranberry juice cocktail the same thing?
Cranberry juice is 100% juice with no added sugar while cranberry juice cocktail is loaded with a ton of sugar and occasionally high fructose corn syrup. If you prefer a sweeter cocktail, it is better to add a little honey or agave to the drink, or just sugar the rim of the glass.
How do I make a virgin cranberry orange mimosa?
It's easy! Just substitute sparkling soda or water for the champagne or opt for carbonated water, which comes in many flavors, for a little variety.
Can I make these mimosas by the pitcher?
Absolutely! Just combine 1-½ cups cranberry juice with ¾ cup orange juice or orange liqueur and, just before guests arrive, add 1 bottle of champagne.
Ingredients
Champagne – choose dry or sweet or opt for Prosecco, a tasty but less costly alternative.
Cranberry juice – adds a nice tartness as well as holiday color to the cocktail.
Orange Juice – use fresh orange juice if possible for the lightest and most flavorful taste or substitute either Grand Marnier or Cointreau or Triple Sec for a more alcoholic option. These add sweetness to offset the tartness of the cranberry juice.
Fresh cranberries and thyme – love the seasonality of the cranberries and the aroma of the thyme. You can also use rosemary instead of thyme
Tips & Tricks
Always add the champagne to the glass first then top with the cranberry and orange juices. This will eliminate the need to stir the cocktail.
Serve this cranberry mimosa in champagne flutes which are designed to help retain the champagne's bubbles.
Always use chilled ingredients for the most refreshing cocktail.
Freeze the sugared cranberries and add into the flute. They will act as ice cubes and help keep the drink cold.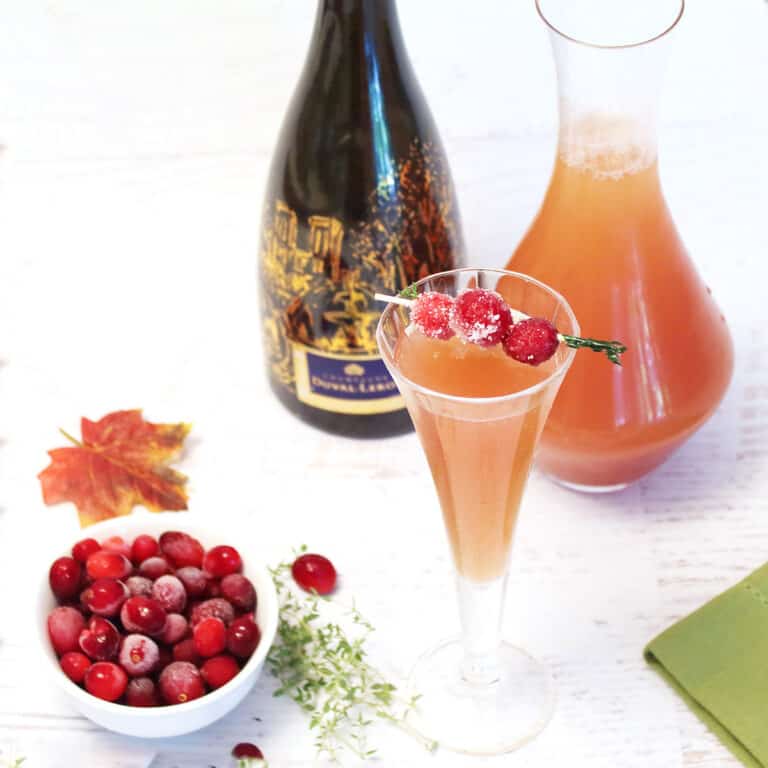 Variations
Add pomegranate juice instead of cranberry juice so you can still maintain the red hue.
Replace some of the orange juice with blood orange juice.
As an alternative to Grand Marnier, try Chambord for a more French-inspired mimosa.
LOVE QUICK & EASY RECIPES? FOLLOW ME ON INSTAGRAM, FACEBOOK, & PINTEREST FOR ALL THE LATEST RECIPE INSPIRATION! PLUS JOIN MY EMAIL LIST AND RECEIVE A FREE E-BOOK.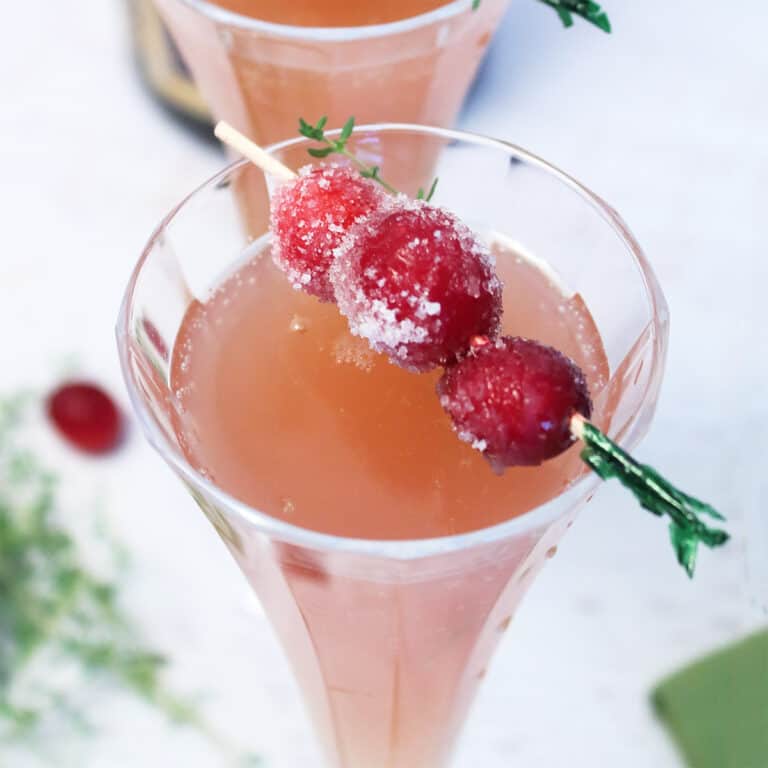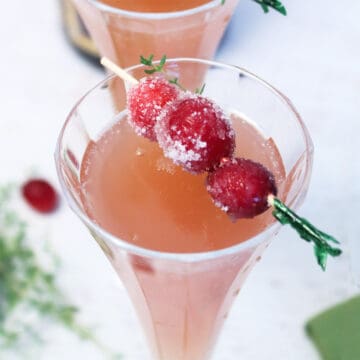 Cranberry Mimosas
A slightly tart cocktail with just a hint of orange that contains just 3 ingredients - champagne, cranberry juice & orange juice. Perfect for the holidays or any time.
Print
Rate
Ingredients
½

cup

champagne

(use club soda, sparkling soda or carbonated water for a virgin mimosa)

¼

cup

cranberry juice or cranberry juice cocktail

2

Tablespoons

orange juice or orange liqueur like Cointreau, Grand Mariner or Triple Sec

Garnish: frozen cranberries coated with sugar

(see note below for how-tos), thyme sprigs, orange slices
Instructions
Fill champagne flute ½ way with champagne (about ½ cup). Add cranberry juice and orange juice.

Garnish with a few frozen sugared cranberries on a toothpick or an orange slice on the rim and a sprig of thyme (optional).

You can also make a pitcher just prior to serving to make it easier to serve a crowd.
Notes
To make frozen sugared cranberry toothpicks:
Remove a handful of cranberries from a bag of frozen cranberries and run under cold water. This should thaw them out enough to be able to stick a toothpick through them. Place 3 cranberries on each toothpick. Once you have them on the toothpicks, pour a small amount of sugar onto a plate & roll cranberries in sugar. Place on a wax paper-lined cookie sheet and return to freezer until ready to use. Once frozen, they can be placed in a resealable plastic bag for easier storage.
This post has been updated with new and more useful content. It was first published on November 12, 2015.