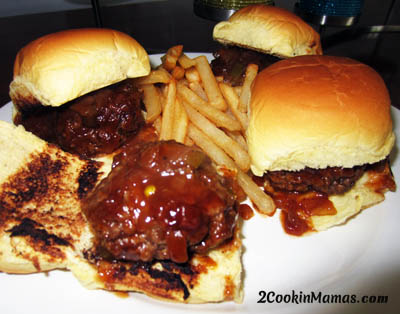 What better appetizer to select for Tipsy Tuesday than a delicious hamburger slider with a hint of whiskey. It is perfect for those important game days – it's easy to make and you can even prepare it ahead of time with minimal time to reheat when you're ready to serve.
We went through the double recipe I made in no time and, if I knew they were so yummy, I would have planned on making a lot more.
Whiskey Burger Sliders
Ingredients:
1 lb. ground beef
salt & pepper to taste
1-2 Tablespoons olive oil
1/2 onion, chopped
1/4 cup whiskey (I used jack Daniels)
1/2 cup favorite barbecue sauce
4-6 slices jarred jalapeno slices, chopped fine
6 small slider buns (I used egg dinner rolls)
cheddar cheese slices (optional)
Directions:
Divide the ground beef into 6 portions. Roll each into a ball then flatten slightly into a small patty. Sprinkle with salt and pepper to taste.
Place olive oil in a large skillet and heat over medium high heat. Place patties in skillet and cook 3-4 minutes per side or until brown. Remove patties and set aside.
Cook onions in skillet, adding more olive oil if necessary, for about 4 minutes. Add whiskey, being careful if working around an open flame. It would be advisable to remove skillet from gas and pour whiskey into pan then return to heat. Cook until reduced by about 1/3rd, about 2 minutes.
Add in jalapeno pieces and barbecue sauce, stir then add the hamburger patties, turning so they are coated with sauce and let everything simmer together for approximately 10 minutes.
To serve, toast buns by spreading butter on roll and placing on hot griddle for 1-2 minutes. You can also use a toaster and set the small buns, cut side down on top, and cook until browned. Place patties on bottom half of buns, top with cheddar cheese if desired and drizzle additional sauce over top. Place other half of bun on top and serve hot..
Serves 4.
DON'T MISS A RECIPE!