Want your burger & onion rings too? Grill up this classic recipe for a mouthwatering Rodeo Burger! Add cheese, a side of fries & it's heaven!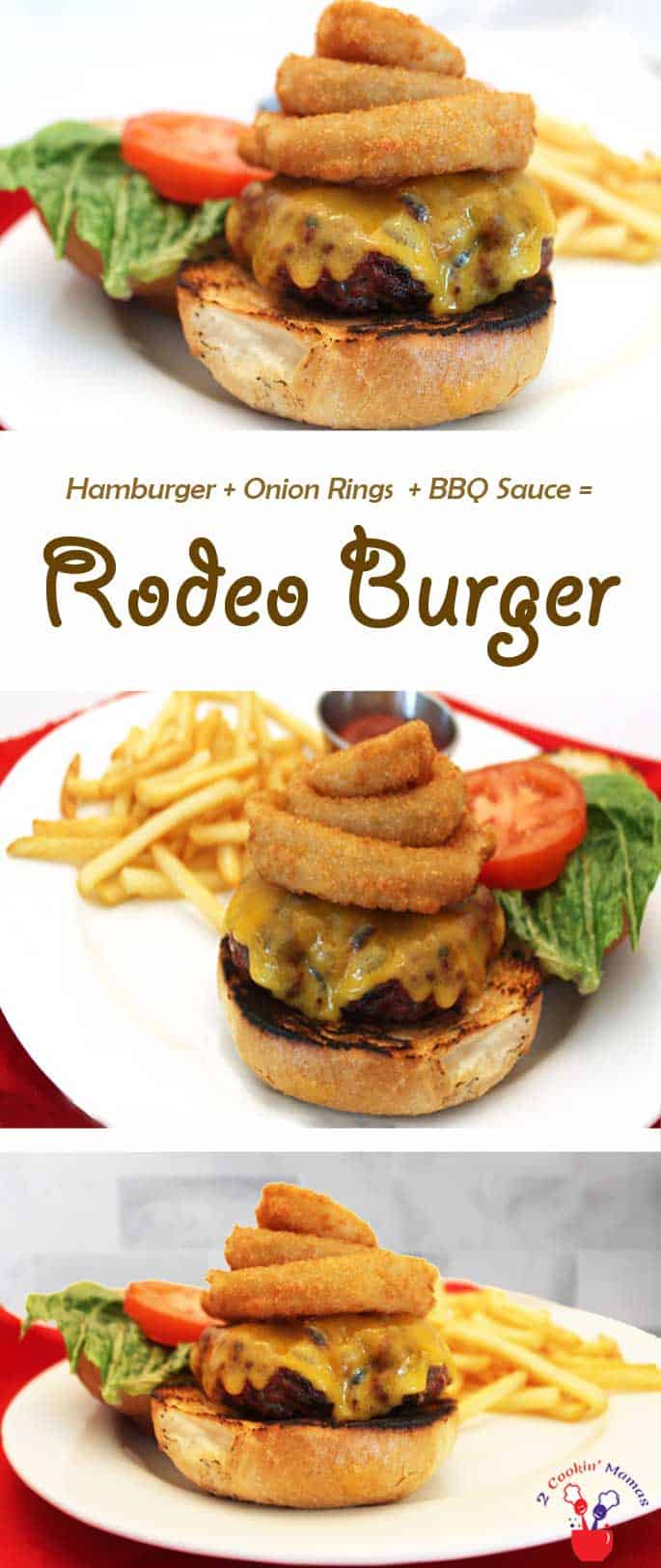 Now you are probably wondering why I say that this Rodeo Burger is the best of all burgers. Well, not only do you get a delicious and juicy cheeseburger with plenty of barbecue sauce but you also get a whopping topping of onion rings, usually with a serving of French fries on the side. Now, I don't know about you, but getting both French fries AND onion rings for dinner is a winner in my book.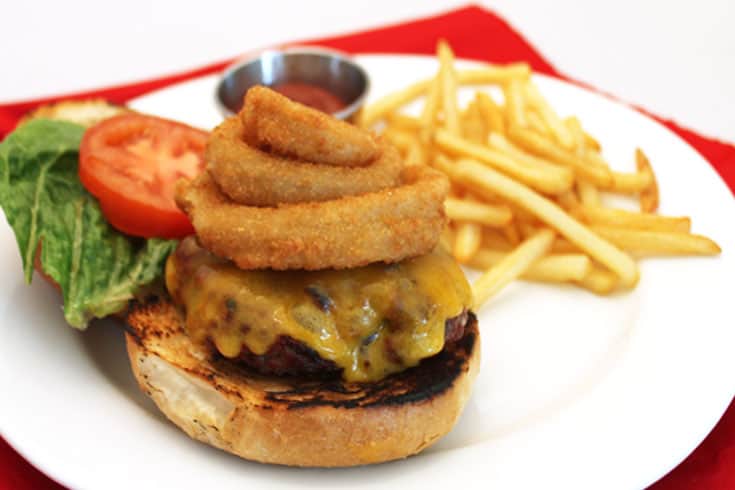 One of our favorite things to do is grill. Â Of course, living in Florida has spoiled us because we get to grill every night all year long. And nothing is better on the grill than a nice juicy burger. Are you with me? And the best part is that clean up is almost non-existent. Yay! Plus, in the summer, it sure helps the house stay nice and cool. Of course, one of the biggest bonus' for me is that my husband is the one in charge of all the grilling. So that gives me the night off which is always appreciated. Thanks honey!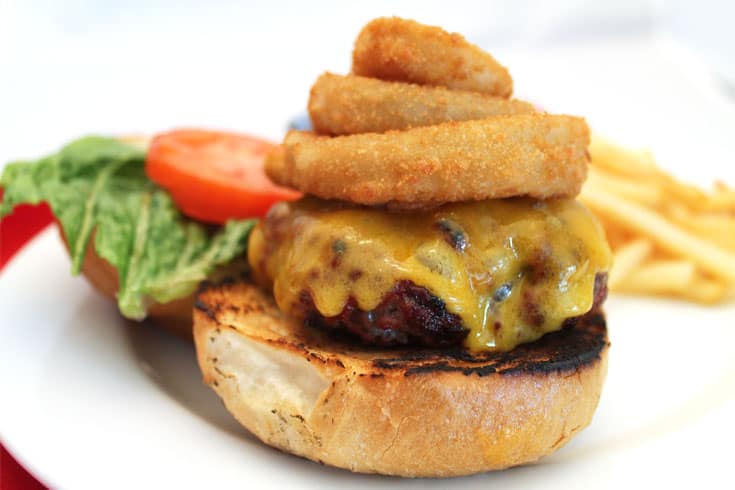 These Rodeo Burgers start with some quality ground chuck. This type of meat stays moist and juicy when grilled. The only thing you need to add is a little salt and pepper. And don't forget to make a small depression in the middle of the patty so that your burger doesn't puff up but stays nice and flat to fit the bun. Grill for 4-6 minutes a side, depending on preferred doneness, then top with cheese. Serve with your favorite BBQ sauce & a heaping mound of onion rings.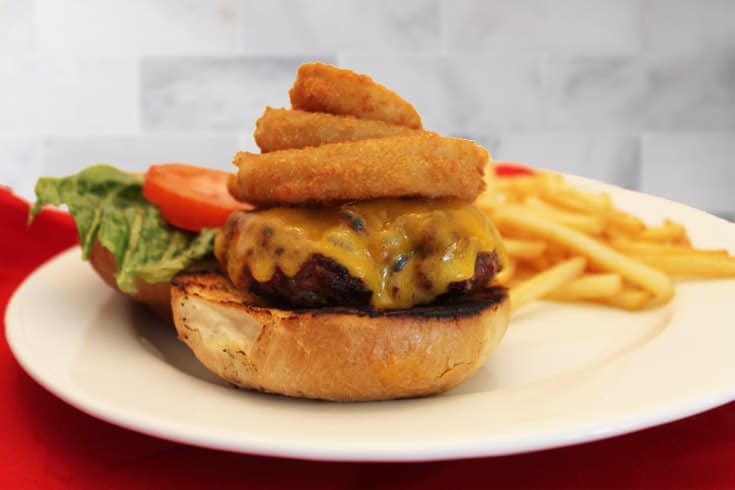 I like to make this a quick and easy meal by using frozen onion rings and french fries. If you've never tried the Alexa brand of frozen food I would highly recommend them. (nobody paid me to say that, I just like their products) Of course, if you have the time, you can always opt to make your own sweet potato fries or serve up our delicious roasted potato salad.
Hope you enjoy!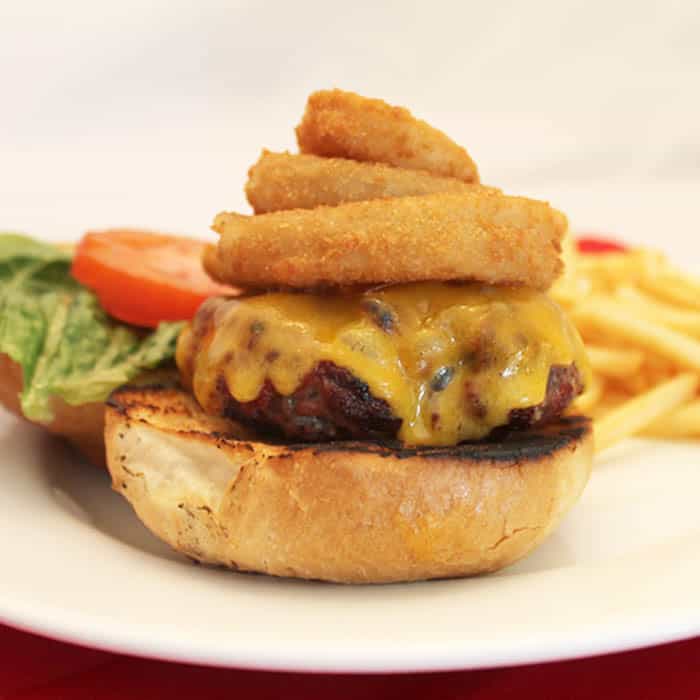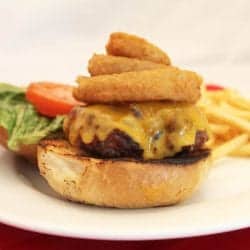 RODEO BURGER
Want your burger & onion rings too? Grill up this classic recipe for a mouthwatering Rodeo Burger! Add cheese, a side of fries & it's heaven!
Print
Rate
Ingredients
1

lb.

ground chuck

Salt & pepper to taste

4

slices

sharp cheddar cheese

4

hamburger rolls

12

onion rings,

3 per burger

Barbecue sauce
Instructions
Salt and pepper ground beef, mixing well.

Divide into 4 portions. Form into patties, making sure to mold it enough for the meat to stick together.

Once made, form a small depression in the center of each patty to keep the hamburger from puffing up into a round ball during grilling.

Prepare onion rings according to package directions.

While onion rings are baking, preheat grill.

Grill hamburgers for about 8 minutes for medium doneness, turning halfway through. When you have a minute left to cooking add a slice of cheese to the top. When melted remove to platter.

If you prefer your hamburger buns toasted on the grill, when there is about 4 minutes left, slice them in half and put face down on grill. You can pick at them from time to time as you need to watch them carefully as they can char rather quickly.

To serve: Place cheeseburger on the bottom of hamburger bun, top with 3 onion rings and place lettuce and a slice of tomato on top half of the bun. Serve with your favorite barbecue sauce.
DON'T MISS A RECIPE!