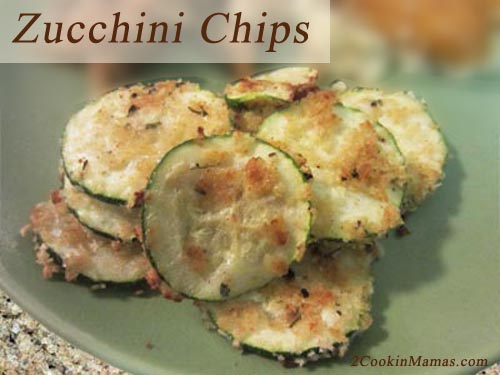 I am sure we all have friends or family with different dietary restrictions and, if they are coming to my house, I want to make sure there is something being served that they can eat. And since Chris, the other Cookin' Mama, is gluten-intolerant I have been getting a lot of practice.  So when I was planning our  recent get-together I decided to try my hand at making these delicious Zucchini chips. Not only were they a hit with Chris but with everyone else as well.  They are perfect for either an appetizer or a dinner side and healthy too!
 Zucchini Chips
Ingredients:
3 large zucchini, cut into ¼″ slices
⅜ cup panko (gluten-free)
⅜ cup Pecorino-Romano or Parmesan cheese, grated
⅜ teaspoon salt
⅜ teaspoon garlic powder
⅜ teaspoon Cajun seasoning (I use Emeril's – it's fantastic!)
Black pepper
3 eggs
Directions:
Preheat oven to 450 degrees. Prepare several large cookie sheets by lining with parchment paper then spraying with Pam or other non-stick spray. (A non-stick cookie sheet sprayed with Pam will work as well.)
Wash and dry zucchini then cut into thin ¼″ slices.
In a medium bowl, mix panko, cheese and seasonings together. In another small bowl, beat egg with just a little bit of water. Set aside.
Take each slice of zucchini and dip first in egg-water mixture then into panko mixture, patting crumbs into each slice. Lay in a single layer on prepared cookie sheet.
Bake for 14-16 minutes, turning halfway through cooking time, until golden brown and crisp. Serve hot.
Will serve 6 as a dinner side and 6-10 as an appetizer.
It is so nice that Amazon is now carrying a nice line of gluten-free products. Check out the Glutino Gluten Free Breadcrumbs here.