This Chipotle Beef Chili is a classic American chili with a Mexican twist. Ground chipotle and black beans are added to a delicious beef chili which is taken up a notch with the addition of beer. Makes a hearty wholesome dinner or topping for your favorite hot dogs for the big game.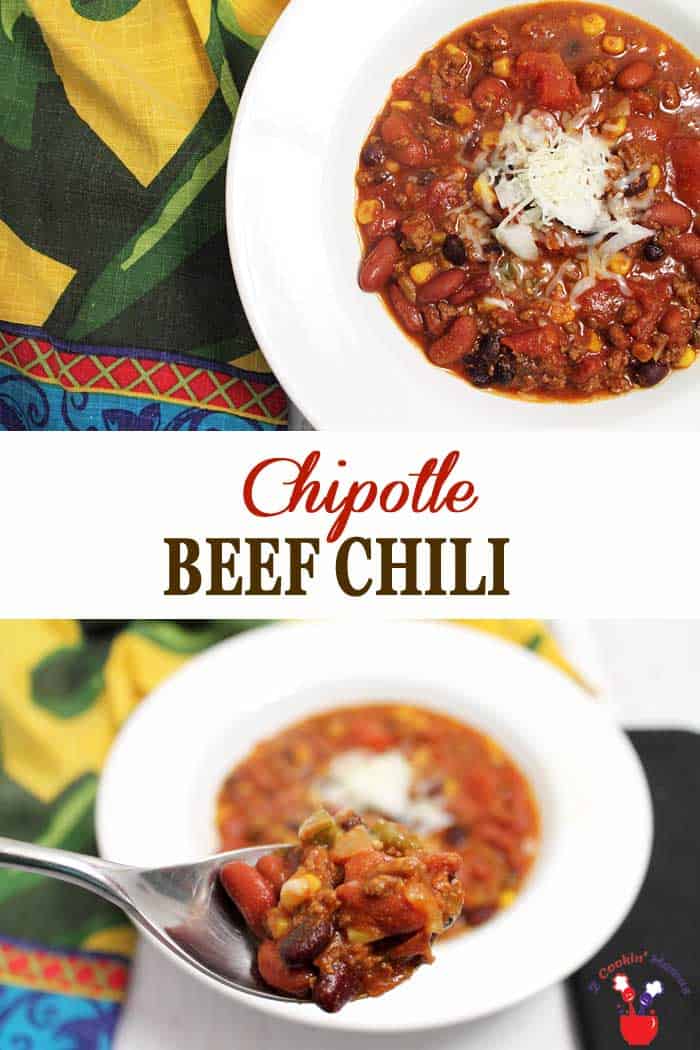 Chili con carne, or as we commonly know it as simply "chili", has been a staple recipe in the United States for years. I can remember seeing old TV shows where cowboys were eating bowlfuls of chili while sitting around a campfire. Now it seems like every family has their own special chili recipe, or their favorite restaurant version or maybe a state fair winner, that they love. And, I think it's fair to say, that every household has their own particular take on what makes chili, chili.
Some people would be offended if, say, beans were added to chili, although the definition clearly states it is a spicy stew with beans, tomatoes, beef and chili peppers. Now, that might be traditional, but you'll find all sorts of chilis on the scene now, like this Chipotle Beef Chili, White Chicken Chili, Chipotle Turkey Chili, paleo versions as well as vegan versions. And I think there's a place on our dinner menus for every single one of them.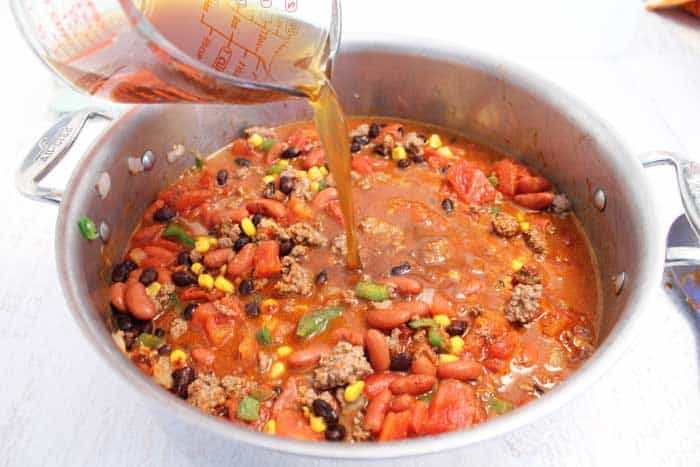 Todays version of chili is taking the classic American chili across the border to Mexico with the addition of a smoky hint of chipotle peppers and a can of black beans. Oh, and if you don't care for the taste of chiptole, leave it out, and it's just as yummy. I also took the flavor up a notch with the addition of beer. 'Cause what's chili without beer, right?! You'll find it easy to make, hearty, and definitely out of this world delicious.
One of the best parts of this chipotle beef chili dinner is that's it made all in one pot. Easy to make and easy to cleanup, just the kind of dinners I like!  You can also make this chili in a crockpot, starting it in the morning, so heavenly aromas and dinner await you when you get home. Find the instructions for this  in the note section below.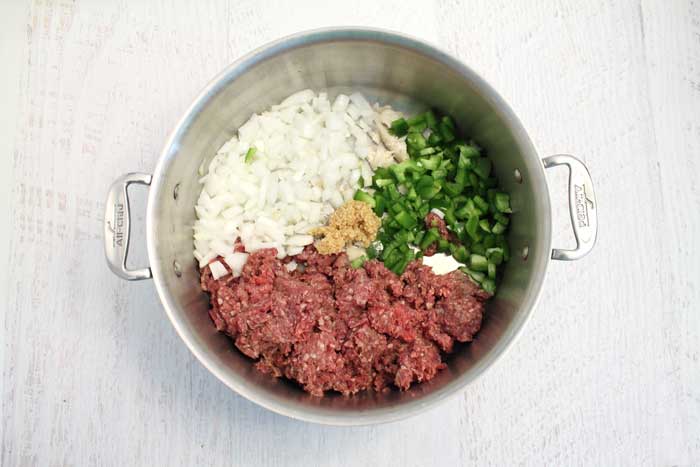 So how easy is it to make this awesome chili? Check it out! Start by browning the ground beef, onions, peppers and garlic.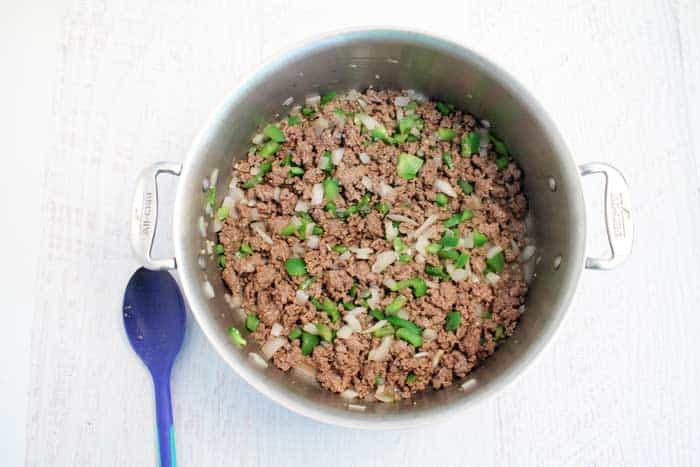 When the beef is thoroughly cooked, add the tomatoes, kidney beans, black beans and corn.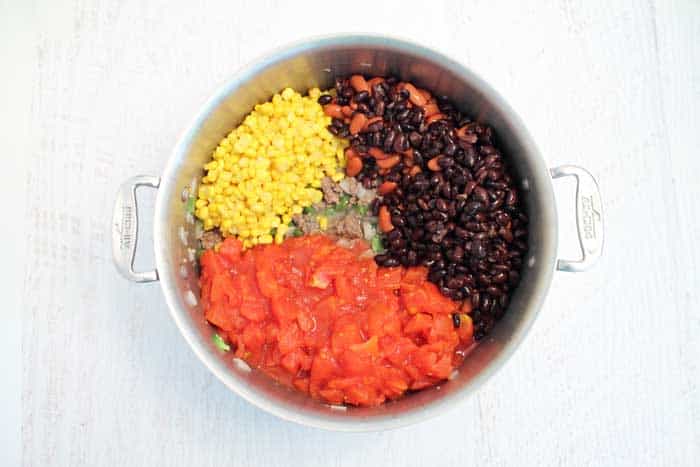 Now add the spices, cumin, ground chipotle, chili powder and salt, to the mix.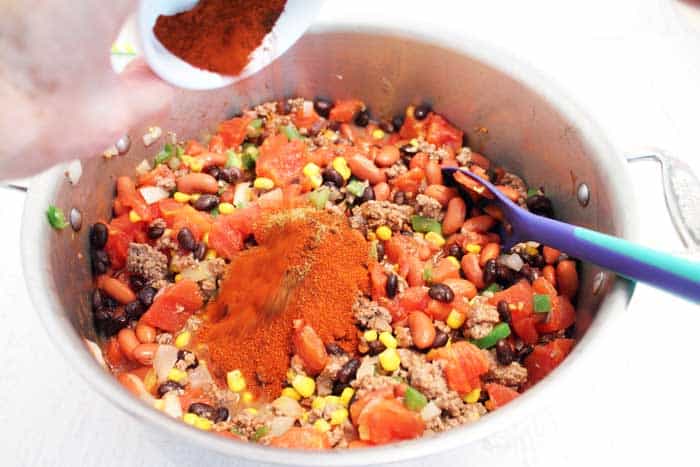 Lastly, add the tomato paste, beef stock and beer.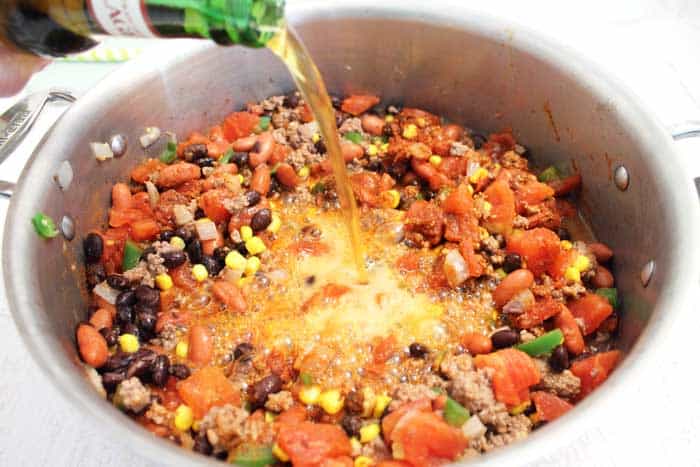 Simmer, uncovered, for 2-3 hours. The more you cook it the thicker and more flavorful it becomes. Time to try a bite. Oh, that's soooo good.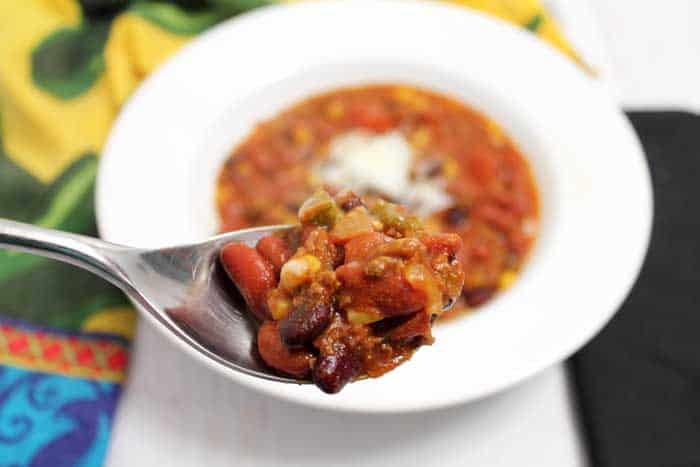 I like to serve mine topped with chopped onions and cheddar cheese along side some warm fresh bread. 'Cause you'll want to sop up every last bit of that awesome sauce!
Enjoy!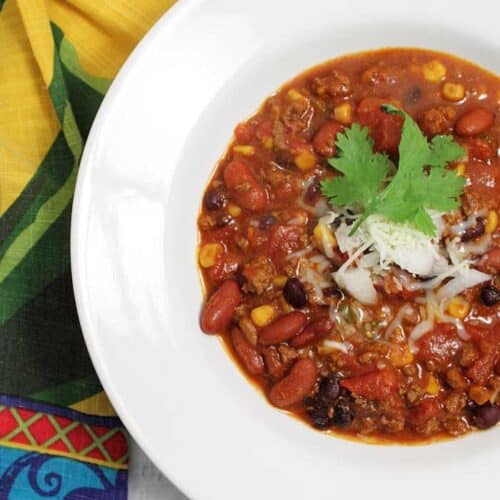 CHIPOTLE BEEF CHILI
Ingredients
1-1/2 to 2

lbs.

ground beef

1

medium onion,

chopped

1

green pepper,

chopped

1

teaspoon

minced garlic

32

oz

canned diced tomatoes

15

oz

can kidney beans,

drained & rinsed

15

oz

can black beans,

drained & rinsed

15

oz

can corn kernels,

drained

2

teaspoons

cumin

2-3

Tablespoons

chili powder

1

teaspoon

ground chipotle

(optional)

salt to taste

6

oz

can tomato paste

1

cup

beef stock

12

oz

beer

Garnish: chopped onions, shredded cheddar cheese
Directions
In a large pot, brown ground beef, onion, green pepper and garlic until beef is thoroughly cooked.

Add remaining ingredients.

Simmer, uncovered, on stove top for 2-3 hours, stirring occasionally.

Serve in individual bowls topped with chopped onions and shredded cheddar cheese.
Recipe Notes
If cooking in a crockpot, brown beef, onions, peppers and garlic in a large skillet, making sure beef is cooked thoroughly.
Place in crockpot, add remaining ingredients, stir together, cover and cook on low for 8 hours or high for 4 hours.
What's your favorite way to prepare chili?
DON'T MISS A RECIPE!