A surprisingly cheesy and creamy chicken filling inside a crispy tortilla makes air fryer chicken taquitos a "please repeat me" recipe. They are so easy to make, take less than 30 minutes, and are the perfect appetizer, lunch, or light dinner.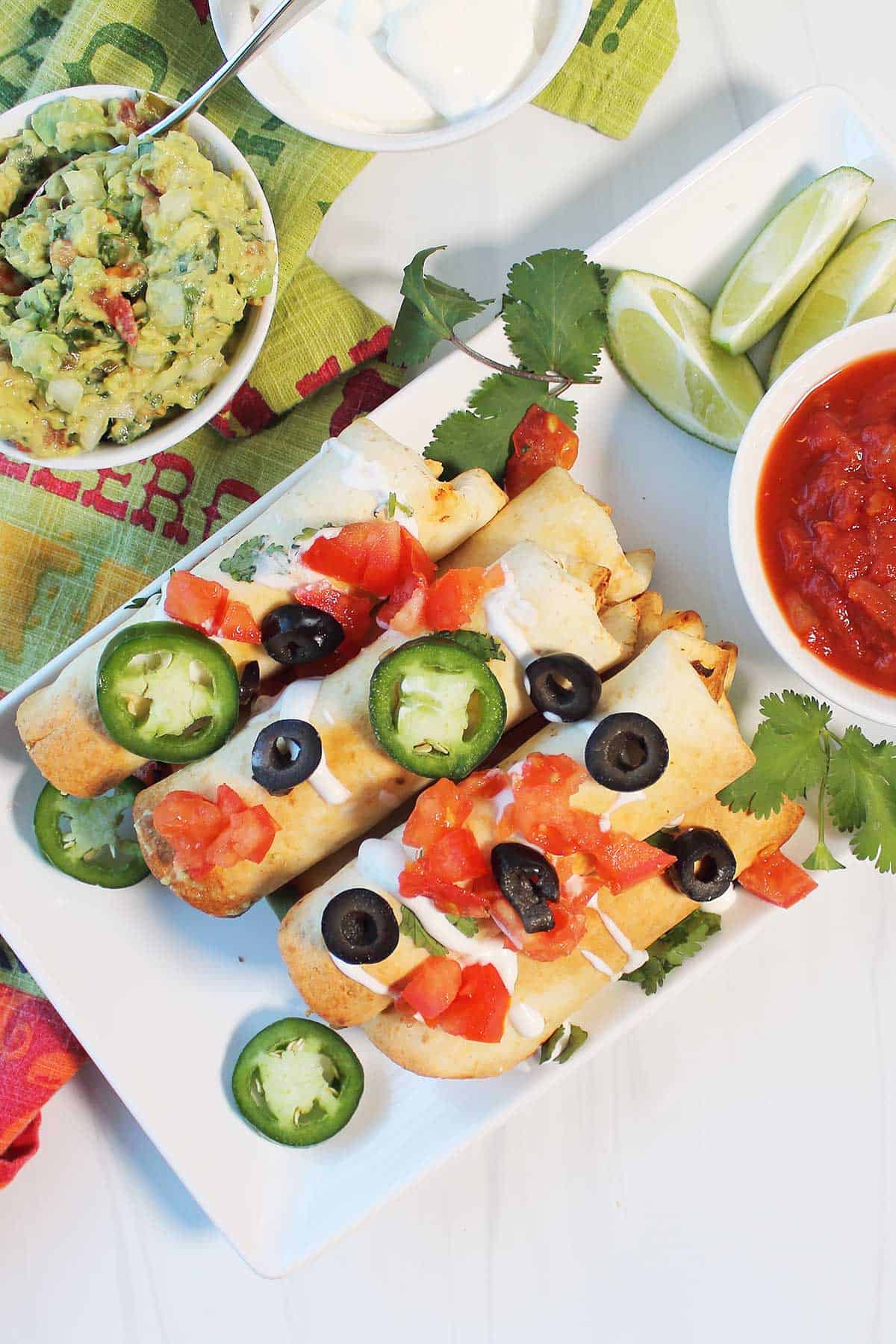 FYI - This post contains affiliate links. As an Amazon Associate, I earn from qualifying purchases. All links are products I use when making my recipes.
Quick and Easy Mexican Recipes with Chicken
Everyone needs a go-to recipe that they can whip up in minutes - and this chicken taquitos air fryer recipe is that meal. Mix, fill, wrap, and air fry - it doesn't get simpler than this. And it's even easier when you use leftover or rotisserie chicken.
Save your leftover chicken for some other tasty and easy Mexican recipes, such as chicken burritos, buffalo chicken quesadillas, and chicken enchiladas.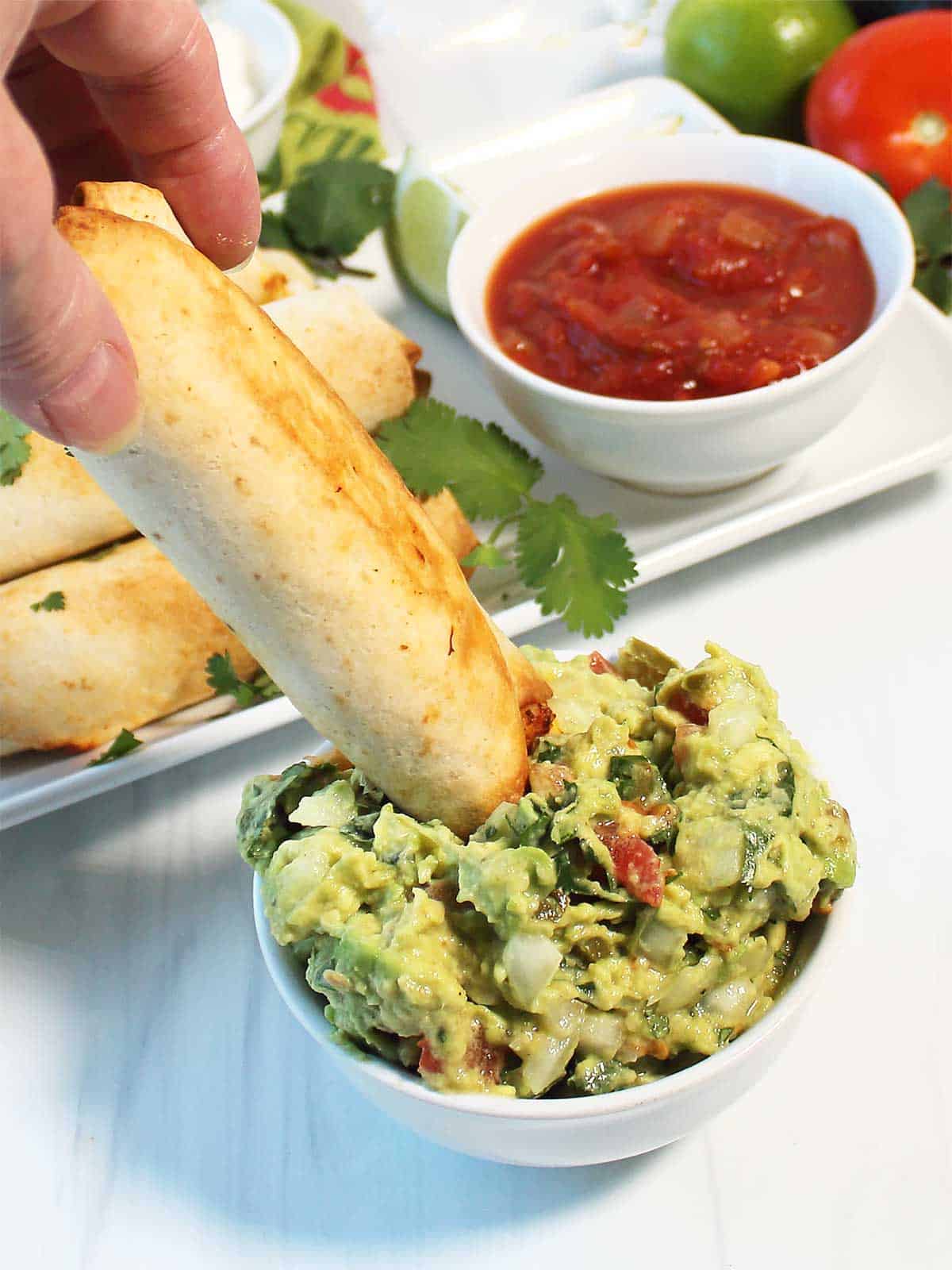 What are taquitos?
Taquitos, also known as flautas, are a delightful finger food originating from Mexico. They are typically made by rolling a tortilla around a savory filling, such as shredded chicken, beef, or cheese, and then frying it to crispy perfection.
The word "taquito" literally translates to "little taco," which gives you an idea of their size – small enough to enjoy as a snack, yet satisfying enough to serve as part of a meal.
What sets taquitos apart from other Mexican dishes is their distinct, crispy texture. After the tortilla is filled and rolled, it's fried until golden brown and crunchy. The result is a satisfying contrast between the crisp exterior and tender, flavorful filling inside.
Taquitos can be found at Mexican restaurants and food trucks, as well as in the frozen aisle of your local supermarket. However, nothing beats homemade taquitos, which can be customized with your choice of fillings and spices.
Are taquitos healthy?
When it comes to the healthiness of taquitos, there are a few factors to consider. Like many dishes, the nutritional value of taquitos can vary depending on the ingredients used and the method of cooking.
Deep-fried taquitos are the traditional method of preparation. While this method results in a deliciously crispy texture, it also increases the calorie and fat content of the dish. Deep frying can lead to a higher intake of unhealthy fats, especially if they are fried in oils high in saturated or trans fats.
Air-fried taquitos are a healthier alternative. Air frying uses hot air circulation to cook the food, which requires little to no oil. This method significantly reduces the calorie and fat content compared to deep frying.
By air frying your taquitos, you can still achieve a crispy texture without compromising on taste.
Additionally, the fillings and toppings you choose can also impact the overall healthiness of your taquitos – opting for lean proteins, vegetables, and lighter sauces will be more nutritious than heavier, high-fat options.
Why You'll Love This Air Fryer Chicken Taquitos Recipe
This is the perfect recipe when you need something that is quick and easy. Since you use the air fryer, you don't have to deal with oil and deep frying.
Every bite is wonderfully flavorful! The cream cheese makes them smooth and creamy while the seasonings add a spicy edge.
And they are super versatile too. Change up the meat, mix up the cheeses and opt for corn tortillas in lieu of the flour.
Chicken taquitos in the air fryer are the perfect size to use as an appetizer, snack, lunch, or dinner.
Or, save time and make them ahead and freeze them! Then you'll always have tasty taquitos ready when you want them.
Ingredients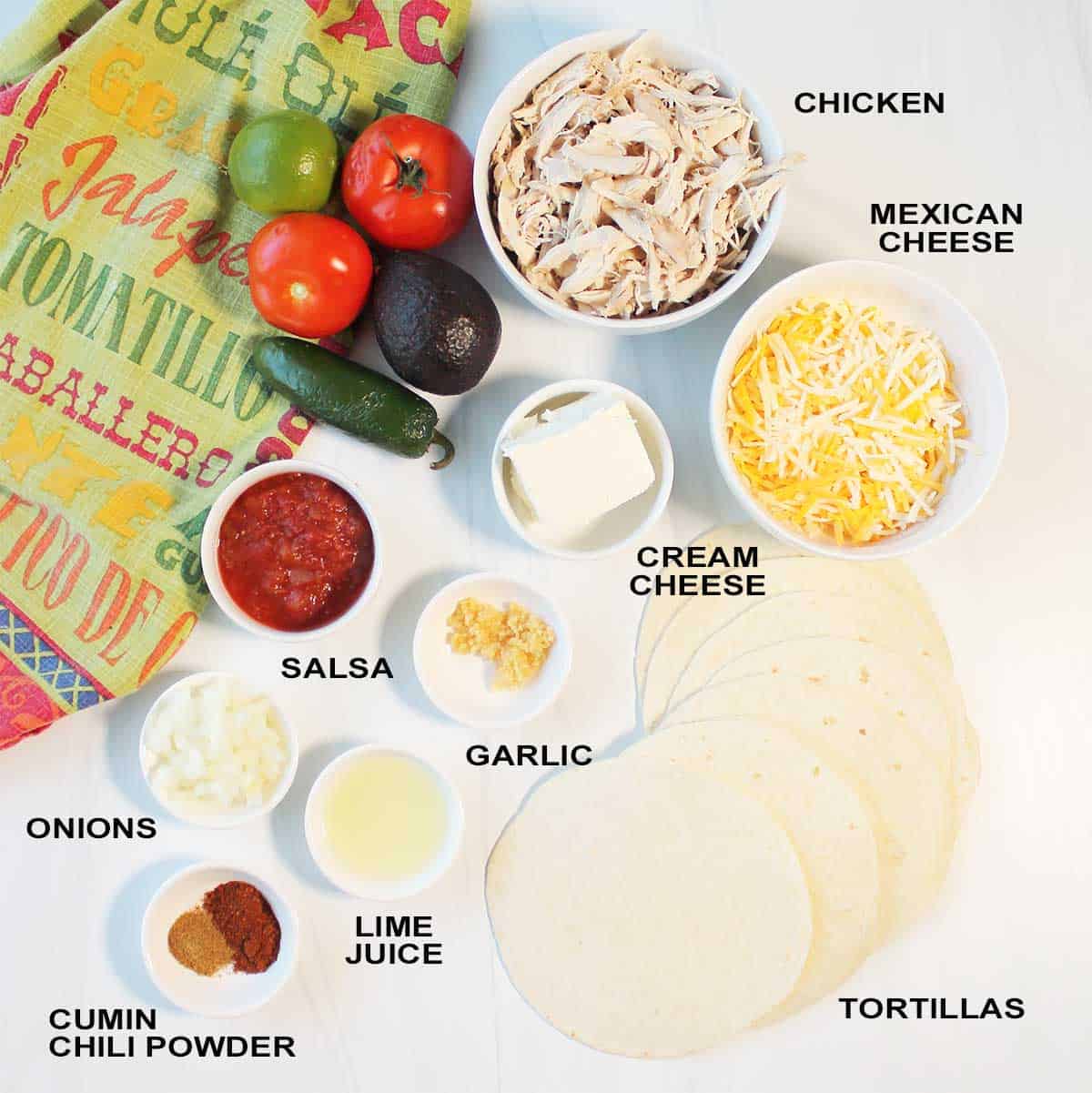 Shredded cooked chicken - a rotisserie chicken is great to use
Cream cheese
Salsa
Lime
Chili powder
Ground cumin
Garlic
Onion
Shredded Mexican cheese blend
Taco-sized flour tortillas
Coarse sea salt
Cooking spray
Equipment Needed
How to Air Fry Taquitos
Cooking taquitos in an air fryer is so easy to do!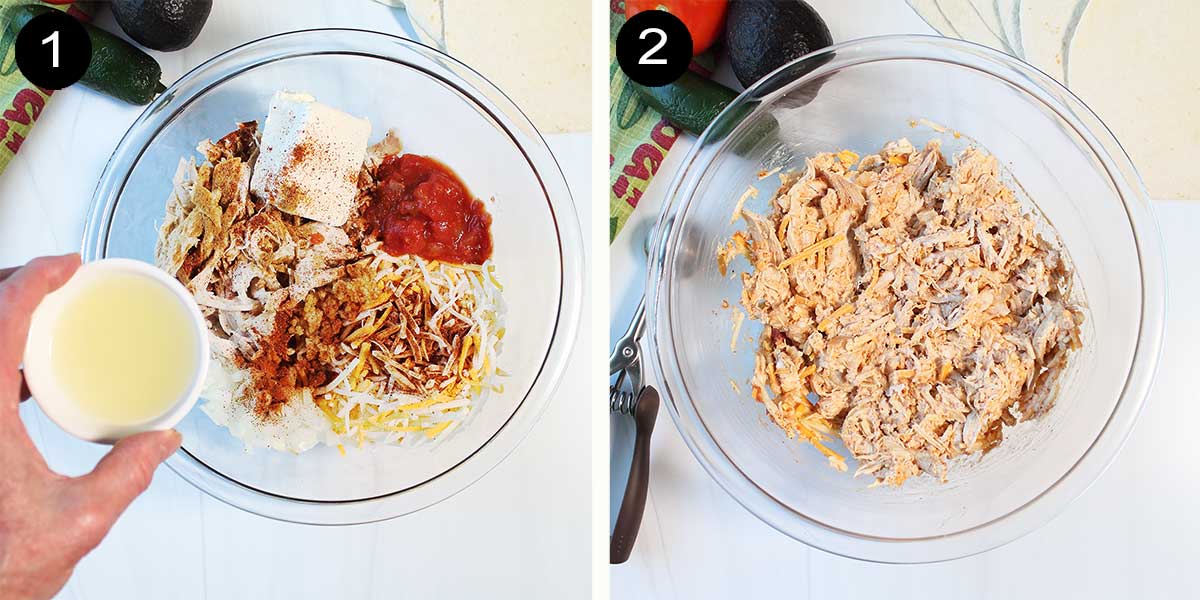 Place all the ingredients for the filling, chicken, cream cheese, cheese, salsa, vegetables, and spices, in a large bowl. Add lime juice.
Stir until all the cream cheese has been incorporated.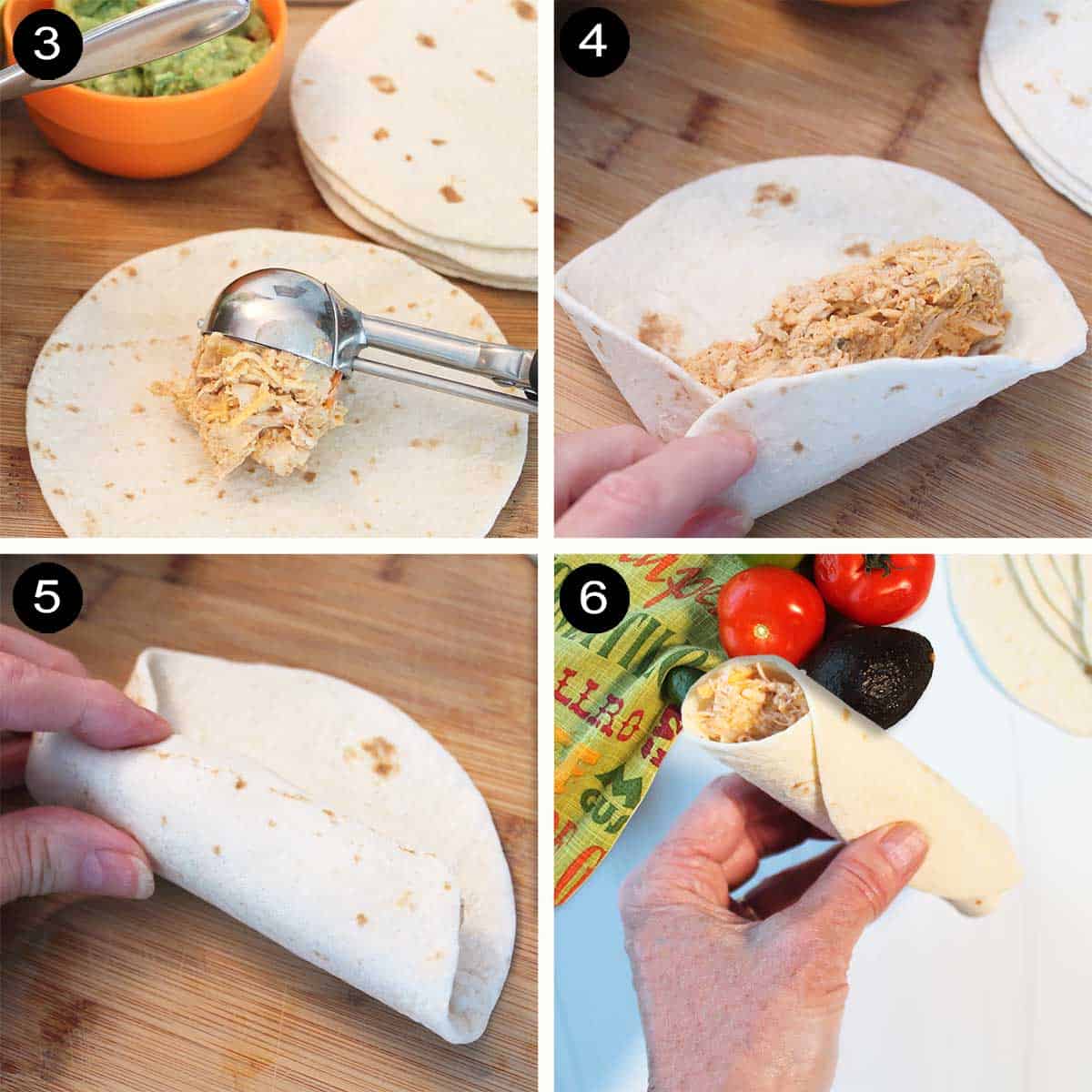 Scoop about 3 tablespoons of the chicken filling on each of the tortillas.
Fold the bottom of the tortilla over.
Tightly roll the tortilla up into a log.
It should look like this.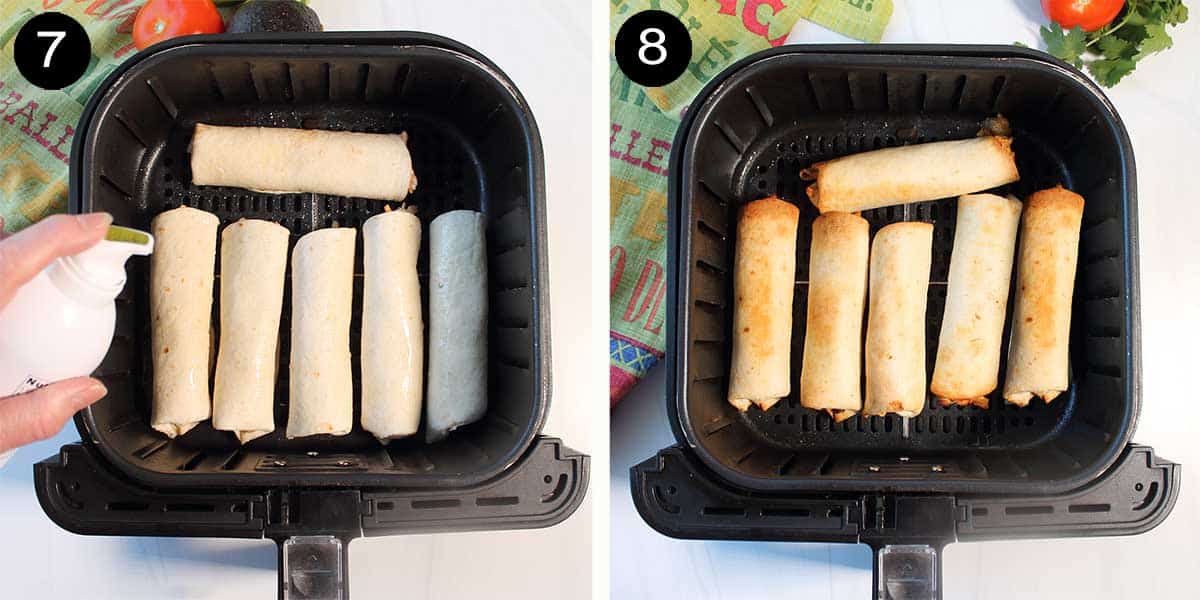 Preheat the air fryer to 400°F for 5 minutes. Spray the basket of the air fryer with cooking spray then carefully lay the taquitos in the air fryer basket. Try to separate them so they cook evenly. You may have to cook them in batches. Now spray the top of the taquitos.
Air fry them for 5 minutes, turn them over, and cook for another 2 minutes or until brown and crispy.
How to Oven Bake Taquitos
Don't have an air fryer? You can bake them instead. Here's how. Just follow steps 1-6 above then proceed with the following directions.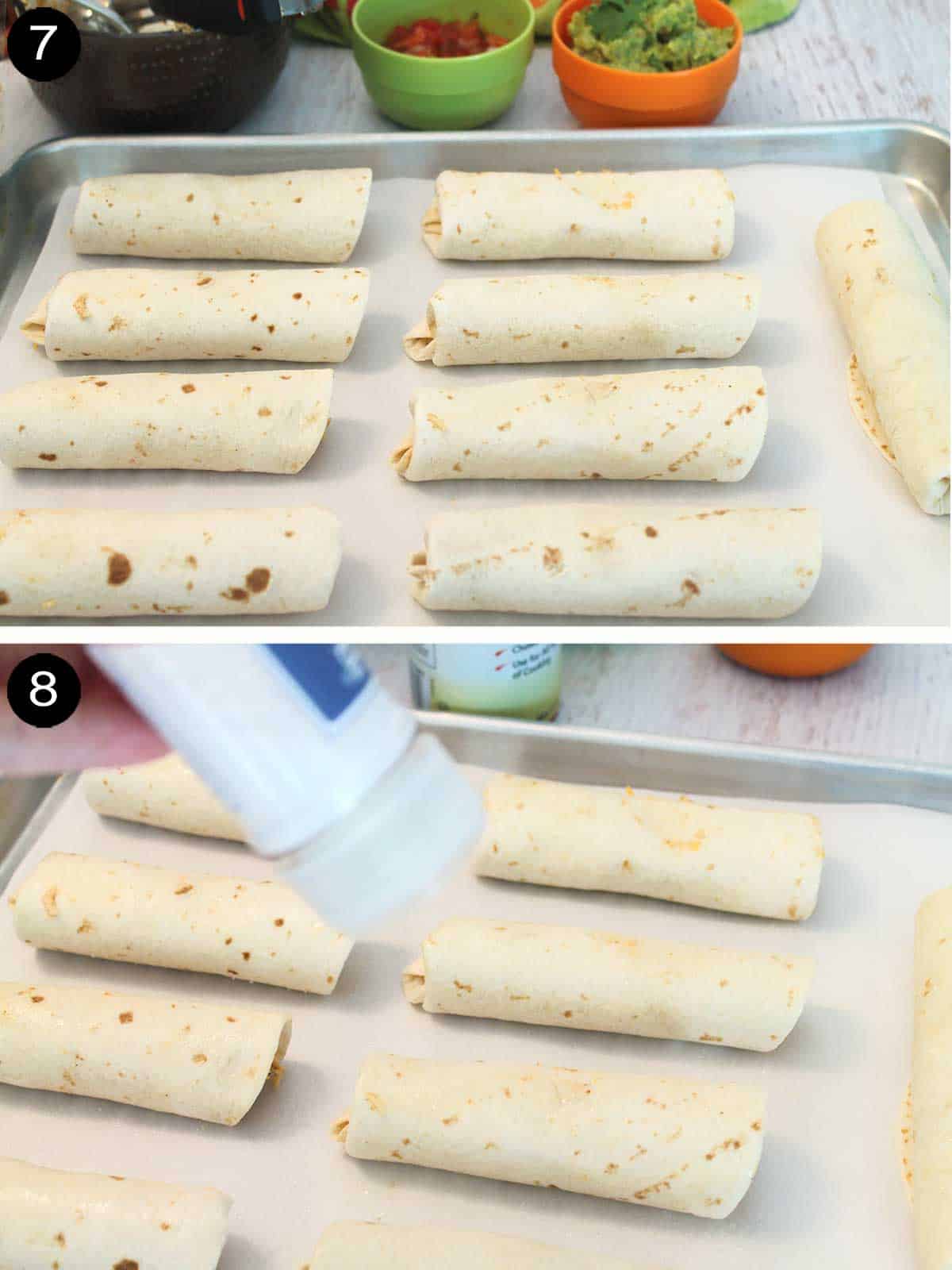 Line a cookie sheet with parchment paper. Place rolled taquitos on it, spacing them evenly.
Spray with cooking spray and sprinkle with coarse salt. Bake at 425° for 20-22 minutes.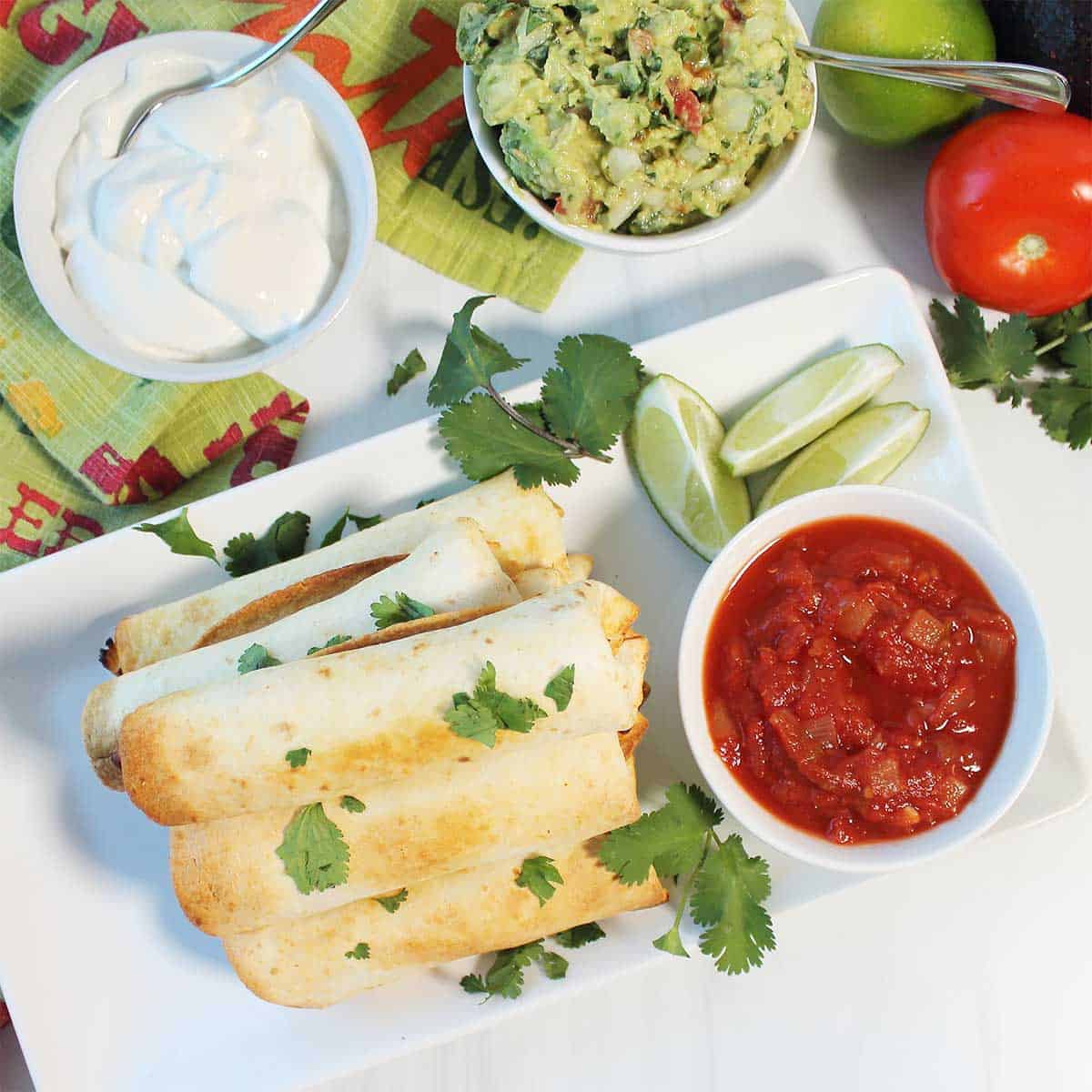 Serve garnished with cilantro or go all out with a drizzle of sour cream, some black olives, sliced jalapenos and chopped tomatoes. And always add some favorite dipping bowls on the side full of fresh guacamole, salsa and rich sour cream.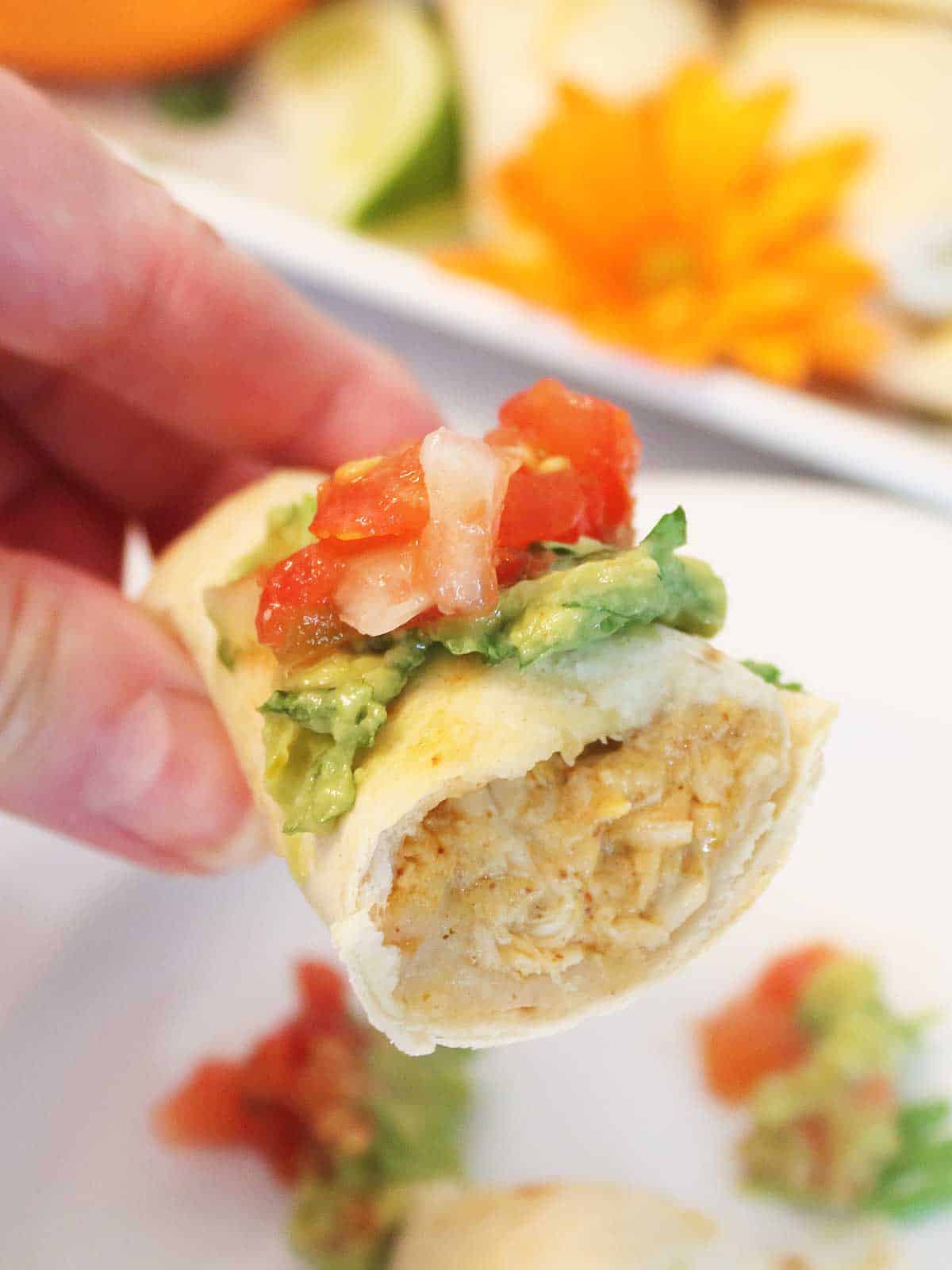 Now take a bite and drool over these tasty, crunchy on the outside, creamy on the inside appetizers. Or make them for lunch or a light dinner too. Enjoy!
Recipe Tips
Warm the tortillas before rolling them to prevent them from cracking. You can easily do this by placing them in a warm skillet for a minute or two on each side. Or wrap them in aluminum foil and bake them at 350°F for 10 to 15 minutes. Or wrap them in a damp paper towel and microwave them for 30 to 45 seconds, flipping halfway through microwaving.
Remember to soften the cream cheese so it combines easily with the shredded chicken.
Don't overfill the tortillas because taquitos are not thin, about ¾-inch thick.
You can use toothpicks to keep taquitos from unrolling.
If making them in batches, keep the air fried taquitos warm by placing them on a wire rack over a baking sheet. Keep them in over on the lowest heat setting (about 200°F).
Recipe Variations
Tortillas - Use corn tortillas instead of flour tortillas
Fillings - Use beef or pork instead of chicken. Use beans for vegetarian taquitos.
Cheese - Use shredded cheddar cheese, pepper jack cheese, or colby jack cheese instead of the Mexican cheese blend.
What to Serve with Taquitos
Beans - Black beans, charro beans, or refried beans.
Cheese - Crumbled Cotija Cheese, queso fresco, or other shredded cheese
Chopped Fresh Cilantro
Corn - Corn salsa or Mexican street corn
Lime Wedges
Rice - White rice, cilantro lime rice, or Mexican rice.
Salsa - Red or green salsa.
Sour Cream
Veggies - Chopped onions, chopped tomatoes, and shredded lettuce
White Queso Dip
Make Ahead
Here are a couple of ways to make taquitos ahead of time:
Prepare the chicken filling a day or two in advance. Store it in an airtight container in the fridge for up to 4 days.
Assemble the taquitos but do not air fry them. Place them in an airtight container and refrigerate them for up to 24 hours. When ready, air fry the taquitos according to the recipe directions.
How to Store and Freeze Taquitos
Store chicken taquitos in an airtight container in the fridge for up to 4 days.
To freeze homemade chicken taquitos, place them on a baking sheet about 1 inch apart. Freeze them until completely frozen, at least 2 hours. Place the frozen taquitos in a freezer-safe container or plastic freezer bag. Freeze them for up to 3 months.
How to Reheat Taquitos
If frozen, brush or spray them with oil. Air fry at 365°F for about 6 minutes or until heated through. Or you can reheat them in the oven on a baking sheet at 425°F for about 15 minutes.
If thawed, brush or spray them with oil. Air fry at 365°F for about 3 minutes or until heated through. Or you can reheat them in the oven on a baking sheet at 425°F for about 10 minutes.
LOVE QUICK & EASY RECIPES? FOLLOW ME ON INSTAGRAM, FACEBOOK, & PINTEREST FOR ALL THE LATEST RECIPE INSPIRATION! PLUS JOIN MY EMAIL LIST AND RECEIVE A FREE E-BOOK.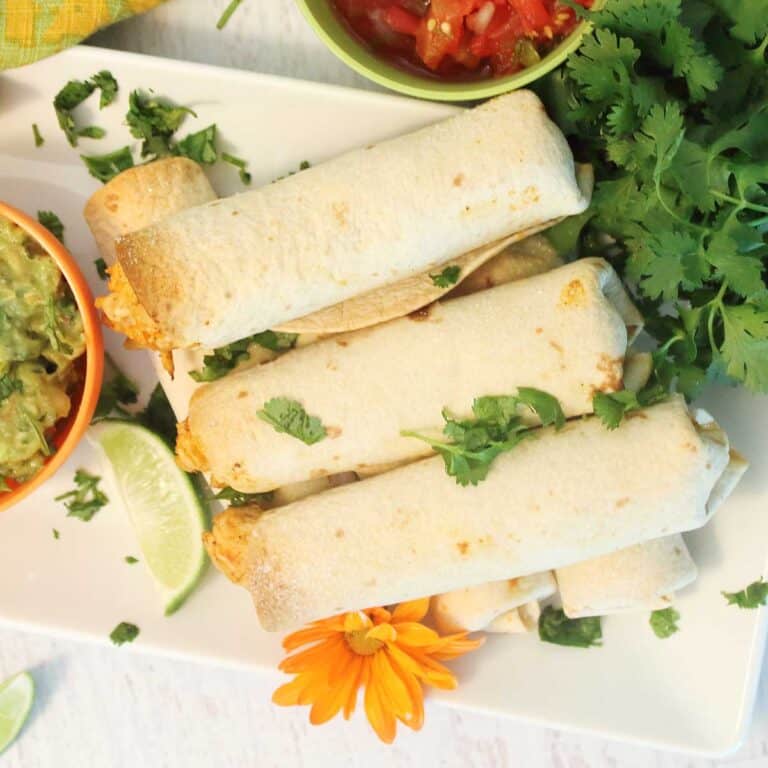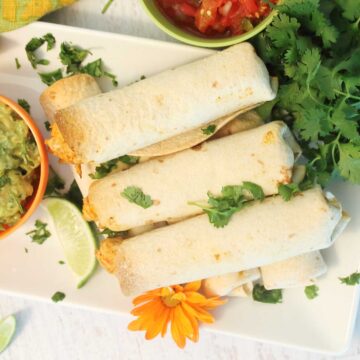 Air Fryer Chicken Taquitos
These easy-to-make Chicken Taquitos are creamy and delicious. They're air fried, so no extra oils, and can be on the table in less than 30 minutes for a tasty lunch, dinner or appetizer.
Print
Rate
Ingredients
2

cups

shredded cooked chicken,

about 1 rotisserie chicken

3

oz

cream cheese, softened

¼

cup

fresh salsa

1

lime,

juiced (about 2 Tablespoons)

1

teaspoon

chili powder

½

teaspoon

ground cumin

1

teaspoon

minced garlic,

about 2 cloves

3

Tablespoons

onion,

diced

1

cup

shredded Mexican Cheese

8

small fresh flour tortillas

Cooking spray

Coarse sea salt

(optional)
Instructions
Air Fryer Chicken Taquitos
In a large bowl, combine everything up to the tortillas. Mix well.

To assemble: Fill 1 tortilla with 3 tablespoons of filling along the center. Leave a little room at one end to fold up. Fold up one end then roll tightly around filling. Repeat with remaining tortillas.

Preheat air fryer to 400°F for 5 minutes.

Spray basket and place rolled taquitos into basket. Make sure they do not touch. Air fry in batches if necessary. Spray tops of taquitos.

Air fry for 5 minutes, turn them over, spray again with cooking spray and cook 2 more minutes. If they are not quite crispy enough you can add a minute.
Baked Chicken Taquitos
Preheat oven to 425 degrees. Line cookie sheet with parchment paper.

Follow instructions above for mixing and filling taquitos.

Place the prepared taquitos on the cookie sheet, seam side down. Repeat with remaining tortillas.

Spray all tortillas lightly with vegetable cooking spray. Grind coarse salt over the top.

Bake 20-22 minutes or until tortillas are lightly browned.
Notes
HOW TO REHEAT
If frozen, brush or spray them with oil. Air fry at 365°F for about 6 minutes or until heated through. Or you can reheat them in the oven on a baking sheet at 425°F for about 15 minutes.
If thawed, brush or spray them with oil. Air fry at 365°F for about 3 minutes or until heated through. Or you can reheat them in the oven on a baking sheet at 425°F for about 10 minutes.
Nutrition
Calories:
229
kcal
|
Carbohydrates:
18
g
|
Protein:
10
g
|
Fat:
13
g
|
Saturated Fat:
6
g
|
Polyunsaturated Fat:
2
g
|
Monounsaturated Fat:
4
g
|
Trans Fat:
0.02
g
|
Cholesterol:
38
mg
|
Sodium:
411
mg
|
Potassium:
143
mg
|
Fiber:
2
g
|
Sugar:
2
g
|
Vitamin A:
381
IU
|
Vitamin C:
3
mg
|
Calcium:
157
mg
|
Iron:
2
mg
This post has been updated as an air fryer recipe with new photos, step-by-step directions, and more useful information. It was originally published on June 13, 2016.