Calling all chocolate lovers! This decadent homemade chocolate ice cream will have you in chocolate heaven. Its rich, creamy and over-the-top delicious!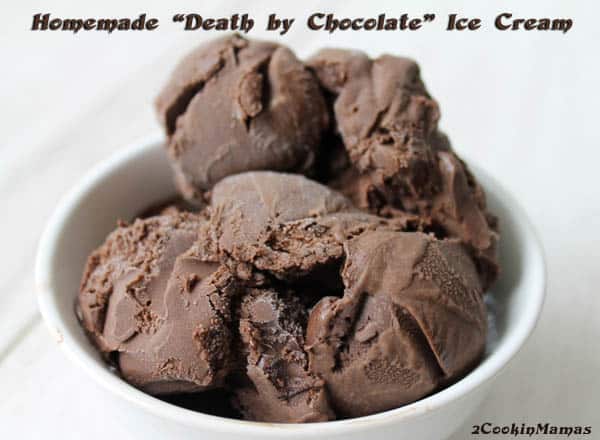 You are not going to believe this ice cream! I love dark chocolate! Yup, dark chocolate bars, dark chocolate cake, dark chocolate cookies, dark chocolate ice cream.. well, you get the idea.
So, when our cookie exchange club's theme turned out to be cookies that went with ice cream, what was a girl to do? Make ice cream, of course! And what better ice cream than chocolate ice cream?! Rich, creamy, dreamy dark chocolate ice cream.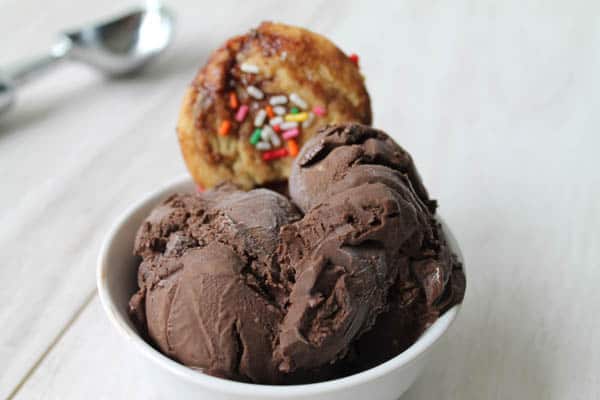 Am I making you drool yet? Well, let me tell you, I had no idea after putting all this chocolate heaven together that it was going to be so out of this world delicious. And I got to use an old ice cream maker I found way back in my cabinets that I didn't even know I had.
Now, I have to tell you, while experimenting with this recipe, which I originally found on the New York Times site, I found out that this ice cream could be made with or without a machine. How you ask? Well, I made the recipe exactly like the ice cream machine said it should be made, using a thermometer to make sure I cooked the mixture to the right temperature, setting it in the refrigerator for 24 hours, then adding it to a very cold ice cream maker.
Well, it churned for about 10 minutes and the ice cream maker stopped. Yup, just stopped and wouldn't go again. So I put the mixture in the freezer and hoped that I wouldn't have to serve it as a pudding. And it turned out fantastic! Now I know why I put the ice cream maker in the back of the cabinet! lol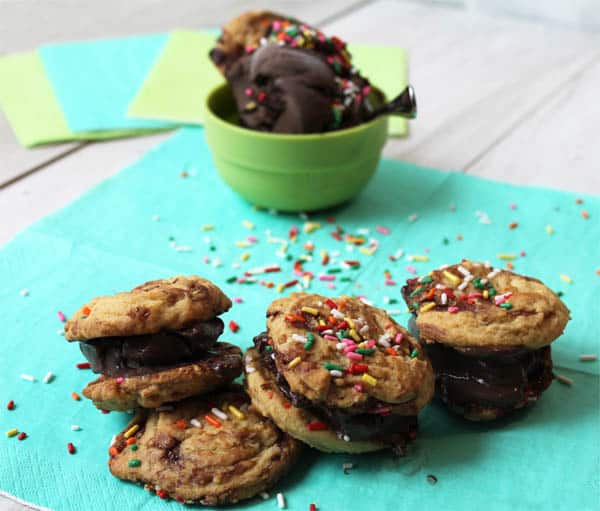 I think I see a new ice cream maker in my future. Good Housekeeping did a review on ice cream makers and the Cuisinart ICE-30R Pure Indulgence 2-Qt Ice Cream Maker was the top rated machine followed closely by the Cuisinart ICE-21, which comes in a little cheaper. Anyone have any suggestions as to which ice cream maker to purchase?
Note: I used all dark chocolate ingredients but you can just as easily substitute regular chocolate for a less chocolatey taste and maybe more to the kids' liking. However, I have to tell you, adults will really drool over this ice cream so you might want to save it for that special "adults only" occasion.
Hope you enjoy!
Use this ice cream to make a Toll House Cookie Sandwich for a tasty summer dessert.
Find even more easy dessert recipes for any season here on 2CM!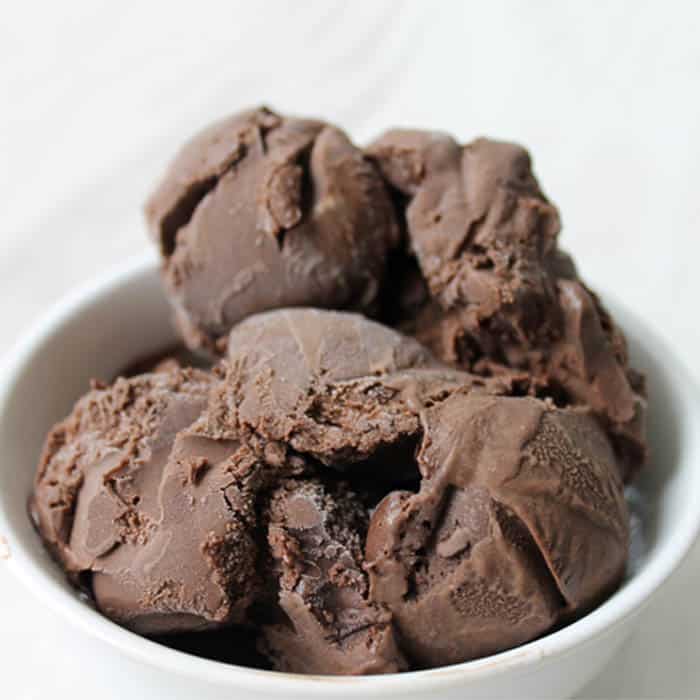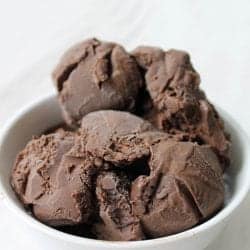 DEATH BY CHOCOLATE ICE CREAM
Calling all chocolate lovers! This decadent homemade chocolate ice cream will have you in chocolate heaven. Its rich, creamy and over-the-top delicious!
Print
Rate
Ingredients
¾

cup

heavy cream

3

Tablespoons

dark cocoa powder

I used Hersheys Cocoa 100% Cacao Special Dark

5-¼

oz

Ghiradelli 72% dark chocolate, chopped

(about 1 cup)

1-½

cups

whole milk

¾

cup

sugar

⅛

teaspoon

sea salt

6

egg yolks,

beaten

¾

cup

sour cream

1

teaspoon

vanilla
Instructions
In a small to medium sauce pan, bring heavy cream and cocoa powder to a simmer.

Remove from heat and add in chopped chocolate, stirring until melted.

Pour into medium bowl and set aside.

Clean out sauce pan. Pour in milk, sugar and salt.

Simmer on medium heat until sugar is dissolved, about 5 minutes. Remove from heat.

Take ⅓ cup of mixture and add slowly to beaten eggs yolks, stirring constantly. Add another ⅓ cup and stir well.

Add slowly back into sauce pan with remaining mixture.

Return to medium-low heat and cook until thermometer reaches 170 degrees and mixture coats back of spoon.

Add this mixture to cream-cocoa mixture along with sour cream and vanilla. Stir well then strain.

Cool to room temperature then chill for 24 hours.

Churn in ice cream maker according to manufacturer's instructions. Mine required 40 minutes. Of course, if you don't want to churn it, just put it in an airtight container and place in the freezer for at least 4-6 hours.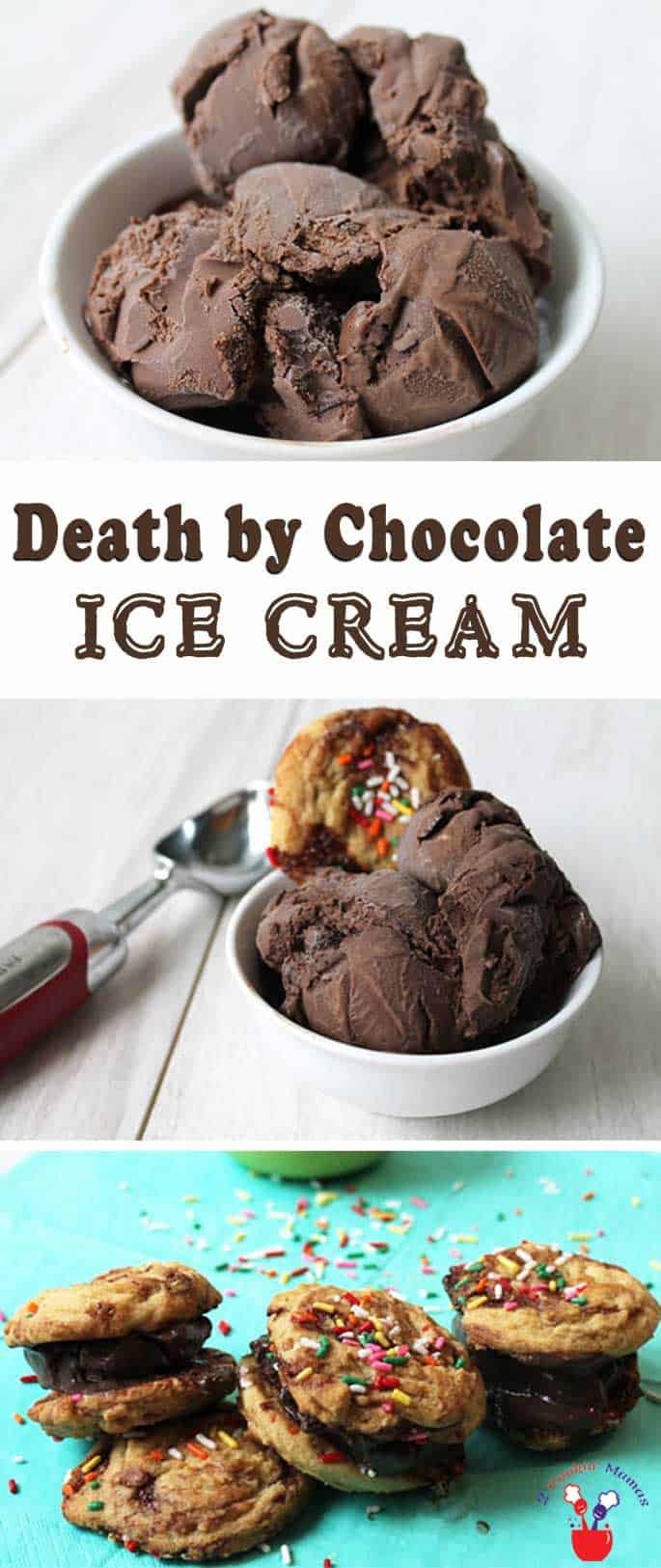 DON'T MISS A RECIPE!
This post has been updated and was first published on July 15, 2015.