This easy-to-make Italian Stromboli recipe is filled with all your favorite pizza toppings. Spicy sausage and pepperoni are rolled up in a store-bought pizza crust filled with 3 cheeses and sauteed onions and peppers for a quick take on an Italian favorite. It's like having your pizza in hot pocket form! Great for lunch, dinner, or a snack.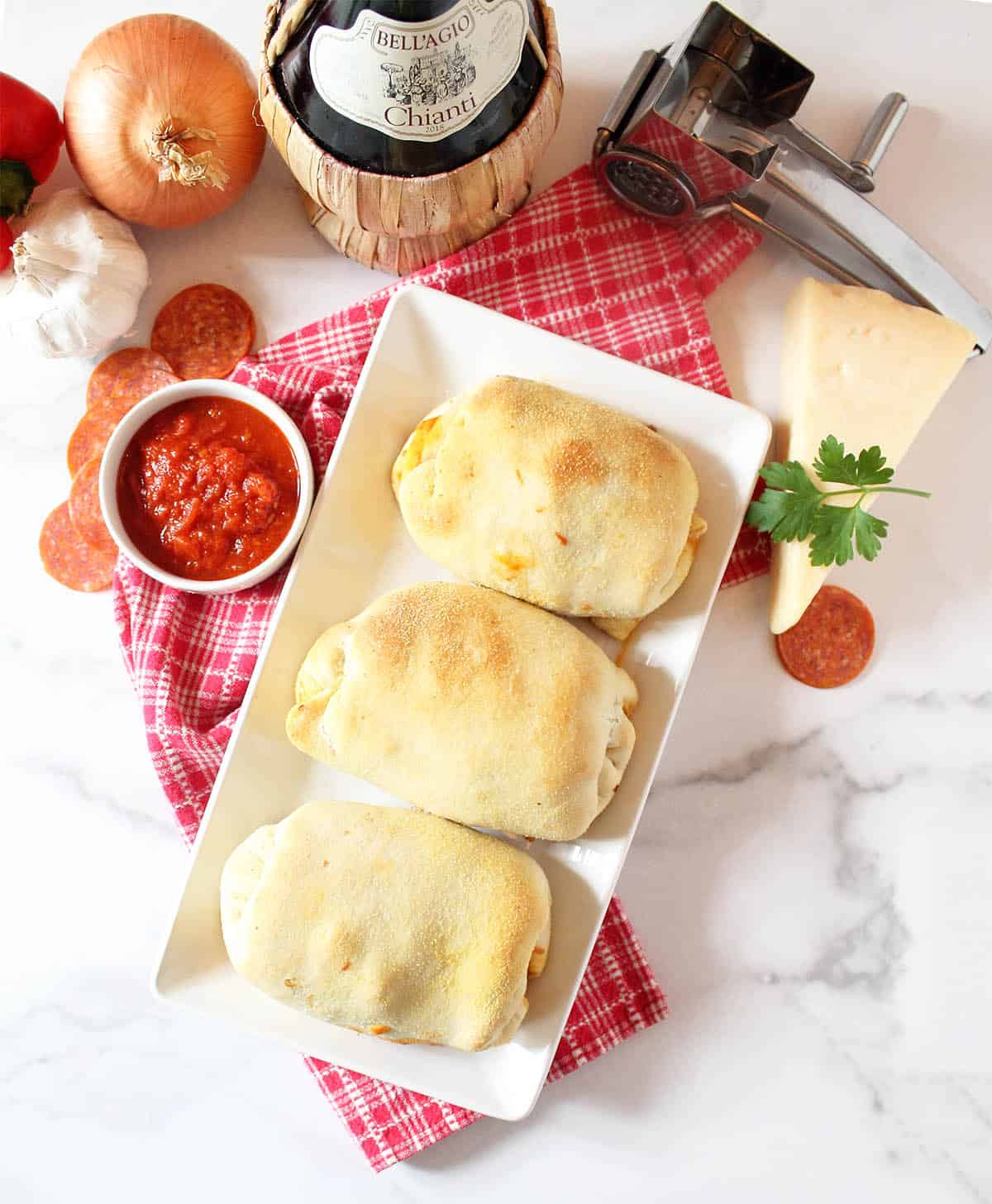 I have my favorite sandwiches, like BLTs or Tuna Melts but this recipe for homemade stromboli tops the list. They're easy to make, starting with store-bought pizza dough or frozen bread, and can be loaded with any or all the pizza toppings you love. The only limit - they have to fit inside the stromboli! Sometimes that's easier said than done!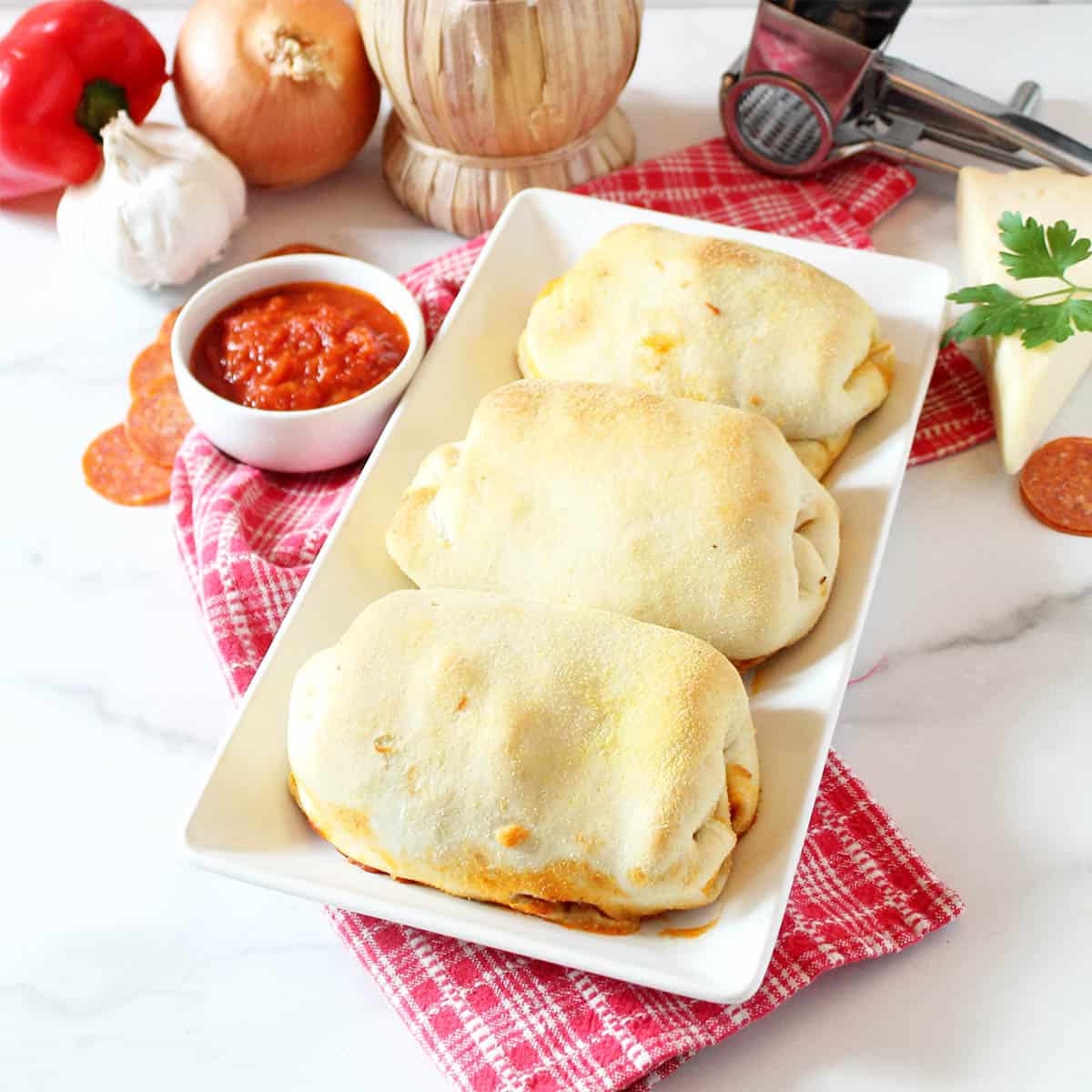 What is stromboli?
An Italian stromboli is basically a pizza turnover or pizza roll.  It is traditionally filled with various Italian cheeses as well as salami, pepperoni, and ham. The dough used can be either bread dough or pizza dough.
Stromboli was invented in Pennslyvania around 1950 by Romano's Italian Restaurant and Pizzeria and named by Nazzareno Romano, an Italian immigrant. He named it after Mt. Stromboli, an active volcano in Sicily, because the ingredients looked like they were ready to explode from the pocket.
The next question is always, what's the difference between a stromboli and a calzone? The answer is simple, a stromboli is rolled and a calzone is folded.
Variations
Vegetables: Go meatless or just bulk up on texture with additions like mushrooms and black olives.
Meat: Almost anything goes here that goes on pizza. Try salami, bacon, Canadian bacon, or shredded ham for variety.
Cheese: Replace the provolone or part of the mozzarella with fontina, gouda, asiago, or gruyere, which all melt extremely well.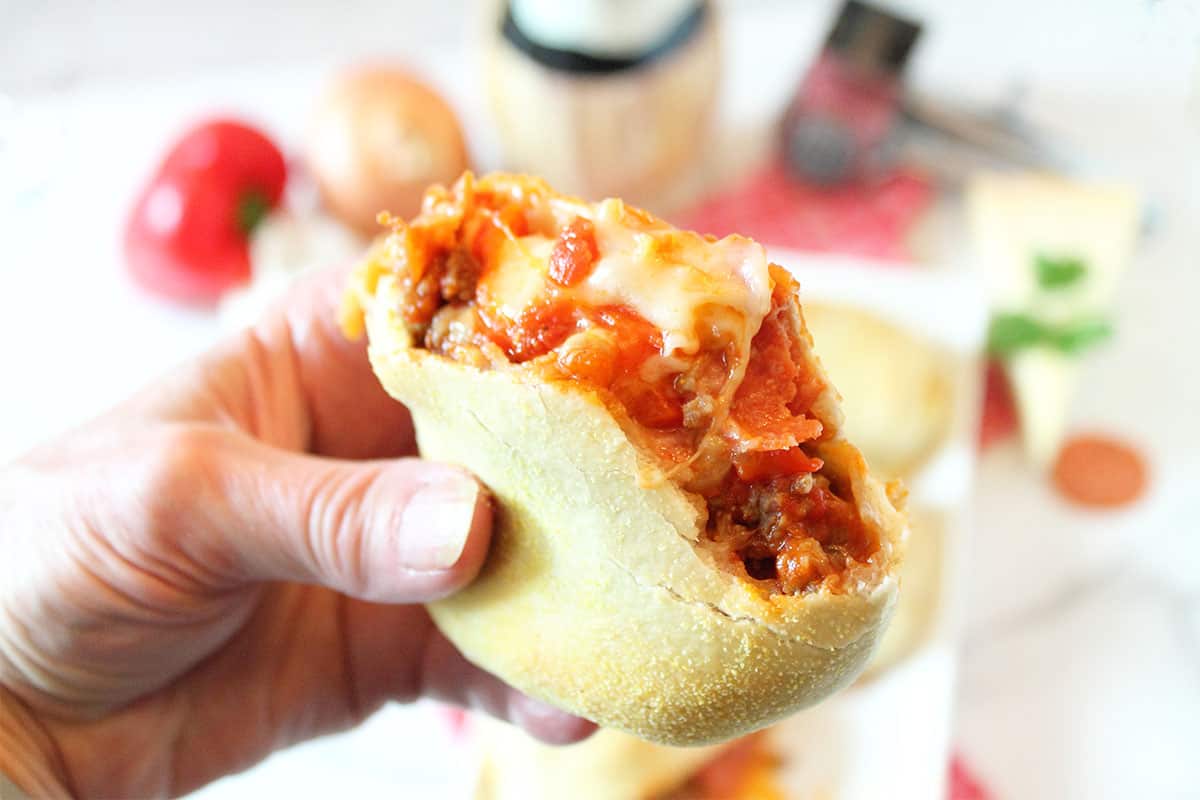 Other flavor combinations
Canadian bacon and pineapple for a Hawaiian slant on the classic
Ham and swiss cheese in lieu of your favorite sandwich
Try a different sauce like pesto or buffalo sauce with chicken instead of marinara and sausage
BBQ chicken or pork with peppers and onions
A richer take on the classic, use Alfredo sauce with chicken, spinach, and tomatoes
Ingredients
Olive Oil: Use your favorite light olive oil to brush on the rolled stromboli. This will create a beautiful brown crust on the outside.
Pizza Dough: I used bakery-fresh pizza dough but refrigerated pizza dough or frozen bread dough, thawed prior to use, will also work.
Pasta Sauce: Choose your family's favorite. I love to use Rao marinara.
Italian Sausage: Use mild or hot depending on your family's preference. This gives some heartiness to the roll.
Pepperoni: What's better in an Italian stromboli than pepperoni? Try to find the thinly sliced version as it will roll better.
Bell Pepper, Onions & Garlic: Sauteing these vegetables together creates a sweet, vegetal flavor that balances out all the meat and cheese.
Mozzarella Cheese: will give the stromboli that ooey gooey cheese pull that everyone is always looking for.
Provolone Cheese: adds an intense flavor and melts extremely well. You can also use more mozzarella if you don't have provolone on hand.
Parmesan Cheese: adds a sharp umami characteristic or savory flavor to the cheese combination.
How to make stromboli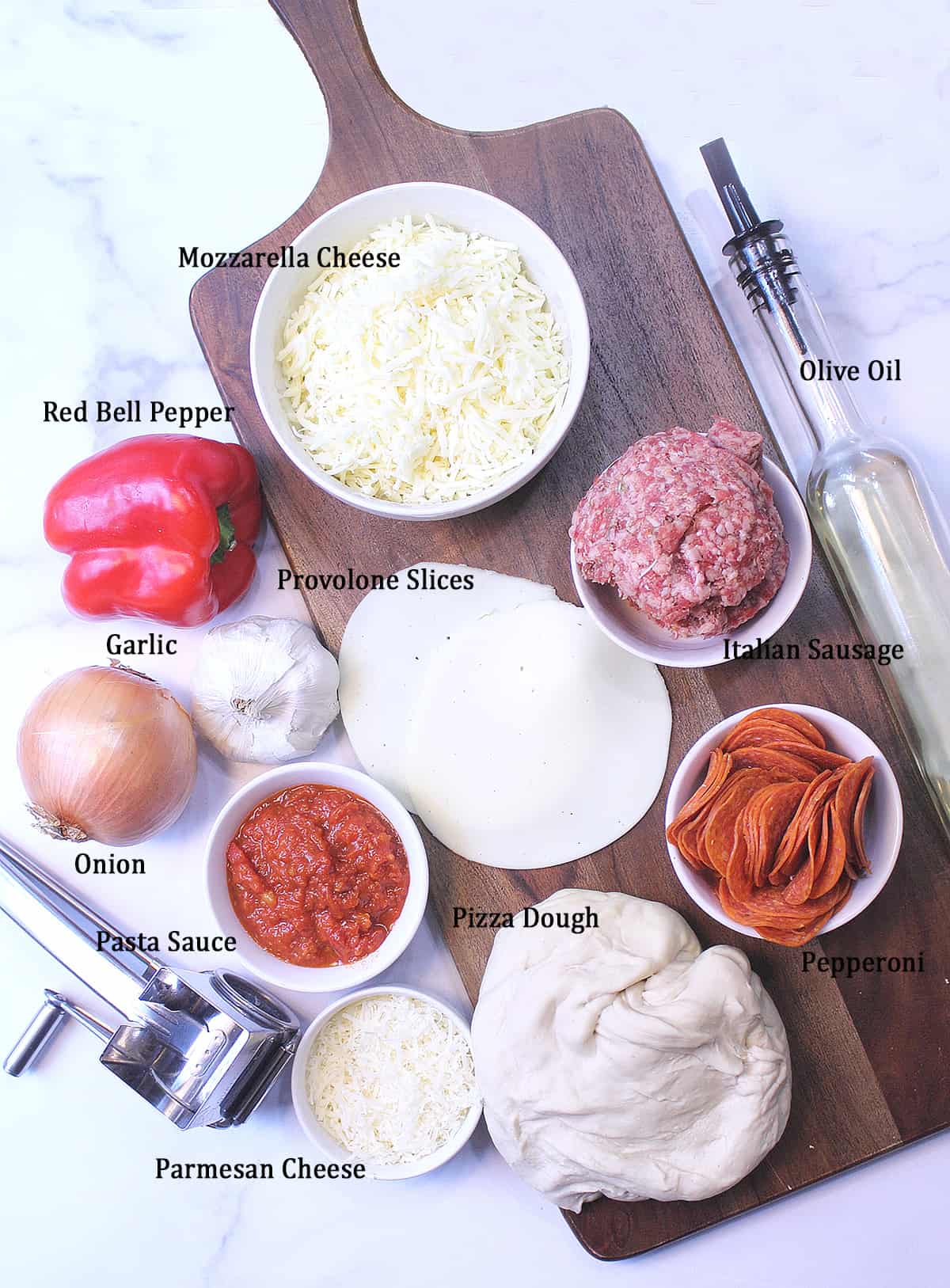 Gather your favorite pizza ingredients. In this case, pizza dough, pasta sauce, pepperoni, sausage, mozzarella, provolone, and Parmesan cheeses, and some sauteed peppers, garlic, and onions.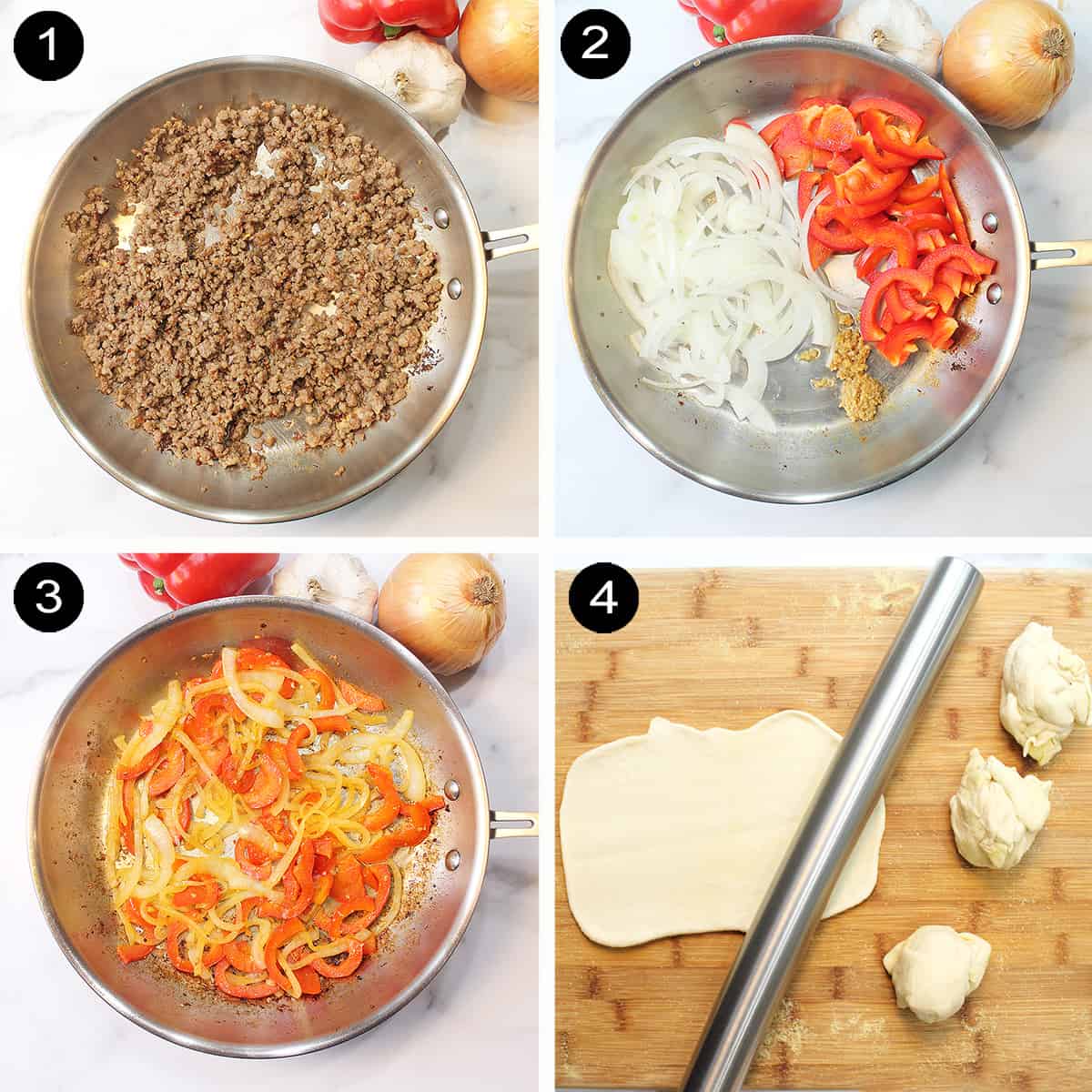 Brown the sausage in a skillet. Once cooked, drain and let cool.
In the same skillet, with a little olive oil, saute red bell peppers, onions, and garlic until nice and tender.
I like to say they reach the goody stage, where all their natural sugars are released making them sweet and tender.
Now divide the pizza dough into 4 portions and roll them into rectangles. OK, you're done with the hardest part of making this easy stromboli.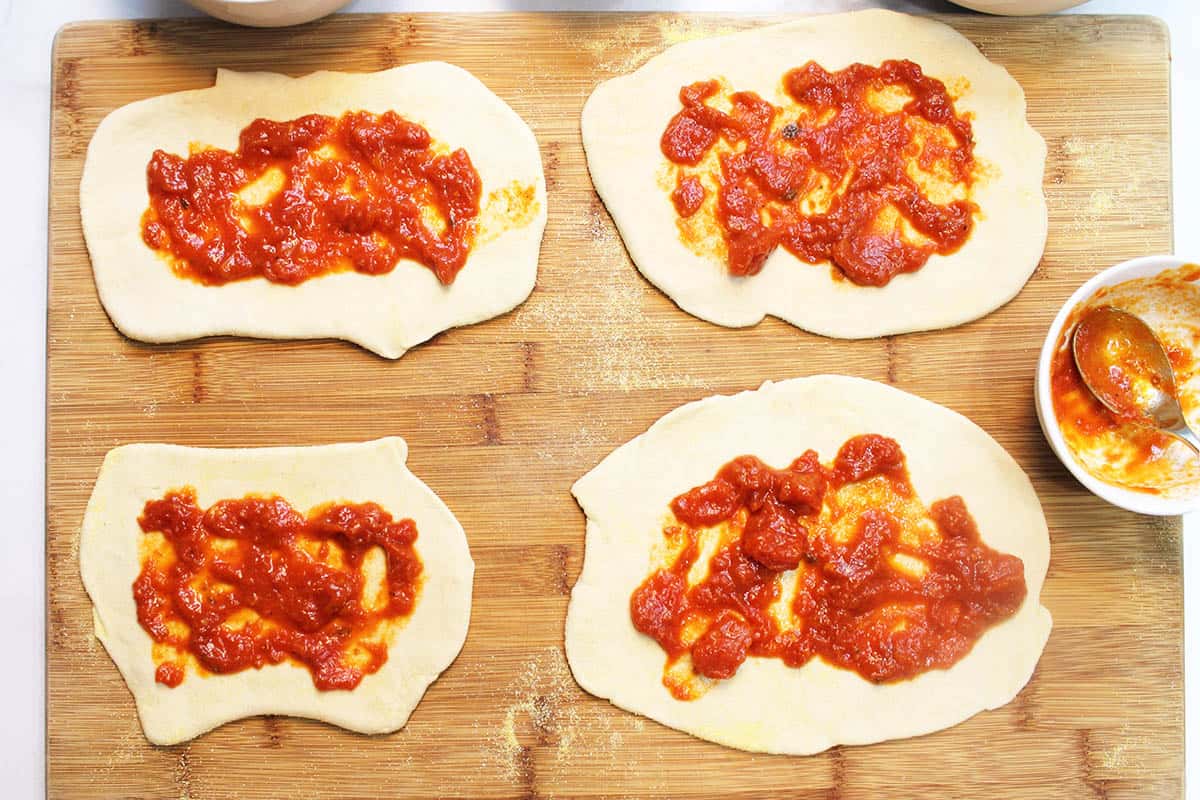 Spread each rectangle with some pasta sauce.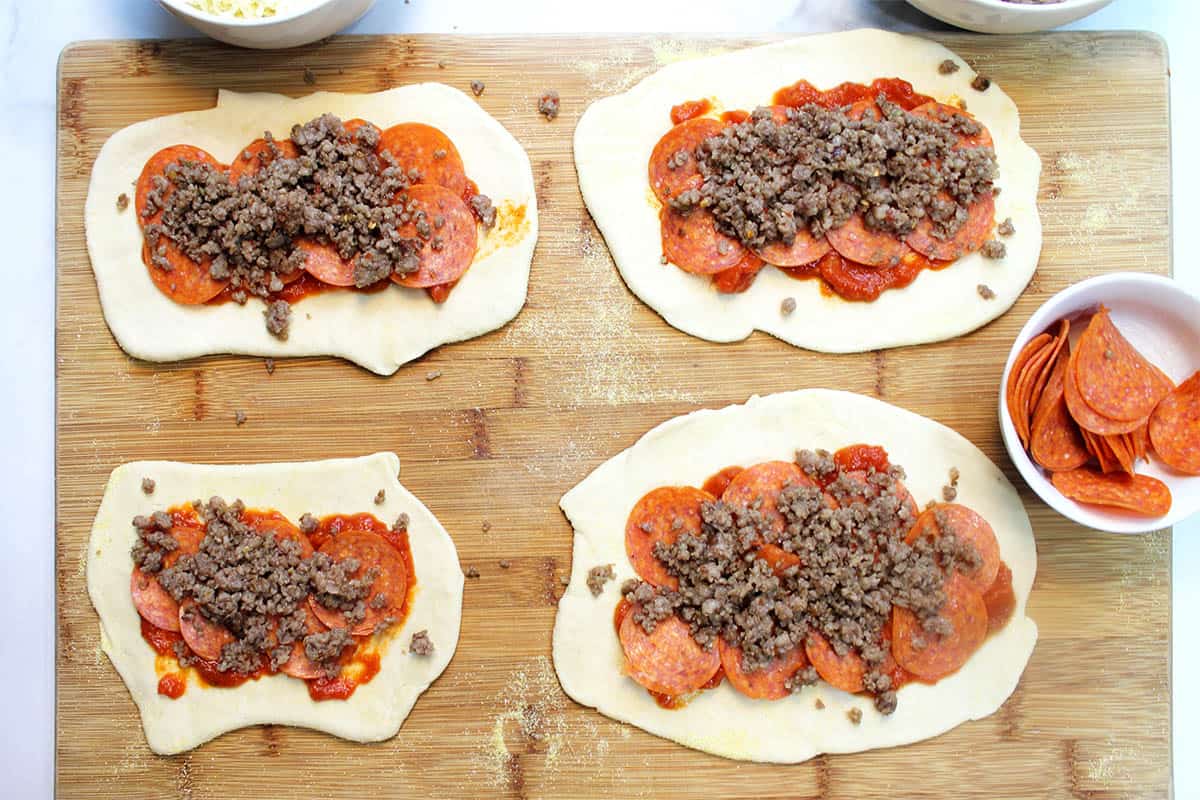 Top the pasta sauce with pepperoni and some of the crumbled sausage.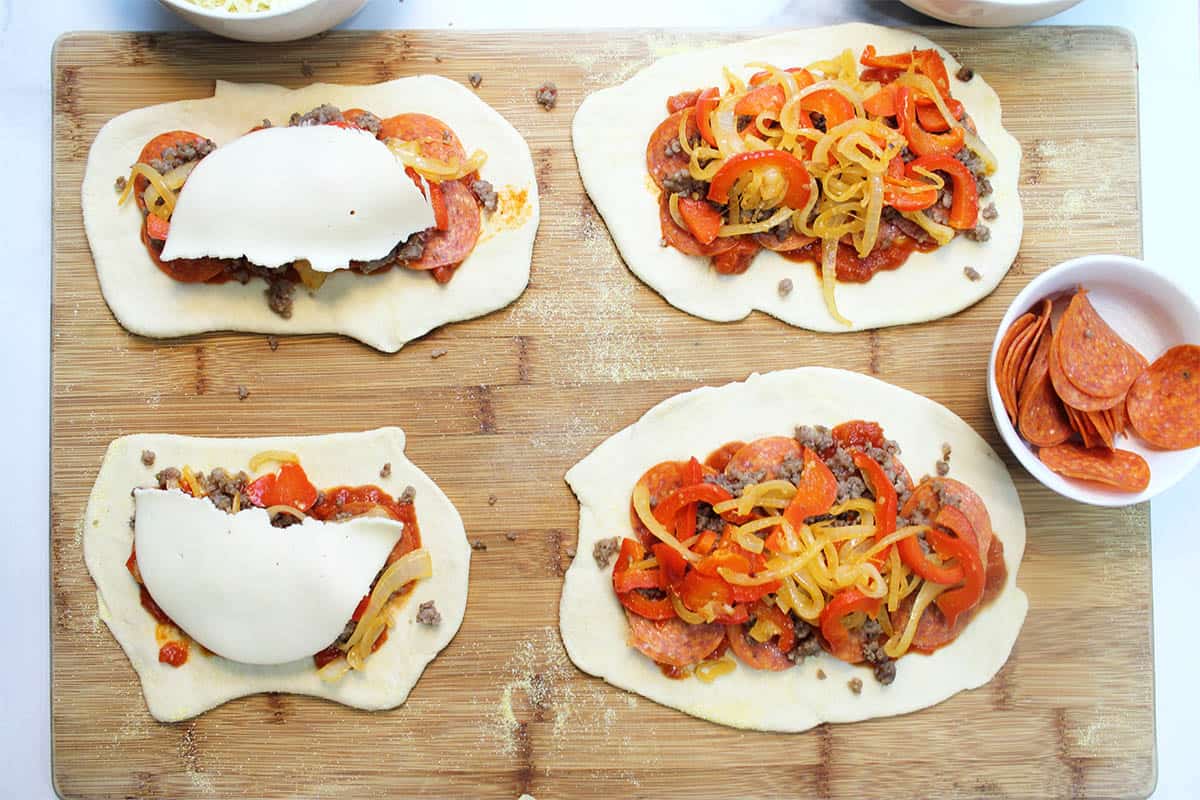 Top with the sauteed vegetables and a half slice of provolone cheese.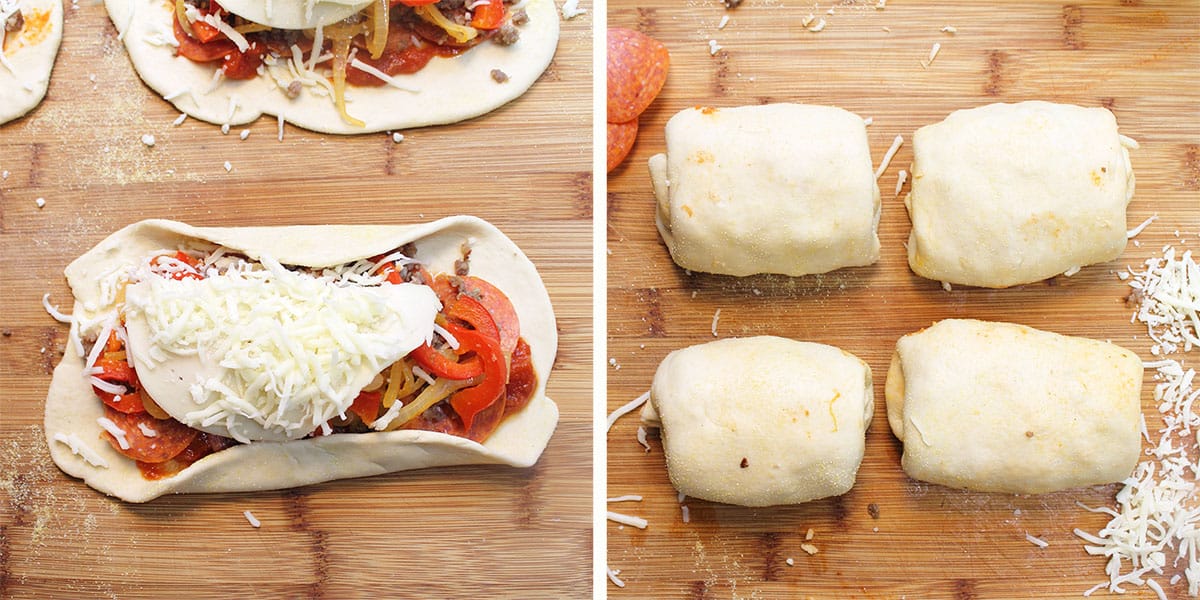 Sprinkle on some mozzarella cheese. To roll, fold in the sides to help hold in all the ingredients.
Starting from one end, roll it up and tuck the ends under. Place on a cookie sheet with the seam-side down. Brush with a little olive oil and bake.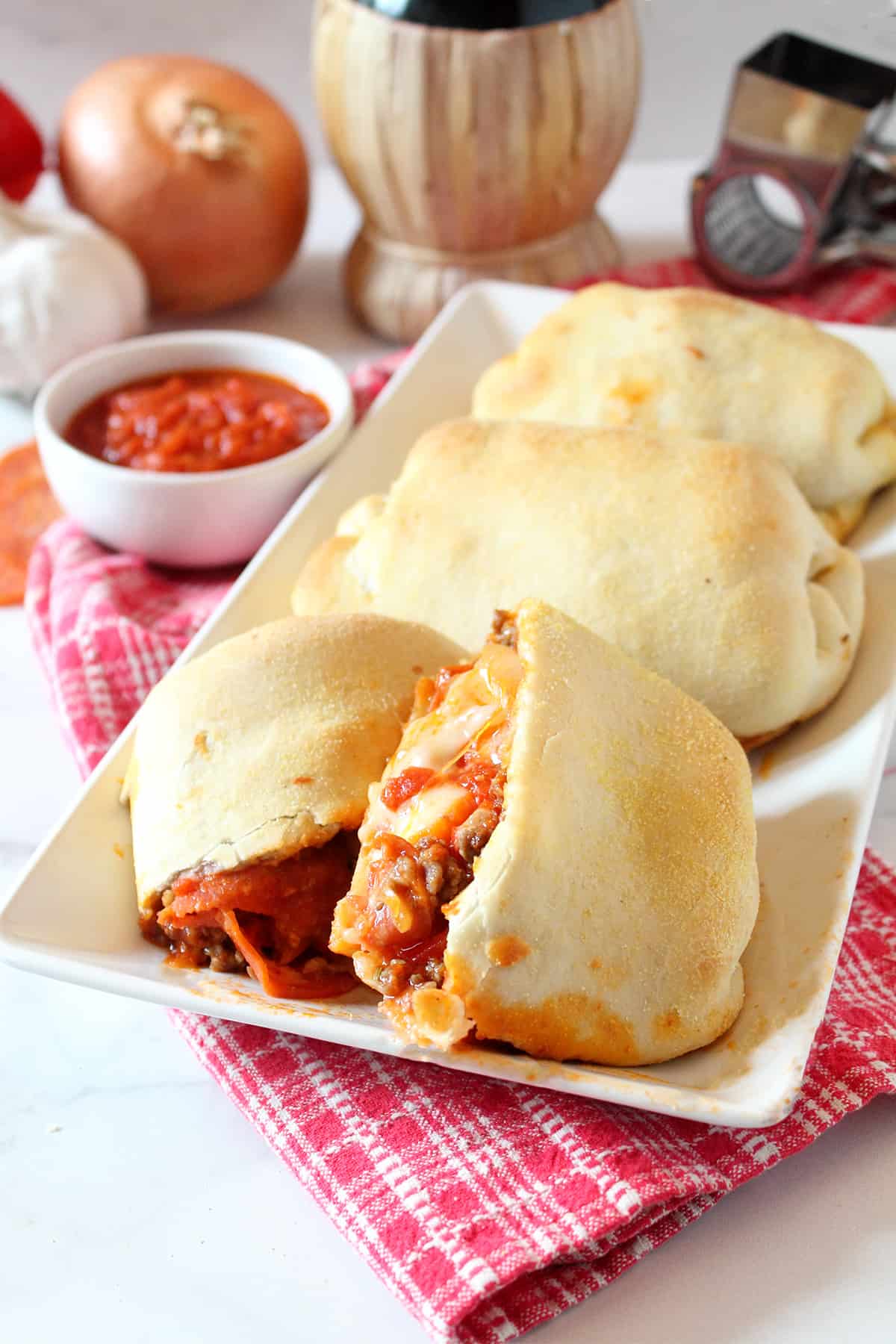 Just look at all that rich, delicious filling exploding out of its crusty pocket. And don't forget to sprinkle some parmesan cheese on the top during the last 5 minutes for a little extra cheesy goodness.
These homemade stromboli are a great idea for dinner, as an appetizer, or for brown-bagging it. It heats up easily in just a few minutes in the microwave and comes out almost as good as fresh baked. I like to serve mine with a side of marinara and a tossed or caesar salad. Go ahead and make extra then freeze for whenever you get the craving for this delicious Italian stromboli. Enjoy!
More Italian recipe favorites
Easy Air Fryer Chicken Parmesan takes less than 30 minutes from prep to table. It has all the texture and flavor of the classic without frying or turning on the oven. 
Italian Sausage Tortellini Skillet is a one-pan dinner filled with tortellini, Italian sausage, and spinach swimming in a creamy sauce.
BBQ Chicken Pizza Bombs are like a stromboli only with a southern twist. Chicken and cheese is mixed with a combo of BBQ sauce and pasta sauce then wrapped in pizza crust. Perfect for lunch, dinner, or appetizer.
Love quick & easy recipes? Follow me on Instagram, Facebook and Pinterest for all the latest recipe inspiration! Plus join my

email list

and receive a free e-book.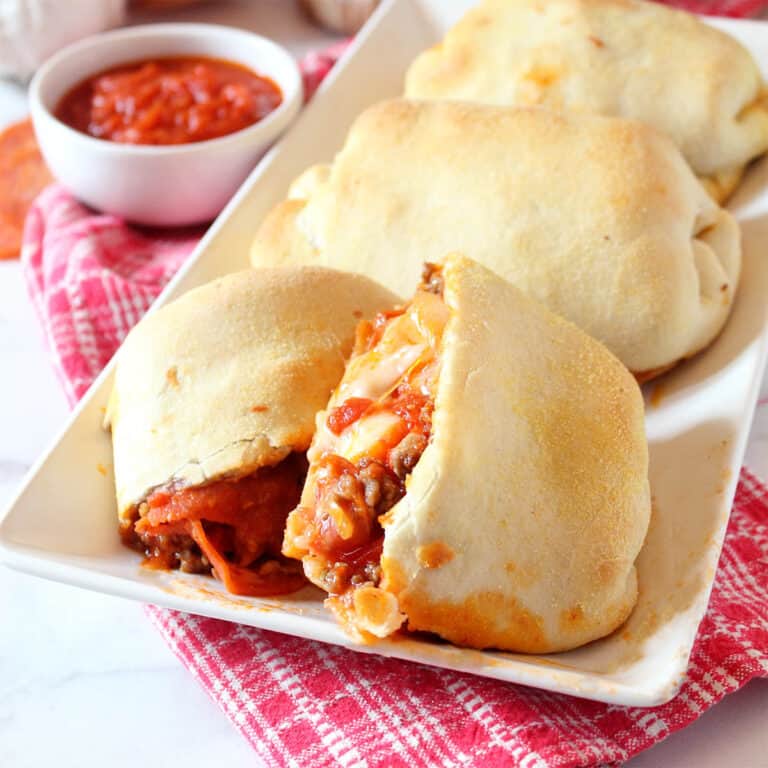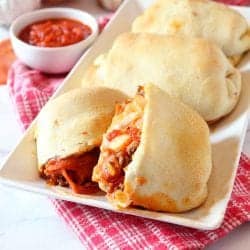 Easy Italian Stromboli
A quick, easy Italian Stromboli oozing with cheese and filled with all your favorite pizza toppings. It's like a pizza in hot pocket form!
Print
Rate
Ingredients
1

Pizza dough

from your local bakery or use frozen bread dough

Cornmeal

2

links mild or hot Italian sausage

cooked, drained & cooled (about ⅓ to ½ pound)

½

red bell pepper

sliced thin then cut in half

¾

cup

onion

sliced thin, then cut in half

1

teaspoon

minced garlic

Extra virgin light olive oil

¼-1/2

cup

your favorite pasta sauce

¼

lb.

pepperoni

2

slices

provolone cheese

halved

4-6

oz.

shredded mozzarella

¼

cup

Parmesan cheese
Instructions
Remove dough from refrigerator and let sit at room temperature for about 1 hour. If making from mix, make dough. Set aside. If using bread dough, thaw in refrigerator then bring to room temperature.

Preheat oven to 375 degrees. Spray a cookie sheet with non-stick spray and set aside.

In a large skillet, remove casing from sausage, break up into small pieces and cook until well done. Remove from skillet, drain and let cool.

In same skillet, place a small amount of olive oil and sauté garlic, onion and bell peppers for about 5 minutes.
To assemble:
Divide dough into 2 or 4 portions depending on how large you want your Stromboli. You can also make one large one, it's up to you.

Dust a clean surface with cornmeal then roll the dough out into long rectangles.

Place a little bit of sauce on each. Top with pepperoni and sausage or other meat of your choice.

Place a little of the onion/pepper mixture on top followed by a half piece of provolone and a sprinkling of mozzarella.

Starting at one end, tuck in the sides then roll up jelly roll fashion.

Place seam side down on cookie sheet. Brush with a little olive oil and bake in preheated oven for 20 minutes.

Remove from oven, top with Parmesan or Pecorino Romano cheese and return to oven for 5 minutes.
Notes
Variations
Vegetables: Go meatless or just bulk up on texture with additions like mushrooms and black olives.
Meat: Almost anything goes here that goes on pizza. Try salami, bacon, Canadian bacon, or shredded ham for variety.
Cheese: Replace the provolone or part of the mozzarella with fontina, gouda, asiago, or gruyere, which all melt extremely well.
Nutrition
Calories:
675
kcal
|
Carbohydrates:
53
g
|
Protein:
31
g
|
Fat:
38
g
|
Saturated Fat:
16
g
|
Trans Fat:
1
g
|
Cholesterol:
91
mg
|
Sodium:
1923
mg
|
Potassium:
345
mg
|
Fiber:
3
g
|
Sugar:
9
g
|
Vitamin A:
857
IU
|
Vitamin C:
24
mg
|
Calcium:
314
mg
|
Iron:
4
mg