These Spicy Grilled Shrimp are flavored with a delicious heat from cajun spices and a hint of tang from a bit of lime. Just marinate, skewer, and grill for a healthy dinner that can be on the table in less than 30 minutes. Learn the tips and tricks for grilling shrimp perfectly every time.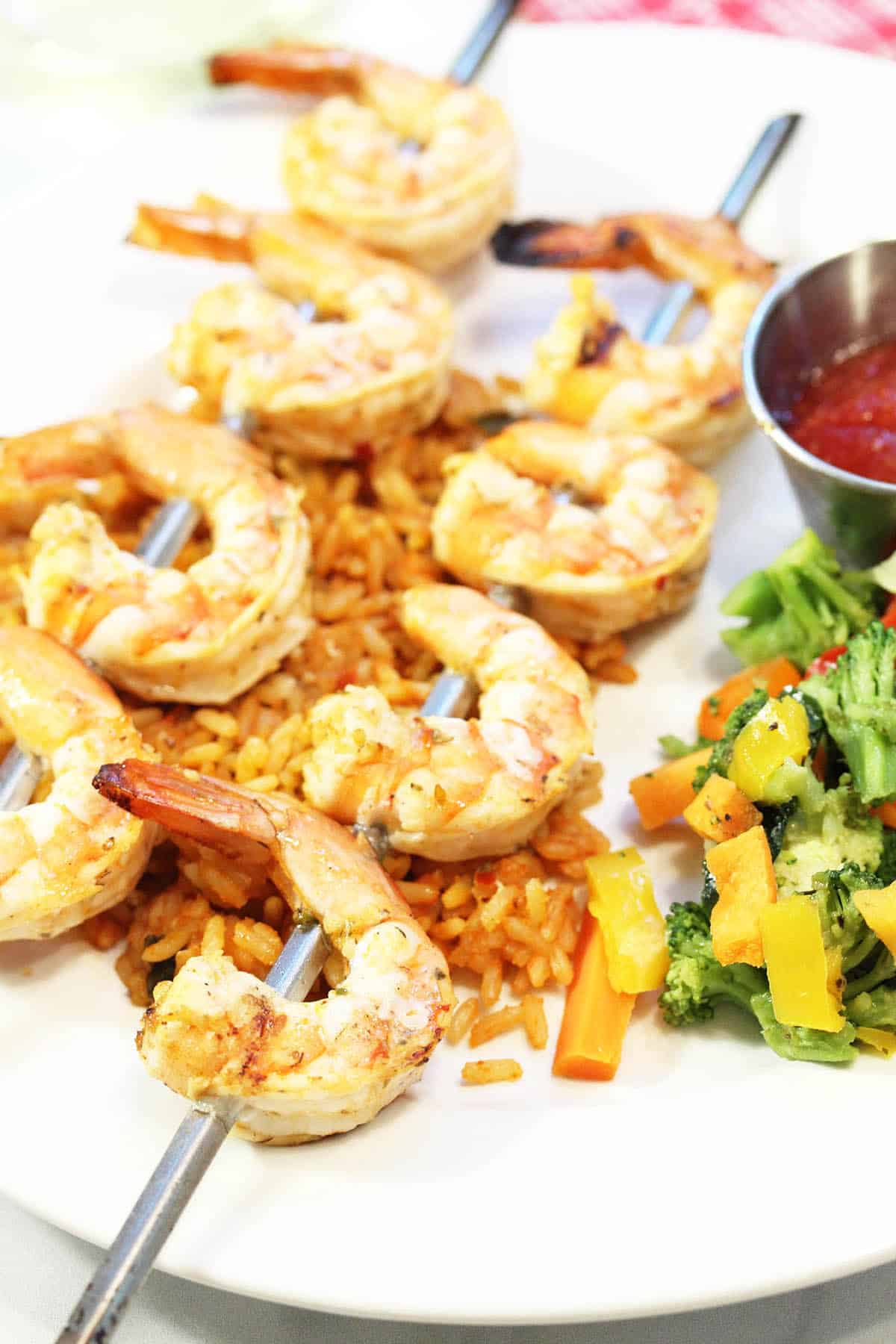 Easy Grilling Recipes
I love grilling anything and everything. Grilling is a healthy way to cook, the food tastes delicious, it takes less time than most stovetop or oven dinners and the cleanup is easier. Of course, it's an even bigger plus for me because my husband does all the grilling. 🙂
Love to grill as much as I do? Check out all my grilling recipes on the blog with dinner favorites like Key West Burgers, Rosemary Lamb Chops, and Fish Tacos, then finish it up with my Grilled Cinnamon Sugar Pound Cake for dessert.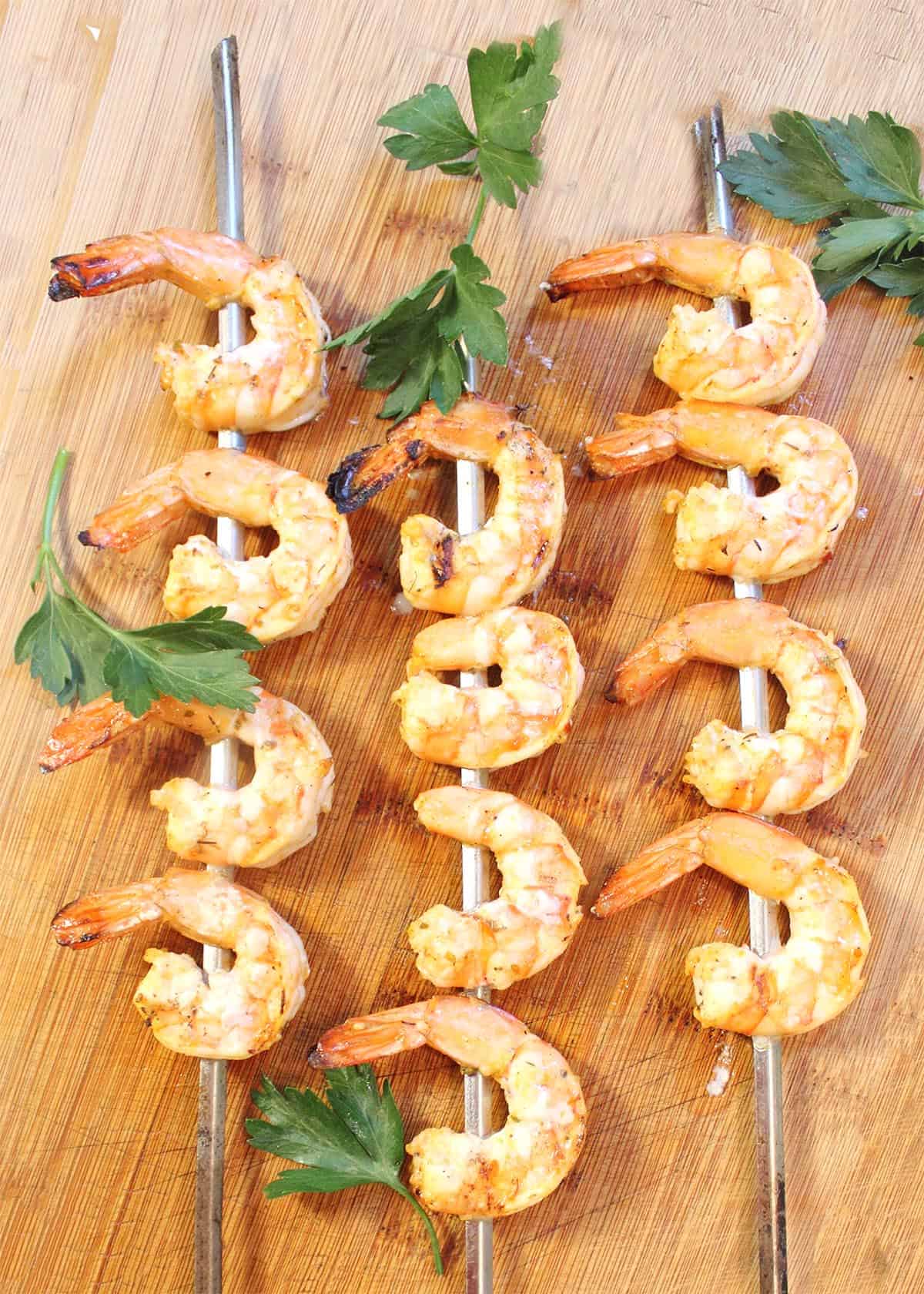 Why Grill Shrimp?
Shrimp is one of my favorite kinds of seafood to grill. I usually buy the jumbo shrimp in the large bag at Costco. They keep well in the freezer and, when I need something quick to put on the table, they are always there. They are just the perfect size for the grill as they don't overcook as easily as the smaller ones.
These spicy grilled shrimp are marinated just long enough to get a nice kick of heat from the cajun spices and a nonstick coating from the olive oil.
Many people think shrimp are hard to cook correctly on the grill. However, with the simple tips I have included below, you'll be a top shrimp griller the next time you turn on the gas. Make sure your sides are pretty much done before putting on the shrimp since they only take a few minutes to cook.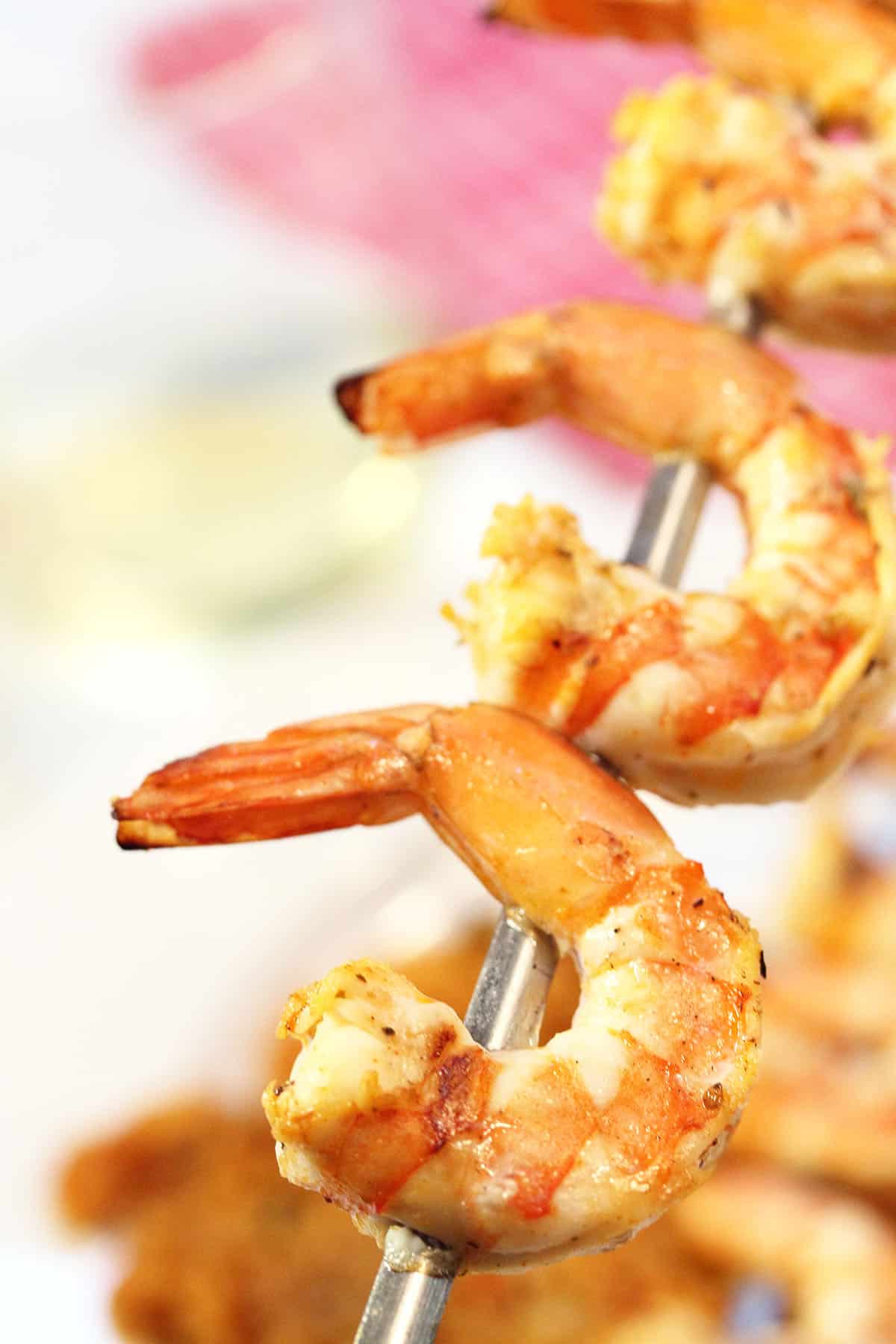 Tips and Tricks for Grilling Shrimp
Buy the shrimp on the day you are planning to grill or opt for frozen shrimp.
For the best results, use extra large, jumbo, or colossal shrimp. I like to use jumbo for this recipe.
When marinating shrimp with an acidic marinade, i.e. one using citrus juices, plan no longer than 30 minutes at the most. This prevents the acid from breaking down the proteins in the shrimp, which can cause them to be mushy. If using an olive oil and herb-based marinade, up to an hour is fine.
Do you know when your shrimp are perfectly cooked? Follow this general rule: Straight shrimp is undercooked, O-shaped shrimp is overcooked and rubbery, while C-shaped shrimp is perfection!
Ingredients for Spicy Cajun Grilled Shrimp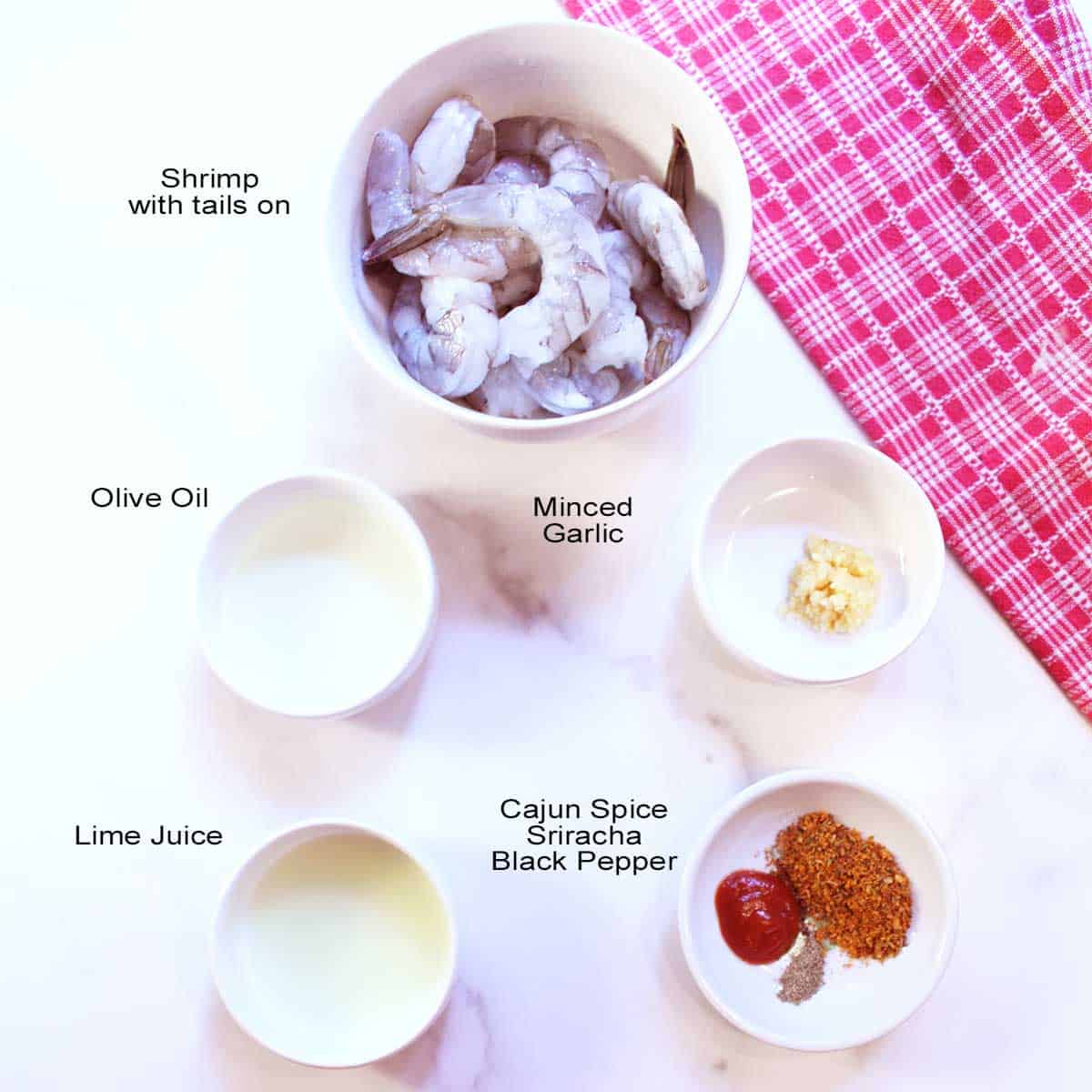 Here's what you'll need for the best grilled shrimp marinade:
Fresh lime juice
Olive oil
Cajun spice mix
Ground black pepper
Sriracha
Garlic cloves
And, of course, you'll need shrimp - large is best.
Best Seasoning for Grilled Shrimp
For this marinated grilled shrimp recipe, your favorite Cajun spice blend is a good seasoning for grilled shrimp. If you don't have a favorite, I recommend Emeril's cajun seasoning.
For grilled creole shrimp, use Tony Chachere's creole seasoning. You can also blacken seasoning or change it up with a Mexican seasoning blend.
How to Make Grilled Shrimp Skewers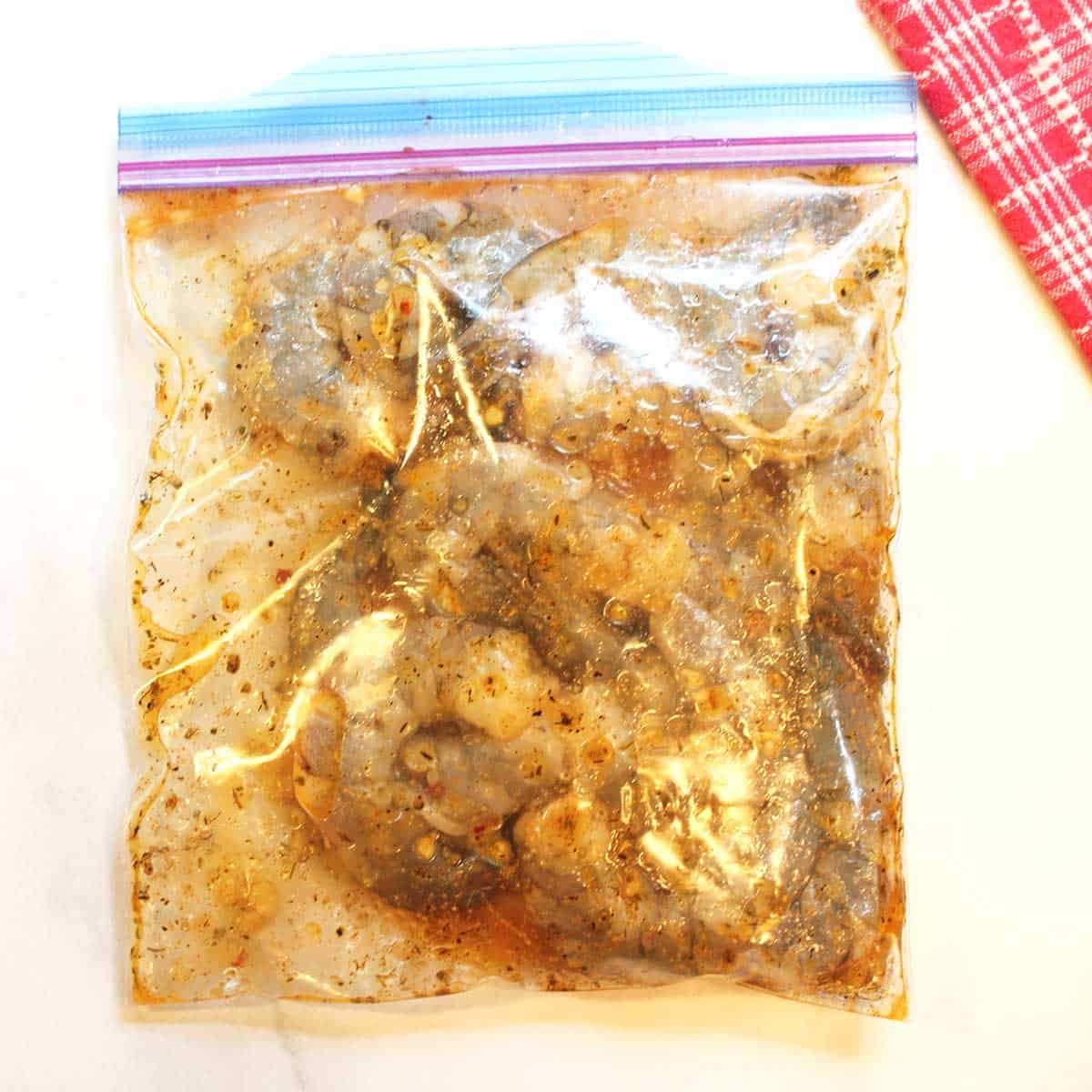 Combine olive oil, garlic, lime juice, and spices in a resealable ziptop bag that is large enough to hold the shrimp too. Add shrimp and place it in the refrigerator for 20 to 30 minutes. Turn halfway through time to make sure all sides are coated.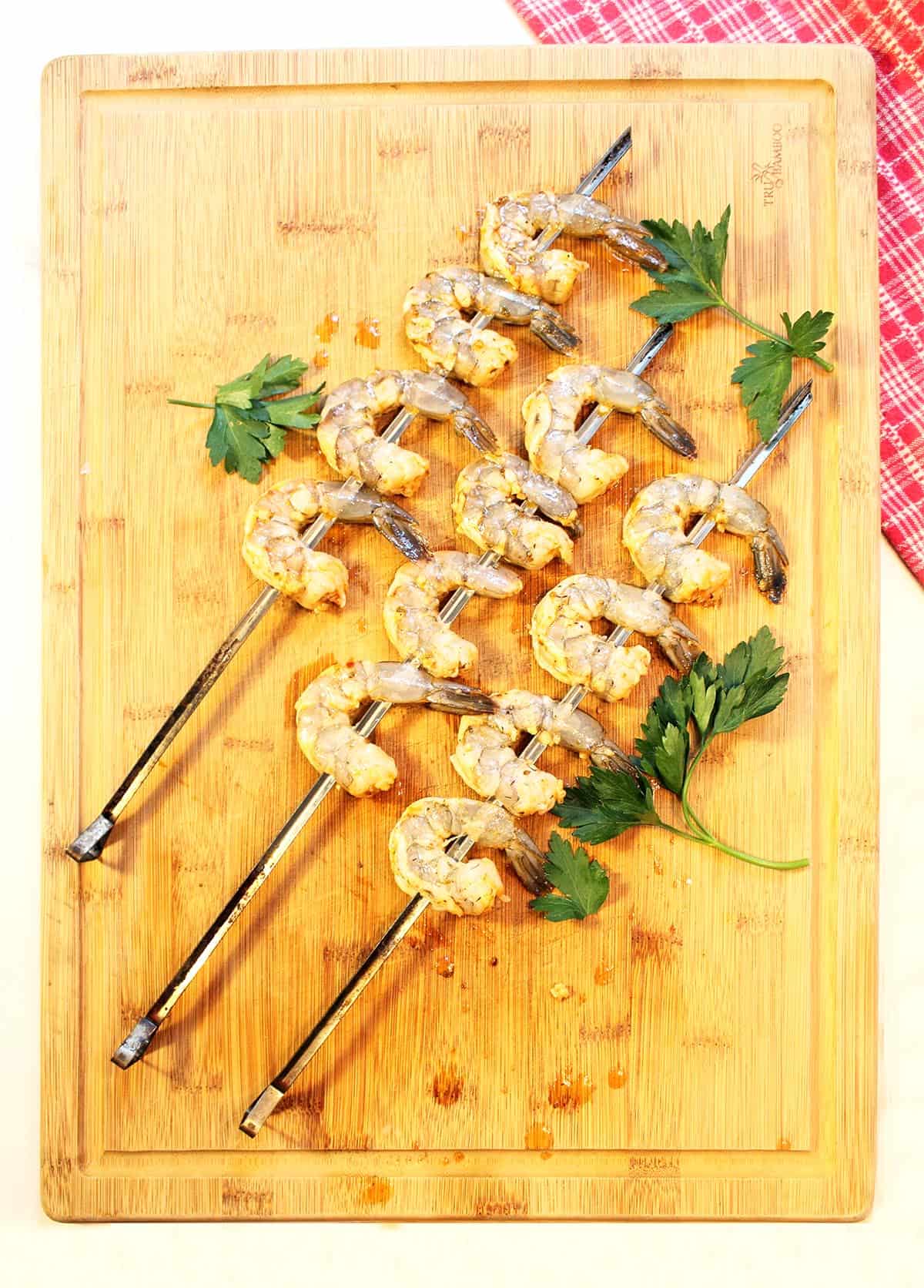 Take the shrimp out of the marinade and discard the marinade. Thread shrimp on skewers making sure to attach both the top and the tail.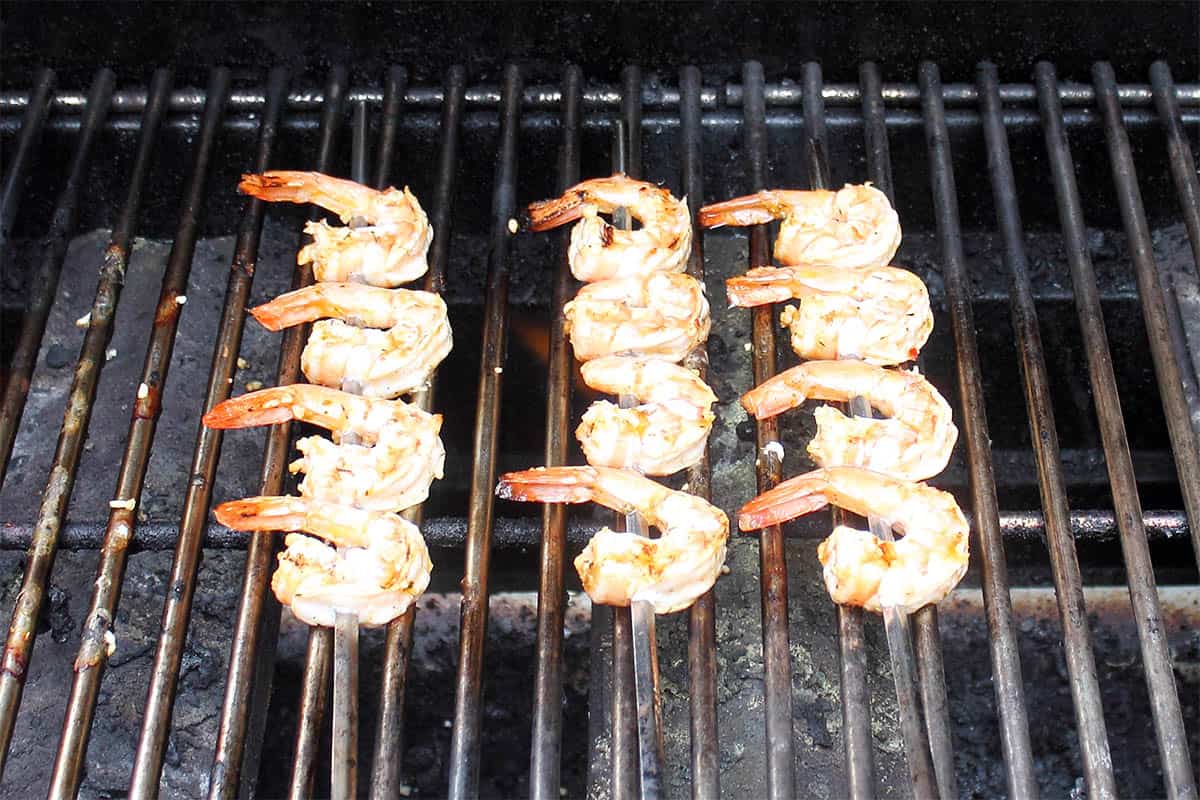 Preheat the grill and place the shrimp directly over medium heat. Cook for 2 to 3 minutes per side (depending on the size of shrimp used) then remove immediately and serve. Check out the tips above for a good visual way to tell if shrimp are done.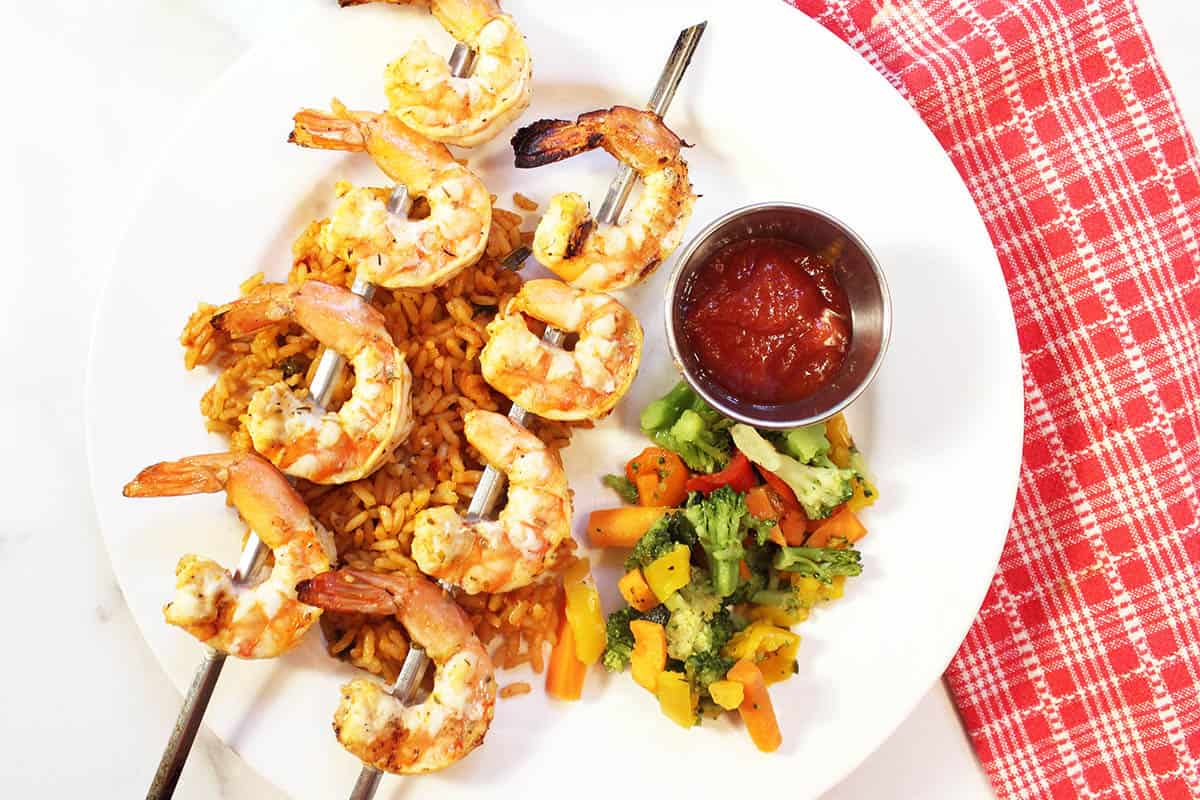 Just look at those delicious grilled shrimp skewers, perfectly cooked, and ready to devour! And that spicy, smoky flavor is bound to have everyone reaching for seconds (and thirds).
What to Serve with Grilled Shrimp
Serve cajun grilled shrimp as an appetizer with some grilled shrimp sauce. Remoulade or cocktail sauce are great options.
Make a delicious grilled shrimp dinner. There are lots of healthy grilled shrimp meals you can easily prepare. Here are some ideas:
Grilled Shrimp Sides
Grits - The quintessential pairing for cajun shrimp.
Rice - White or cauliflower rice.
Vegetables - Grilled corn on the cob is especially great with shrimp.
Grilled Shrimp Dinner
Grilled Shrimp Pasta with cajun alfredo sauce.
Grilled Shrimp Salad with a light vinaigrette dressing.
Grilled Shrimp Tacos or Burritos
Grilled Shrimp and Steak
How to Store Leftover Grilled Shrimp
After grilling your shrimp, allow it to cool down to room temperature before storing it. You can keep grilled shrimp in the refrigerator for up to three days, but make sure to store it properly.
Place the shrimp in an airtight container or a sealed plastic bag and remove as much air as possible before sealing it. This will help prevent the shrimp from drying out and losing its flavor.
To freeze leftover grilled shrimp, place it in an airtight container or a plastic freezer bag and remove as much air as possible before sealing it. Label the container or bag with the date. It will last up to 3 months in the freezer.
To thaw frozen grilled shrimp, you can either transfer it to the refrigerator and let it thaw overnight or use the quick-thaw method by placing the shrimp in a bowl of cold water. Change the water every 30 minutes to ensure that the shrimp thaws evenly.
How to Reheat Grilled Shrimp
To reheat grilled shrimp, there are a few options available:
Oven Method: Preheat your oven to 350°F. Place the grilled shrimp in a baking dish and add a tablespoon of water or broth to prevent it from drying out. Cover the dish with foil and bake for about 10 minutes or until the shrimp is heated through.
Microwave Method: Place the grilled shrimp in a microwave-safe dish and add a tablespoon of water or broth. Cover the dish with a damp paper towel to prevent the shrimp from drying out. Microwave on medium for about 30 seconds to a minute or until heated through.
Grilling Method: If you want to keep the grilled flavor, you can also reheat the shrimp on the grill. Preheat your grill to medium heat and brush the shrimp with a little bit of oil. Grill for about 2 minutes on each side or until heated through.
More Easy Grilling Recipes
LOVE QUICK & EASY RECIPES? FOLLOW ME ON INSTAGRAM, FACEBOOK, & PINTEREST FOR ALL THE LATEST RECIPE INSPIRATION! PLUS JOIN MY EMAIL LIST AND RECEIVE A FREE E-BOOK.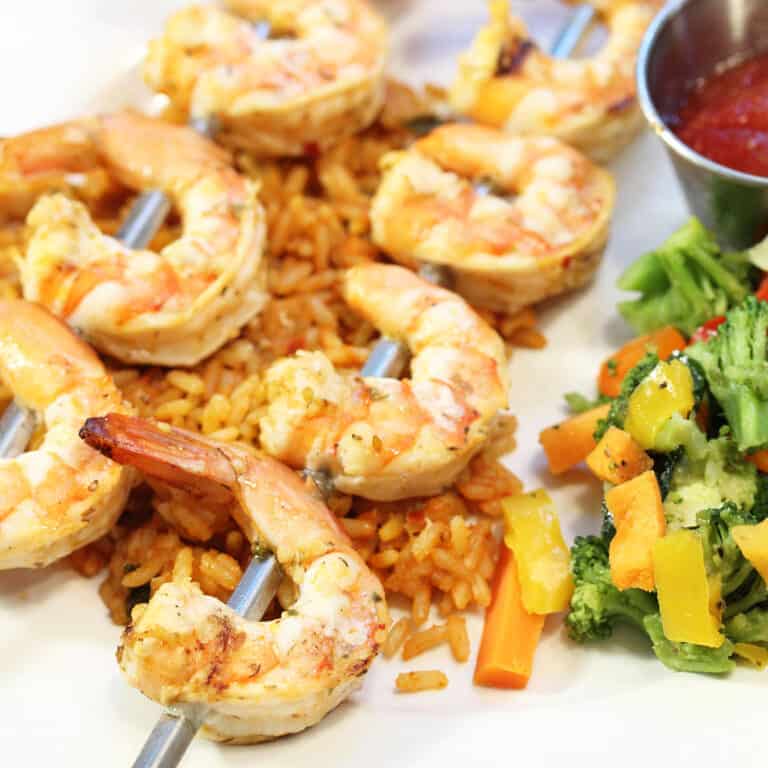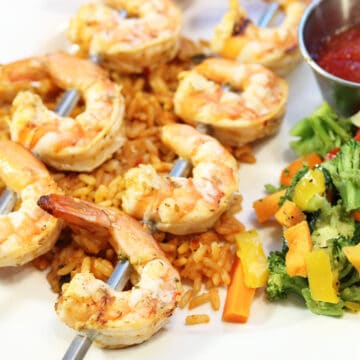 Spicy Grilled Shrimp
These Spicy Grilled Shrimp make a delicious, healthy dinner ready in 30 minutes. Learn tips & tricks to grilling shrimp perfectly every time.
Print
Rate
Ingredients
2

Tablespoons

fresh lime juice

divided

2

Tablespoons

olive oil

2

teaspoons

Cajun spice

I like to use Emeril's Cajun Seasoning

¼

teaspoon

black pepper

½

teaspoon

sriracha

2

garlic cloves

chopped

¾

lb.

jumbo shrimp

21/25 per pound
Instructions
In a small bowl, combine all ingredients except shrimp.

Pour into a resealable plastic bag and add shrimp. Seal well.

Place in the refrigerator and marinate for 20-30 minutes.

Preheat grill. While grill is preheating, take shrimp out of marinade and thread onto skewer. If using wooden skewers make sure to soak them in water for 30 minutes while shrimp is marinating.

Place on hot grill and cook about 2-3 minutes per side depending on size. Shrimp are done when they are pink (or an orangey color) with red tails and the flesh is slightly white.
Notes
TIPS & TRICKS FOR GRILLING SHIMP
Buy the shrimp on the day you are planning to grill or opt for frozen shrimp
For the best results, use extra large, jumbo, or colossal shrimp. I like to use jumbo for this recipe.
When marinating shrimp, plan no longer than 30 minutes at the most. 
Nutrition
Calories:
308
kcal
|
Carbohydrates:
4
g
|
Protein:
35
g
|
Fat:
17
g
|
Saturated Fat:
2
g
|
Cholesterol:
429
mg
|
Sodium:
1351
mg
|
Potassium:
182
mg
|
Fiber:
1
g
|
Sugar:
1
g
|
Vitamin A:
985
IU
|
Vitamin C:
13
mg
|
Calcium:
252
mg
|
Iron:
4
mg
This post has been updated with more helpful information. It was first posted on August 26, 2020.