An easy one pot dinner that is sure to please. These Italian Pork chops come out moist & tender after being simmered in a rich tomato basil sauce. Serve over pasta to soak up all that delicious sauce.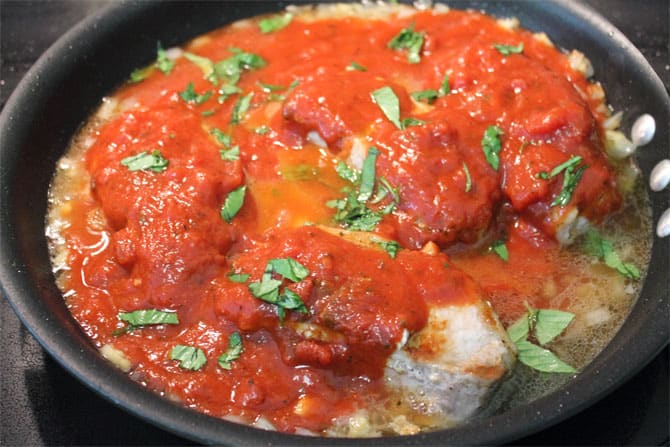 I love pork chops just about any way they can be fixed but my Mom used to fix us these Italian pork chops that just can't be beat. They are so easy to make that you can whip them up in about 30-45 minutes (and most of that is just sitting on the stove simmering). And the nice part is that if you leave it on a little longer because you got doing something else and forgot, now I am not mentioning any names but that has happened, it will be just as good or better.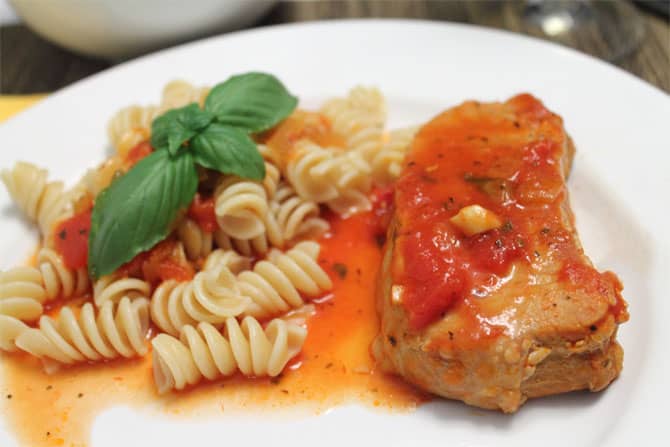 What makes it so easy is that you can use jarred spaghetti sauce and the only cooking you need to do is to brown the chops in a little olive oil and saute the onions and garlic for about 5 minutes. Toss the sauce in the pan and just let it simmer until you are ready to eat. See simple, right? And you only have one skillet to clean up!
I like to serve mine with just a little pasta or a little more healthy alternative, zoodles, covered in the rich tomato sauce that the chops have been cooking in, accompanied by a tossed salad.
Buon Appetito!
Italian Pork Chops
Ingredients:
4 large thick boneless pork chops
3 Tablespoons olive oil
1/2-3/4 cup onion, chopped
3-4 garlic cloves, chopped
1/2 cup white wine
1 24-oz jar favorite spaghetti sauce
6-8 fresh basil leaves, chopped + more for garnish
Directions:
In a large skillet, heat olive oil until hot. Add pork chops and brown quickly on both sides. Remove from skillet and add in onion and garlic. Saute for about 5 minutes or until onion is soft and translucent. Add wine to pan and stir to deglaze (or get every last bit of that scrumptious browned pork bits off the bottom of the pan).
Return pork chops to pan, add spaghetti sauce and fresh basil leaves, cover and let cook for about 30 minutes.
Serve immediately with a garnish of basil leaves.
Serves 4.
Wine Pairing: The best choice of wine with an Italian tomato sauce is one that harmonizes well with the acidity of the tomatoes. Stick with an Italian red such as Aglianico, with its bright acidity, Barbera or Chianti.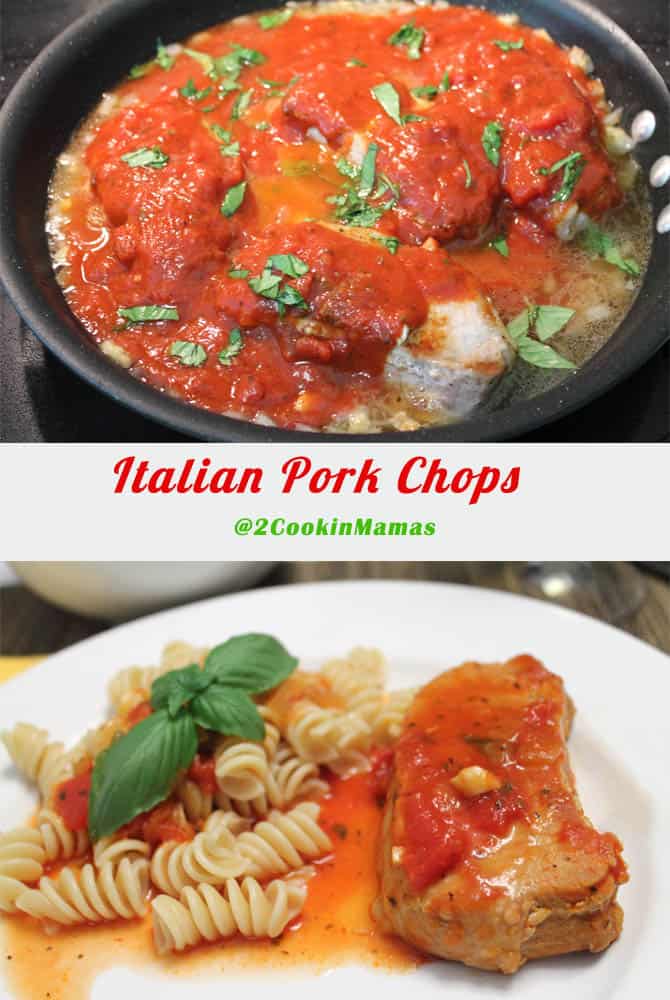 DON'T MISS A RECIPE!