These easy to make pineapple carrot muffins will have your kids eating veggies without any coaxing on your part. Fresh carrots, a little sugar, a touch of cinnamon and sweetened with pineapple juice makes these muffins both moist and delicious. Great for on-the-go breakfasts and after school snacks.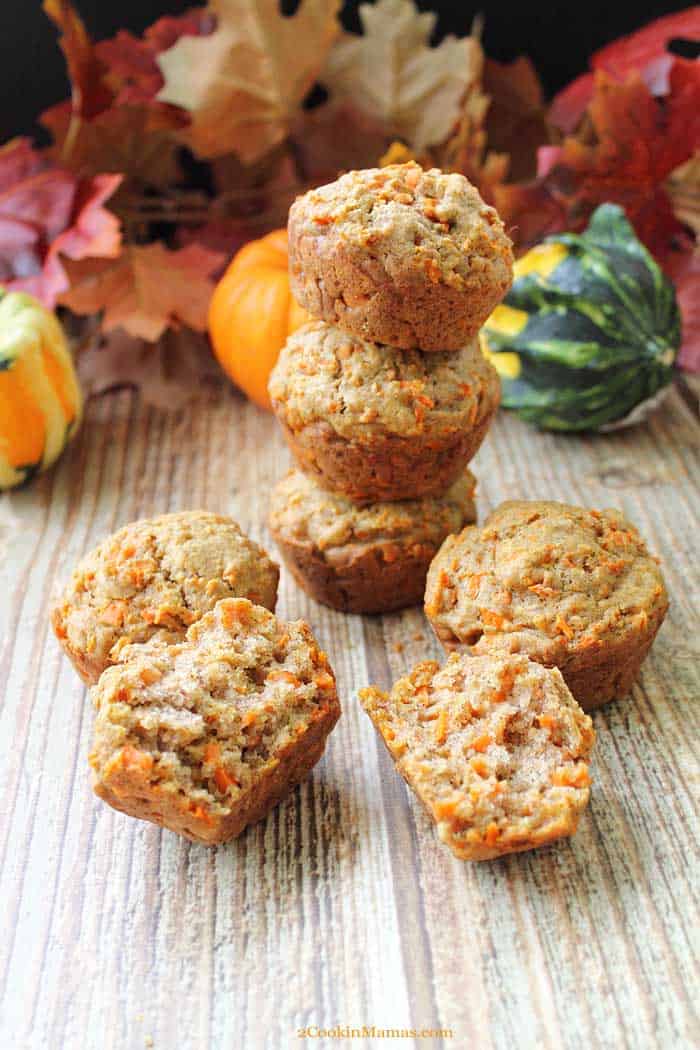 You know how you sometimes look in your refrigerator and see food that isn't going to make it another day? Well, that is exactly what my carrots looked like! I had purchased them some time ago for another recipe and then forgot about the remaining ones until today.
Carrot Muffins with Pineapple
The first thing that came to mind was Carrot Cake, my husband's favorite, but I really wanted something that was a little more nutritious.
Adding fruits and vegetables to baked goods, like zucchini in Chocolate Zucchini Bread, sweet potatoes in Sweet Potato Muffins or bananas and unsweetened applesauce in Banana Strawberry Muffins, ups the health quotient by adding more fiber, vitamins and minerals while keeping the sugar count low.
And it's an excellent way to get kids (& big kids too) to eat more vegetables without them even knowing. I baked up some cool Chocolate Carrot Cupcakes last week and they were a big hit (with none the wiser), so I can attest that this little scheme works. But don't tell anyone, it's only for Moms. 🙂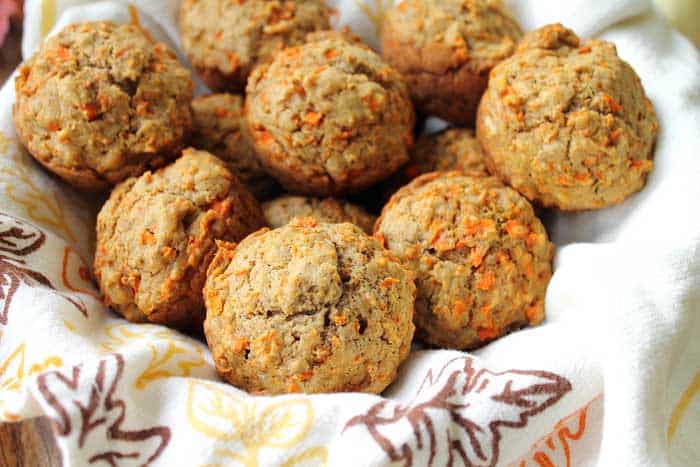 So what did I do with those carrots this time? I decided that the best use of my soon-to-be-gone carrots was to whip up a batch of carrot pineapple muffins.
They are easy to make, are mostly sweetened with pineapple juice but have just enough extra sugar to make them what I like to call kid-sweet, and come out incredibly moist and delicious.
How to Make Pineapple Carrot Muffins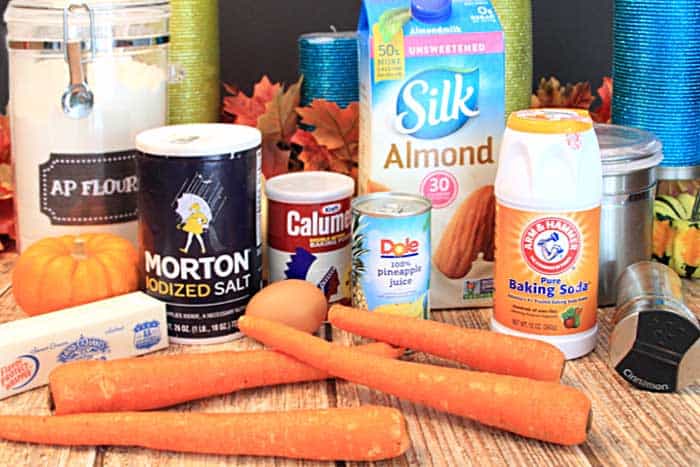 Gather your ingredients. I used a combination of unbleached all-purpose flour and whole wheat flour. The wheat produces a slightly nutty taste while the white flour helps to keep the muffins moist and tender.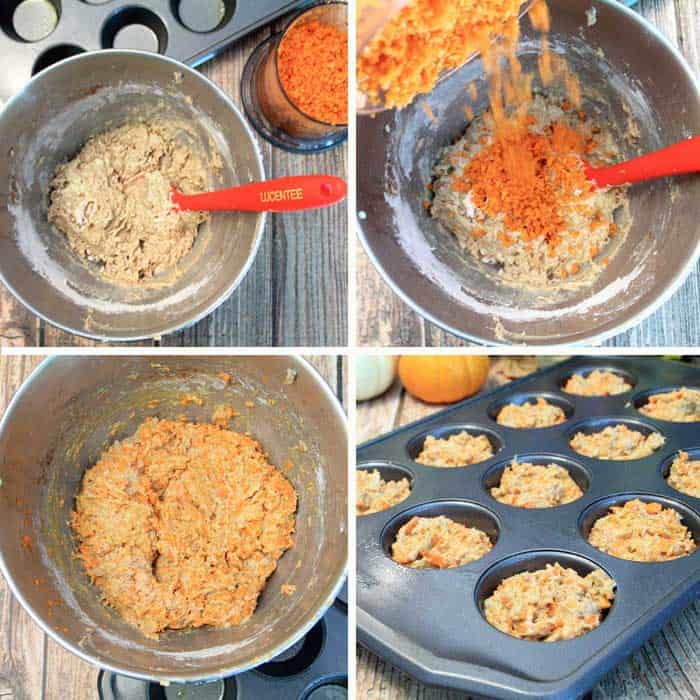 Mix egg, milk, pineapple juice, butter and sugar together.
Blend dry ingredients and add to wet ingredients. Blend in carrots.
Stir batter well.
Divide evenly between 12 muffin cups and bake.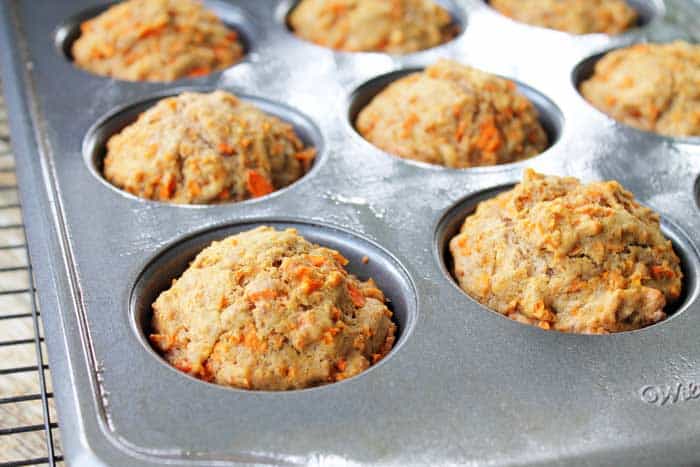 Don't they look beautiful! Cool for 10 minutes then remove from muffin pan.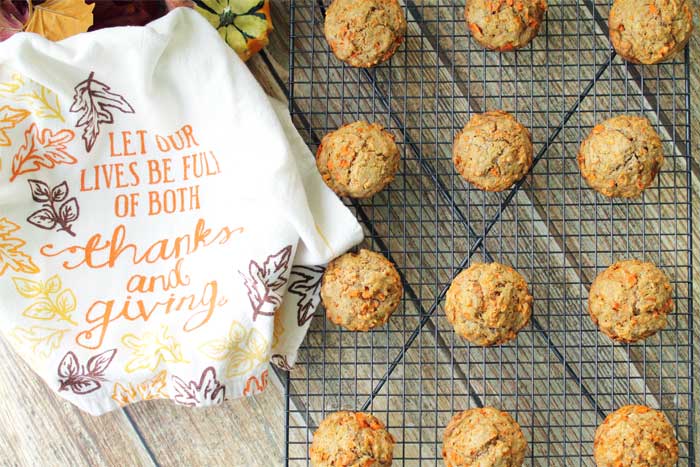 Let cool completely then toss in a towel lined basket and serve.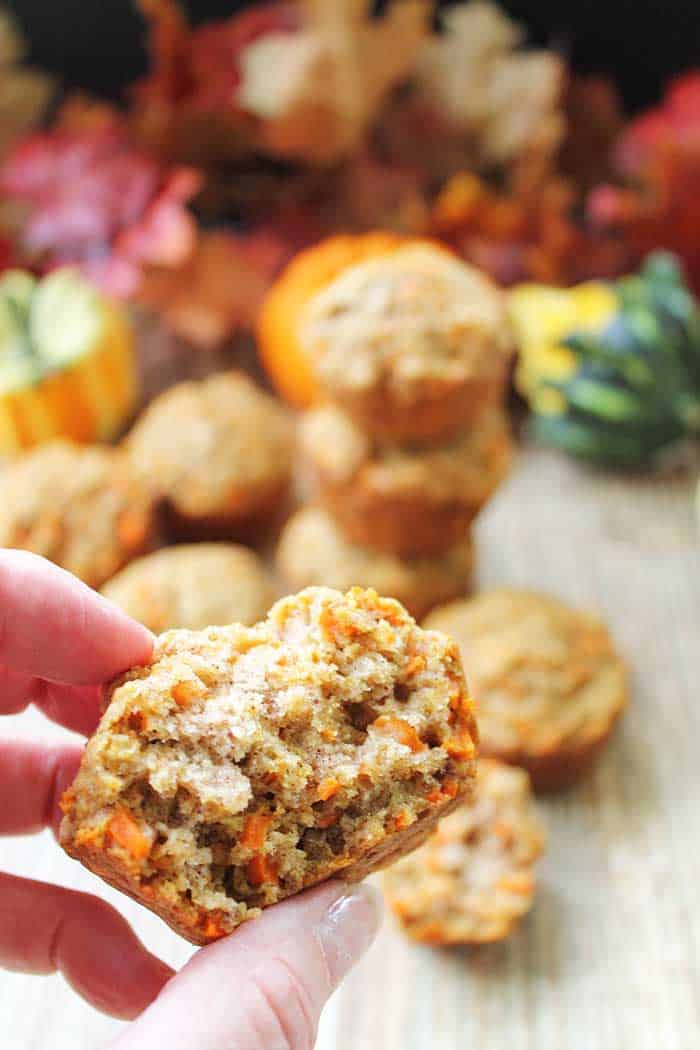 Take a bite! You can taste the sweetness and flavor from the pineapple juice, the moistness from the carrots and even see the little flecks of cinnamon.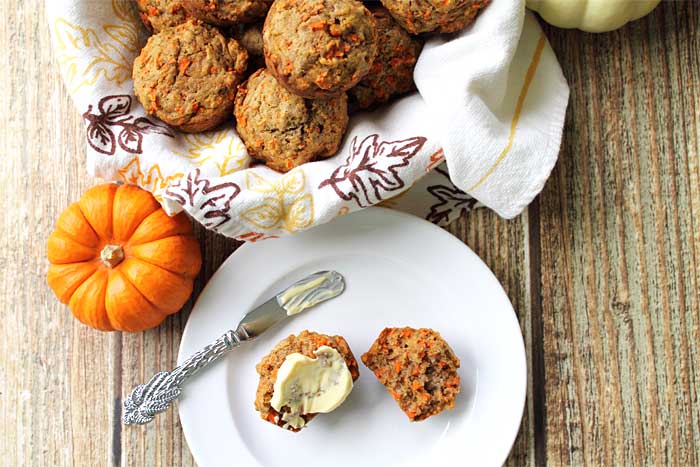 In fact, you just might have to stop the kids from eating the whole batch at one sitting! You can even up the ante by putting a smear of cream cheese or butter on them (oh, is that me drooling?).
Well, I can't help it if that just sounds amazing! Excuse me while I sneak into the kitchen and grab me one of those muffins before they're gone..... Enjoy!
More Amazing Healthy Muffins
Blueberry Oatmeal Muffins - with Greek yogurt, are an easy grab-n-go breakfast that have plenty of whole grain oats, antioxidant-rich blueberries and protein-packed yogurt for one nutritious breakfast.
Zucchini Bran Muffins - Make these healthy energy-packed muffins in just 40 minutes. Nutritious veggies, yogurt & bran cereal make these perfect for breakfast, afternoon or post workout snack.
Banana Chocolate Chip Muffins - Start any day with these simple to make muffins. They're sugar-free, egg-free as well as gluten and dairy-free.
Love quick & easy recipes? Follow me on Instagram, Facebook, Pinterest & Twitter for all the latest recipe inspiration! Plus join my email list and receive a free e-book.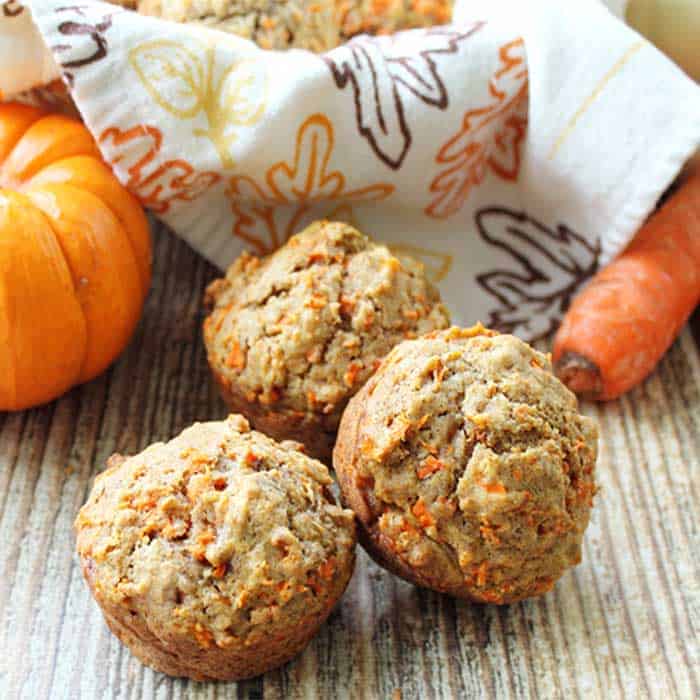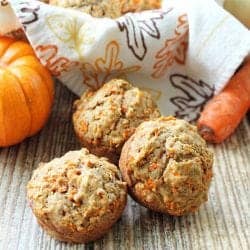 Pineapple Carrot Muffins
Easy to make pineapple carrot muffins will have your kids eating veggies without any coaxing on your part. Fresh carrots, little sugar and a touch of cinnamon.
Print
Rate
Ingredients
1

egg

½

cup

milk

¼

cup

pineapple juice

½

cup

melted butter

⅓-1/2

cup

sugar

1

cup

King Arthur unbleached white flour

1

cup

King Arthur whole wheat flour

1

teaspoon

baking powder

½

teaspoon

baking soda

Pinch

of salt

1 ½

teaspoon

cinnamon

2

cups

shredded carrots
Instructions
Preheat oven to 400 degrees. Prepare muffin pan by spraying with non-stick spray or use paper muffin cups.

In medium bowl, whisk egg. Add milk, pineapple juice, butter and sugar and beat well.

Sift together dry ingredients then add to above mixture until just moistened.  Fold in carrots.

Spoon mixture into muffin cups to the top. Place in preheated oven and bake for 20 minutes.

Let cool 10 minutes then remove from muffin pan and place on wire racks until completely cool.
Notes
Add a cream cheese frosting to them and it is like a mini carrot cake
Nutrition
Calories:
188
kcal
|
Carbohydrates:
25
g
|
Protein:
3
g
|
Fat:
8
g
|
Saturated Fat:
5
g
|
Cholesterol:
34
mg
|
Sodium:
138
mg
|
Potassium:
149
mg
|
Fiber:
1
g
|
Sugar:
7
g
|
Vitamin A:
3835
IU
|
Vitamin C:
1.7
mg
|
Calcium:
43
mg
|
Iron:
1.2
mg
This post has been updated and was first published on February 3, 2014.