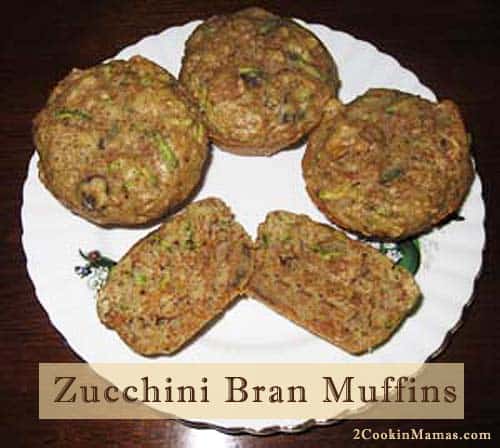 Want a nice healthy way to start your family's day? Well, these zucchini bran muffins, along with some low-fat yogurt, will give them plenty of vitamins, calcium and fiber to help get them going. And the kids won't even know they are getting their veggies!
By subbing unsweetened applesauce for oil and a little more spice than was called for they came out just right. There are also gluten-free options noted.
Zucchini Bran Muffins
Ingredients:
2 cups bran cereal (I used a generic crunchy raisin bran cereal but you can use a GF oat bran cereal as well)
1 cup zucchini, shredded
3/4 cup milk
1 egg
1/2 cup sugar
1/3 cup unsweetened applesauce
1-1/2 cups flour (for GF sub Namaste flour)
2 teaspoons baking powder
1/4 teaspoon ginger
1/4 teaspoon nutmeg
1/2 teaspoon cinnamon
Directions:
Preheat oven to 375 degrees. Prepare a 12-cup muffin tin by spraying with a nonstick spray or by inserting paper muffin liners in tin.
In a large bowl, combine cereal, zucchini (which has been squeezed between paper towels to reduce water content), milk, egg, unsweetened applesauce and sugar. Stir to combine.
Sift flour, baking powder, ginger, nutmeg and cinnamon together and add to cereal/zucchini mixture. Stir well.
Using a 1/4 cup measuring cup, fill each muffin cavity with batter, a little over 3/4 full.
Bake for 30 minutes, remove to wire rack and allow to cool in tin for 10 minutes. Turn tin over and release muffins and allow to cool completely before storing.
Makes 12 muffins.
Tip: I like to freeze mine in ziploc bags as they keep longer. Just take out the night before to let thaw or pop into the microwave, straight from the freezer, for 30 seconds and serve warm.
Check out these other delicious muffins: