Make your favorite pasta dishes with air fryer spaghetti squash instead of noodles. It's not only the easiest way to cook spaghetti squash, ready in just minutes, but a lighter, healthier alternative too!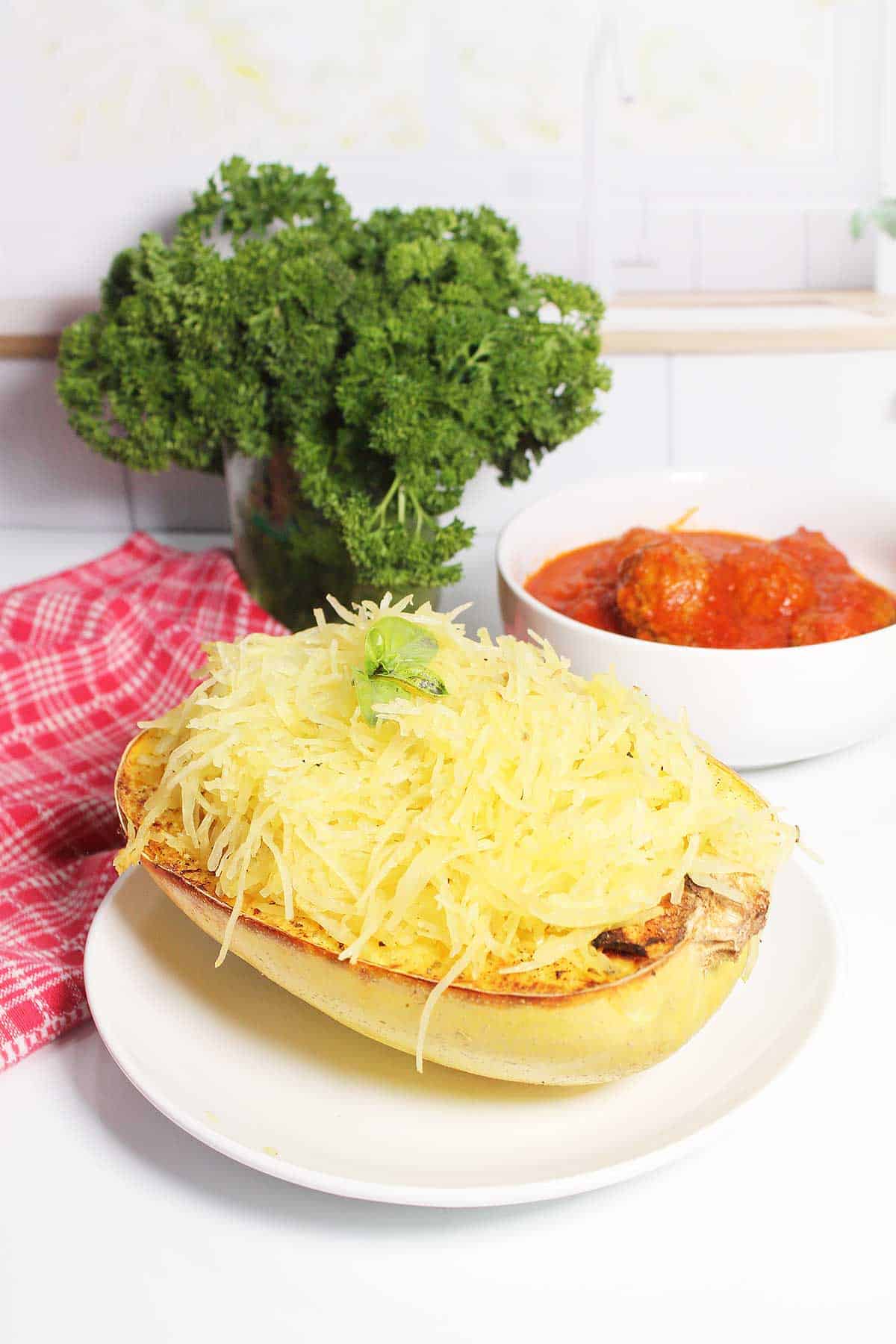 FYI - This post contains affiliate links. As an Amazon Associate, I earn from qualifying purchases. All links are products I use when making my recipes.
Air Fryer Vegetables
One of the biggest reasons people don't eat healthier is because it takes too long to cook vegetables, right? Well, those excuses go out the window when you cook veggies in the air fryer! They always turn out so tasty, and it takes almost no extra effort.
Spaghetti squash is one of the most intimidating veggies to cook. But when you use the air fryer, it's incredibly simple!
In fact, you can use this handy appliance to make other delicious side dishes like air fryer green beans, air fryer zucchini fritters, and air fryer rosemary potatoes!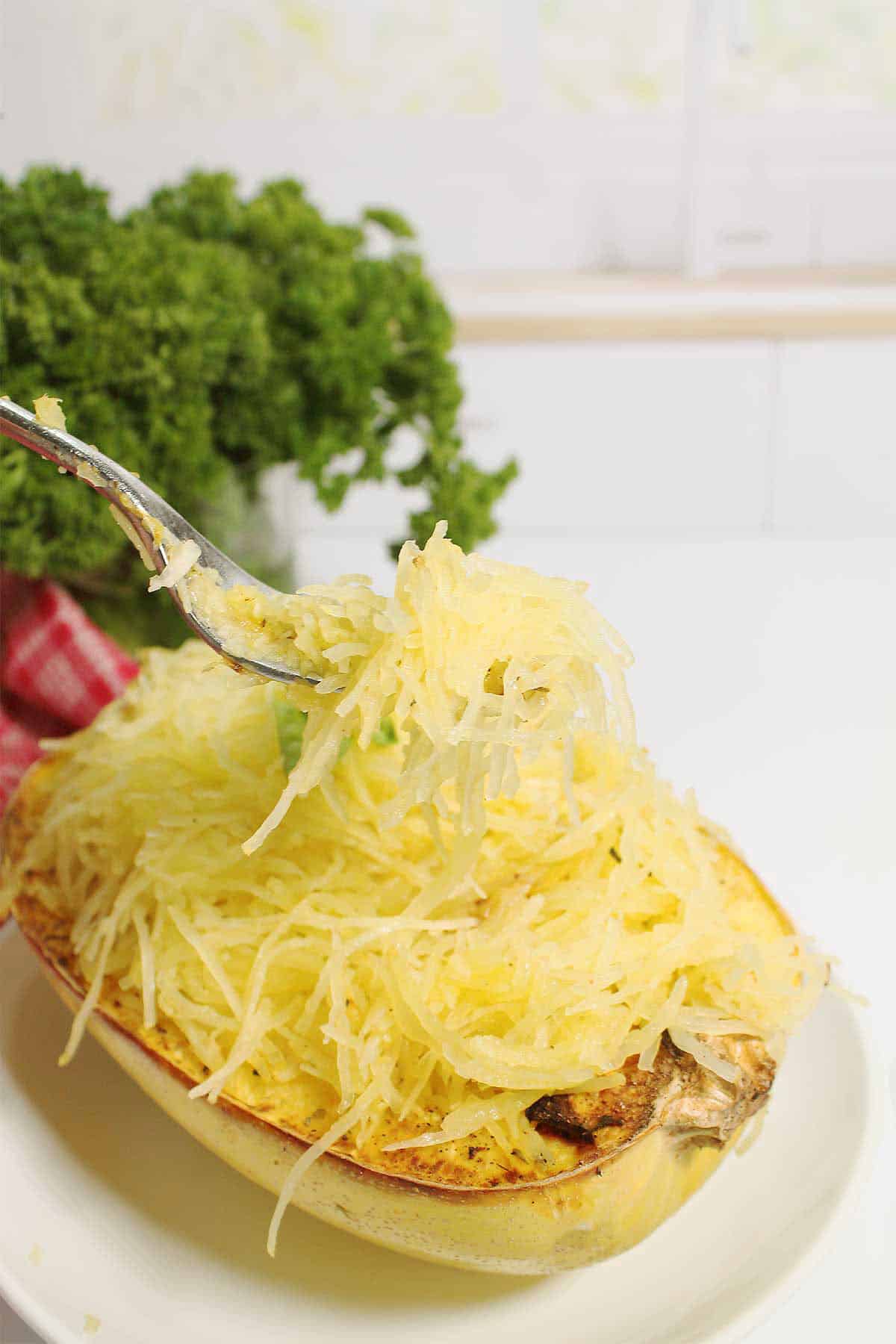 Why air fry spaghetti squash?
One bite of this perfectly cooked spaghetti squash and you'll never make it in the oven or microwave again! The air fryer cooks it faster than the oven and the spaghetti squash tastes so much better than the microwave version.
Plus, it's easier to clean up the air fryer than the Instant Pot or pressure cooker.
When you air fry spaghetti squash, it always comes out al dente and not watery or mushy.
Tips for Buying Spaghetti Squash
Look for a firm squash: When buying spaghetti squash, make sure to look for one that is firm to the touch. Avoid any squash that feels soft or has visible spots or blemishes.
Check the weight: A good-sized spaghetti squash should weigh around 2 to 3 pounds. Try to choose a squash that feels heavy for its size, as this usually indicates that it is dense and has a better texture.
Examine the color: Spaghetti squash typically has a pale yellow or light golden color. Choose a squash with a consistent color all around, without any green patches or dark spots.
Check the stem: The stem of the spaghetti squash should be dry and firm. If the stem is wet or soft, it may be a sign that the squash is overripe or has started to rot.
Buy in season: Spaghetti squash is typically in season in the fall and winter months, so try to buy it during this time for the best quality and flavor.
Consider organic: If you're concerned about pesticides or other chemicals used in growing squash, look for organic spaghetti squash at your local grocery store or farmers market.
Plan ahead: Spaghetti squash can last for several weeks if stored properly, so if you're not planning on using it right away, choose a squash with a longer stem that can help keep it fresh for longer.
How to Cut a Spaghetti Squash
Spaghetti squash can be tough to cut, so having a stable surface and a sharp knife is important. Place a cutting board on a flat surface and use a sturdy chef's knife or cleaver.
Before cutting a spaghetti squash, wash it thoroughly with water to remove any dirt or debris.
Usually, one side of the spaghetti squash is flat (the side that was on the ground). Place the squash on the cutting board flat-side down.
Hold the squash firmly with one hand and carefully cut down the center lengthwise, using your other hand to guide the knife. This may require some force, so take your time and be careful not to slip.
Use a spoon to scoop out the seeds and stringy flesh from the center of each half. Discard the stringy flesh and either discard the seeds or air fry them like pumpkin seeds.
If the squash is too hard to cut, you can soften it in the microwave. Use a fork to poke holes in it and microwave on HIGH for 3 minutes.
Ingredients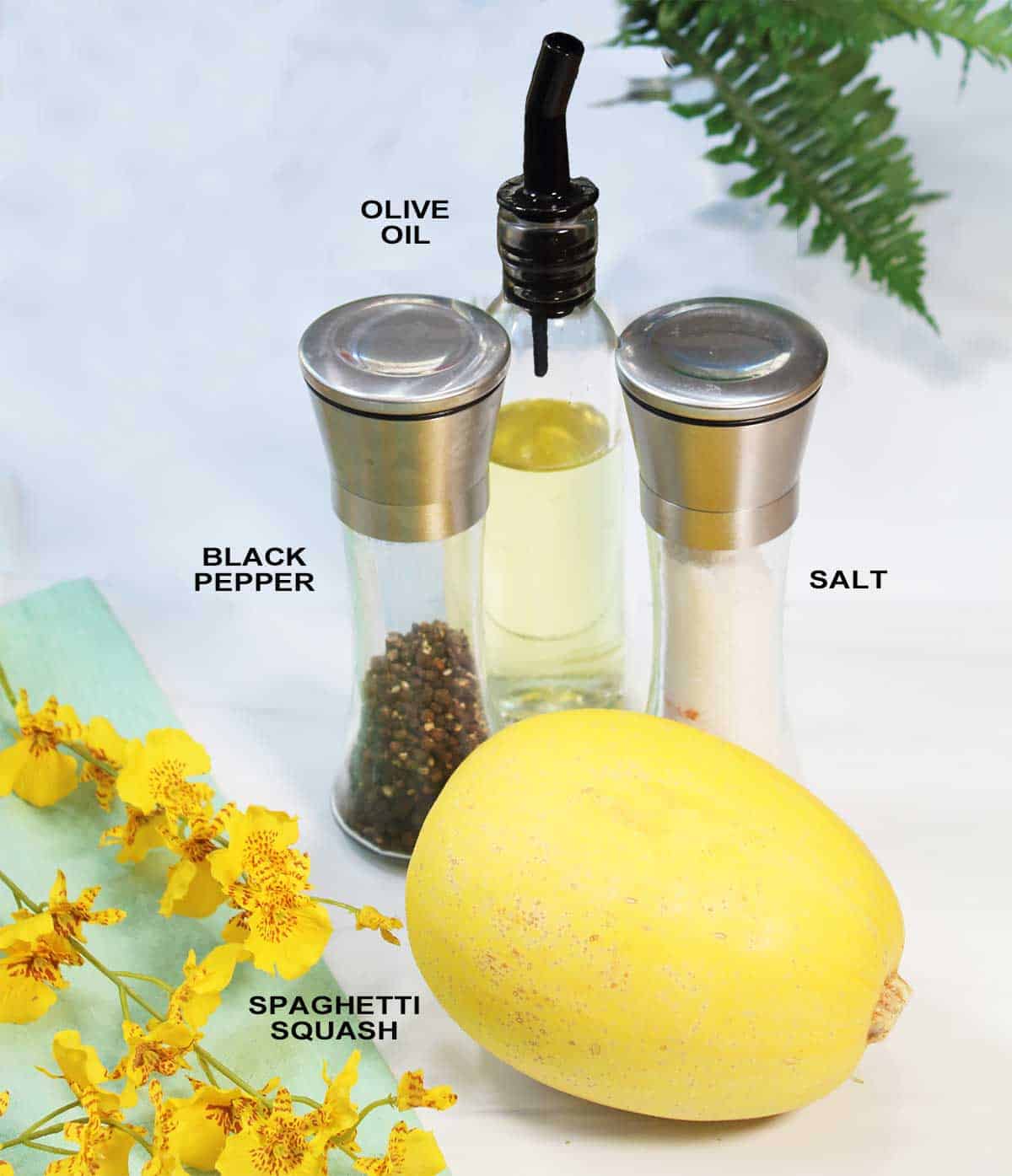 Spaghetti Squash - when purchasing make sure that the spaghetti squash is the right size to fit in your air fryer.
Salt
Ground black pepper (freshly ground is best)
Olive Oil
Equipment Needed
Air Fryer - I recommend the Cosori Air Fryer. I've had it for several years and it still works great!
How to Cook Spaghetti Squash in Air Fryer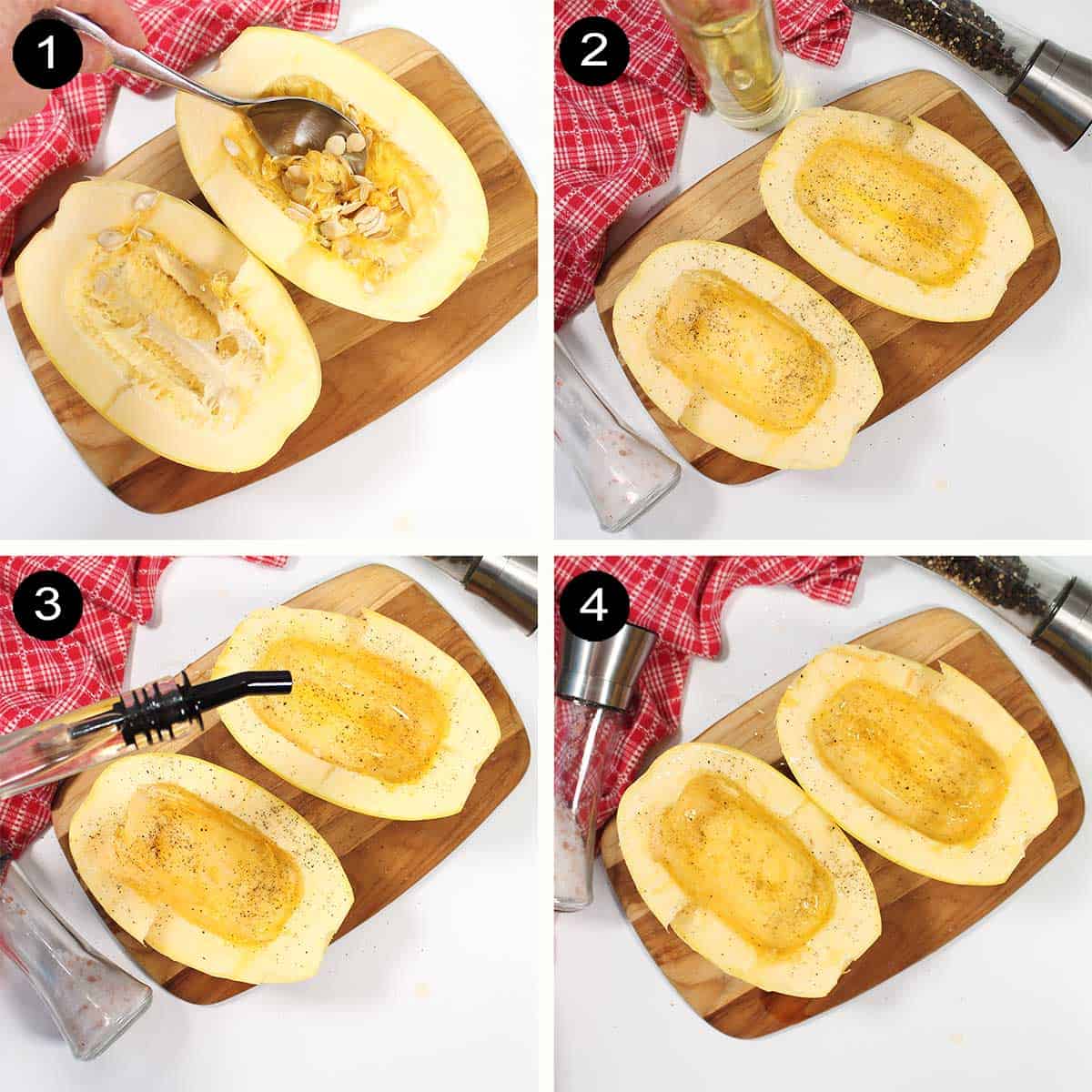 Cut the spaghetti squash in half. See tips on how to cut the spaghetti squash above. Scrape out the stringy flesh and the seeds.
Season with salt and pepper.
Lightly sprinkle olive oil over all the flesh.
Spaghetti squash ready for air fryer.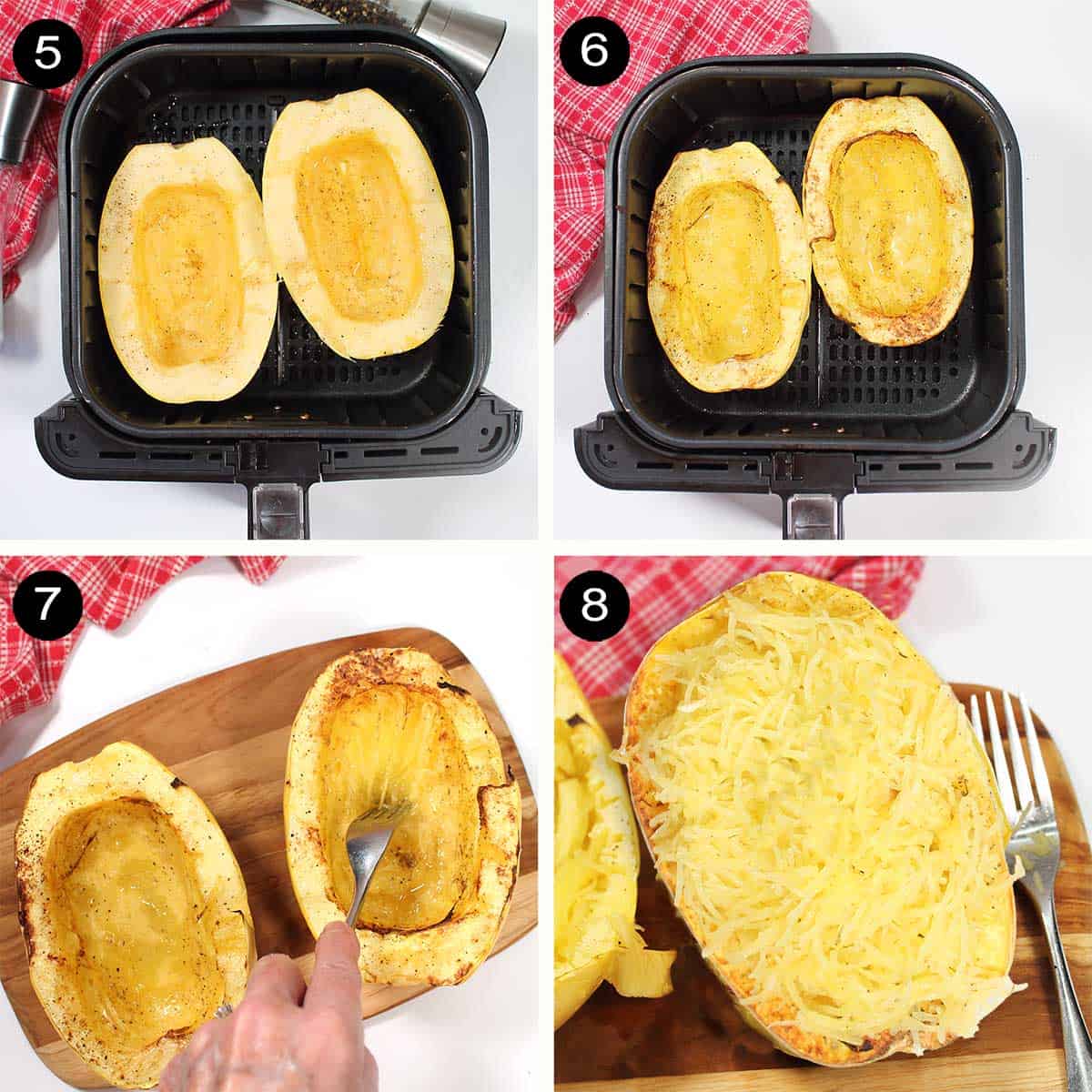 Spray the air fryer basket with nonstick cooking spray. I like to use avocado oil.
Cook the spaghetti squash at 390° F for about 16 minutes.
Remove the squash to a wooden cutting board. You can let it cool slightly or use a pot holder mitt to hold it securely while you scrape the softened flesh with a fork.
This creates the beautiful spaghetti-like strands the squash is known for.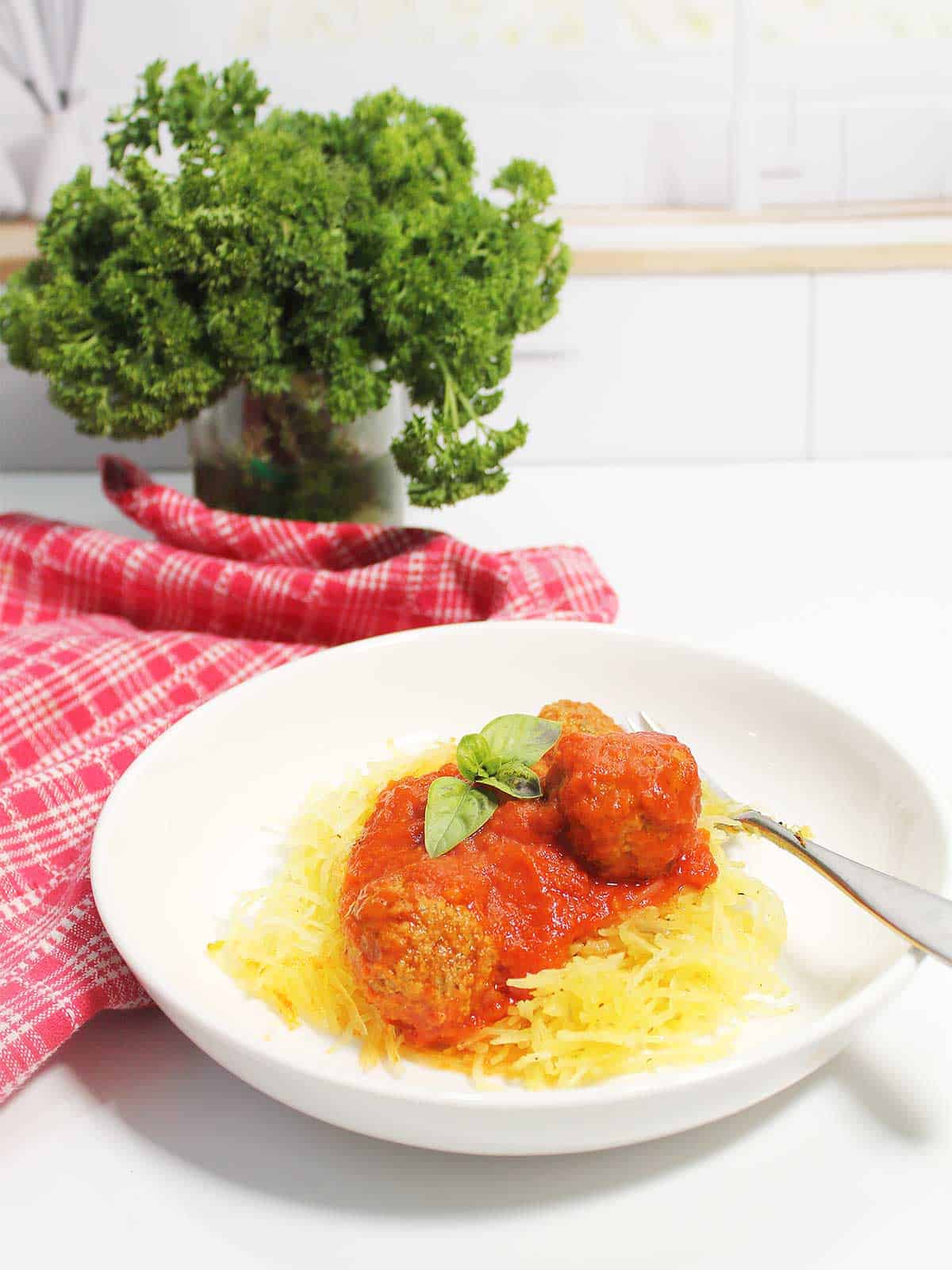 Now the spaghetti squash is ready for your favorite dishes that involve spaghetti noodles. I used it here for spaghetti and meatballs but it's also great tossed with tomatoes, garlic, basil and Parmesan like these Italian Spaghetti Squash Boats, or try it like a low-carb lasagna stuffed in a squash boat. It's all good and good for you too!
Recipe Notes and Tips
How long to air fry spaghetti squash can vary depending on the size of the squash and your air fryer model. As a general rule, a 2-pound squash takes about 16-20 minutes. Start checking doneness after air frying for 15 minutes. Spaghetti squash is done when it is fork-tender.
What temperature to air fry spaghetti squash? Air frying spaghetti squash at 390°F will give the best results. It will be slightly crispy on top and tender throughout.
Best Way to Eat Spaghetti Squash
With a fork!
There are plenty of different ways to eat spaghetti squash. It's great to use as a lower-carb substitute for pasta. Its thin strands are like angel hair pasta. Here are some ideas for dishes with spaghetti squash:
Buttered Spaghetti Squash - top it with butter or butter garlic sauce.
Spaghetti Squash with Parmesan or other cheese like my cheesy spaghetti squash boats recipe.
Spaghetti Squash Alfredo for a creamy spaghetti squash meal.
Spaghetti Squash Carbonara
Spaghetti Squash with pesto, marinara, spaghetti sauce, or meat sauce.
Sweet Spaghetti Squash - Top with butter, brown sugar, and cinnamon.
For spaghetti squash recipes baked in the oven, you can easily convert them to be cooked in an air fryer. The general rule is to reduce the temperature by 25°F and the time by 20%.
What to Serve with Spaghetti Squash
Spaghetti squash is a wonderful side dish that goes well with many entrees. These are my favorite dinners with spaghetti squash:
How to Store
Uncooked: Keep raw spaghetti squash in a cool, dry place at room temperature for up to 3 months.
Cooked: Place spaghetti squash leftovers in an airtight container in the refrigerator for up to 4 days.
Reheat spaghetti squash leftovers in the air fryer at 390°F for 3 to 5 minutes, in the microwave on HIGH for 45 to 90 seconds, or in the oven at 350°F for 10 minutes or until heated through.
Can you freeze spaghetti squash?
You can freeze raw, uncooked spaghetti squash but it will become mushy or watery after freezing and thawing. If you want to freeze it, cut it in half, scoop out the seeds and stringy flesh, and place the halves in plastic freezer bags, squeezing out the air before sealing. Thaw it in the fridge overnight.
You can freeze cooked spaghetti squash for up to 3 months. Place it in a plastic freezer bag and squeeze out the air before sealing the bag. Thaw it in the fridge overnight.
Frequently Asked Questions
What is another name for spaghetti squash?
Spaghetti squash was named Somen Nankin by the Sakata Seed Company in Japan. W. Atlee Burpee and Co. named it vegetable spaghetti for the American market. It is also called noodle squash.
Is spaghetti squash healthy?
Yes, spaghetti squash is loaded with fiber, vitamins, and minerals. It's low in calories, gluten-free, and low-carb.
Are there carbs in spaghetti squash?
Yes, one cup of cooked spaghetti squash contains 10 grams of carbohydrates.
Can you eat spaghetti squash seeds?
Yes, spaghetti squash seeds are edible. Just like pumpkin seeds, you can air fry spaghetti squash seeds or roast them in the oven.
More Air Fryer Recipes
Find lots of quick and easy air fryer recipes right here on 2CM!
LOVE QUICK & EASY RECIPES? FOLLOW ME ON INSTAGRAM, FACEBOOK, & PINTEREST FOR ALL THE LATEST RECIPE INSPIRATION! PLUS JOIN MY EMAIL LIST AND RECEIVE A FREE E-BOOK.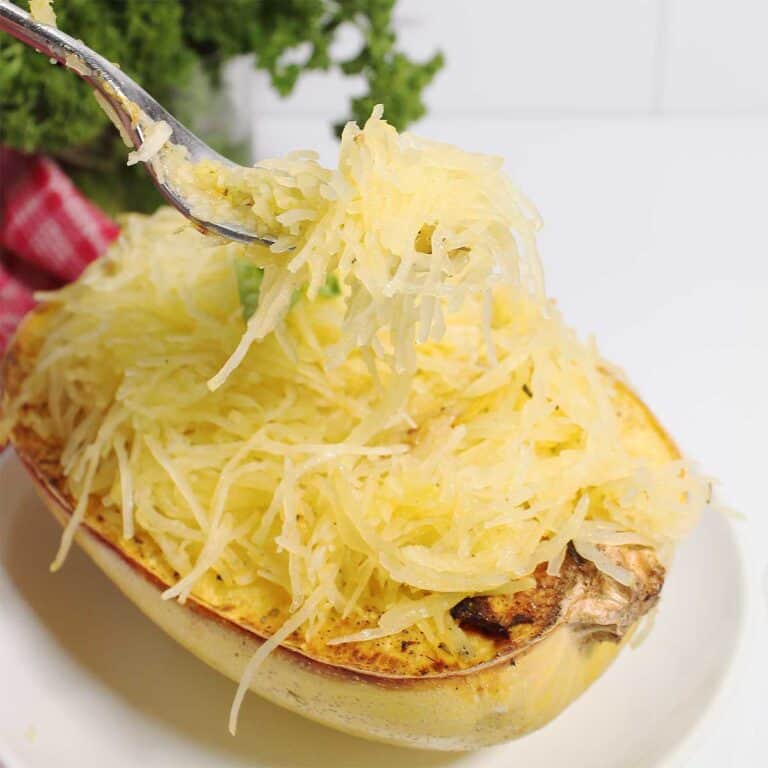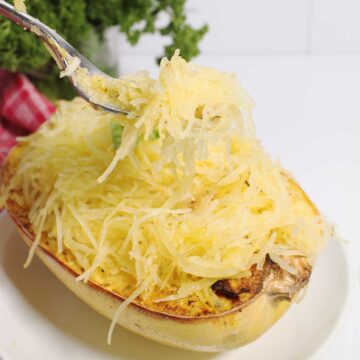 Air Fryer Spaghetti Squash
Make your favorite pasta dish with air fryer spaghetti squash. It's delicious, super easy and ready in just minutes. Plus it's a lighter and healthier alternative!
Print
Rate
Ingredients
1

spaghetti squash (about 2 pounds)

½

teaspoon

salt

¼

teaspoon

black pepper, freshly ground

2

teaspoons

olive oil
Instructions
Cut the spaghetti squash in half lengthwise. (if you have a hard time getting the knife through it simply pierce it several times then place in the microwave on high for 3 minutes. Let cool slightly to make it easier to handle.)

Scoop out the seeds and stringy insides.

Sprinkle salt and pepper all over flesh.

Drizzle all over with olive oil. You can use your fingers to make sure the flesh is completely covered.

Place in your air fryer basket that has been sprayed with a nonstick cooking spray and cook at 390 degrees for 16-18 minutes.

Lift out carefully. You can drain any excess oil or moisture off prior to shredding with a fork. To shred, just drag the fork tines over the flesh and watch it turn into what looks like spaghetti noodles.

Serve with a drizzle of butter or use as the pasta with your favorite marinara.
Notes
HOW TO STORE
Uncooked: Keep raw spaghetti squash in a cool, dry place at room temperature for up to 3 months.
Cooked: Place spaghetti squash leftovers in an airtight container in the refrigerator for up to 4 days.
Nutrition
Calories:
186
kcal
|
Carbohydrates:
34
g
|
Protein:
3
g
|
Fat:
7
g
|
Saturated Fat:
1
g
|
Polyunsaturated Fat:
2
g
|
Monounsaturated Fat:
3
g
|
Sodium:
664
mg
|
Potassium:
525
mg
|
Fiber:
7
g
|
Sugar:
13
g
|
Vitamin A:
581
IU
|
Vitamin C:
10
mg
|
Calcium:
113
mg
|
Iron:
2
mg