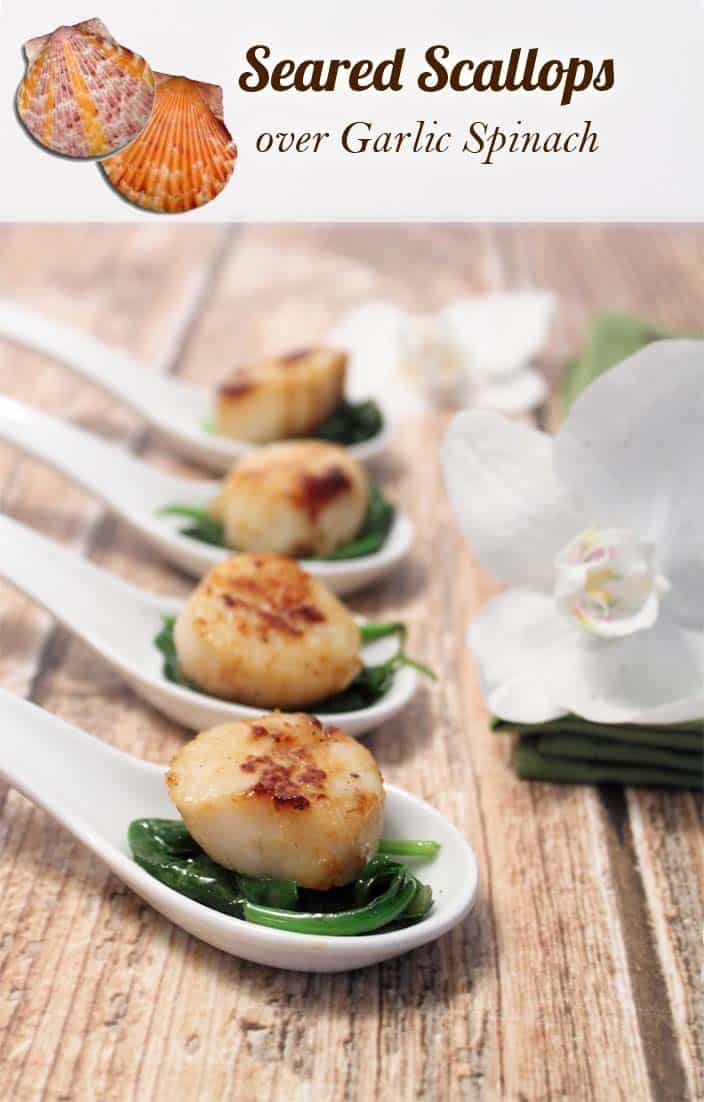 As you read this post we are on our way down to enjoy a much needed vacation in Key West. We love going down there to just relax, take in some diving and, of course, spend a little time on crazy but entertaining Duval Street. It's a really laid back atmosphere with plenty of margaritas (watch for our healthy Margarita Smoothie coming soon), Key Lime Pie and seafood, like these delicious seared sea scallops.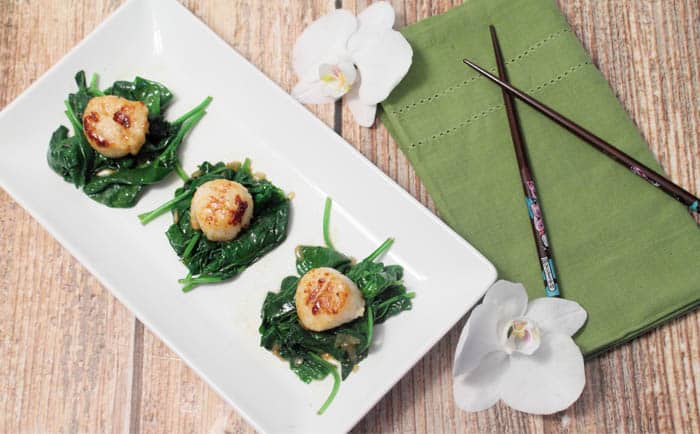 Everyone thinks Key West is just casual bars and restaurants but they have become a mecca for gourmet restaurants and foods from all over the world. Of course, they have their unusual restaurants too like Blue Heaven, where you dine with the free range chickens, or B.O.s Fish Wagon, which looks like it will come down around your ears at any minute, but the upscale ones are quite remarkable and would be top choices for dining anywhere. Our favorites – Blackfin Bistro, Bagatelle, Salute! On The Beach and Roof Top Cafe.

So back to today's dinner. This is one quick and easy dinner that would be a gourmet specialty in any of the restaurants above. The scallops take just 3 minutes to sear and the spinach another 3 minutes and you've got an amazing dinner for the family on the table in less than 10 minutes!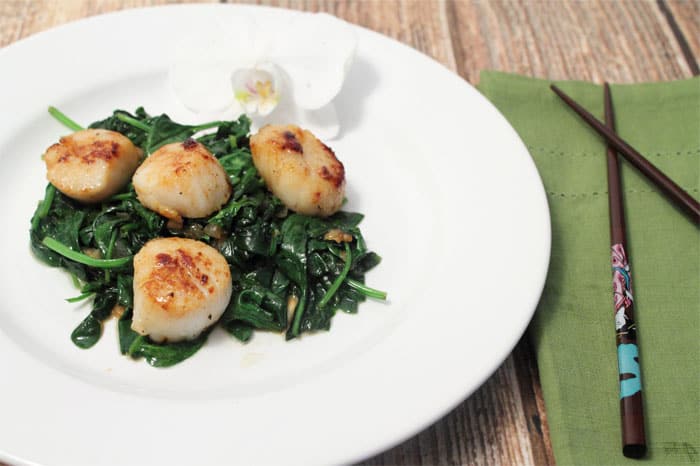 Another plus about this recipe is that it makes great appetizers for a party. Buy a dozen or so Chinese soup spoons and place one scallop on top of a little spinach on each one and you have a presentation that will WOW your guests. And the taste will just put it over the top. So grab a skillet and get cookin'!
Bye for now from "Margaritaville"!
Seared Scallops over Garlic Spinach
Ingredients:
10 Sea Scallops
Salt & pepper
2 Tablespoons olive oil
2 Tablespoons butter
Spinach
1 teaspoon olive oil, if needed
1/4-1/3 cup onion, chopped fine
3 garlic cloves, minced
10-oz fresh spinach, washed
Salt & pepper, to taste
Directions:
Sea Scallops
Scallops should be rinsed and dried with a paper towel. I like to blot mine between two sheets until I am sure they are as dry as they can get. If using frozen scallops, let thaw in refrigerator and then proceed to dry well with paper towels. Season scallops with salt & pepper.
In a large skillet, heat olive oil & butter until it sizzles when a drop of water is added. Add scallops, giving each of them their own space. Cook 1-1/2-2 minutes on each side, turning only once, or until scallop is nicely browned. Remove from pan and set aside.
Spinach
If there is only a little liquid left in the skillet add the additional 1 teaspoon of olive oil. Add onion and garlic and saute for about 2 minutes, stirring frequently. Add spinach, it will overflow pan but will quickly reduce in size, and toss lightly until spinach is wilted. Salt & pepper to taste.
Place spinach on serving plate and top with scallops.
Serves 2.
Wine Pairing:  A Chardonnay pairs very well with seafood and dishes containing garlic as it tends to offset some of the spiciness. If you prefer a lighter wine, you could opt for an Albarino or a dry Riesling. Both of these wines work very well with stronger seafoods as their crispness helps accentuate the flavors.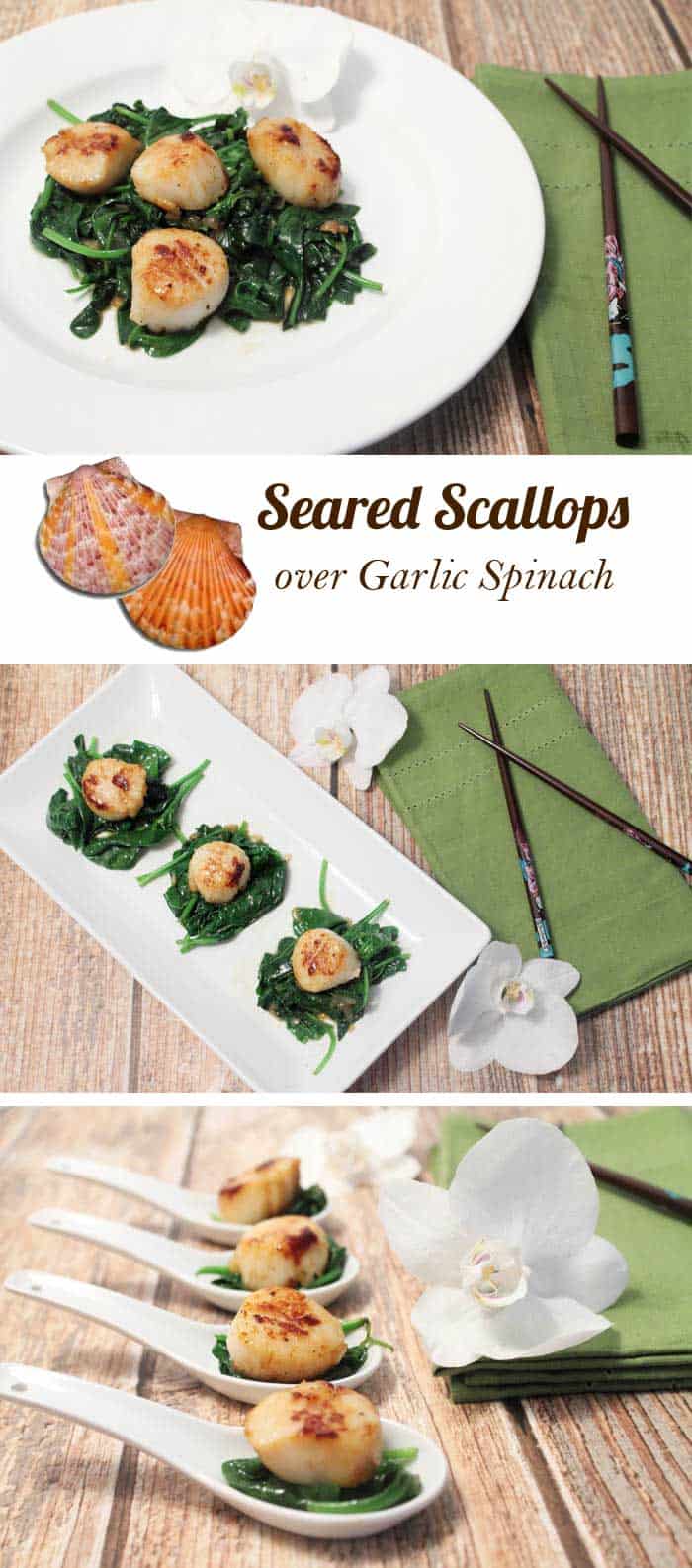 DON'T MISS A RECIPE!