What's not to like about chocolate, caramel and pretzels. But watch out, this Christmas Bark is easy to make & so addictive!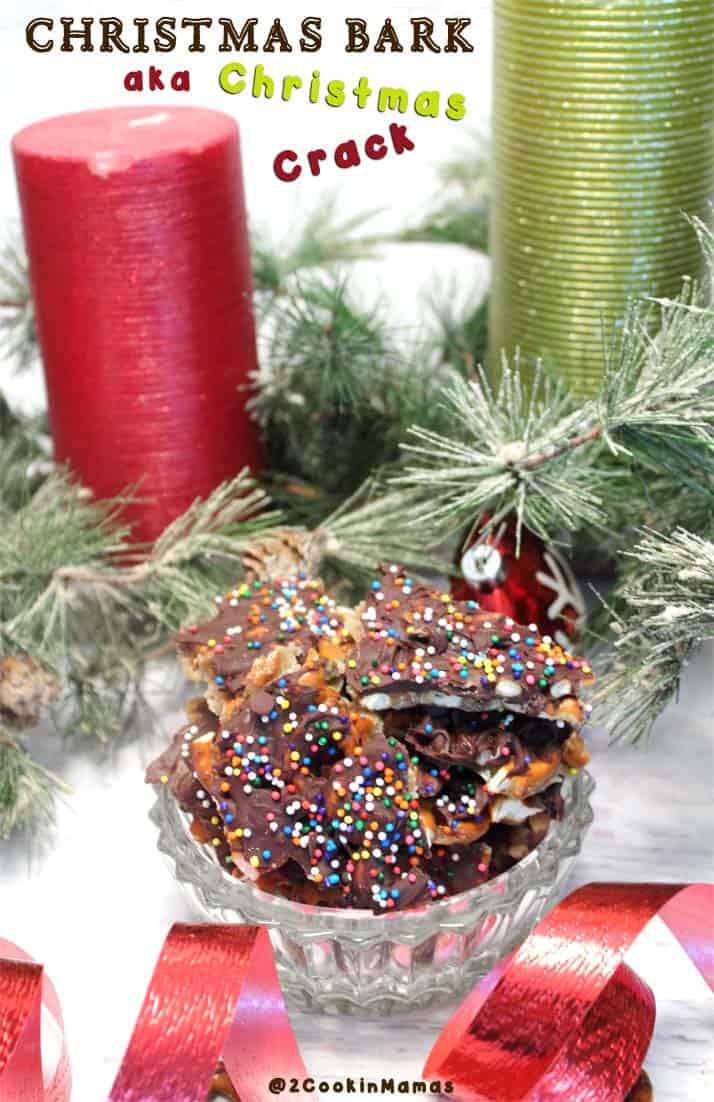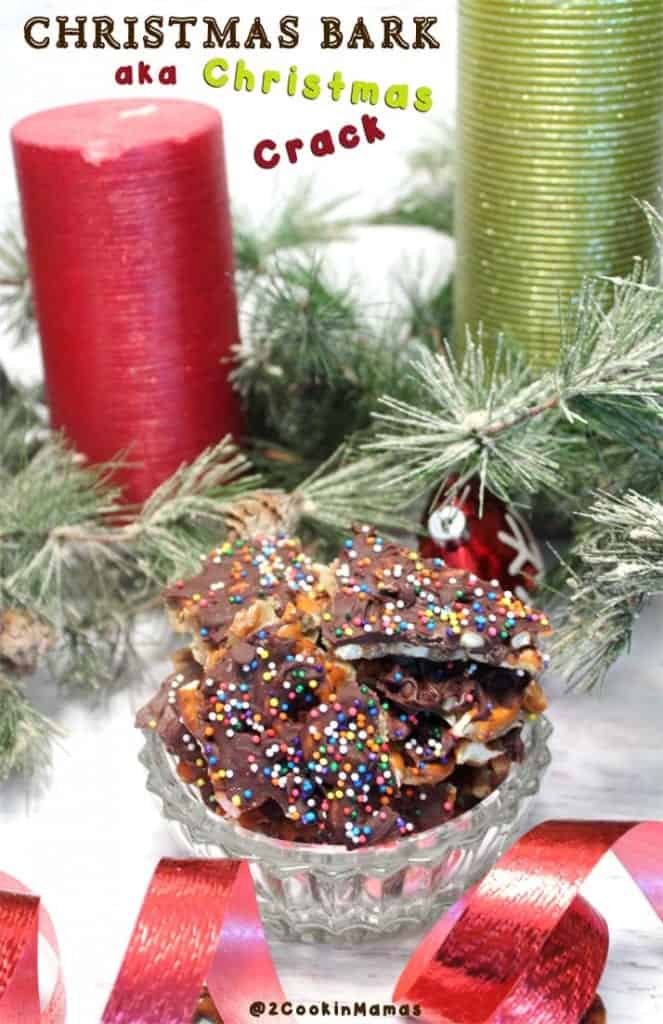 This is the first year I have attempted Christmas Bark or what some people call "Christmas Crack" and I am so glad I did! Now you're probably wondering where it got a name like that. I just can't imagine! Oh yes, I can! This stuff is oh so addictive, one bite and you might as well eat the whole bowl (I'm just sayin') and it certainly does make a big crack when you break it, and you make it at Christmas time ... ummm I guess "Christmas Crack" is pretty accurate! But really, in the end, the only thing that matters is that it's mighty good and lucky, or unlucky (for our waistlines), it's so easy to make.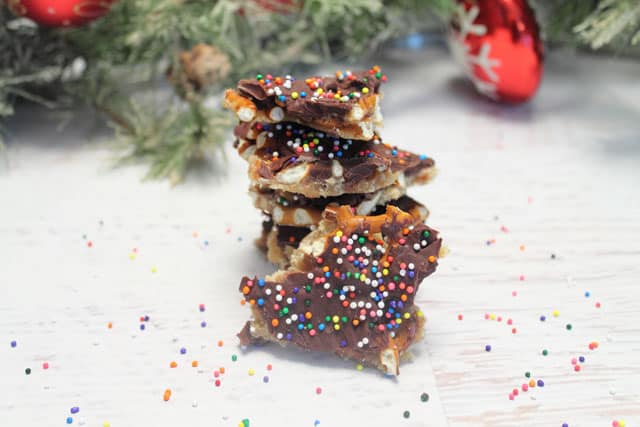 I found quite a few recipes for it all across the internet but settled on a combination of Table for Two's Christmas Crack   and Jamie Cooks It Up's Toffee Pretzel Bark. I liked the idea of using pretzels as the base but preferred Table for Two's toffee as it set up much better. Then to make it more holidayish (I think I just made that word up :-)) I sprinkled some colorful sprinkles on top. Doesn't it look pretty?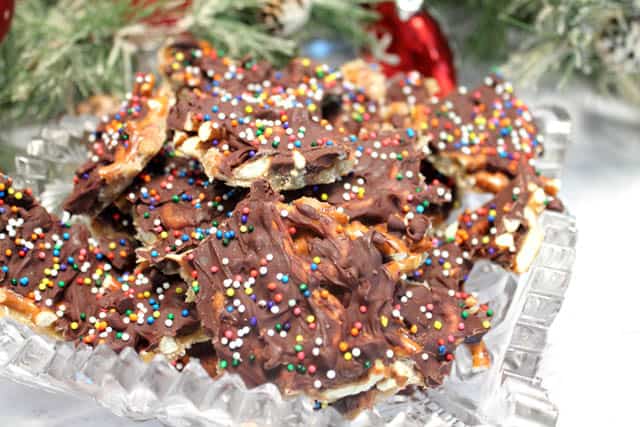 Oh boy, was it ever good! I was even surprised when my husband said it was delicious since he is not overly fond of pretzels. It must be the combination of chocolate, caramel and the saltiness from the pretzels that just puts this candy over the top!  I mean, how can you go wrong with caramel and chocolate, right?!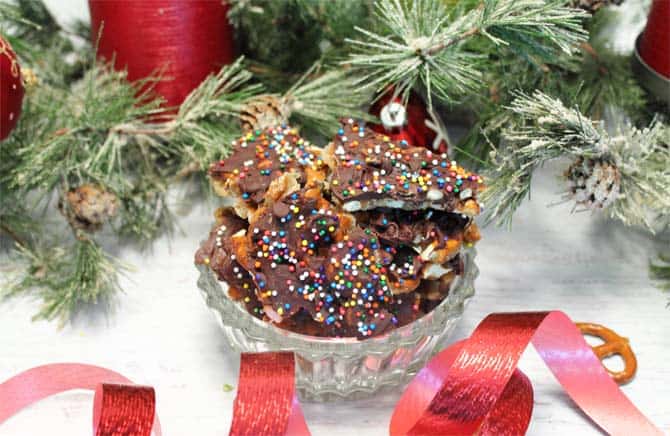 This is one recipe you can whip up less than 30 minutes then all you have to do is wait for it to set. Voila - Christmas gifts for the neighbors or office! Don't forget to keep a bowl for yourself! Hope you enjoy!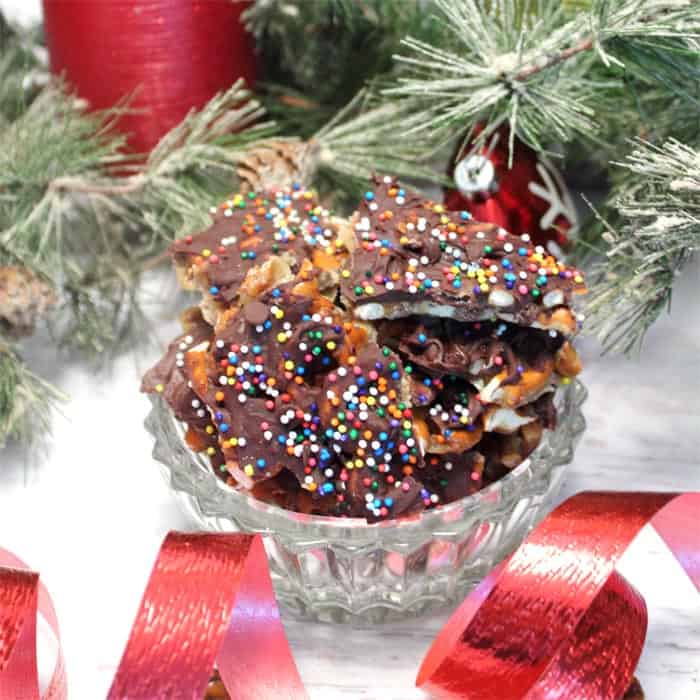 CHRISTMAS BARK AKA CHRISTMAS CRACK
Chocolate, caramel and pretzels combine to make this easy, deliciously crunchy & addictive snack. Great for holiday gifts too!
Print
Rate
Ingredients
8

oz.

mini pretzels

1

cup

butter,

2 sticks

1

cup

light brown sugar,

packed

2

cups

semi-sweet chocolate chips

(or I used a combination of semi-sweet and dark chocolate chips)

Colored sprinkles
Instructions
Preheat oven to 400 degrees. Spray a large cookie sheet, with sides, with nonstick cooking spray. Make sure it covers every nook & cranny.

Break up the pretzels and spread in an even layer on the bottom of the cookie sheet.

In a small saucepan, heat butter and sugar to boiling, stirring to combine. Once it starts a rolling boil, stop stirring, and let it cook for 3-5 minutes. It will start to foam up as it reaches the correct temperature.

Pour the caramel (butter-sugar mixture) evenly over the pretzels. Don't worry if there are little spots it didn't cover as it will spread in the oven.

Place cookie sheet in oven for 5 minutes. Remove and immediately sprinkle chocolate chips over the top. Let sit 3-5 minutes to soften the chocolate then spread evenly over the top with a silicone spatula. Immediately sprinkle with colored sprinkles if you like.

Place in refrigerator to help it set faster. Once it hardens, take out and crack into pieces. Store in airtight container in the refrigerator.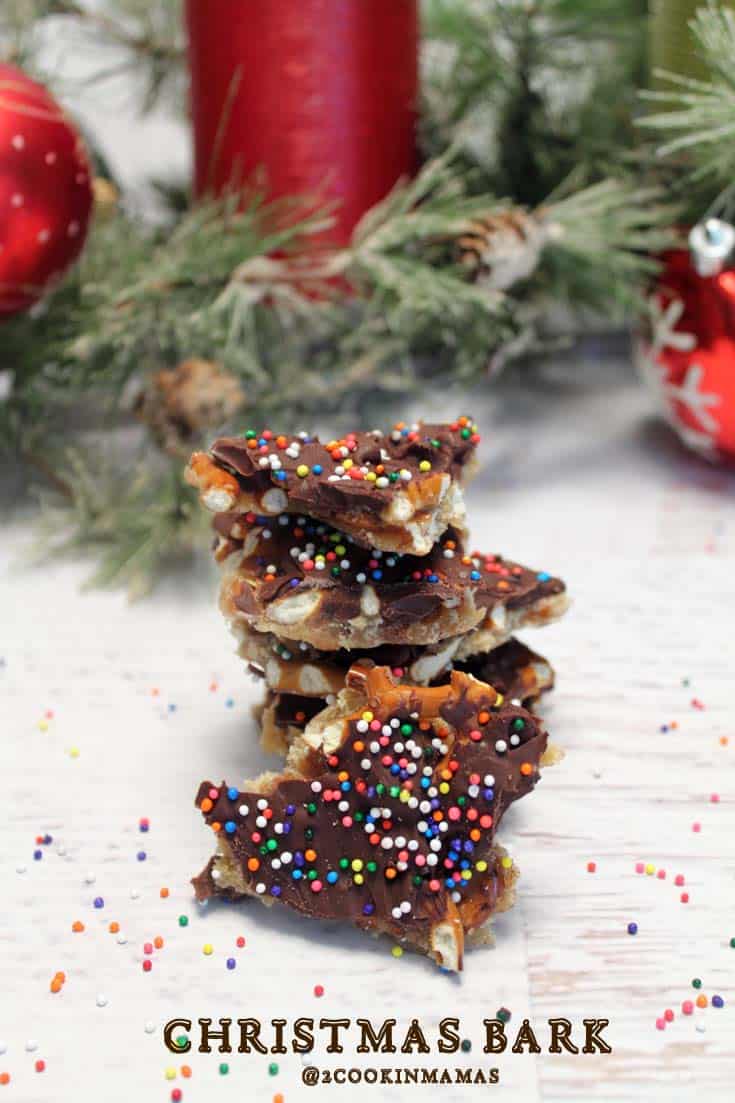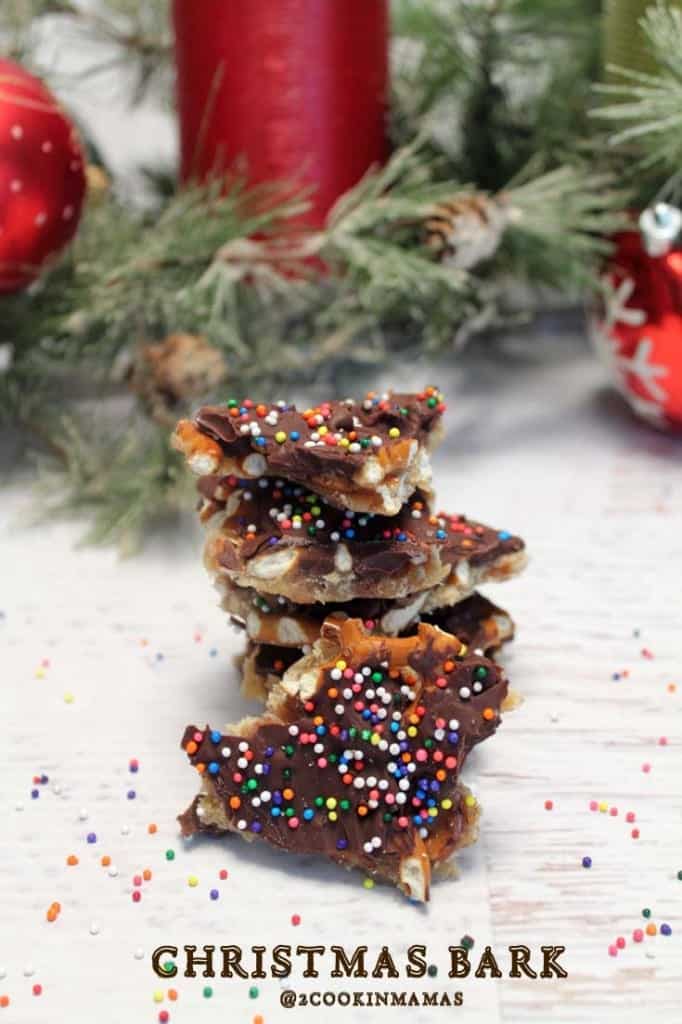 DON'T MISS A RECIPE!