Our Sweet Heart Cookies are easy to make & so fun to decorate. Made with a basic sugar cookie dough, flavored with either vanilla or almond, they hold their shape beautifully when baked and make the perfect Valentine's Day treat.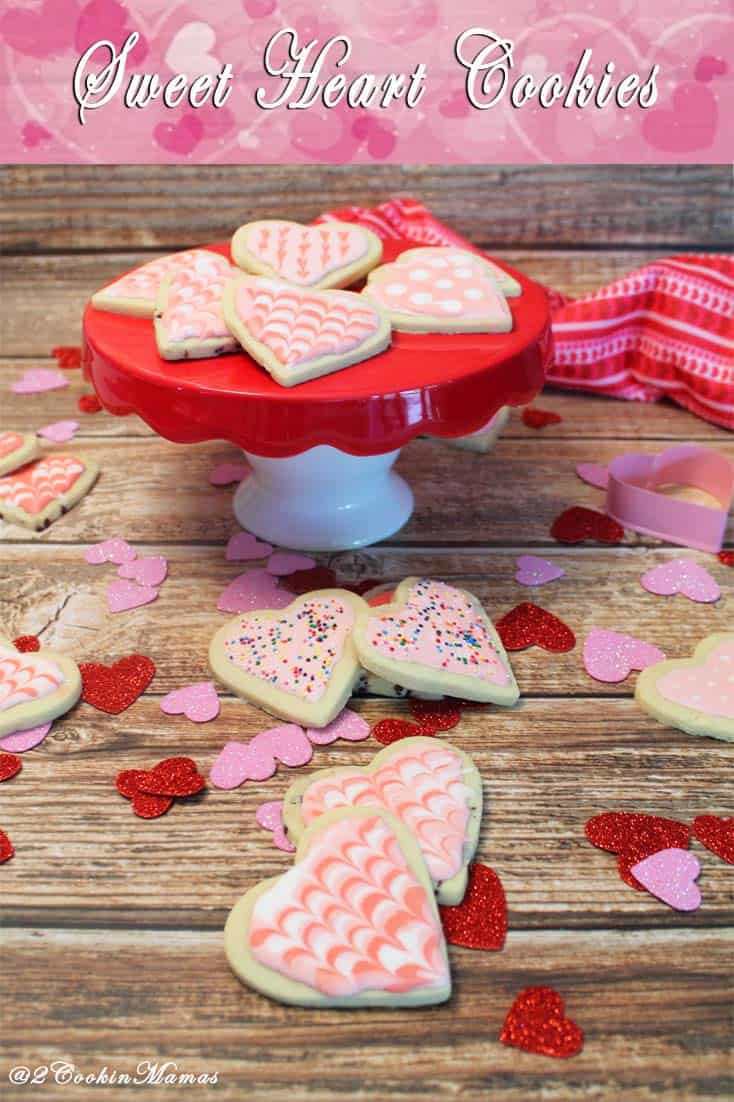 It's my favorite day of the month, Creative Cookie Exchange Day! Yay! And today we get to share our delicious cookies all surrounding this month's Hearts/Love theme including these fun Sweet Heart Cookies.
Believe it or not, I had a hard time deciding what to bake this month but knew I wanted to use my new heart-shaped cookie cutter. After all, what would a hearts theme be without hearts. Right? And then I saw it … (which after attempting it, it might have been better if I hadn't seen it) a video on how to decorate heart-shaped cookies. Now mind you, I have never decorated cookies, just topped them with sprinkles, chocolate or frosting, but I thought how hard can this be? Ummm, well let me tell you, it's not as easy as it looks!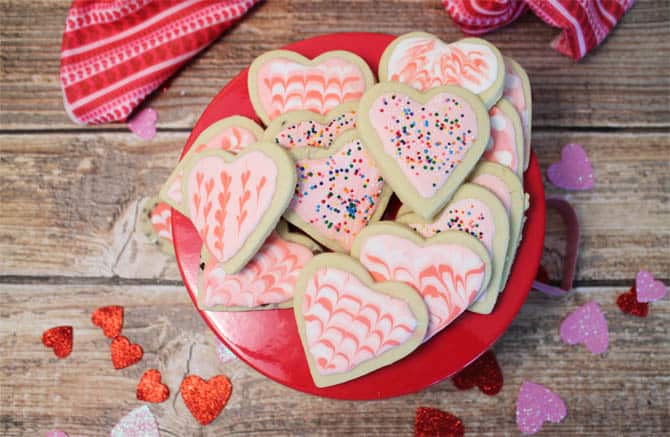 The cookie baking went fine and they came out perfect. I absolutely loved the basic sugar cookie recipe that I adapted only slightly from Katrina's Kitchen. The dough went together so smoothly and didn't need any refrigerating prior to cutting out the cookies. I did add a few mini chocolate chips to half the batter, to see if it would work, and it didn't interfere with cutting the cookies at all.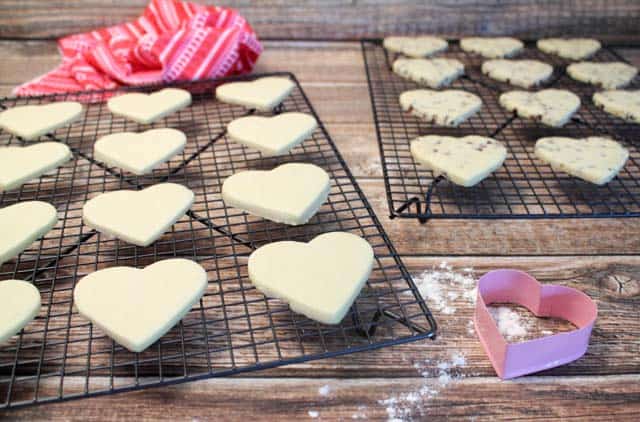 Now on to the decorating adventure. First up was making the royal icing. I found several recipes for the icing, most of which suggested using meringue powder, so I went with Joy of Baking's recipe. But mixing it was another thing. Her recipe said to bring it to stiff peaks while another said just soft peaks. I wound up forming the stiff peaks and then adding more water to get the required "flood consistency". My first attempt at covering the cookies with the icing was a disaster – the icing was still too thick.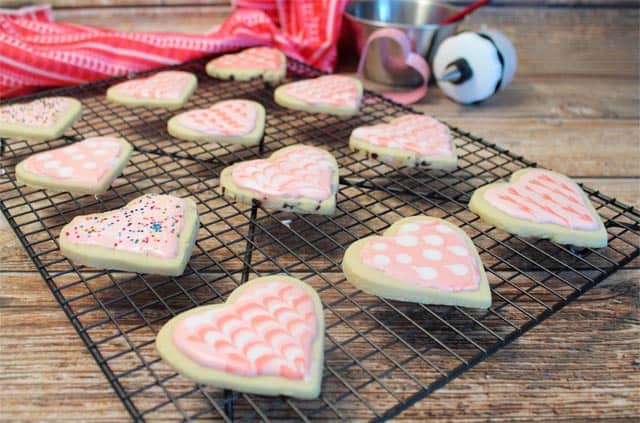 OK, everything back into the separate bowls, because I had already colored the icing (duh!), and try to thin it out a little more. My second attempt was a little better but it probably could have been just a little thinner. I also didn't have all the required tools but thought I could make do. I had one of the correct tips, but with 3 colors, two more would have made my life a lot easier. I did use my OXO Decorating Kit and, if I'd had the extra tips and one more of the bottles, everything would have been honky dory. Alas, such was not the case.
But to make a long story short, I did manage to get the icing on to the cookies and to decorate them with a somewhat successful, but definitely not, professional quality result. If you would like to see how it's really done you've got to watch this great video by SweetAmbs found here.
It turned out to be a fun thing to do and I might even attempt it again some day! 🙂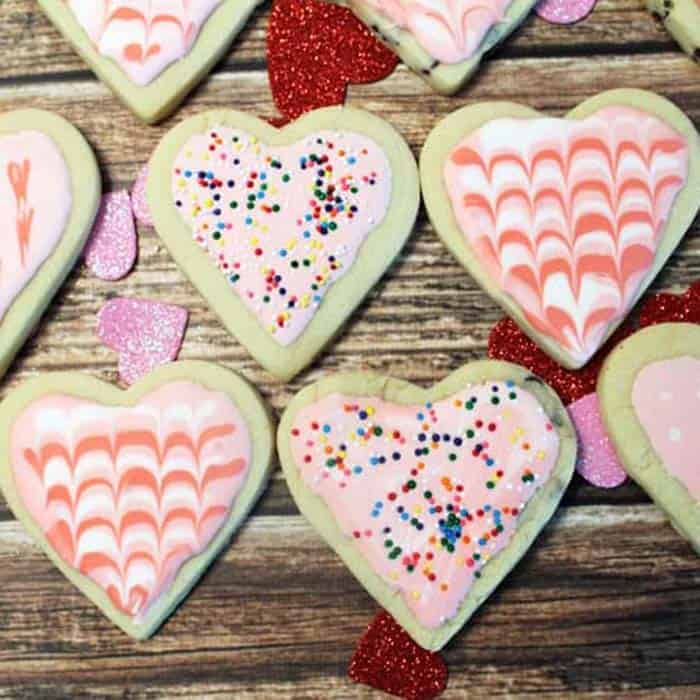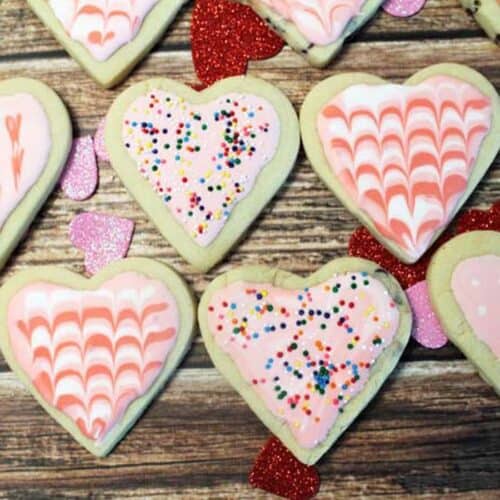 SWEET HEART COOKIES
A basic sugar cookie dough makes these cookies super easy to make. Delicious as they are or decorate with royal icing for your Valentine sweetheart.
Ingredients
Cookies
1

cup

butter,

softened

1

cup

granulated sugar

1

teaspoon

vanilla extract

1/2

teaspoon

almond or lemon extract

1

egg

2

teaspoons

baking powder

3

cups

all-purpose flour

1

teaspoon

lemon zest

(optional)
Royal Icing
2

cups

confectioners' sugar

2

Tablespoons

meringue powder

1/4

teaspoon

almond extract

1/3+

cup

warm water

(I used 1/2 cup total)

Food coloring

(use gel pastes so as not to dilute icing)
Directions
Cookies
Preheat oven to 350 degrees. Line 3 cookie sheets with silicone mat or parchment paper.

Using an electric mixer, cream butter and sugar until smooth. Beat in extracts and egg.

In a medium bowl, combine baking powder and flour and slowly add to creamed mixture. Beat until well combined.

Divide dough into thirds and work with 1 batch at a time. Flour a flat surface and roll out to about a 1/4" thickness. Cut with cookie cutter into desired shapes.

Place on prepared cookie sheets and bake for 10-11 minutes. Remove from oven, let cool about 20 minutes on cookie sheets then move to wire racks to cool completely.

Once cookies are cool they can be iced and decorated.
Royal Icing
Using an electric mixer, beat all ingredients together until stiff peaks form, about 5-7 minutes. To get the "flood consistency" called for, add either more confectioners' sugar or water so that the icing when dropped from the beater falls back into the bowl and disappears after a few seconds. Keep whatever icing you are not using at the time covered with a damp towel or plastic wrap.

I divided my icing into thirds and colored one pink, one red and left one white.

To make the wavy pattern design, cover the cookie with pink icing. Make 3-4 horizontal stripes with red icing then place white icing stripes in between them. Take a sharp skewer, I used a large basting needle, and draw a vertical line down the center then 2 to either side. Let dry for at least 4 hours before storing.

To make heart pattern, I covered the cookie with red icing then made white icing polka dots. Take the sharp skewer or needle and pull in vertical lines down center and to either side so it pulls the polka dots into heart shapes.

Or just ice and sprinkle with colorful sprinkles. By the way, I am sure this is one the kids would love to help with - think of the patterns they would create!
Recipe Notes
If you prefer not to decorate the cookies, or skip the special designs, the cookies should only take a total of 35 minutes or so.
And that's all there is to it! lol
Now check out all the great recipes below showing off some Valentine's Day love.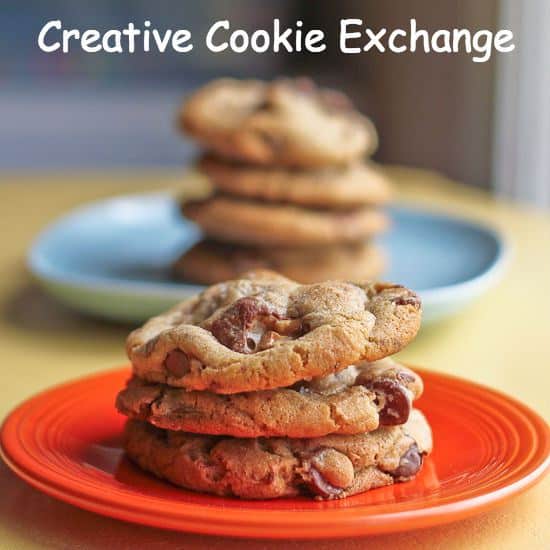 It is late January guys and you know what that means! Soon love will be in the air! Too corny? OK fine, but we all know Valentine's Day is about to start trending, and we have the perfect cookies! Hearts, love, anything symbolizing hearts and love, we have it all! Check out our hearts and love cookies below and maybe make them for your loved ones!
You can also use us as a great resource for cookie recipes. Be sure to check out our Pinterest Board and our monthly posts (you can find all of them here at The Spiced Life). You will be able to find them the first Tuesday after the 15th of each month! Also, if you are looking for inspiration to get in the kitchen and start baking, check out what all of the hosting bloggers have made: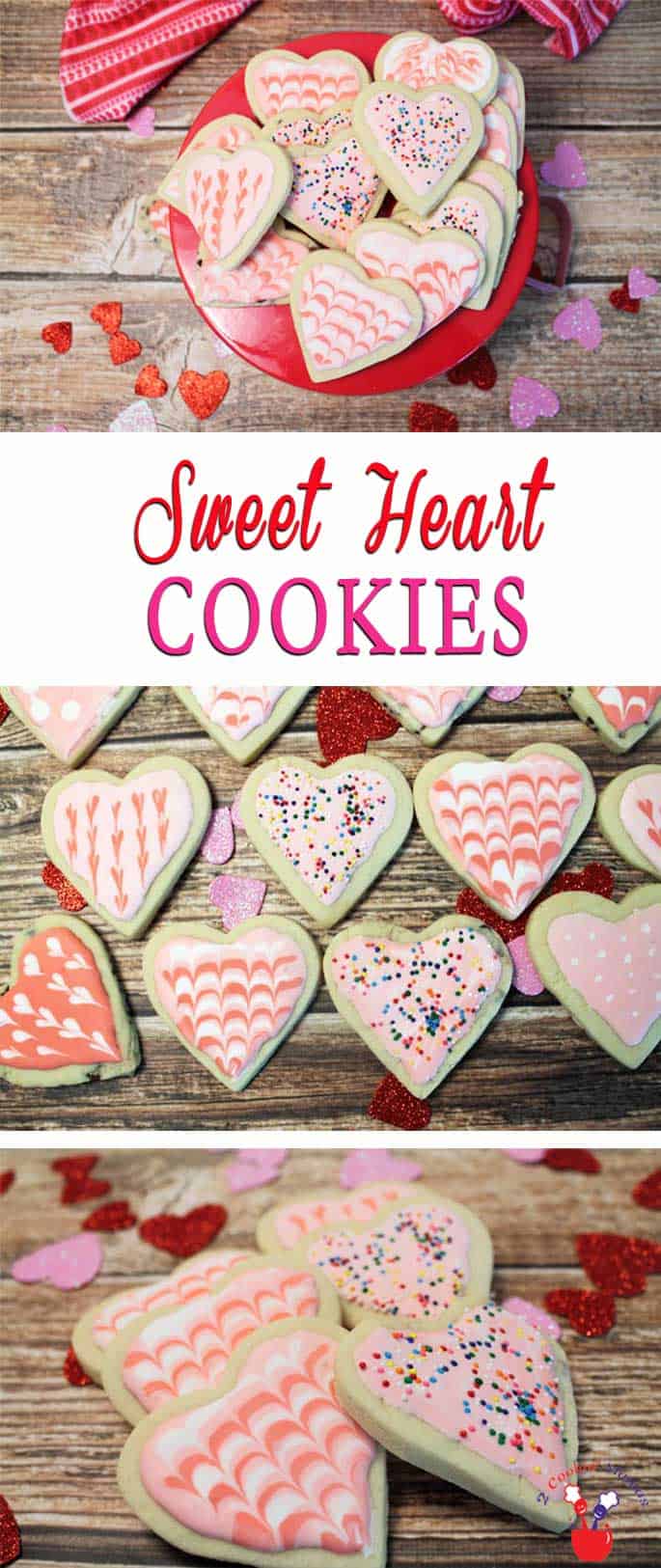 DON'T MISS A RECIPE!