Deliciously decadent with dark chocolate & raspberries, this Valentine trifle is the perfect indulgence for a healthy Valentine's Day dessert.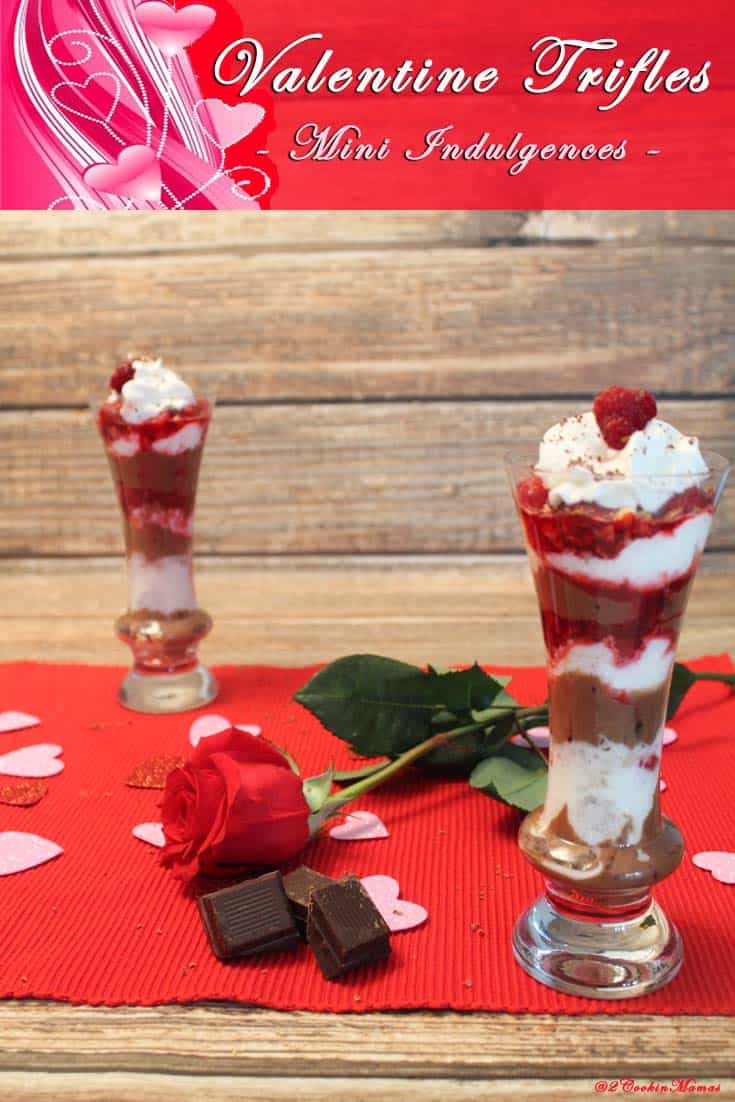 Want to show your Valentine a little love this Valentine's Day but don't have hours to prepare a spectacular dessert? Or are you on a diet or watching calories and don't know what to make so you don't fall off the wagon? Well, have I got the indulgence for you!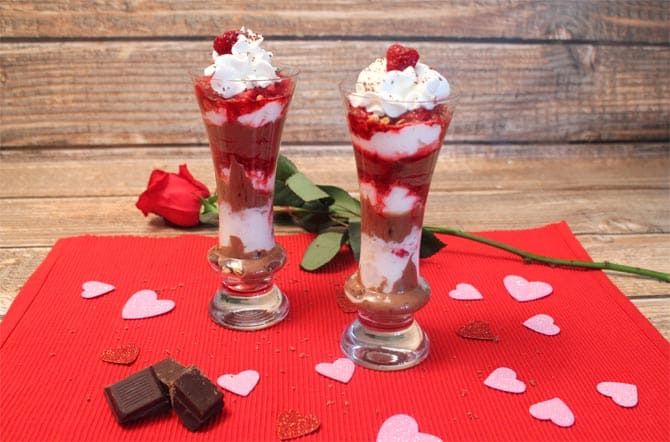 The key to this Easy Valentine's Day Trifle is the wholesome ingredients you use to make it and the size of the serving. If you have ever been to Seasons 52 you know all about their mini indulgences, where they are all the delicious desserts you love but presented in a pint-sized portion (all about 300 calories). They are really perfect after a wonderful dinner.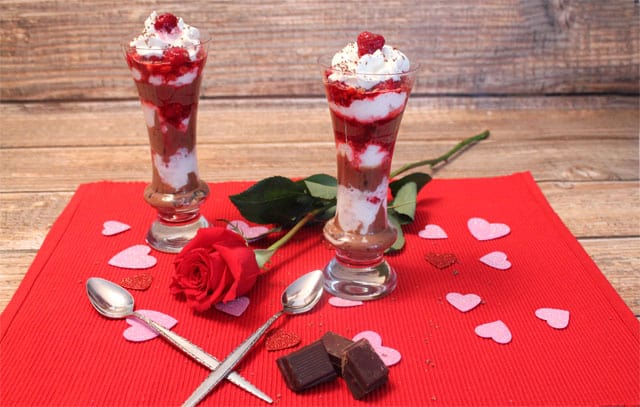 So today I bring you the somewhat healthy mini indulgence that is not only delicious but lower in calories than most desserts. It starts with dark chocolate, known for its antioxidant properties and its ability to lower blood pressure and protect against cardiovascular disease.
It has low-fat Greek yogurt, high in protein, calcium, potassium & B12, and finally raspberries, rich in antioxidant & anti-inflammatory properties which help fight against cancer, heart, and circulatory diseases.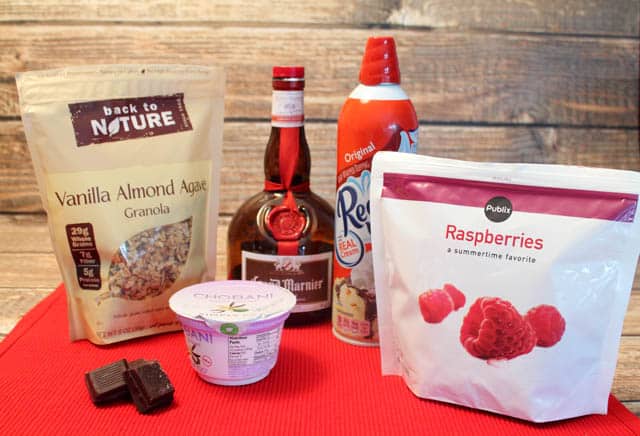 If you are careful picking out your next two ingredients you've got that healthy dessert that will knock his socks off!
The granola needs to be low sugar, possibly substituting agave or honey for sugar, and contain whole oats and nuts. Granola is a great digestive aid and has healthy fats from nuts as well as omega-3s.
Adding whipped cream is a particular indulgence but a little goes a long way. If you like the light whipped cream it works just as well as the regular.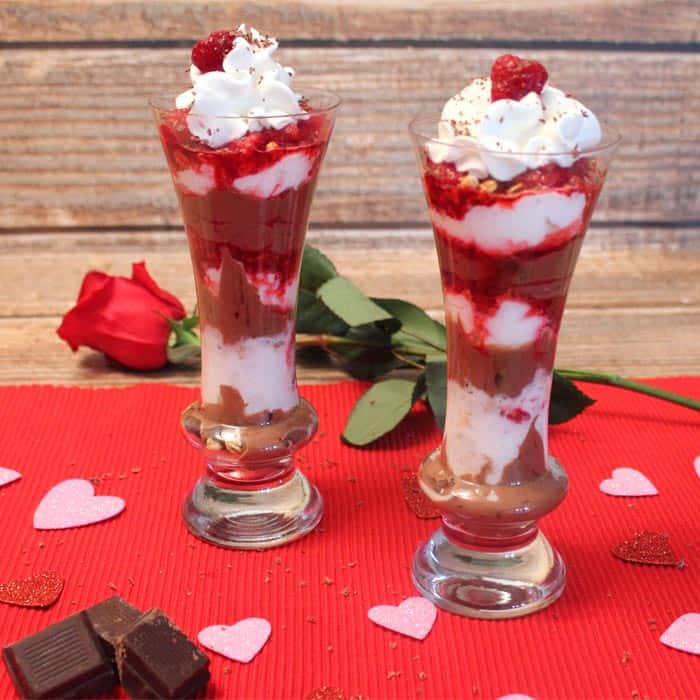 The dishes I used were a bit big for this mini indulgence but my shot glasses were way too small so I opted to make it look pretty and used the larger dish.
If you have something somewhere in between the two sizes you will hit the 250-300 calorie mark with no problem. The quantities listed below should make 4 servings totaling about 225 calories each.
Indulge Your Valentine with These Sweet Treats
Strawberry Mug Cake with ganache for a rich and chocolatey dessert for two.
Angel Food Cake Parfait with strawberries, blueberries, whipped cream, and a splash of Grand Marnier.
Chocolate Kahlua Cheesecake for a decadent dessert with an extra flavor touch.
Dessert Sushi has fresh raspberries and cheesecake filling rolled in dark chocolate cake.
Take a look at more of my easy homemade dessert recipes for any special occasion.
Love quick & easy recipes? Follow me on Instagram, Facebook, Pinterest & Twitter for all the latest recipe inspiration! Plus join my email list here and receive a free e-book.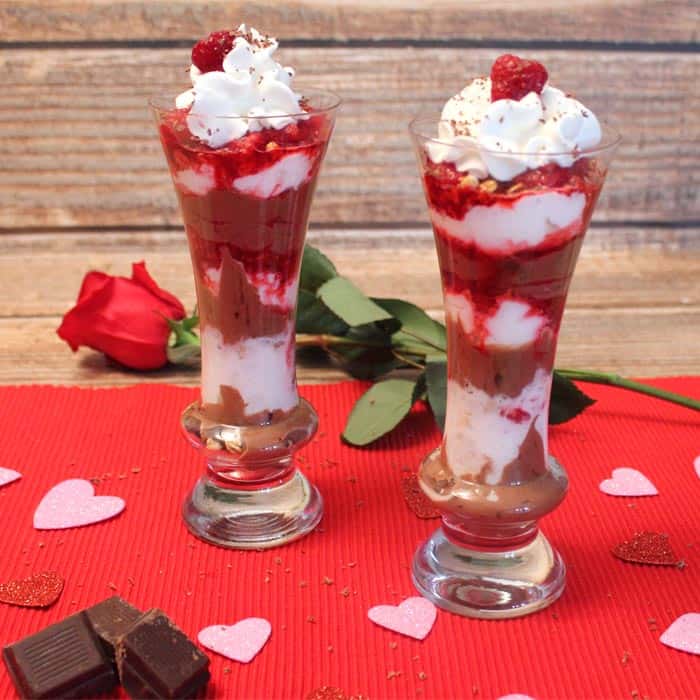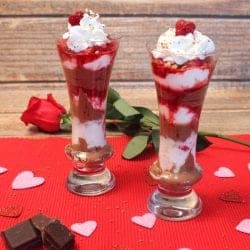 EASY VALENTINE TRIFLE
Deliciously decadent with dark chocolate & raspberries, this Valentine trifle is the perfect indulgence for a healthy Valentine's Day dessert.
Print
Rate
Ingredients
5-½

oz.

Vanilla Greek Yogurt

(I used Chobani Simply 100)

2-½ - 3

oz.

dark chocolate

(at least 72% cacao)

5-6

oz

raspberries, mashed

(you can use fresh or frozen that has been thawed)

1-½

teaspoons

Grand Marnier

(optional)

½

cup

Vanilla Almond Granola

Whipped cream

(about ½ cup)
Instructions
Place yogurt in a small bowl. Place broken up chocolate in a microwave safe measuring cup and heat in microwave in 30-second increments until it is melted, about 1 to 1-½ minutes.

Add to yogurt and stir well.

Mash raspberries in small bowl and add Grand Marnier if using.

Now we are ready to assemble. Place enough granola in dish to cover bottom.

Spoon or use sandwich bag as noted below to add a layer of chocolate yogurt.

Next add a layer of whipped cream followed by raspberries.

Continue with 2 more layers of all ingredients and end with a topping of whipped cream.

Place a whole raspberry on top and a little shaved chocolate if desired.
Notes
One little trick for putting this trifle together so as not to get too much of the ingredients on the sides of the glass is to use a sandwich bag and snip a hole in one side and squeeze the chocolate yogurt into the middle of the glass.
This post has been updated and was first published on January 18, 2016.