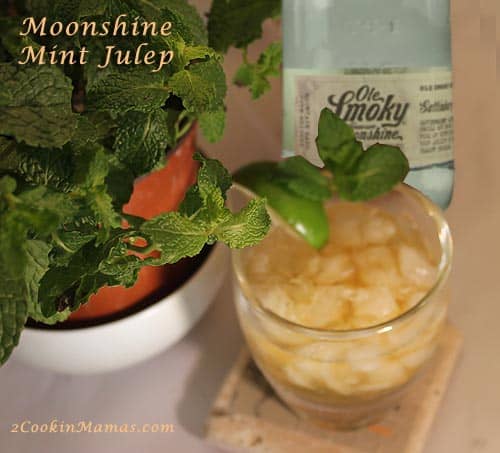 Well today is National Mint Julep Day! To tell you the truth I have never had a mint julep so I set about seeing what all the fuss was about. The word "julep" is defined as a sweet drink that was once used to deliver medicine, I guess to make it go down a lot easier, either that, or you wouldn't care after having one.
The drinks today are all made with bourbon, although it did start out as a gin drink. It is in the class of drinks called smashes to which my favorite mojito is one. So I muddled my mint and added my bourbon whiskey and whoa nelly – that is some powerful drink! Well, I had to go one better after trying that one and use the new popular base for drinks – moonshine! Well, I can tell you, if I thought the bourbon based drink had a kick, this one will send you to the moon!
Enjoy!
Moonshine Mint Julep
Ingredients:
4-6 mint leaves
1 teaspoon powdered sugar
2 teaspoons water
1 small squirt of fresh lime
2-oz moonshine or bourbon whiskey
Directions:
In a high ball glass, muddle the mint leaves with the sugar and water until you can really smell the mint. Squeeze in a bit of lime juice. Add chopped ice and then the moonshine and stir until glass becomes frosty. I actually like to put crushed ice in the glass first and get it very cold then proceed to muddle the mint.
Garnish with a mint leaf and a slice of lime.
Cheers!