Don't throw away those pumpkin seeds! This easy Air Fryer Pumpkin Seeds recipe makes a healthy, crispy, crunchy treat in 30 minutes. And there are so many flavor options you'll never get tired of them. Roasted pumpkin seeds are a deliciously addictive snack that is sure to become your new fall tradition.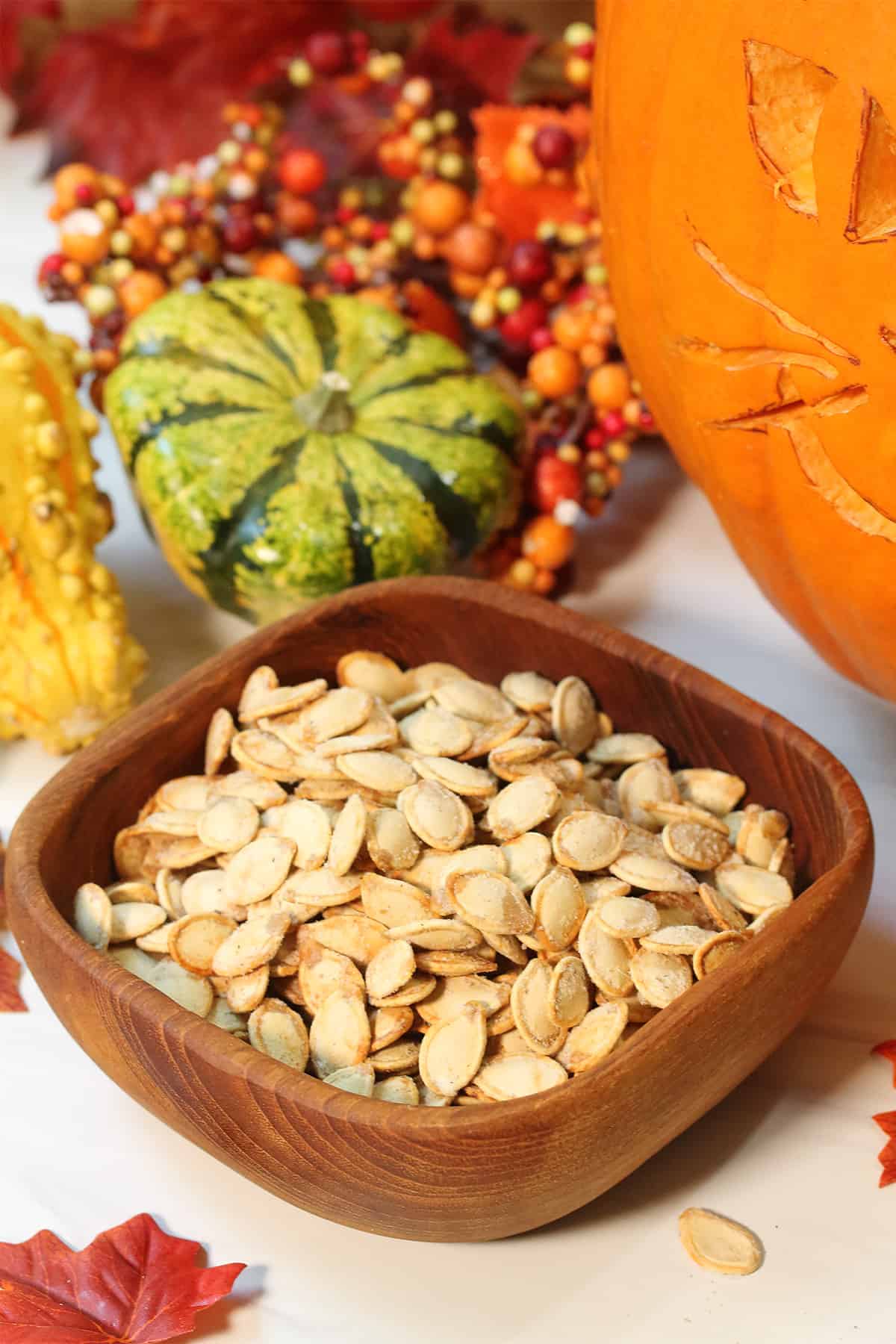 I love all the pumpkin flavors around Fall and Halloween and I have a never-ending stream of recipes like No-Bake Pumpkin Cheesecake and Chocolate Pumpkin Swiss Roll that I always insist on making when the cool weather rolls around.
Now why I never thought about roasting my leftover pumpkin seeds after carving the traditional pumpkin is beyond me. While most people roast them in the oven, I love to do it in my trusty air fryer. It takes just 20 minutes and clean-up is a breeze! After snacking away on these Roasted Pumpkin Seeds you can bet I'll never pass up making this healthy, quick and easy snack every October.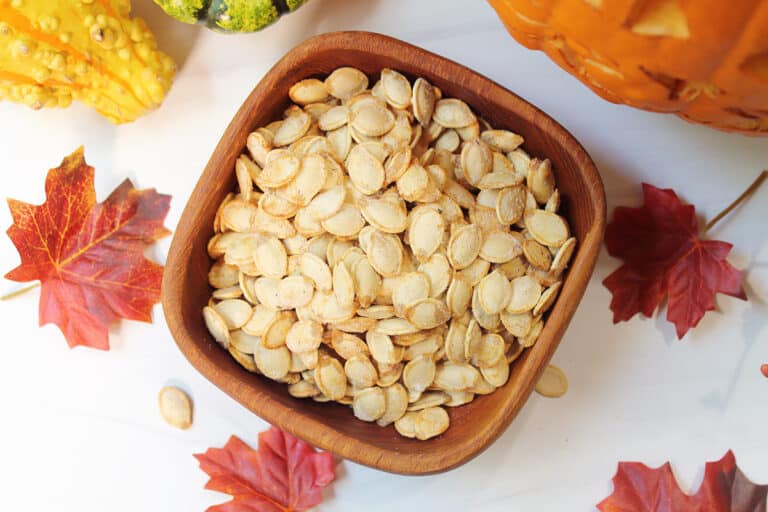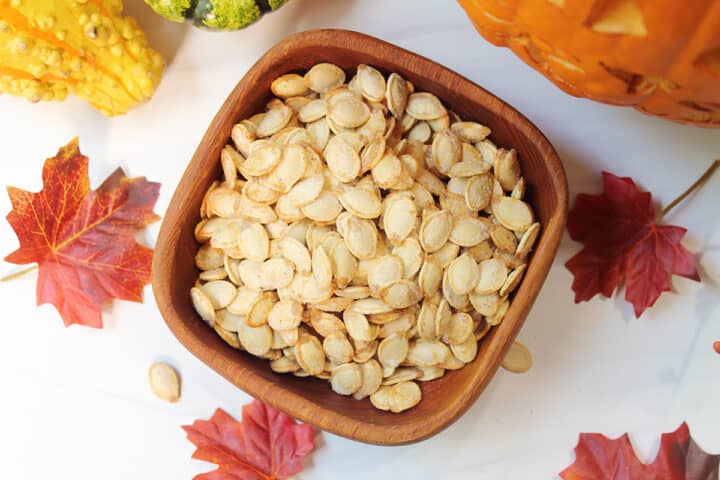 Not only can you use this method for air frying pumpkin seeds but for other squash seeds as well. Try it with butternut, spaghetti, acorn, and delicata squashes. You'll be munching away on crunchy treats right through the holidays.
Plus these air fryer pumpkin seeds are not only for snacking by the handful, although they are pretty addictive that way, you can also toss them on salads, sprinkle on soups, or blend into your oatmeal or smoothie. And they're naturally gluten-free, paleo and vegan.
Why You'll Love Them
They're a tasty snack
They take less than 30 minutes to make
You can flavor them any way you like from savory to sweet
They're good for you
You only need 3 ingredients
Most Asked Questions
Do I have to take the shell off to eat?
No, it is a matter of preference. You can eat them shell and all after air frying or crack it open and enjoy the kernel or pepita inside.
Are pumpkin seeds healthy?
Yes, they're considered by some to be a superfood. The entire pumpkin seed is rich in vitamins and minerals providing fiber, zinc, potassium, magnesium, iron, phosphorous, and important antioxidants. Plus they're a natural source of tryptophan that can help improve sleep.
Do I need to soak pumpkin seeds prior to cooking?
People have varying opinions on this but soaking for 8 hours to overnight or using the quicker boiling method makes them easier to digest.
What can I do with air-fried pumpkin seeds?
Just eat them! But really, they are great tossed on salads or soups, blended into a smoothie, mixed into oatmeal, or as part of a granola mix. If sweetening with brown sugar and cinnamon or pumpkin pie spice feel free to sprinkle on top of ice cream.
How do I store roasted pumpkin seeds?
Once cool, place them in an airtight container. They will keep up to 3 months in your pantry.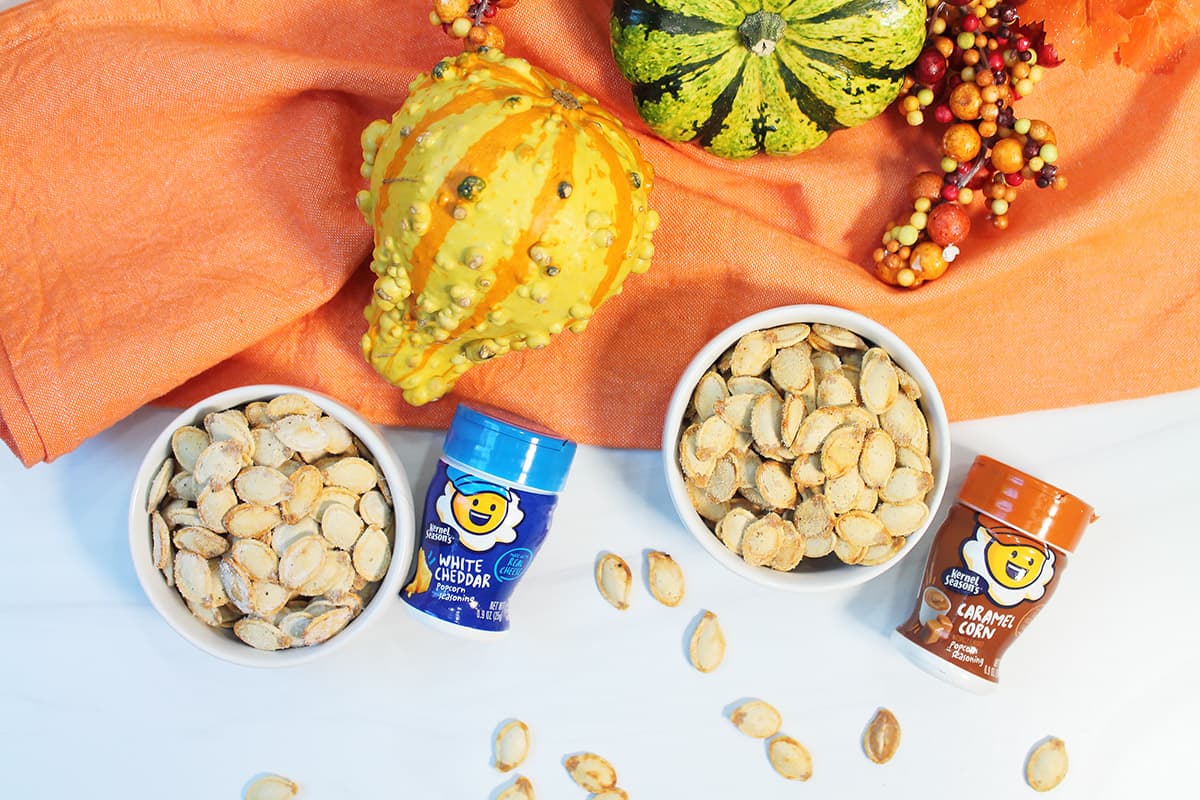 Flavor Variations
Oil - you can change out the olive oil for butter, avocado oil, coconut oil, vegetable oil, or any nut oil
Black Pepper - adds a savory note
Spicy - add a pinch of cayenne or chili powder to the salt and either keep or omit the garlic powder
Spices - once cooked you can add any variety of spices such as pumpkin pie spice, taco seasoning, or Italian seasoning
Cheesy - combine 3 tablespoons Parmesan cheese (nutritional yeast for vegan) with 1-½ teaspoons Italian seasoning and keep the garlic powder in the original mix
Popcorn seasonings are my favorite to sprinkle on after the seeds are air-fried. Try toppings like Ranch, Caramel Corn, White Cheddar, Nacho Cheddar, and Cheesy Jalapeno
Tips for Making Crispy Pumpkin Seeds
Make sure to clean all the pulp off the seeds to prevent burning. This will also aid in crisping them up.
Pat them dry to get off most of the moisture to add in crispiness.
Remember to toss them every 5 minutes while air frying so they cook evenly.
Let them cool all the way prior to eating for maximum crunch.
How to Air Fryer Pumpkin Seeds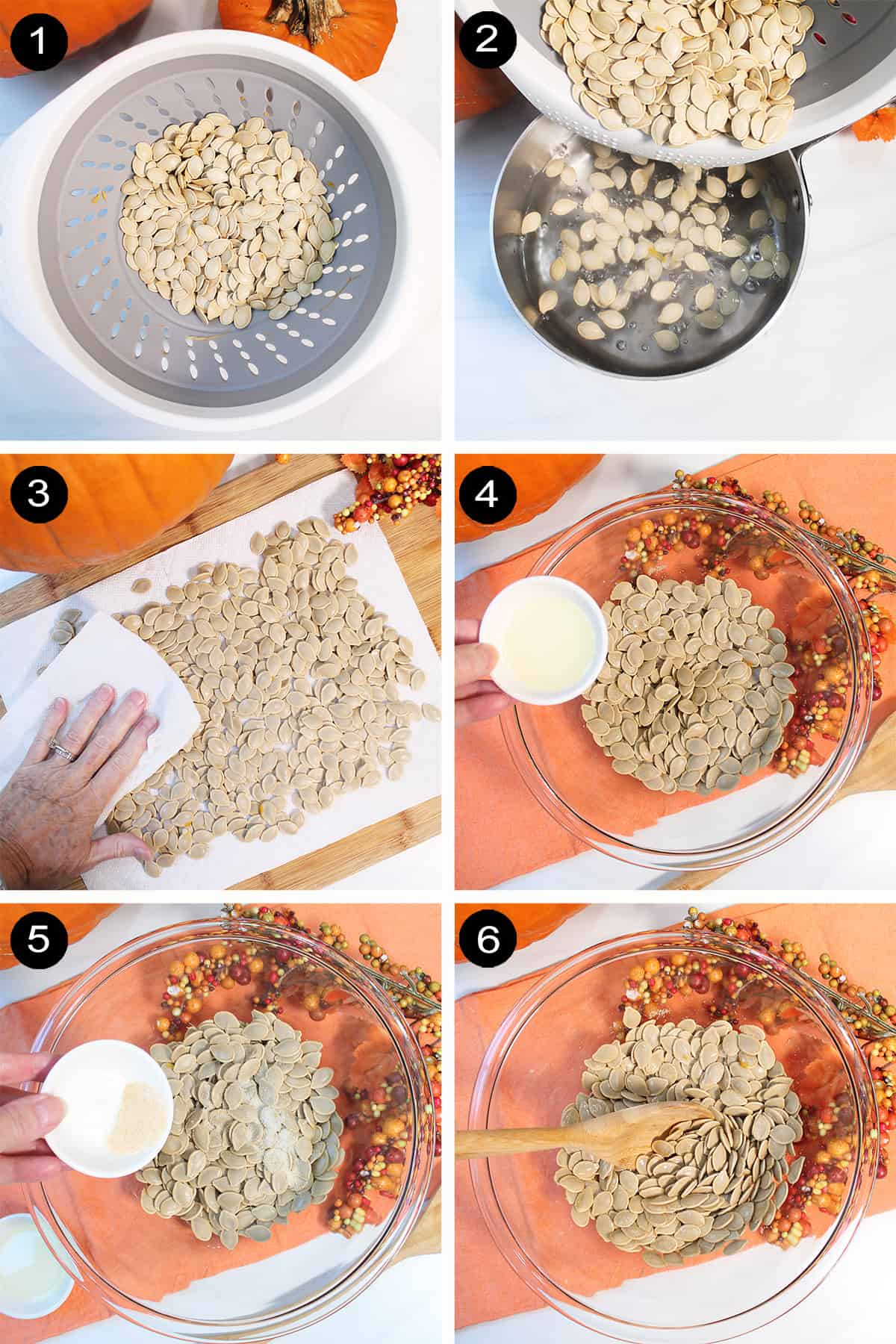 After cleaning much of the pumpkin fibers off the seeds, rinse them in a colander.
Bring water to boil in a medium saucepan. Add some salt then pour in pumpkin seeds. Cook for 5 minutes.
Drain in colander then place on paper towels. Pat dry with additional paper towels.
Place dried pumpkin seeds in a large bowl and drizzle with oil.
Season with salt, salt and pepper or salt and garlic powder. Use just salt if you are going to season air fried seeds afterwards.
Stir well.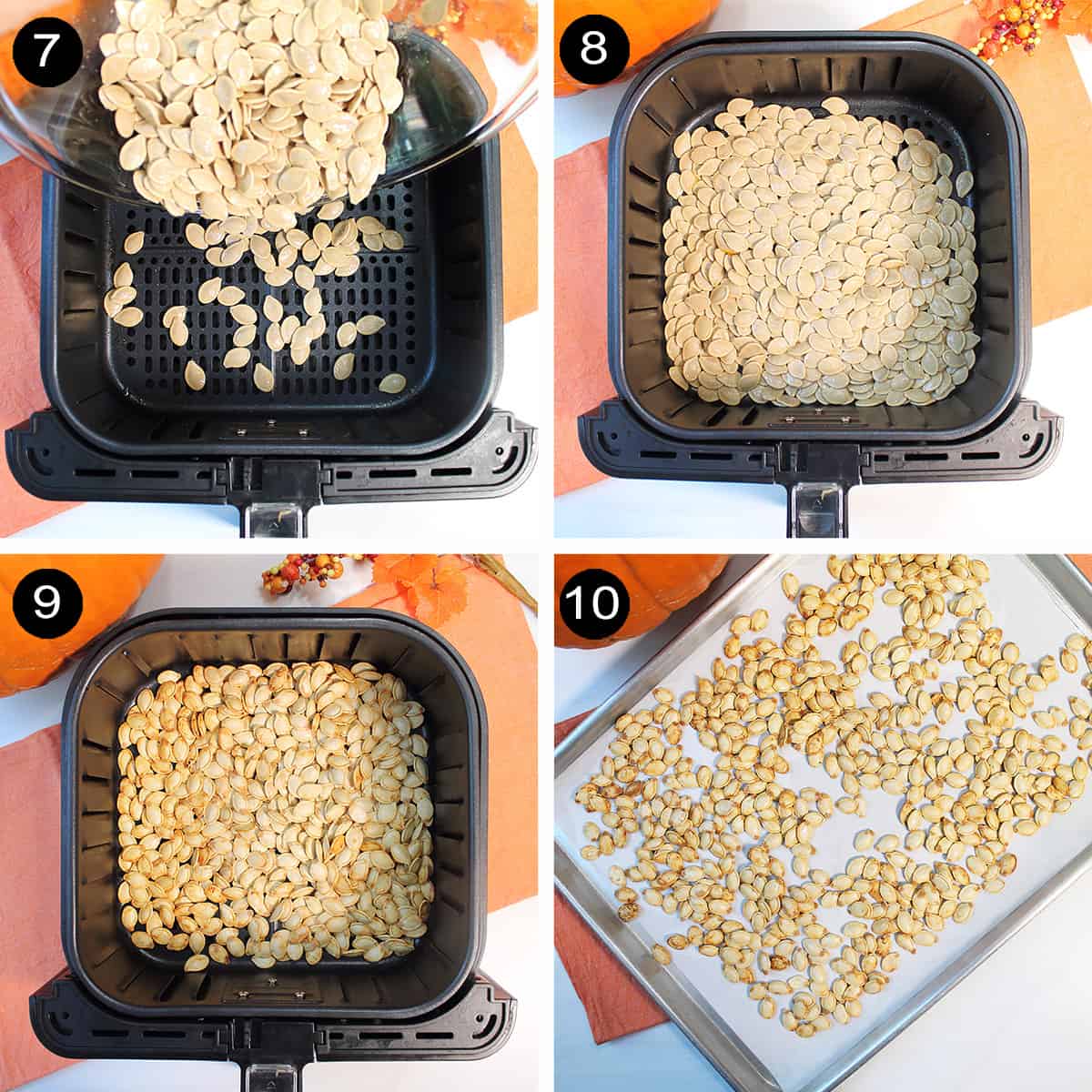 Pour seeds into preheated air fryer.
Shake them into an even layer. Don't worry if they overlap as you will be shaking them every 5 minutes to round out the roasting.
When cooking is completed, your air-fryer pumpkin seeds will have a nice brownish-orange hue.
Plae on a parchment-lined cookie sheet and allow the pumpkin seeds to cool completely. If you are seasoning them, you can season while warm then let them cool completely.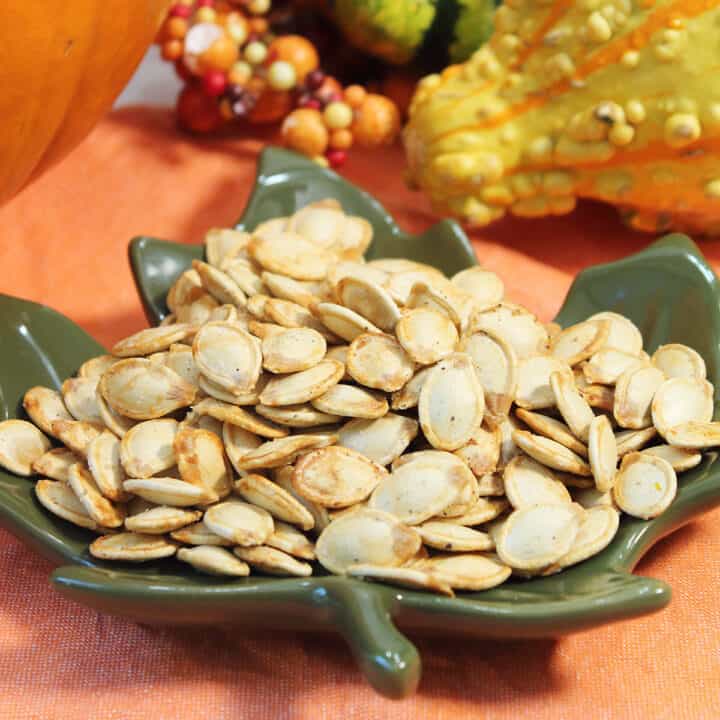 This year, after carving your Halloween pumpkin, whip up these nutritious roasted pumpkin seeds and snack away all day long. They're healthy, delicious, and the perfect way to celebrate the fall season. Enjoy!
More Pumpkin Treats
Pumpkin Caramel Popcorn - is a sweet crunchy snack that brings the taste of fall to caramel popcorn with pumpkin puree, warm autumnal spices, and maple syrup.
Baked Pumpkin Donuts with Crumb Topping - can be in your mouth in 25 minutes. Sweet pumpkin flavored donuts covered with cinnamon crumbs. It doesn't get better than that!
Edible Pumpkin Cookie Dough from BellyFull - a delicious edible chocolate chip cookie dough seasoned with spiced pumpkin for the perfect fall treat.
Pumpkin Butter - is a fall staple. Just 30 minutes and pumpkin puree turns into a tasty spread perfect for toast, muffins, oatmeal, and yogurt.
LOVE QUICK & EASY RECIPES? FOLLOW ME ON INSTAGRAM, FACEBOOK, & PINTEREST FOR ALL THE LATEST RECIPE INSPIRATION! PLUS JOIN MY EMAIL LIST AND RECEIVE A FREE E-BOOK.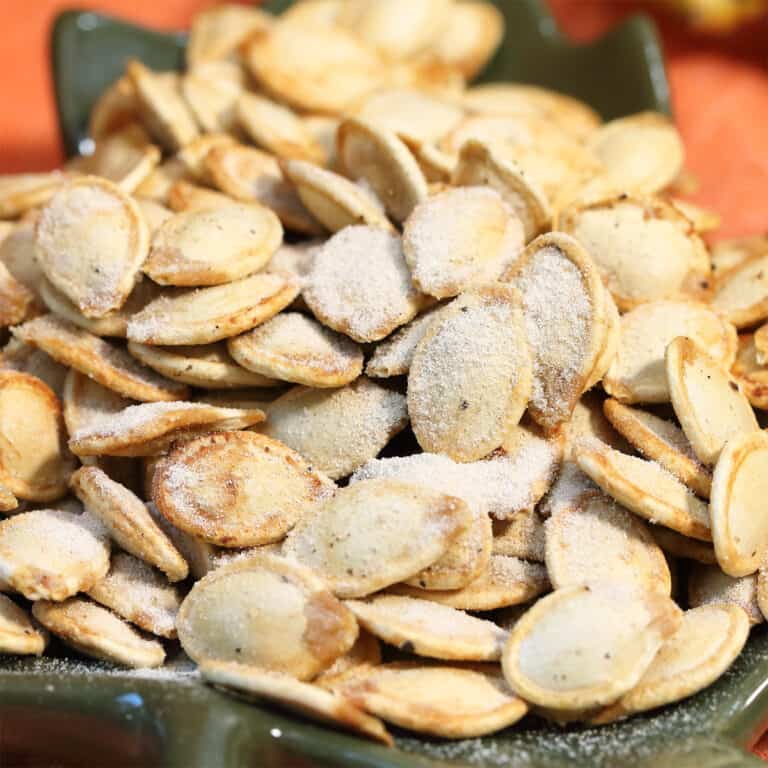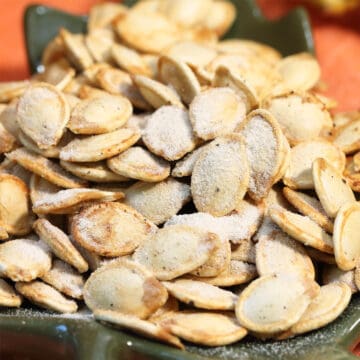 Air Fryer Pumpkin Seeds
These Air Fryer Pumpkin Seeds make a healthy, crispy, crunchy treat in 30 minutes. They're totally addictive and sure to become your favorite fall treat.
Print
Rate
Ingredients
1 ½

cup

raw pumpkin seeds with shell

about 1 medium pumpkin's worth

1

Tablespoon

olive oil

avocado oil or butter

¾

teaspoon

salt

⅜

teaspoon

garlic powder

optional if flavoring with popcorn seasoning at end

1

Tablespoon

salt

for boiling water
Instructions
Cut off top of pumpkin and scrape all stringy fiber and pumpkin seeds from inside.

Separate seeds from pith and place in colander. Rinse thoroughly picking any extra pumpkin mixture off seeds.

Bring 2 cups of water to a boil in a medium saucepan. Salt the water.

Pour in the pumpkin seeds and cook for 5 minutes.

Drain in colander then place on paper towels and blot them dry.

Place in a medium bowl and pour in oil or butter the sprinkle seasoning over them.

Toss to coat.

Preheat air fryer to 360 degrees for 4 minutes.

Place the seeds into the basket of the air fryer and roast for 15 minutes, shaking every 5 minutes to make sure the pumpkin seeds cook evenly.

Remove basket and pour pumpkin seeds onto a cookie sheet that has been lined with parchment paper.

Let cool. If seasoning with popcorn seasoning, sprinkle on while still warm then cool on cookie sheet.

Store in airtight containers.
Notes
No Air Fryer? Here's how to oven roast them.
Remove the seeds from the pumpkin. Rinse with water.
Boil the seeds in salted water for 5-10 minutes. 
Preheat oven to 325°. 
Drain seeds and pat dry with a paper towel.
Toss seeds with 1 tablespoon of olive oil then spread seeds onto a baking pan in a single layer.  Season with sea salt.
Roast 20 minutes, stirring halfway through then remove from oven and top with more sea salt and your favorite seasonings.
Nutrition
Calories:
111
kcal
|
Carbohydrates:
2
g
|
Protein:
5
g
|
Fat:
10
g
|
Saturated Fat:
2
g
|
Polyunsaturated Fat:
4
g
|
Monounsaturated Fat:
4
g
|
Trans Fat:
1
g
|
Sodium:
1455
mg
|
Potassium:
132
mg
|
Fiber:
1
g
|
Sugar:
1
g
|
Vitamin A:
3
IU
|
Vitamin C:
1
mg
|
Calcium:
8
mg
|
Iron:
1
mg