Almond lovers will love these simple almond bar cookies. An almond shortbread cookie is topped with slivered almonds and baked for a buttery cookie with a crunch.

I don't know about you but I love almonds and they are so good for you too! They have been shown to lower cholesterol, reduce the risk of heart disease and colon cancer and help in building strong bones and teeth.
Now I am not saying these cookies are super good for you but at least I can justify eating a few, well maybe more than a few, during the holidays. They are rich and moist and oh so delicious and full of that lovely almond paste that we are familiar with from bakery pastries.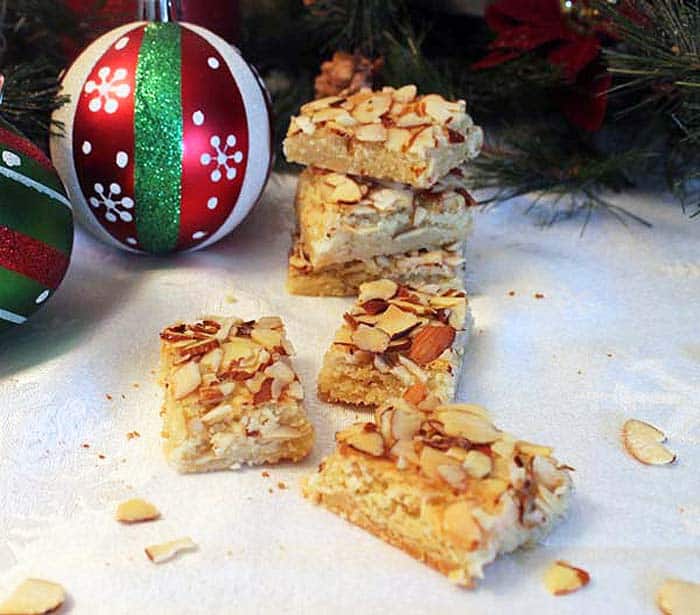 My Mom used to make these every time she had a holiday party and my sister and I always tried to sneak one before she put them on the table. But you know Moms, they have eyes in the back of their head, and she always knew but turned the other way with a smile on her face as we ran out with our treasure.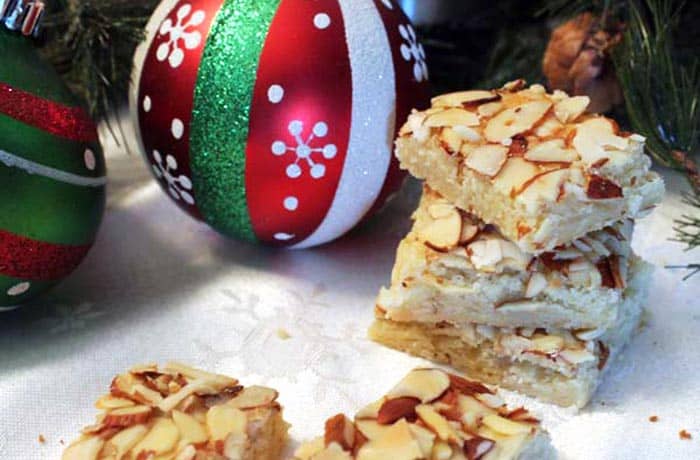 I think she liked them, not only because they were so good, but were super simple to make and they always came out looking so pretty with all those roasted almonds on top. Believe me, if you add these almond bar cookies to your cookie plate they will be gone in no time with lots of oohhs and aahhs to go along with them.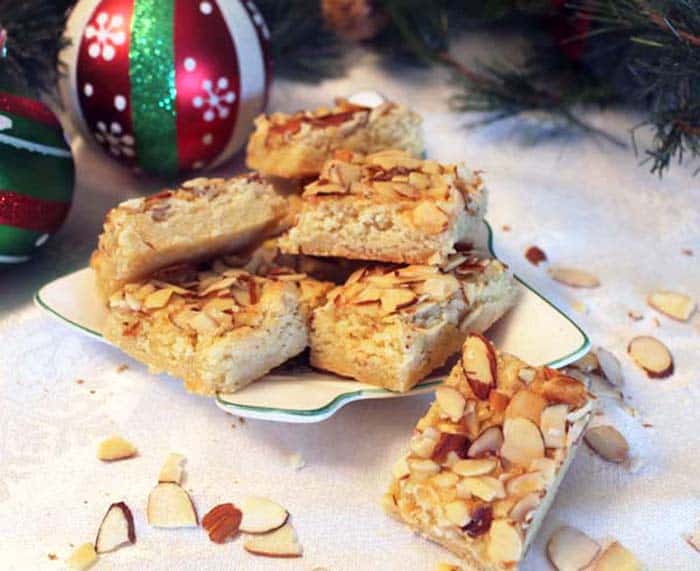 Next time I want to try this recipe with gluten-free flour for the other Cookin' Mama and see how it comes out. Anyone out there tried something similar?
Enjoy!
Try my Almond Chocolate Bars with coconut that tastes like an Almond Joy candy bar.
Find even more Christmas cookie recipes here on 2CM!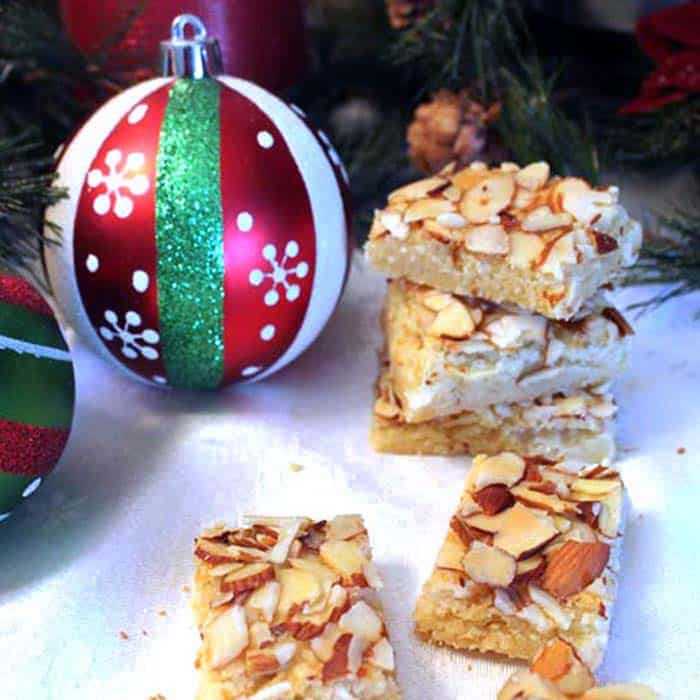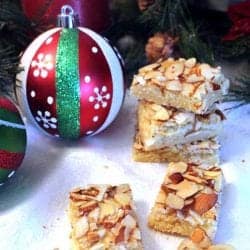 ALMOND BAR COOKIES
Almond lovers will love these simple bar cookies. An almond shortbread cookie is topped with slivered almonds and baked for a buttery cookie with a crunch.
Print
Rate
Ingredients
1

cup

butter,

room temperature

¾

cup

sugar

1

egg,

separated

½

cup

almond paste

1

teaspoon

almond extract

2

cups

all-purpose flour

1

cup

sliced almonds
Instructions
Preheat oven to 350 degrees. Line a 13x9x2" baking dish with parchment paper so that it runs up and over the long sides. This will enable you to pick up the cookies once they are cooked and place on a cutting board to cut cleanly.

Cream butter and sugar in a large bowl until light and fluffy.

Separate the egg and add the egg yolk and almond paste to the creamed mixture continuing to beat until well blended. Beat in flour.

Spread mixture evenly into prepared baking pan. Whisk egg white until foamy and brush over entire surface of dough.

Sprinkle sliced almonds on top of egg whites.

Bake for 35 minutes or until lightly browned.

Cool on wire rack. Lift out of pan and cut into 2" squares or 2×3" rectangles.

Store in airtight container.
This post has been updated and was first published on December 18, 2014.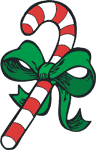 Check out our other top cookie recipes for an extra sweet holiday!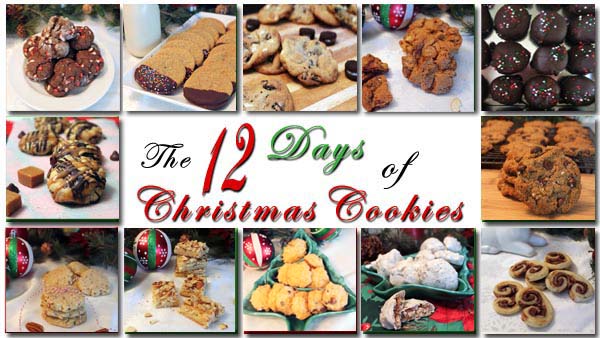 On the 12th day of Christmas this Cookin" Mama sent to you... 12 Palmiers Nutella, 11 Forget About Them Cookies, 10 Orange Macaroons, 9 Almond Bar Cookies, 8 Pecan Sandies, 7 NuttZo Cookies, 6 Turtle Cheesecake Cookies, 5 Key Lime Truffles, 4 Special K Cookies, 3 Chewy Cookies and Cream Cookies, 2 Creme Brulee Cookies and a Chocolate Peppermint Drop ...fa, la, la, la, la
DON'T MISS A RECIPE!