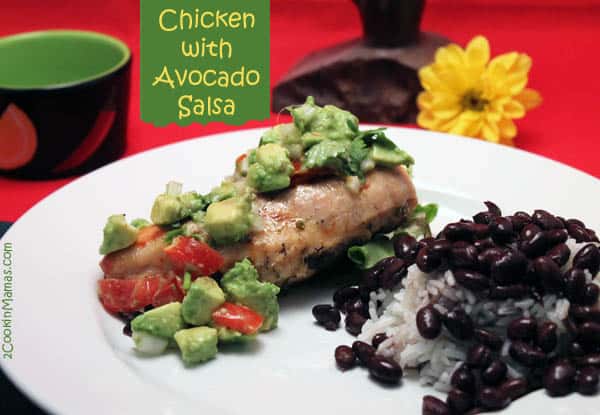 Fall is the perfect time to grill out. There is nothing better than cozying up to the warm fire and enjoying the last of the lingering cool evenings. But honestly, I have to admit, when we lived up north we even grilled out when there was snow on the ground. It is just so darn good and much healthier than some other ways to cook.
This particular dish is so easy, it is perfect for whipping up something after work without a lot of fuss. You can even set the chicken in the marinade in the morning before work and cut the time down even more.
I served it with a side of black beans and rice but grilled corn or zucchini tots would work well too.
Chicken with Avocado Salsa
Ingredients:
2 Tablespoons fresh cilantro, chopped
2 1/2 Tablespoons lime juice
2 Tablespoons olive oil (I use light extra virgin)
2 large or 4 small skinless, boneless chicken breast halves
Pam or other non-stick cooking spray
2 plum tomatoes, chopped
2 Tablespoons onion, chopped
2 Tablespoons fresh cilantro, chopped
1 Tablespoon lime juice
1/4 teaspoon salt
1/4 teaspoon freshly ground black pepper
1 avocado, cut into small cubes
Directions:
Mix first 3 ingredients together and place into large ziploc bag with chicken. Allow chicken to marinate in refrigerator for 30 minutes, turning once after 15 minutes. Remove chicken from bag and discard marinade.
Preheat grill.
Spray grill with Pam and place chicken on grill. Cook for 8-10 minutes a side or until chicken is cooked through.
While chicken is cooking prepare salsa. Mix chopped tomato, onion and cilantro with lime juice and season with salt and pepper. Cut avocado in half and remove seed. Cup the avocado half in your hand and, with a sharp knife, score the avocado lengthwise and across width without breaking through the skin of the avocado. Turn upside down over bowl and squeeze the cubes of avocado into the bowl. Wasn't that easy?!  Stir mixture together carefully so as not to mash the avocado.
To serve: Remove chicken from grill, place on top of some fresh greens and top with a little avocado salsa. Serve the remaining salsa on the side.
Serves 4.
Wine Pairing: Avocados are one of the hardest fruits to pair with a wine due to its high fat content and sweetness. The best wines to pair with it are those that have the acidity to cut through the oils of the avocado such as a zesty Slingshot Sauvignon Blanc or a complex, but not overly sweet, Washington State Riesling. Sparkling wines will work as well such as a Prosecco or Pinot Grigio. All are the perfect accompaniment to the combination of avocado and grilled chicken.
If red wines are really what you prefer, they are a little harder to match up. Choose one that is lighter and fruitier to combat the high fat content of the avocado such as a Beaujolais or Pinot Noir and still manage to compliment the grilled chicken.

Avocados are nutrient dense fruits with high levels of vitamins, minerals and monunsaturated fats as well as being low in calories. These nutrients help promote heart health and cut down on your body's inflammation. Combining the avocado with tomatoes, which have a high anti-oxidant concentration, increases the body's absorption of  important phyto-chemicals by 2 to 15X, aiding in the fight against certain types of cancer and heart disease.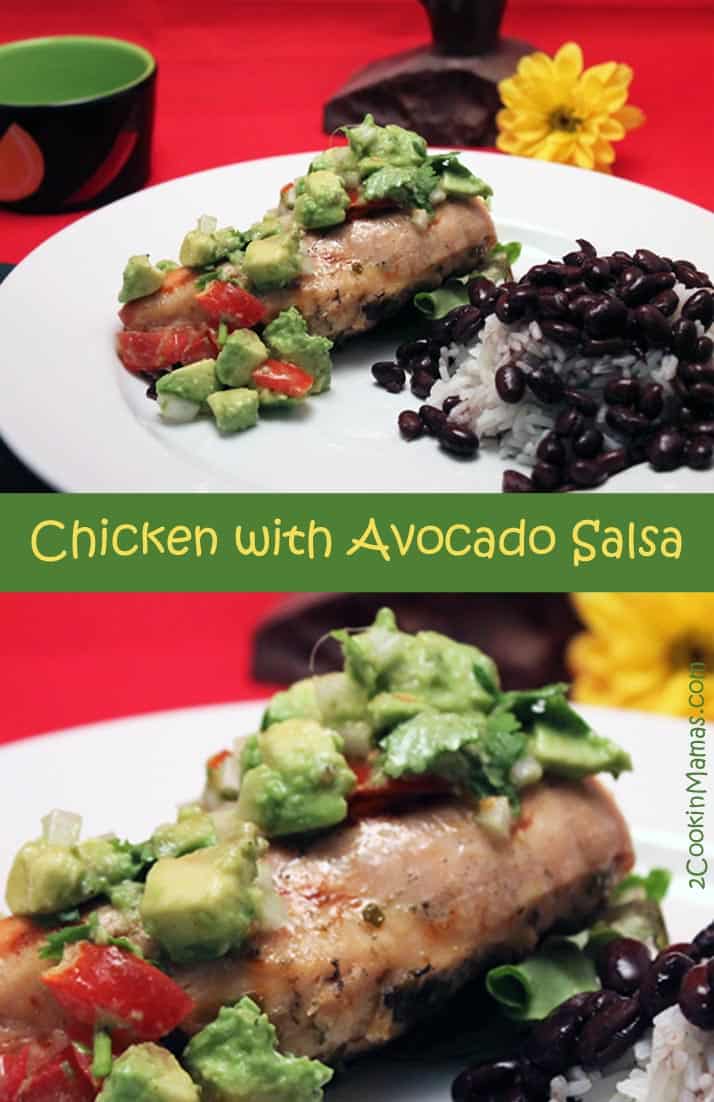 DON'T MISS A RECIPE!