A simple grilled salmon fillet spiced up with a sweet & tangy sauce. Serve it over brown rice with a side of broccoli for the perfect healthy dinner.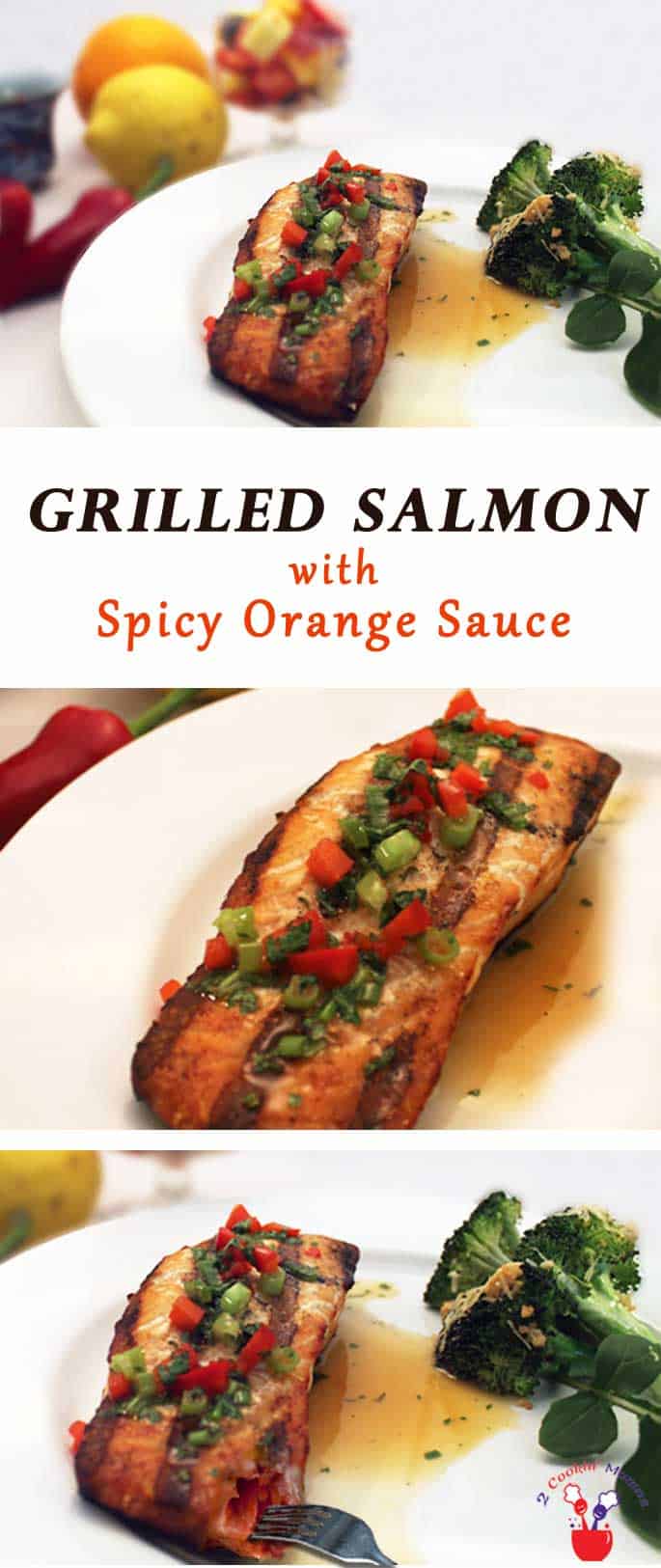 When I was younger my family didn't have fish very often due to my Mom's allergies so I didn't really develop a love for it until after I was married. Once my husband turned me on to all kinds of fish I was hooked.
And reading about all the health benefits sold me on the fact that it was important to include in our diet at least twice a week. Salmon is one of our all time favorites and we are always trying to find new ways to jazz it up, although just grilled as is suits us just fine too.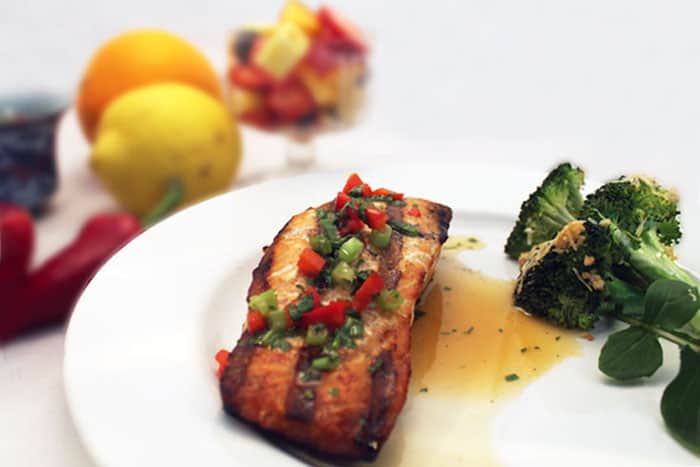 Just look at the many health benefits that including salmon in your diet has to offer you! Full of omega-3 fatty acids that are critical to cardiovascular health, reducing high blood pressure and increasing brain function. It also contains proteins called bioactive peptides which improve bone density and strength and the high amount of Vitamin D helps to reduce the risk of cancer, arthritis and diabetes. Check out our nutrition board on salmon here.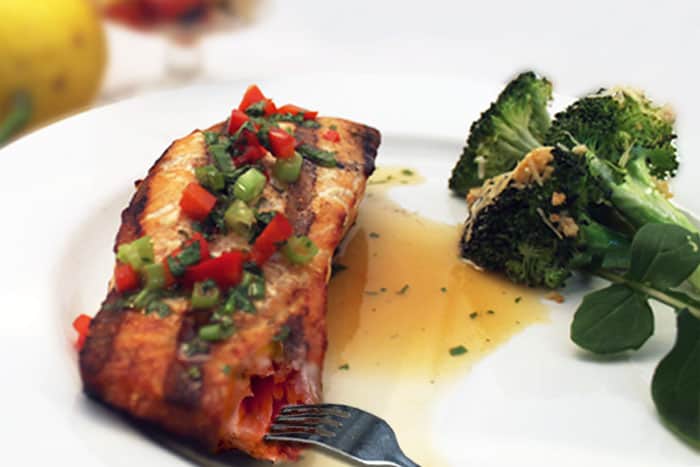 We try to fix meals in the healthiest way possible, grilling and baking most of the time and frying only occasionally. This salmon dish was adapted from a recipe found on The Café Sucré Farine where they pan fried the fish. We chose to grill our fish and altered the sauce just slightly. And now the sauce has become such a favorite that we use it on just about anything and everything.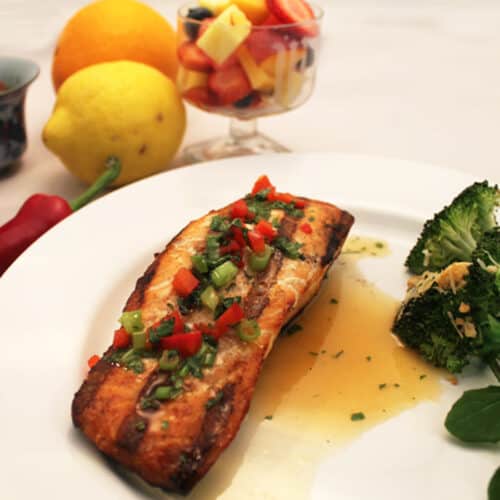 GRILLED SALMON with SPICY ORANGE SAUCE
A simple grilled salmon fillet spiced up with a sweet & tangy sauce. Serve it over brown rice with a side of broccoli for the perfect healthy dinner.
Ingredients
2

salmon fillets

1/2

cup

orange juice

1/2

cup

sake

2

teaspoons

Tamari soy sauce

1

teaspoon

minced garlic

1/4

cup

orange marmalade

1/8

teaspoon

cayenne pepper

1

teaspoon

red chili sauce

1

teaspoon

lemon zest

2

Tablespoons

rice vinegar

1/2

cup

unsweetened shredded coconut

(optional)

2

Tablespoons

red bell pepper,

diced

2

Tablespoons

cilantro,

chopped fine

2

Tablespoons

green onion,

thinly sliced
Directions
In a small saucepan over medium high heat, bring the orange juice, sake, soy sauce, garlic, orange marmalade, cayenne, chili sauce, lemon zest, rice vinegar and coconut to a boil. Reduce heat and simmer for 10 minutes or until the sauce has been reduced by about 1/3.

Strain mixture, rinse pan and return sauce to pan. Cover and keep warm while grilling salmon.

Preheat grill. Place salmon directly on grill and cook for 7-8 minutes per side, turning halfway through.

During last 2 minutes of cooking fish, turn up heat on saucepan and add red pepper, cilantro and green onion and warm until heated through.

Plate fish and drizzle sauce over fish. Serve immediately.
Recipe Notes
This sauce will work with any fish - mahi-mahi, swordfish, grouper, etc
DON'T MISS A RECIPE!
Your support of clicking through to visit our advertisers and/or purchasing items through our affiliate links (at no extra cost to you), located throughout this post, generates the revenue that helps to keep this page going and is very much appreciated.