Warm up with this healthy broccoli cheese soup filled with broccoli, carrots, cashews and low-fat cheddar cheese. Perfect for cold winter days.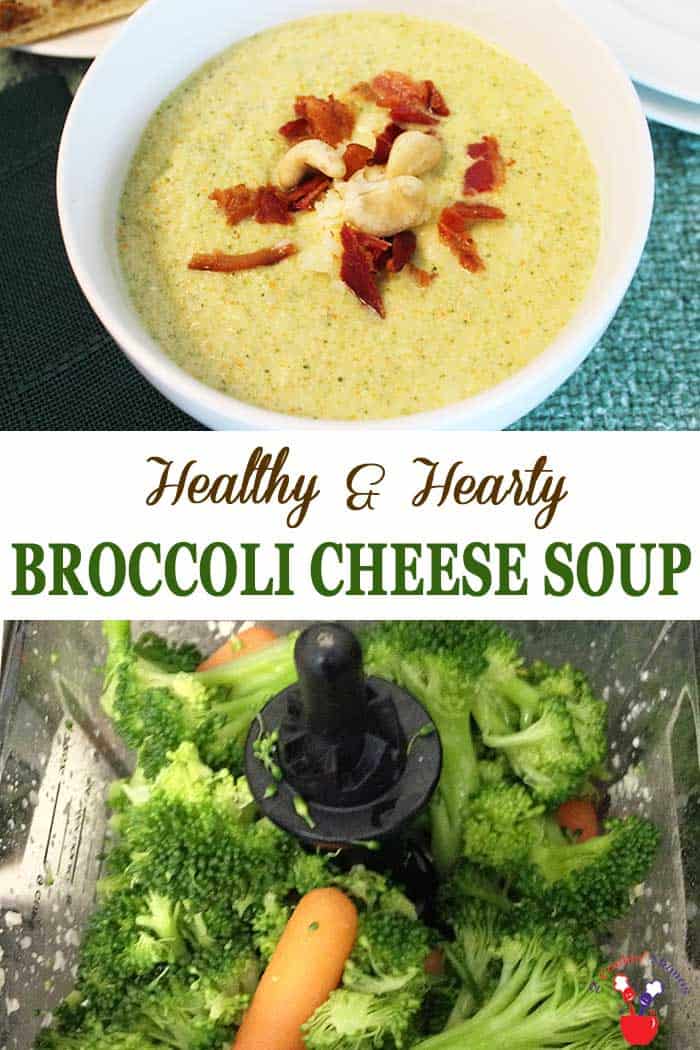 Cold weather is my favorite time to make soups. There just seems to be something comforting about a bowl of nice hot soup. And it brings back such warm memories of going ice skating at the pond down the street and coming home to a hot bowl of my Mom's homemade chicken noodle soup. Ah, I can taste it now!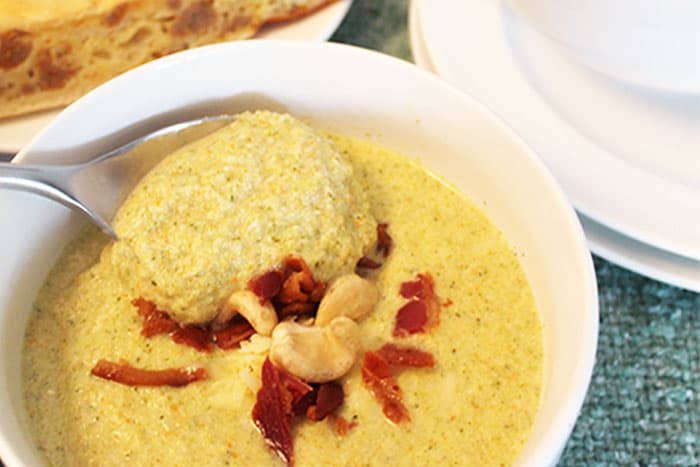 I have logged in quite a few soups of my own while my kids were growing up and, besides the family's favorite turkey soup and baked potato soup, I would have to say this broccoli cheese soup comes in a close third.
So, of course, when I went grocery shopping this past week and saw the enormous heads of broccoli at a fantastic price, this soup just popped right into my head!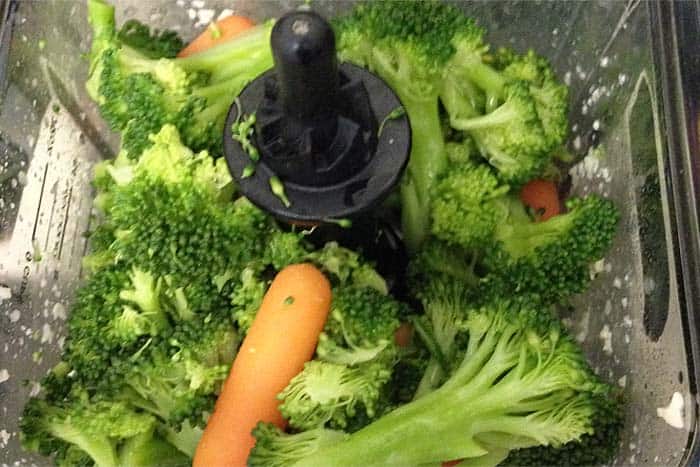 And you have probably noticed that I recently got a Ninja blender, since I have gone crazy trying to use my new blender with any and all recipes, and to my surprise their cookbook had two recipes for creamy vegetable soups. Now if you know me, I love trying new ways to fix favorite recipes and making them healthier has been top of my agenda this year, so these recipes each had something to add to my soup, carrots and cashews.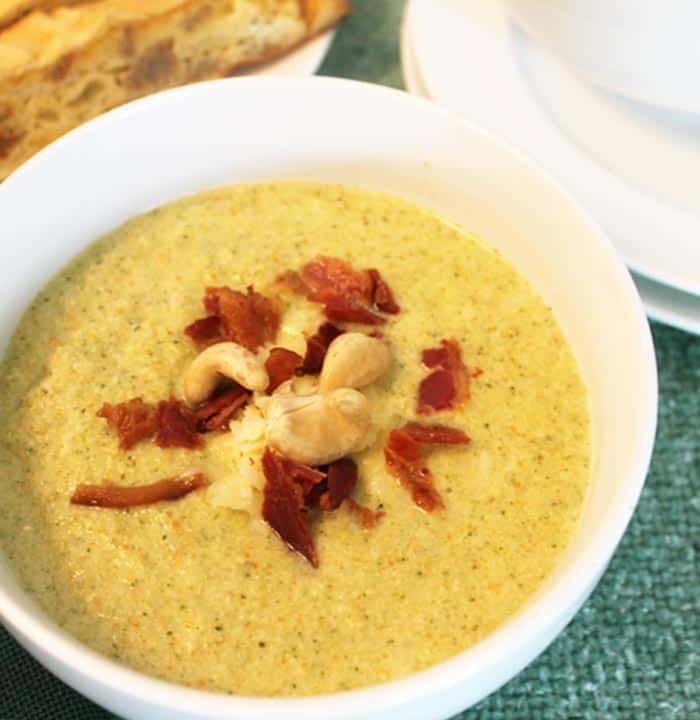 The addition of the cashews allowed me to forgo adding flour to thicken the soup (definitely a savings on calories), and the carrots added more nutrition without really altering the taste. So how did it turn out? It turned out so good that we finished it up in just 2 days. Next time I'll double the recipe and freeze some for later.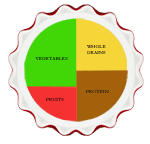 This soup gives you almost 2 serving of vegetables, protein and calcium as well as dietary fiber, antioxidants and good fats from the cashews.
Enjoy!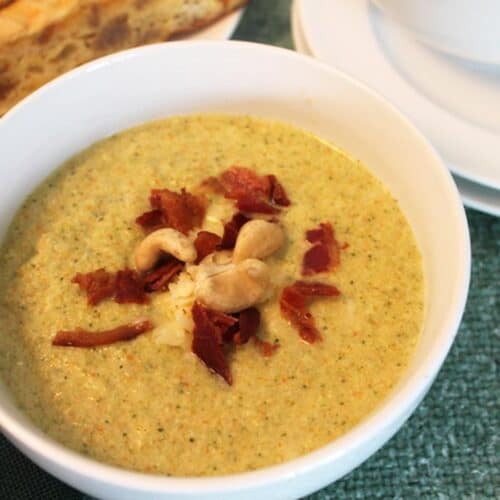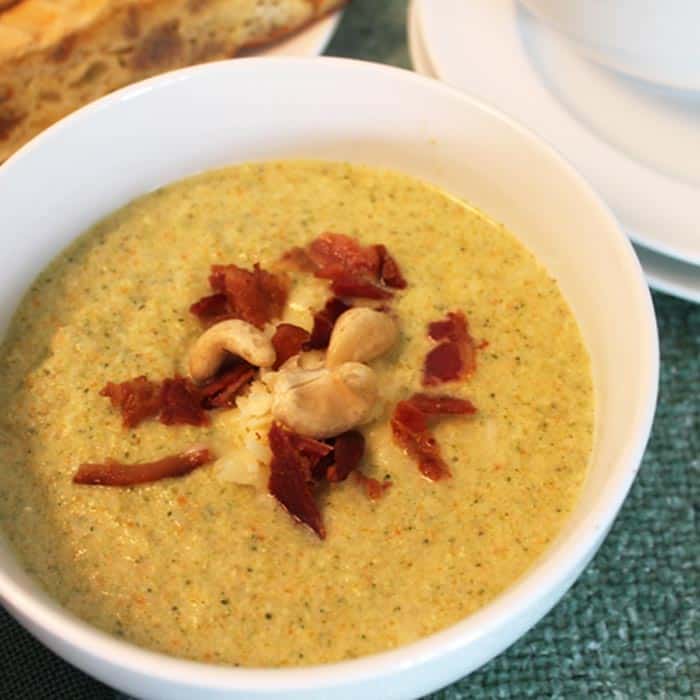 BROCCOLI CHEESE SOUP
Warm up with this healthy soup filled with broccoli, carrots, cashews and low-fat cheddar cheese. Perfect for those cold winter days.
Ingredients
4-6

cups

fresh broccoli

about 1 large head

1

cup

baby carrots

1

tablespoon

butter or olive oil

1/2

onion, roughly chopped

2-3

cloves

garlic, chopped

1

cup

raw cashews, soaked in water for 2 hours then drained

(keep a few to the side for garnish)

2

cups

chicken stock

2

cups

non-fat half-and-half

1/4

teaspoon

nutmeg

salt and pepper to taste

7

oz

grated low-fat sharp cheddar cheese + additional for garnish

Cooked crumbled bacon

optional
Directions
Fill a large saucepan with about 1-2" of water. Bring to boil. Place a steamer basket with broccoli and carrots into pan and cover. Let steam for 5 minutes then remove promptly.

In a medium skillet, saute the onion & garlic in 1 tablespoon butter or olive oil and set aside.

In Ninja pitcher, place soaked cashews and 1 cup broth. Select speed 1 and process til smooth.

Add steamed vegetables and remaining ingredients, except cheese, to the cashew broth. Select speed 3 and blend together, increasing slowly to 5 until smooth. Transfer soup to the large saucepan, add cheese, then heat until cheese is melted and soup is hot and bubbly.

Serve garnished with a sprinkling of cheese, a few cashews and some crumbled bacon.
Recipe Notes
If using other style blenders, just puree at high speed until soup is smooth.
DON'T MISS A RECIPE!