Key Lime Colada cocktail is a Florida Keys take on the Pina Colada. An easy-to-make frozen treat with the tartness of key limes, the sweetness of pineapple and the creaminess of coconut. Pure summer time refreshment!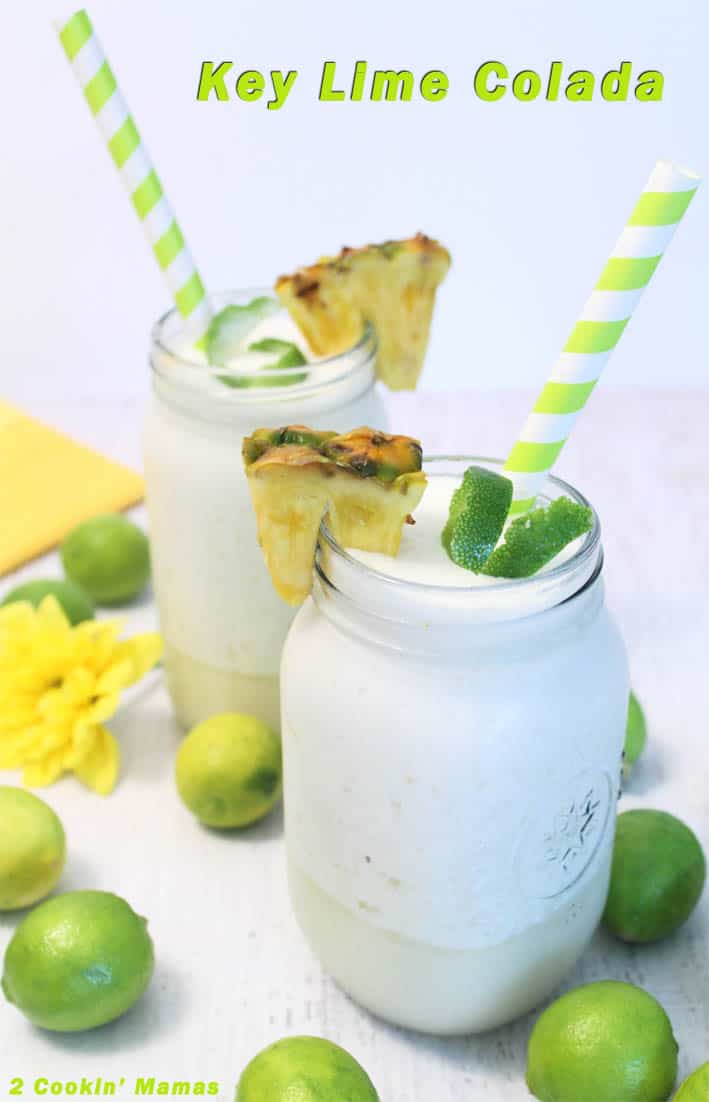 I am so a Florida Keys girl! There is nothing I like better than a vacation in the Keys. And my favorite spot to plant myself for a week (although wishing for 2 or 3) has got to be Key West. Luckily we live just an 1-1/2 hours north of the closest key, Key Largo, and go down there for long weekends whenever possible, the rest of the time we trek all the way down, 90 miles from Cuba, to our laid back paradise of Key West. It's still in the continental US but feels just like the Caribbean. (so wishing I was there!)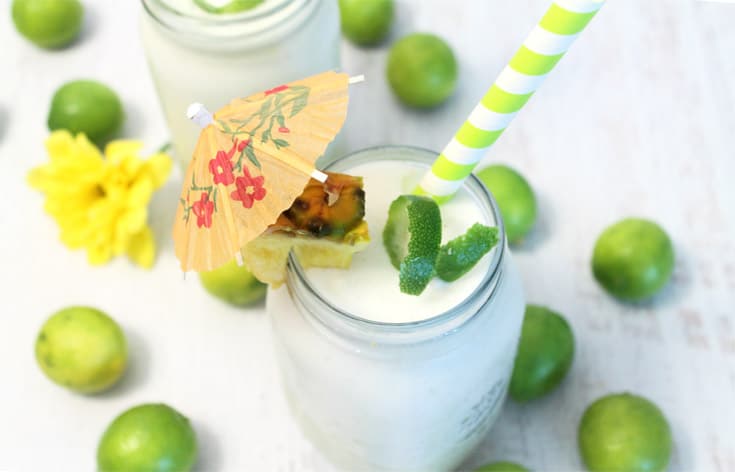 One of the first things I always order when arriving is a delicious frozen concoction, similar to a piña colada, called a Key Lime Colada. The first one I ever had was at Rick's Tree Bar on Duval and I instantly fell in love with the tartness of the key lime, the slightly creamy base, the hint of orange and the ice cold coolness of the cocktail.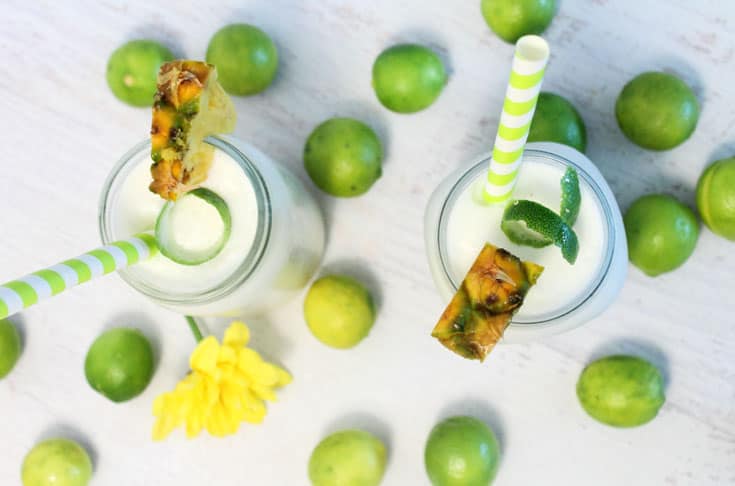 Whenever I make this refreshing drink at home it reminds me our vacations there, the soft breezes, swaying palm trees, music floating on the air, key lime pie (of course) and all the fabulous times along Duval Street.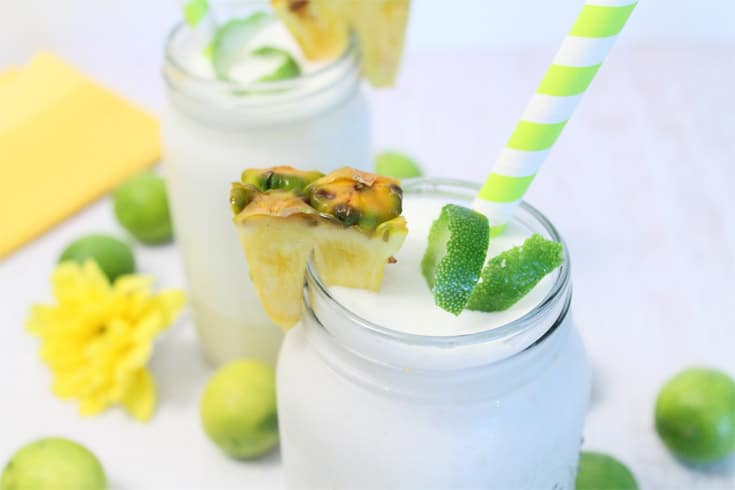 Rick's Tree Bar wouldn't divulge their recipe but, after some experimentation, I made one that was pretty darn close. And I sure had a fun time trying! (where did the weekend go anyway?)
Keepin' it cool!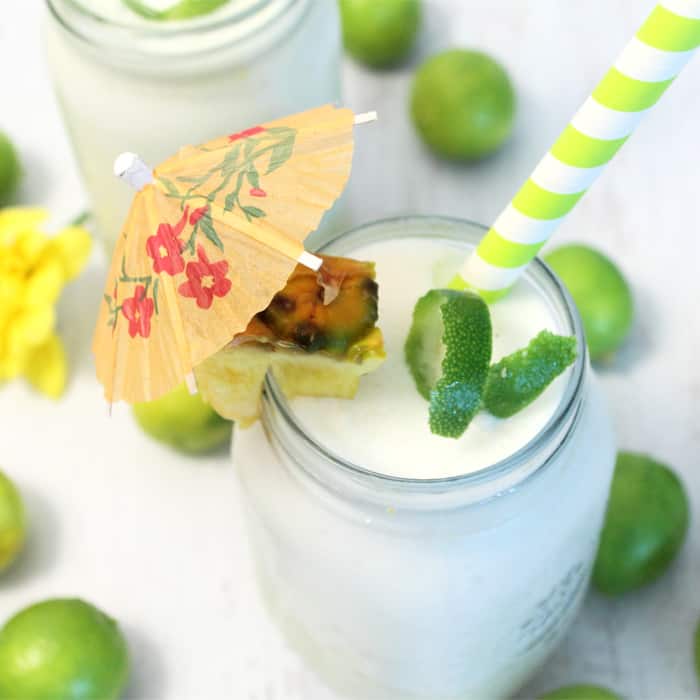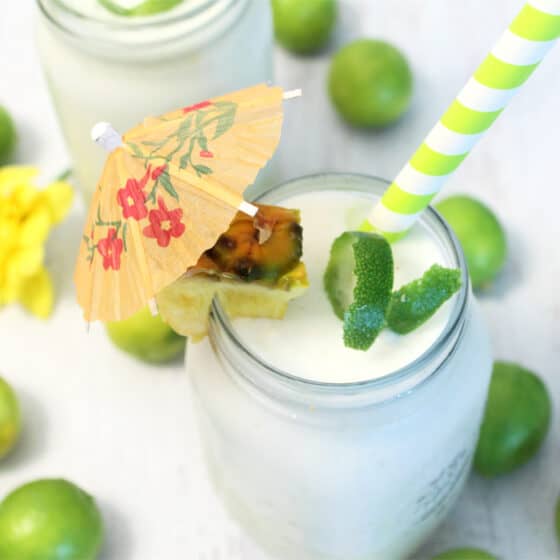 KEY LIME COLADA
Key Lime Colada cocktail is an easy frozen treat with the tartness of key limes, the sweetness of pineapple and the creaminess of coconut. Pure refreshment!
Keywords:
key lime pina colada, lime colada, summer cocktail
Ingredients
1

oz.

Liquor 43

2

oz.

Vanilla Rum

1 1/2

oz.

key lime juice

1

oz.

cream of coconut

1 1/2

oz.

pineapple juice

1

teaspoon

sugar

1

cup

ice

Garnish: crushed graham crackers,

slice of lime
Directions
Combine all of the above ingredients in a blender and blend until smooth.

Prepare margarita or martini glasses by rubbing lime around the edge and dipping the rim in graham cracker crumbs.

Divide mixture between 2 glasses and garnish with slices of lime.
Nutrition Facts
KEY LIME COLADA
Amount Per Serving
Calories 194
Calories from Fat 18
% Daily Value*
Fat 2g3%
Sodium 9mg0%
Potassium 52mg1%
Carbohydrates 21g7%
Vitamin C 8.5mg10%
* Percent Daily Values are based on a 2000 calorie diet.
Cheers! Try our Key Lime Pie Martini too!
Tip: The top rated blender by Consumer Reports was the Ninja Master Prep Pro Food & Drink Mixer QB1004. For under $60 I have to say it is the best on the market for the price. And it makes a mean Key Lime Colada!

DON'T MISS A RECIPE!