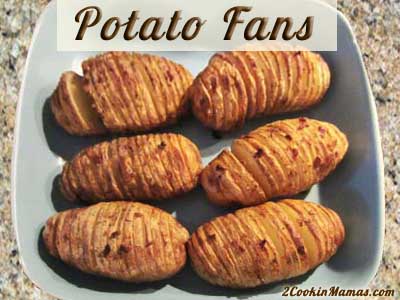 It is National Potato Lovers month and, for all those potato lovers out there, a month we can indulge in our favorite food with like-minded foodies. I love this recipe for Potato Fans because it gives the lowly baked potato a new look, one with a touch of class. It is the perfect side dish and can be made with just about any topping. Perfect for company or just to impress you family. And it's delicious too!
Note the little trick with chopsticks to make sure that you don't cut all the way through the potato. Pretty cool!
Potato Fans (Hasselback Potatoes)
Ingredients:
4 baking potatoes
1 teaspoon minced garlic or 2 cloves, thinly sliced
½ large sweet onion, thinly sliced
2-3 teaspoons butter
1 Tablespoon olive oil
Salt & pepper to taste
Cheddar cheese, grated (or your favorite cheese)
Bacon, cooked & crumbled (optional)
Directions:
Preheat oven to 425 degrees.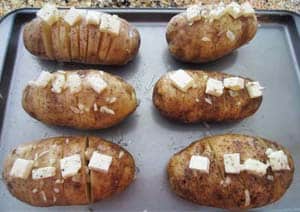 Scrub potatoes and dry. Place potatoes on cutting board. You are going to make ⅛"-¼" slices along potato only cutting ¾ths of the way through.
To make it easier to cut the potatoes without cutting all the way through, place 2 chopsticks on either side of the length of the potato. Hold there and slice, stopping when the knife hits the chopstick.  The potato should still be connected along the bottom.
Place potato on cookie sheet, place garlic and onion into slits. Dot well with butter, drizzle with olive oil and season. Bake for about 45 minutes or until potato is soft when pierced with knife. Sprinkle top with grated cheese and place under broil for about 2 minutes or until cheese gets bubbly and slightly browned.
Garnish with crumbled bacon or a dollop of sour cream.
Serve 4.