An easy & delicious crab stuffed salmon that is perfect for company. Just stuff, using our stuffing or frozen crab cakes, then pop in the oven for 25 minutes. Voila – a gourmet meal in minutes!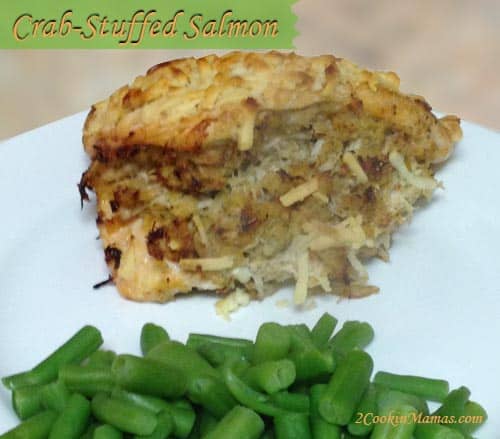 A healthy diet starts with 3 servings a week of fish for those all important omega 3's. It makes it even more critical to eat right when you have little ones in daycare that bring home every sickness known to mankind (or at least it seems that way sometimes)!
For those Moms that are always on the go, this recipe can be made quick and easy by using frozen crab cakes (I like the Phillips brand) in place of the crab stuffing recipe below.
Crab-Stuffed Salmon
Ingredients
4 4-oz pieces salmon
3 Tablespoons olive oil
1 Tablespoon Creole seasoning (I love Emeril's Original Essence, one of the best Cajun spice mixtures on the market)
salt, to taste
Crab Stuffing (or opt for frozen crab cakes to save time)
2 Tablespoons butter
2 Tablespoons scallions or green onions, minced
1-1/2 Tablespoons red bell pepper, minced
1/2 teaspoon minced garlic
6-oz crab meat
1/4 cup panko crumbs (gluten free are available)
1/2 – 3/4 teaspoon creole seasoning
Topping
1/4 cup Pecorino-Romano cheese, grated
Directions
Preheat oven to 350 degrees. Line a cookie sheet with aluminum foil.
Cut a pocket horizontally in salmon filets, slicing about 3/4 way through. Drizzle olive oil over salmon and rub seasonings on all sides.
Prepare crab stuffing by heating butter in large skillet and sauteing scallions, red bell pepper and garlic for about 5 minutes. Add crab meat, panko crumbs and seasoning. Stir well and remove from heat.
Divide the stuffing into 4 portions and stuff each filet. Top with cheese and bake in oven for 20-25 minutes. During last 2 minutes place under broiler to brown cheese.
Serves 4.
Wine Pairing: A creamy Chardonnay will nicely compliment the denseness of the salmon as well as the richness of the seafood stuffing.  If you would like something on the lighter side, opt for a Sauvignon Blanc which would pair well with the sweetness of the crab.
I use my T-fal Nonstick Oven Safe Fry Pan, which I bought to use in our timeshare, and now I don't know what I would do without it. It is not an expensive pan and works extremely well. You can even use regular utensils, as it is resistant to scratches, which is a definite plus over some of the more expensive non-stick skillets.
DON'T MISS A RECIPE!