Spiked Hot Apple Cider is the perfect drink to warm you up on cold winter days. Just simmer apple cider with a clove studded orange, a dash of spice, add some rum & you'll be warm as toast in no time!
This spiked cider is the perfect recipe to share today. Why you ask? Today is the anniversary of the Repeal of Prohibition Day. And I say, let's drink to that!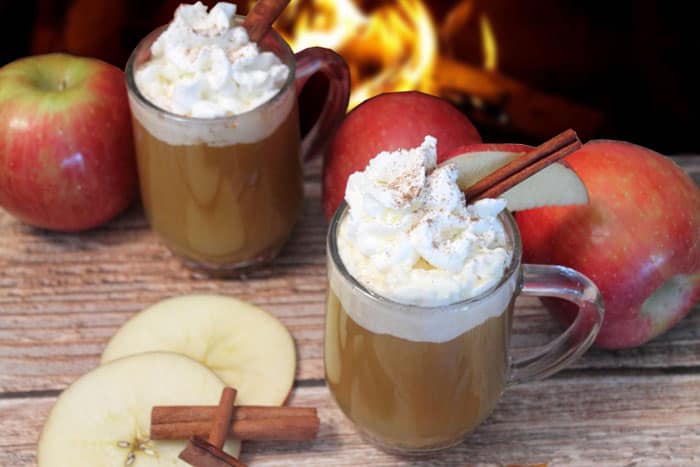 When it's cold outside, all I usually want to do is curl up on the couch with a good book, sip on something hot and flavorful, preferably with a little something added in for, ummm, flavor, and just relax.
Now, truthfully, there is not a lot of time to do that so I take advantage of it when I can. And it is one of those drinks, with just the right amount of sweetness and spice, that seems to warm me up from the inside out.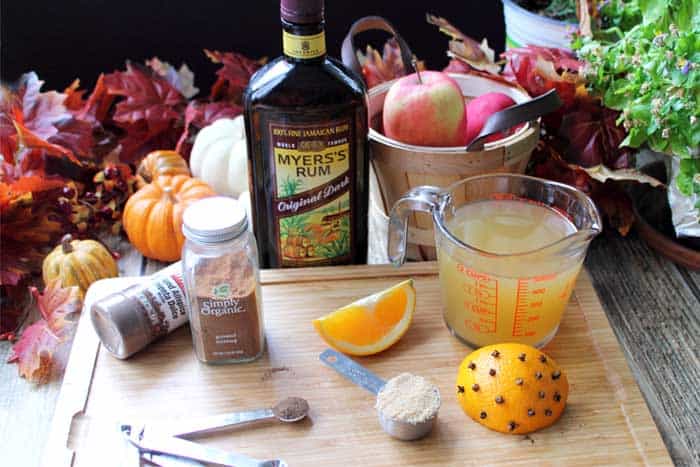 The ingredients are simple and it just takes about 20 minutes to simmer on the stovetop. And there's definitely an upside to making it this way, it makes your whole house smell like the holidays. Oh, I so wish there was smell-o-vision so I could share it with you.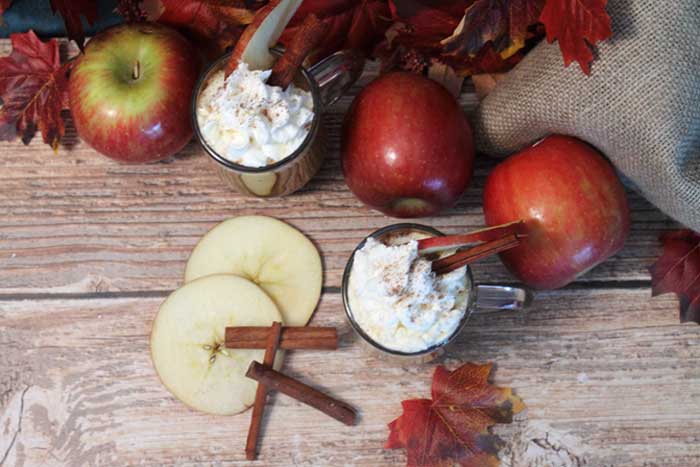 Spiked hot apple cider starts with an orange studded with cloves. They're so pretty I use them in bowls to decorate at holiday time too. The clove-studded orange, allspice, and nutmeg are all simmered with the apple cider base.
You can leave it this way or add some dark rum or bourbon for the perfect afternoon cocktail.
And I learned a secret - the slice of apple with a cinnamon stick through, acts like a lid, and keeps your cider warm longer. Cool, huh?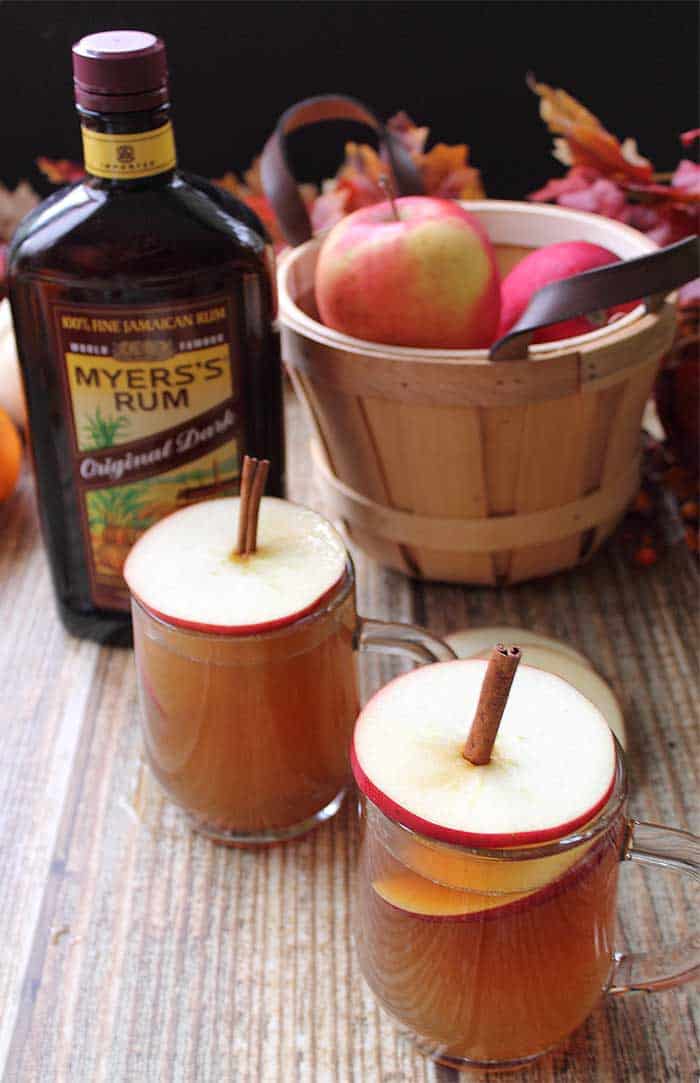 Of course, this is also a favorite with kids when they're cold and wet from playing in the snow too. Just leave out the rum or bourbon, add a candy peppermint or cinnamon stick and just wait for all the oohs and aahs comin' your way. They'll feel toasty again in no time.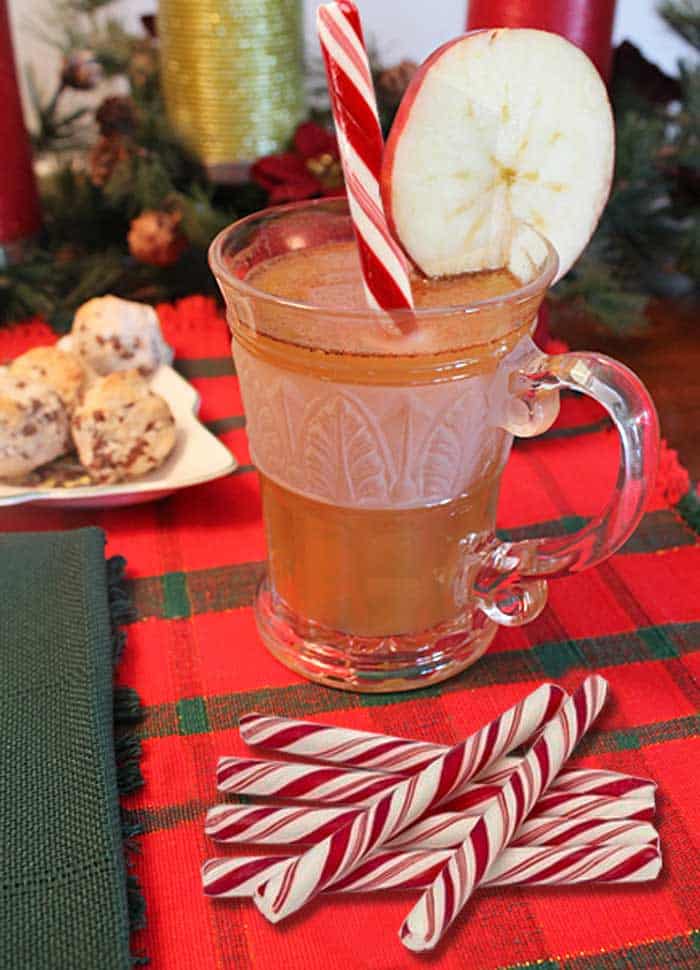 Cheers!
How about a cold and sparkly drink? Try my Apple Cider Cocktail with champagne, cinnamon schnapps, and a float of ice cream.
Make Apple Cider Margaritas rimmed with cinnamon sugar for a fall fiesta.
And Apple Cider Sangria with sparkling wine for a festive fall drink.
Find even more holiday cocktail recipes here on 2CM!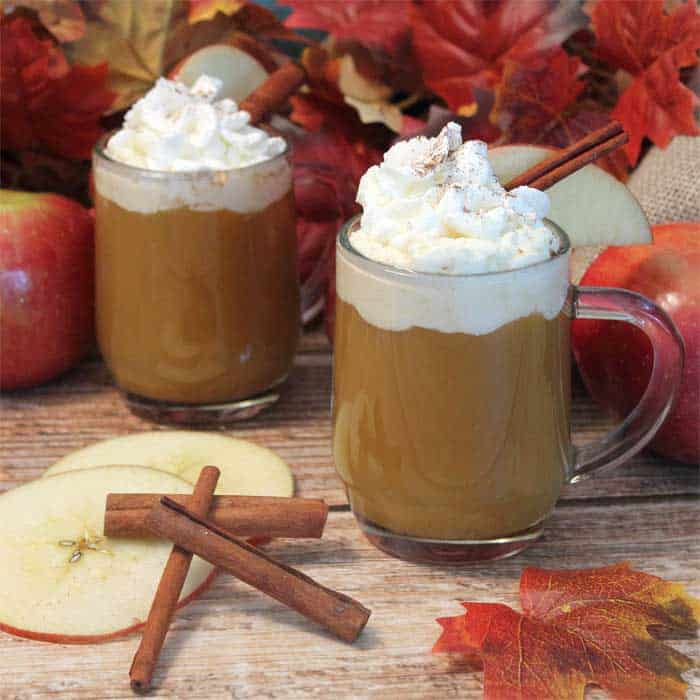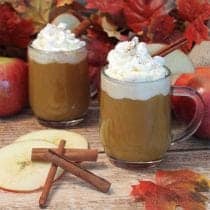 SPIKED HOT APPLE CIDER
Spiked Hot Apple Cider is the perfect drink to warm you up on cold winter days. Just simmer apple cider, an orange & dash of spice, add some rum & relax!
Print
Rate
Ingredients
½

teaspoon

whole cloves

1

orange,

cut into quarters (will only use ¼)

2

cups

apple cider

⅛

cup

light brown sugar

¼

teaspoon

allspice

Pinch

nutmeg

¼

cup

rum or bourbon

(optional)

Garnishes: whipped cream,

cinnamon sticks, peppermint sticks
Instructions
Cut orange in quarters. Using just ¼ of the orange, push the whole cloves into the peel.

Place quarter of orange with cloves in a small saucepan.

Pour apple cider over orange.

Add sugar and spices and bring to a boil. Turn down and simmer for 20 minutes.

Remove from heat. If adding rum or bourbon, pour into spiced apple cider prior to pouring into mugs.

Divide between 2 mugs and decorate with whipped cream, a sprinkle of nutmeg, a slice of apple and a cinnamon stick. For kids, leave out the liquor and add a peppermint stick to the glass.
Notes
Easy to double or quadruple for larger families or parties. It can also be made ahead of time and stored in the refrigerator. When ready to serve, just reheat in the microwave or stovetop.
This post has been updated and was first published on December 5, 2014.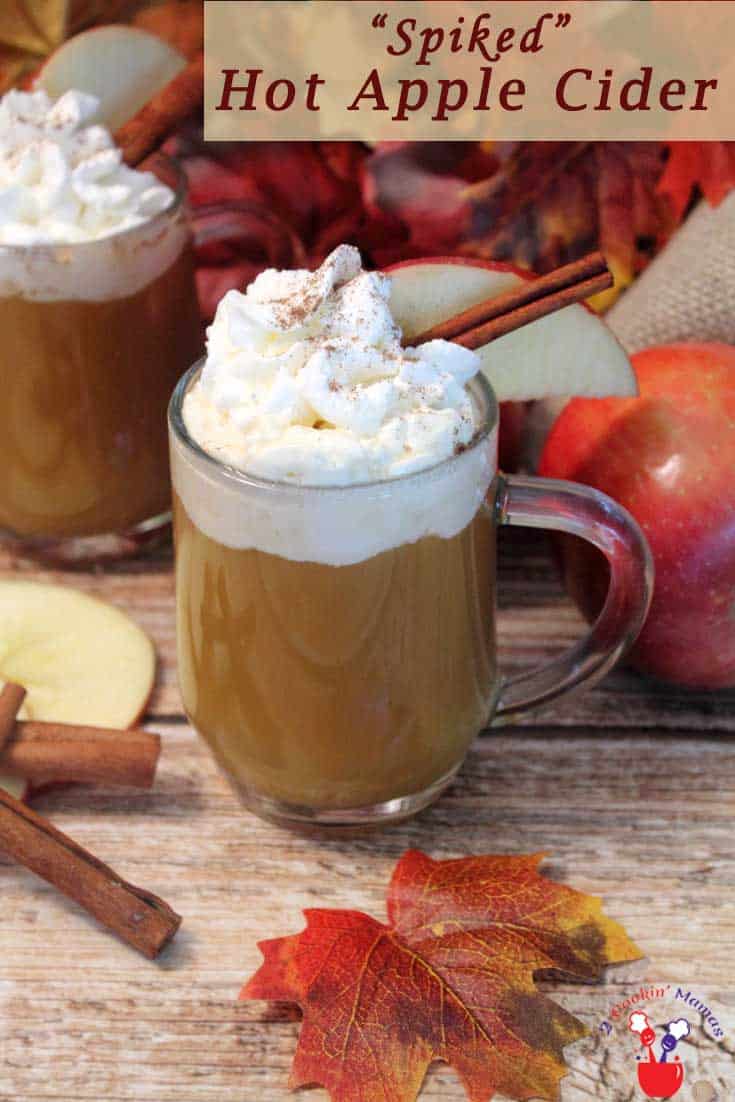 DON'T MISS A RECIPE!