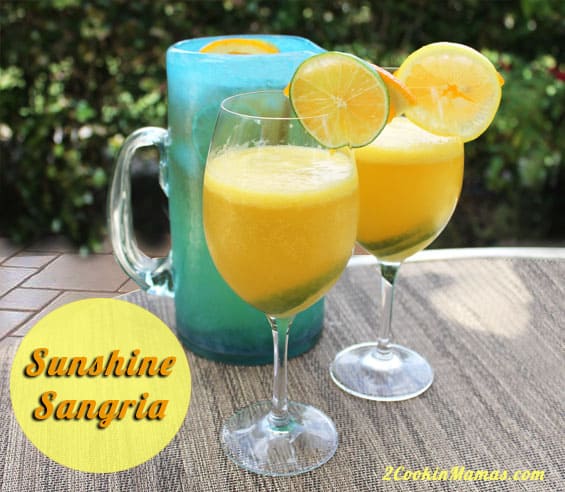 It's the perfect time for sangria, at the height of the season for many fruits and as a last farewell to a warm and wonderful summer. As you may know if you follow us, the 2 Cookin' Mamas love juicing! Whether it be in cocktails, sauce and salsa recipes or in this scrumptious sangria recipe requested by Williams-Sonoma.
Now you are probably wondering why we called it "Sunshine" sangria, well we'll let you in on the reason. We live in Florida, a state that has warm, gorgeous sunny days that help grow the most delicious fruits and all readily available most of the year. Another name for our wonderful state is the Sunshine State, which I think is pretty apt. So what better way to honor our state than to make a drink with it's prominent fruits – oranges, lemons, limes, mangos and coconut.
Wondering what type of white wine works best for sangrias? Well you have your choice between a sauvignon blanc, reisling, pinot grigio, albarino or, if you really like very sweet sangria, a moscato. We used an inexpensive albarino and it worked very well.
We used the Ronco Smart Juicer, a masticating-type juicer, one that is known for getting the most nutrient rich juice possible. It also preserves more of the vitamins and enzymes as well. Not only that, the juice just seems to have a bolder taste and is bright and full of gorgeous color. If you are in the market for a juicer we  highly recommend this one! We have never seen so much juice come out of a piece of fruit. And the pulp comes out so dry that you know you have gotten every last delicious drop you could. Take a look at how pretty all our juices came out!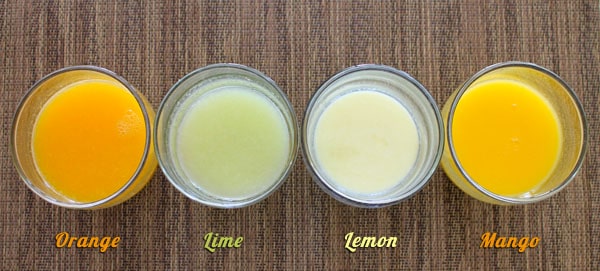 So what are you waiting for, grab some fruit, open a bottle of your favorite white wine and let's party!
Sunshine Sangria
Ingredients:
3/4 cup mango juice (this is a softer fruit and can be pureed very well in a blender)
3/8 cup orange juice (1 orange) + 1-2 oranges for slicing
2 Tablespoons lemon juice (about 1 lemon) + 1-2 lemons for slicing
2 Tablespoons lime juice (about 1 lime) + 2-3 limes for slicing
1 750ml bottle white wine
3 Tablespoons Grand Marnier
3 cups La Croix or organic KeVita sparkling coconut water (KeVita also has a Mango Coconut for even more mango flavor)
Directions:
Wash fruit well. We prefer to use organic fruit for the healthiest drink possible. Peel your orange, lemon and lime that you are going to juice. You don't have to quite get all the peel off but the more peel left on the more tart or bitter the sangria will be. Leave at least 1 of each of these fruits unpeeled for slicing as garnish in sangria.
Pour your choice of white wine into a large pitcher. Puree your peeled mango in a blender and pour 3/4 cup juice into the pitcher. Juice your orange, followed by the lemon and lime and add designated quantities to pitcher. Add Grand Marnier. If serving immediately, pour in sparkling water and stir. Add slices of fresh fruit to pitcher and serve. If making ahead of time, store wine-fruit mixture in refrigerator but leave out sparkling water until just before serving.
Makes 8 servings.
Food Pairing: Sangria's acidity and sweetness works well with hot and spicy foods, like our Beef Enchiladas, grilled foods such as steak, grilled brats and charred vegetables as well as richer foods like cheeses and hummus.
Note: Want more information on types of juicers? Check out Williams-Sonoma's juicer reference page for everything you want to know about juicers.
To get your hands on some more Mama's Cocktail recipes click here.