Chocolate Panna Cotta is a dense, rich chocolate pudding that is made even more decadent with a garnish of sweet cinnamon pepita brittle. Who doesn't love dense chocolate topped with a crunchy treat? And it's gluten-free too!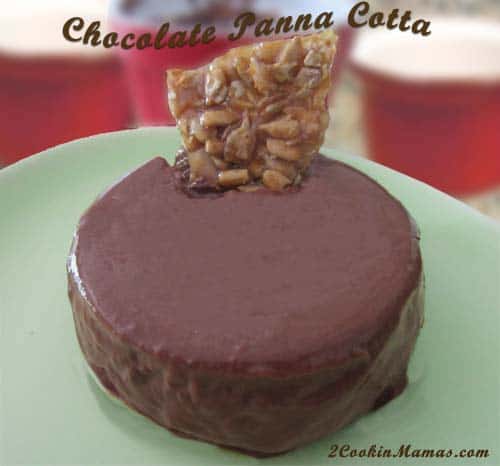 I had my daughter and her family coming over for dinner and, since they are on a gluten-free diet, I wanted to make the entire meal gluten-free. The main meal wasn't a problem but what to make for dessert? I found a great looking recipe for Chocolate Panna Cotta, a type of chocolate pudding, and decided to try adapting it to the gluten-free lifestyle. And voila! It turned out great!
Make it along with this delicious and sweet pepita brittle for just the right decadent touch. By the way (and I had to look it up myself), pepitas are the inside seeds of the pumpkin seed. See you learned something new today!
Chocolate Panna Cotta with Cinnamon Pepita Brittle
Ingredients:
Panna Cotta
2-½ teaspoons unflavored powdered gelatin
2 ¾ cups whole milk but to make dairy & GMO-free substitute almond milk
2 tablespoons sugar
¼ teaspoon salt
6 ounces dark chocolate, chopped (For gluten-free, change out your chocolate for Dove dark chocolate which is labeled gluten-free or use Endangered Species Chocolate, also gluten-free)
Cinnamon Pepita Brittle
¾ cup roasted pepitas (I used dry roasted pepitas)
½ teaspoon cinnamon
⅛ teaspoon freshly ground nutmeg
¾ cup sugar
⅓ cup water
½ tablespoon butter
Directions:
Panna Cotta
Spray 6 ramekins with non-stick cooking spray and set aside.
In a small measuring cup or bowl, sprinkle unflavored gelatin over ¼ cup of almond milk and let sit for 5 minutes until softened.
While gelatin is softening, mix almond milk , 2 tablespoons sugar and salt in a small saucepan and bring just to boiling. Remove from heat and stir in softened gelatin.
In a large measuring cup, place chopped chocolate and microwave on high in 30 second increments until melted, usually 1 minute total. Stir after each segment to help melt chocolate. Stir into milk mixture until well blended. Pour into prepared ramekins. Refrigerate for 4 hours or longer until set.
To serve, run a knife around pudding and invert onto serving dish. Garnish with pepita brittle or a mint sprig.
Cinnamon Pepita Brittle
Prepare a cookie sheet by spraying with non-stick cooking spray.
Combine pepitas and spices in a small bowl and set aside.
In a medium saucepan, combine sugar and water and cook, stirring constantly, until liquid turns a caramel color, about 6-7 minutes. Remove from heat and add in butter and pepitas.
Pour brittle onto cookie sheets and spread until only a thin layer. Let cool then crack into smaller pieces. Store in airtight container for up to 5 days.
Serves 6.

Check out other gluten-free chocolates here.