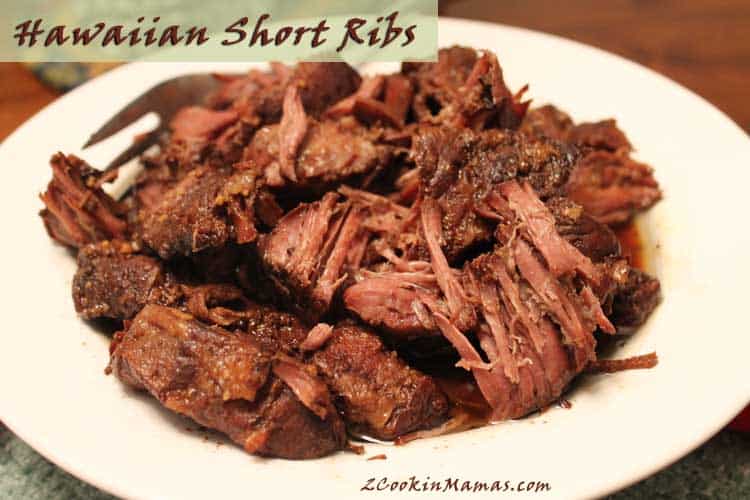 My daughter and I have been so busy working on this website that neither one of us have much time to think about what to cook for dinner. What we needed were some good recipes that we could start in the morning in the slow cooker and serve when our husbands got home from work.
Now I am very particular in what I cook in the slow cooker as some cuisines, such as Asian, just don't work as well and I would rather stir fry anyway but this recipe for short ribs, that I found on crockpot365.blogspot.com, looked delicious and was just the right type of dish that would tenderize the meat and give it more flavor. I hope you enjoy it as much as we did. I just wish I had made double the recipe as it is that good!
Hawaiian Short Ribs
Ingredients:
2 pounds boneless beef short ribs

1/3 cup soy sauce
2 Tablespoons light brown sugar
1 Tablespoon honey
1/2 teaspoon Chinese 5-Spice powder
3 teaspoons minced garlic
Directions:
My boneless short ribs fit easily into my 6 quart Crockpot but would also have been fine in a 4-quart version.  If you are using bone-in short ribs I would definitely use the larger size pot.
Place the short ribs in the cooker, and add the remaining ingredients.
Cover and cook on low for 6 hours, or on high for about 4 hours. Flip the short ribs half way through cooking time and right before serving to coat with sauce.
Serves 4.
Wine Pairing: You want a nice robust red with earthy tones to compliment the Asian spice and meatiness of the dish so opt for a Shiraz or a Zinfandel.
 Note:  For a great slow cooker, check out: Hamilton Beach 33967 Set 'n Forget 6-Quart Programmable Slow Cooker on Amazon.com.