These Cedar Plank Grilled Shrimp have an unbelievable smoky flavor that's hard to beat. Serve them as a delicious dinner or as personal sized party appetizers.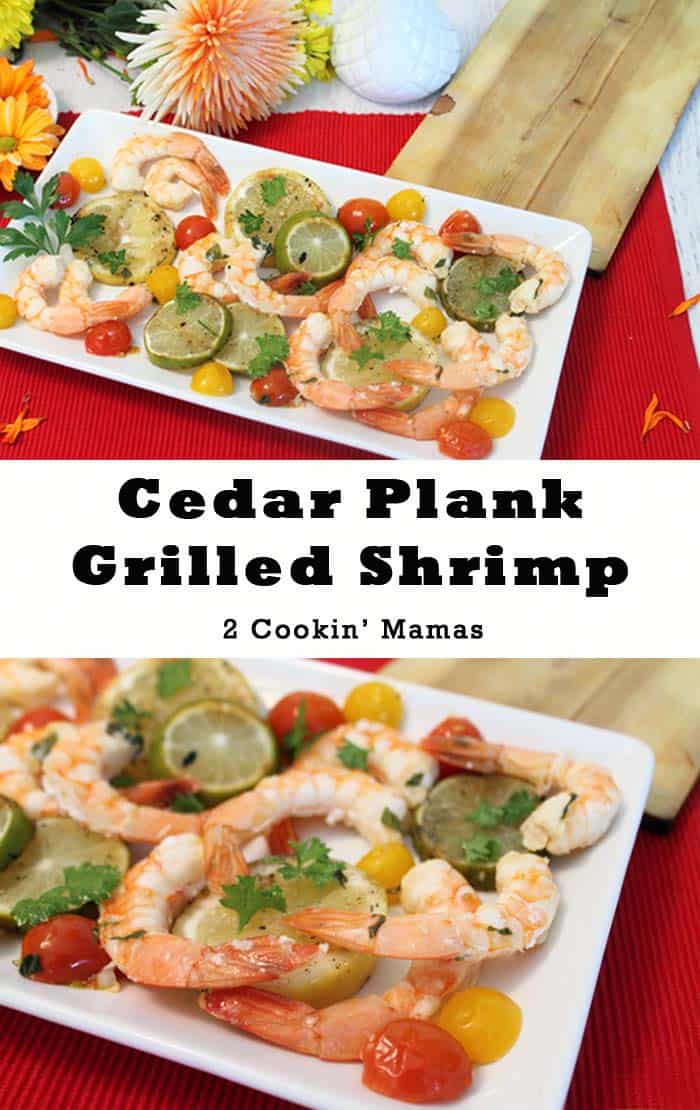 South Florida has to be at the top of the list for grilling out. The days here can be so steamy once summer arrives that no one, including us, wants to cook inside and heat up the house. I mean, what would you rather do when it's 90 degrees outside?
Our go-to strategy is to use the grill as much as possible! You can probably tell by our legions of grill recipes like Mexican Grilled Fish Tacos, Grilled Lamb Chops with Rosemary and London Broil that, rain or shine, our grill is in use. In fact, we usually grill our side dish too since the grill is already on. Check out our Mexican Grilled Corn, Easy Grilled Broccoli and Grilled Sweet Potatoe Slices for inspiration! And we know it's not only a healthier way to eat anyway but there's less cleanup too! Now that's a win-win!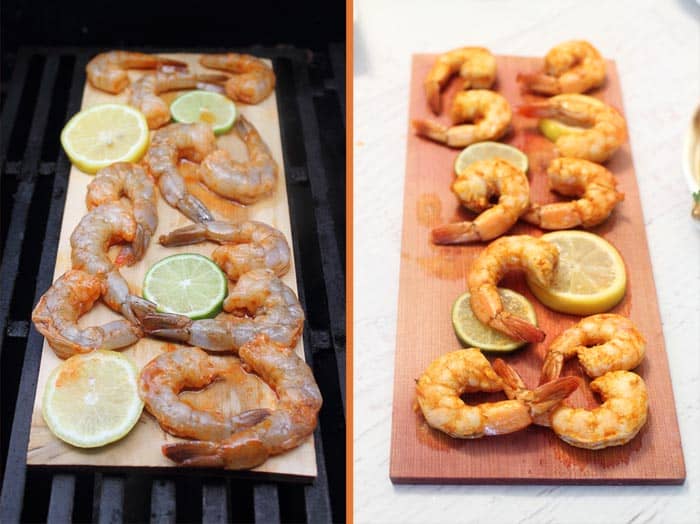 My husband, known as Mr. BBQ, is a super griller and knows how to cook just about anything I throw at him (figuratively, not literally). And it's always delicious!
This recipe was a new one for him - grilling on a cedar plank. Neither one of us had ever done it before so, being the adventurous foodies we are, we decided to take the plunge and try it for ourselves.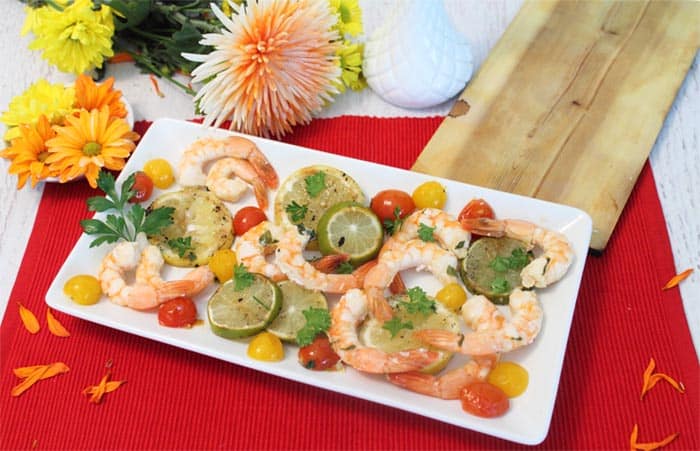 First off, one of the things we like best about grilling is how quick it is. When we both work late it's a lifesaver to just throw something on the grill and be eating in less than 30 minutes. However, word of advice, you'd better save the cedar plank grilling for the weekend.
We learned that the plank has to soak first for at least 2 hours after which you have to get it smoking on the grill, which takes anywhere from 5-10 minutes. That adds up to a lot of time and definitely something that has to be planned in advance.
Tip: I just learned that you can actually soak the plank on the weekend then put it in a plastic bag in the freezer. Just prior to using it, take out and place in hot water for 10 minutes then place on the grill and let it start smoking. Now that is a great tip!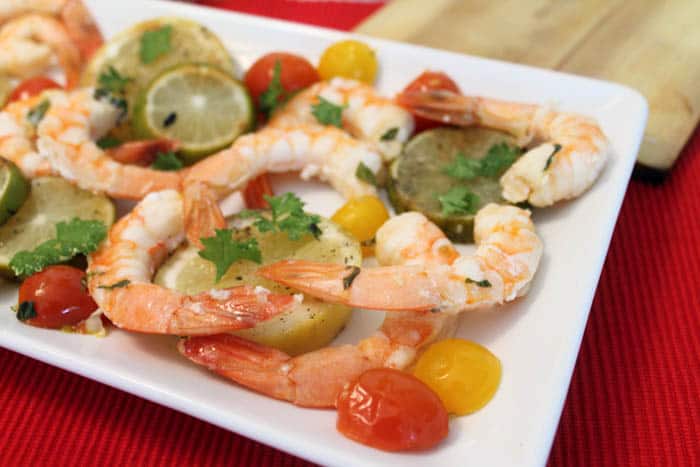 Once all the prep is done, the cooking goes pretty fast. The shrimp take just 3 minutes a side and they come out super delicious. You are probably asking about now if there is a benefit to using a cedar plank. Yes, although I would save it for a special occasion. It imparts a beautiful smoky flavor to the shrimp that grilling alone just doesn't do.
You can purchase cedar planks anywhere, including at Uncommon Goods, where this one is from. Some of the packages say that these planks are a one-time use item but, from searching on the internet, I have found that they can actually be used up to 3 or 4 times. Check out this article from do-it-yourself to see how to care and reuse your planks. And I love his idea of soaking the planks in wine or other juices to add more nuances to the fish or meat.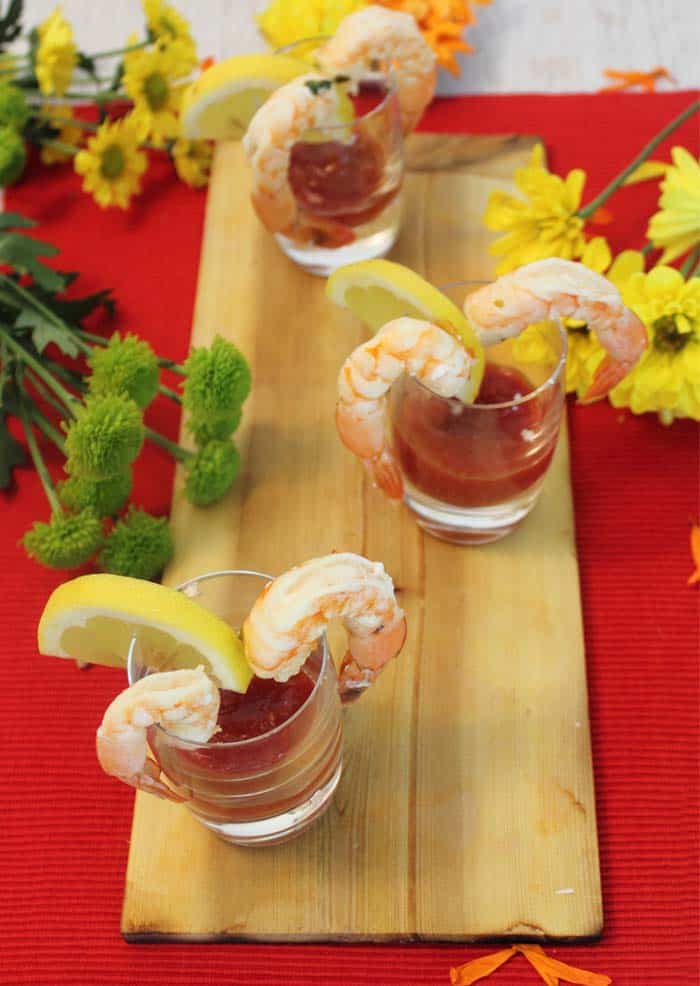 By the way, if you don't have or want a cedar plank, this recipe can be made right on the grill by skewering the shrimp. It's delicious either way!
More Shrimp Recipes
36 Easy Shrimp Recipes for appetizers, soup, salad, and dinner.
Shrimp Pumpkin Curry for a warm, flavorful dish on a cool, crisp fall day.
Shrimp Boil on the Stove to enjoy this classic dish no matter the weather or location.
Grilled Shrimp and Chorizo Skewers for an appetizer or light meal with a perfect balance of heat and flavor.
Take a look at more of my easy grilling recipes for everything from appetizers to dessert.
Love quick & easy recipes? Follow me on Instagram, Facebook, Pinterest & Twitter for all the latest recipe inspiration! Plus join my email list here and receive a free e-book.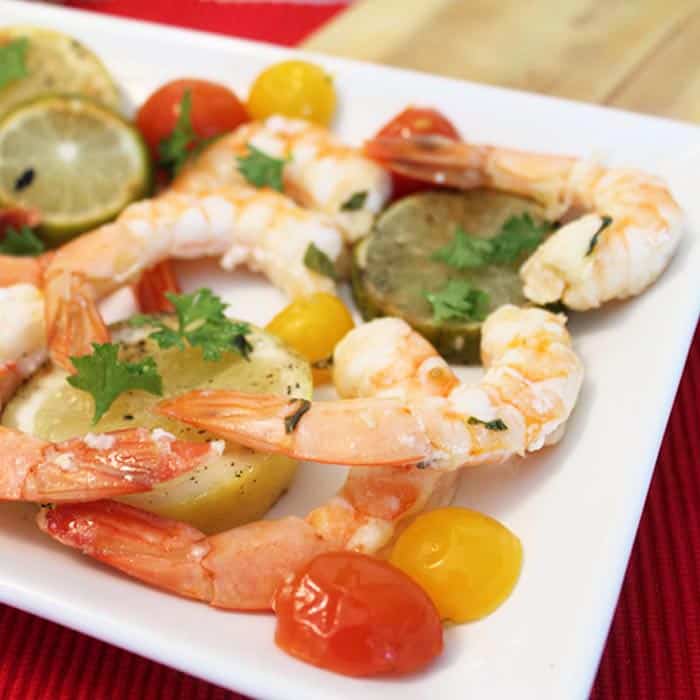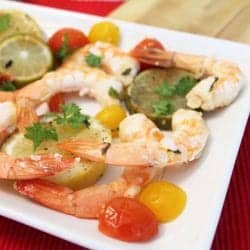 CEDAR PLANK GRILLED SHRIMP
These Cedar Plank Grilled Shrimp have an unbelievable smoky flavor that's hard to beat. Serve them as a delicious dinner or as personal sized party appetizers.
Print
Rate
Ingredients
1

cedar plank

1

lb.

shrimp,

peeled & deveined with tails left on

1

lemon

sliced

1

lime

sliced

1

Tablespoon

olive oil

1

Tablespoon

fresh lime juice

½

teaspoon

minced garlic

1-½

teaspoons

sweet pimenton

or sweet paprika

1

teaspoon

salt

¼

teaspoon

ground black pepper

¼

teaspoon

cayenne pepper

Garnish: chopped cilantro
Instructions
Soak cedar plank in water for at least 2 hours but no longer than 6 hours. The best way to soak it is to place the plank in a large roasting pan, fill with water then weigh it down with a heavy bottle so that is remains immersed.

Note: You can add your own creative flavors to the water when soaking the plank. Try white wine, beer, apple cider or your favorite herbs.

Thirty minutes prior to grilling, prepare shrimp. Slice lemon and lime.

In a large ziploc bag, combine remaining ingredients except for cilantro. Place shrimp and fruit slices into marinade, seal and refrigerate for 30 minutes.

When ready to grill, heat grill to medium-high temperature. Remove plank from water, dry off, lightly coat with olive oil and rub in a little sea salt or  garlic, if preferred, then place plank on grill. It's ready to use after it starts to smoke, about 5-10 minutes. Note: Have a spray bottle of water handy in case there are flare-ups.

Remove shrimp and fruit from marinade. Discard marinade. Place carefully on the plank in a single layer. Close lid.

Cook shrimp & fruit 6 minutes, turning halfway through.

You can either serve on the wooden plank which has been placed on a wooden cutting board (great conversation starter) or remove shrimp and place on platter. Garnish with cilantro.
Notes
These shrimp also make a great appetizer for a get-together. Just place 1, 2 or 3 shrimp in a small shot glass with a little cocktail sauce at the bottom and a slice of lemon, set on the table, and watch them disappear.
This post has been updated and was first published on June 15, 2016.