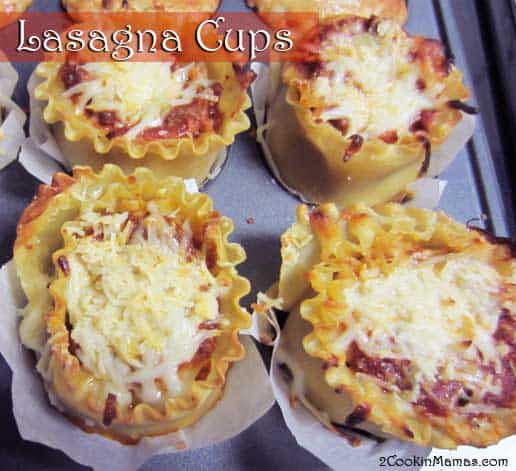 Ever want to make your favorite lasagna into an appetizer? Well you can! All it takes is a muffin pan and your regular lasagna ingredients. And if you need to do it down and dirty just purchase your favorite spaghetti sauce and shredded cheese and you can put it together in a snap.
Lasagna Cups
Ingredients:
18 lasagna noodles
2 cups of your favorite tomato sauce
1 lb. ground beef
2 cups mozzarella, shredded
1 cup Pecorino Romano cheese, finely grated
1-1/2 cups ricotta cheese
(see note below for gluten-free substitutions)
Directions:
Preheat oven to 350 degrees.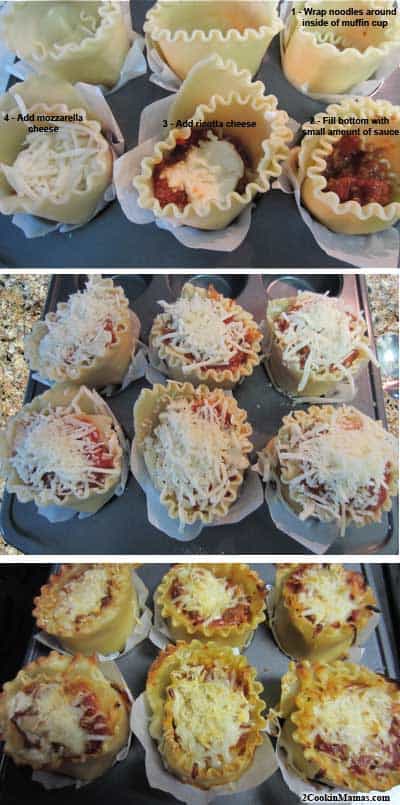 Cook pasta according to package directions to be used for baked pasta dishes.
In a large skillet, cook ground beef until there is no longer any pink showing. Drain.
Mix tomato sauce and cooked ground beef.
Line 12 non-stick muffin cups with squares of parchment paper. Don't worry if the paper doesn't stay in place as the ingredients will soon hold them down.
Take 6 noodles and cut each one into 6 pieces. These will be used as the lasagna layers.
Line the edge of each muffin cup with a lasagna noodle. It will stick up well above edge of cup. Spoon small amount of meat sauce in the bottom of each muffin cup. Place 1 small piece of lasagna noodle on top of sauce. Spoon another layer of sauce followed by a layer of ricotta cheese, a small amount of Pecorino Romano then some shredded mozzarella cheese. Repeat layer of noodle, sauce and cheeses. Press down slightly to make sure there are no air bubbles. Top with final noodle, sauce and then mozzarella and Pecorino Romano.
Place in oven and bake for 30 minutes. Serve hot.
Makes 12 lasagna cups.
Note: To make a gluten-free version, use Tinkyada Brown Rice Pasta, Lasagne Noodles, available from Amazon.com or other gluten-free noodles and buffalo mozzarella in lieu of regular mozzarella.
If you liked this appetizer you might be interested in these posts: 
DON'T MISS A RECIPE!