If you're looking to add a burst of flavor to any recipe, this garlic herb compound butter is the answer. This rich and flavorful herb butter mixes softened butter with fresh herbs and finely minced garlic for a quick and easy way to take your steak, fish, vegetables, or bread to the next level.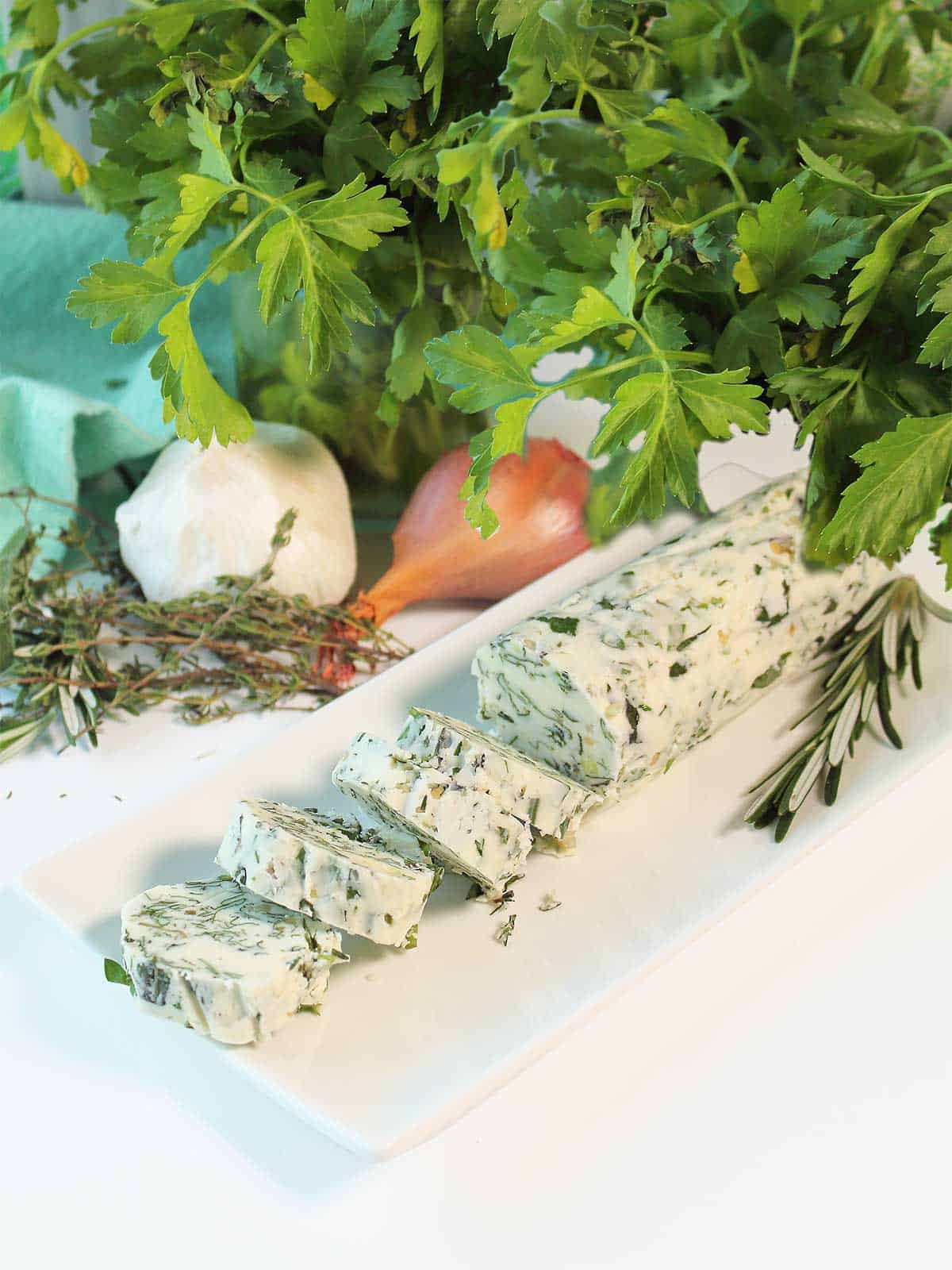 Recipes with Fresh Herbs
Fresh herbs are a fantastic way to add an extra burst of flavor to any dish. Whether you're making a simple salad or a complex sauce, fresh herbs can take your dish to the next level.  Herb butter is a delicious way to incorporate them into your meals.
Compound butter recipes, like this garlic herb butter recipe, are quick and easy to make, and can be used in a variety of dishes, from spreading on warm bread, drizzling over vegetables, to melting over a juicy steak.
Other ways to add herbs to flavor dishes extend to pestos, like this Basil Pesto, or flavoring oils like this Rosemary Olive Oil. And it doesn't stop there! Try a lemon butter sauce on fish, liven up a steak with champagne butter, or a turkey breast with herb butter. It will easily take any recipe to the next level.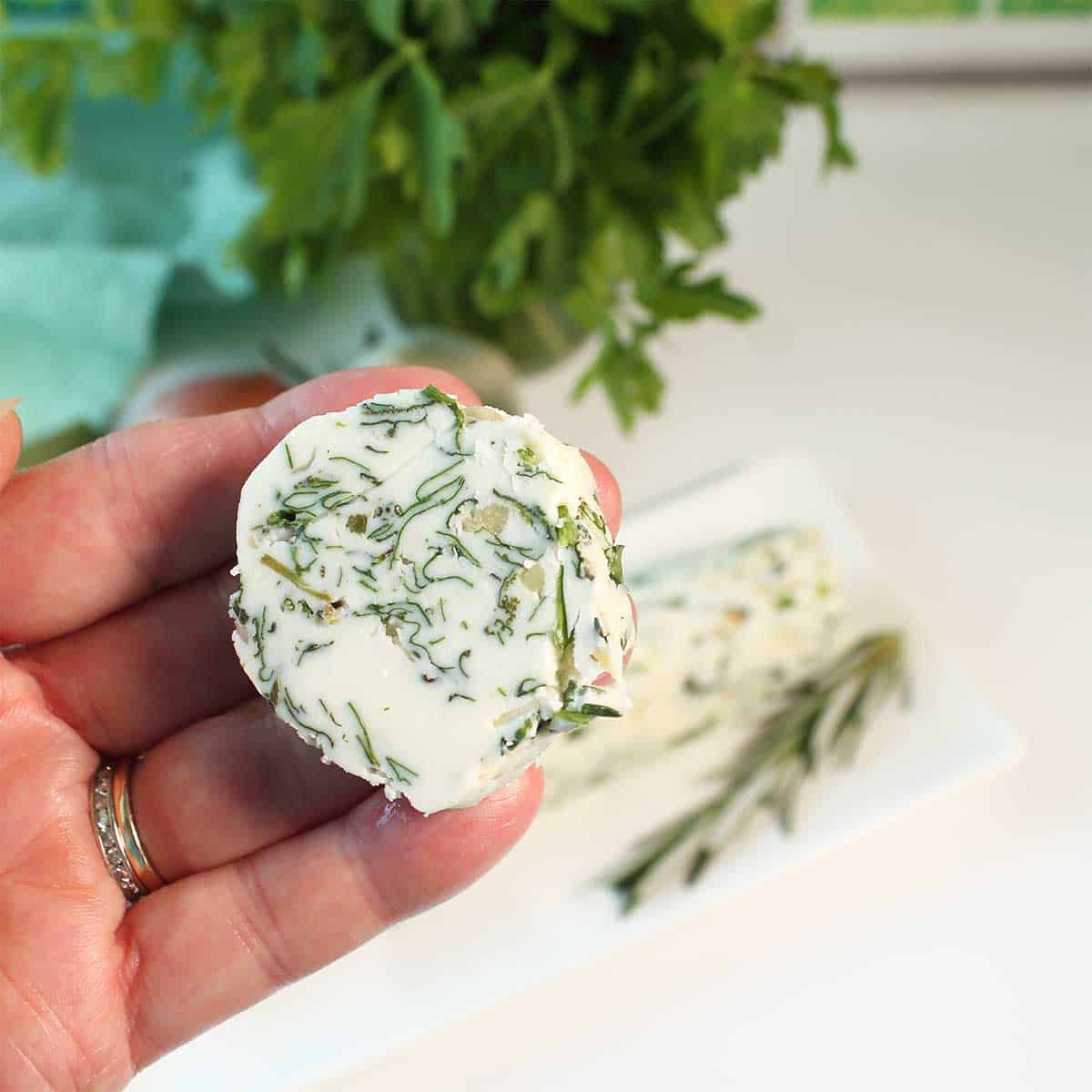 Why You'll Love This Garlic Herb Butter Recipe
Incredibly flavored butter with garlic and a delightful combination of fresh herbs.
It's a fantastic compound butter for steak and so much more!
Easy to make and homemade is always better.
Ingredients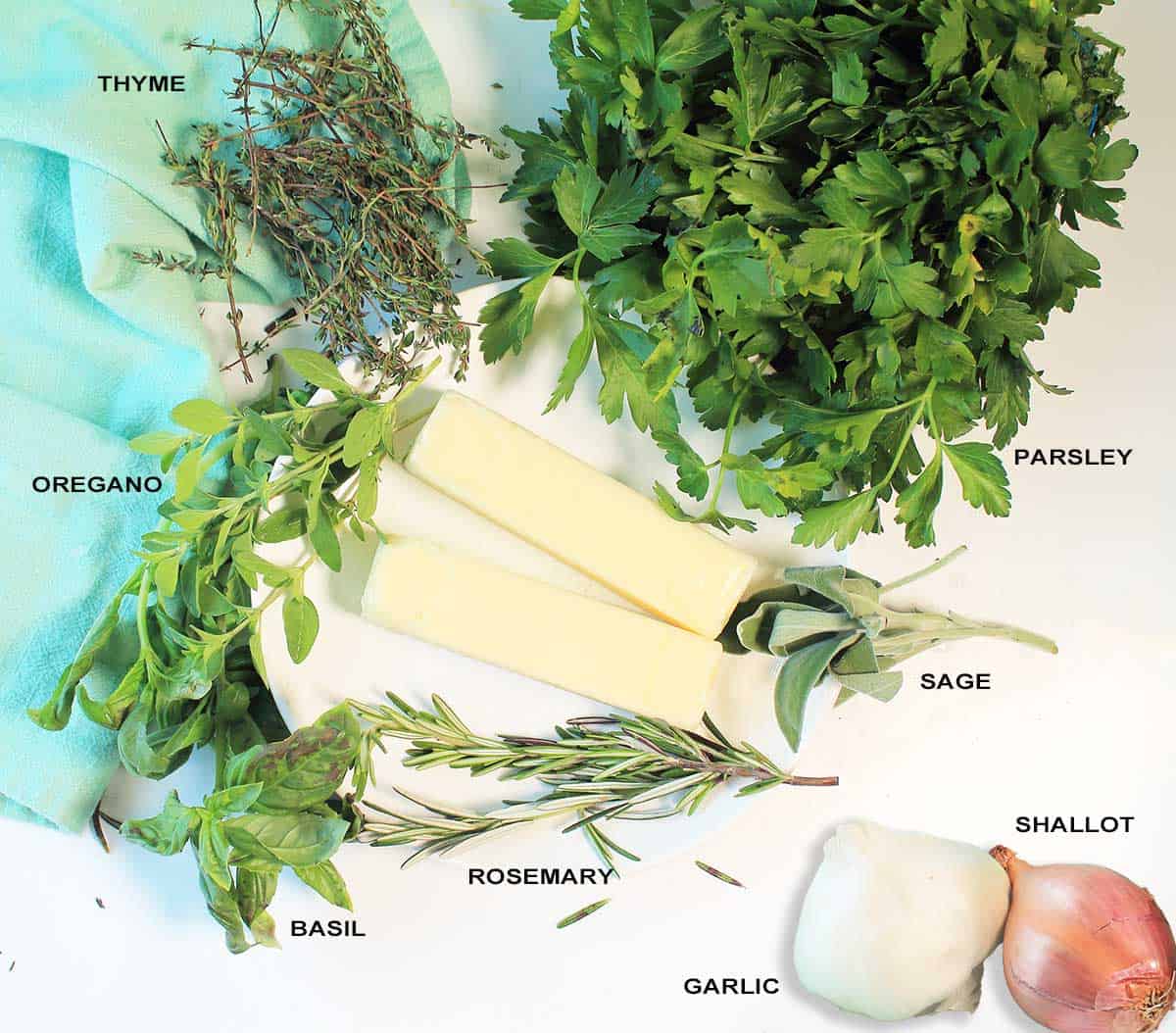 Butter
Parsley
Basil
Oregano
Rosemary
Thyme
Sage
Garlic
Shallot
Salt & Pepper
Best Butter for Compound Butter
For the best compound butter, use high-quality butter, extra creamy butter, or European butter (Plugra or Kerrygold).
Butter is the foundation and you'll want it to have its own special flavor and texture.
How to Make Garlic Herb Butter
Making herbed butter with garlic is so easy to do!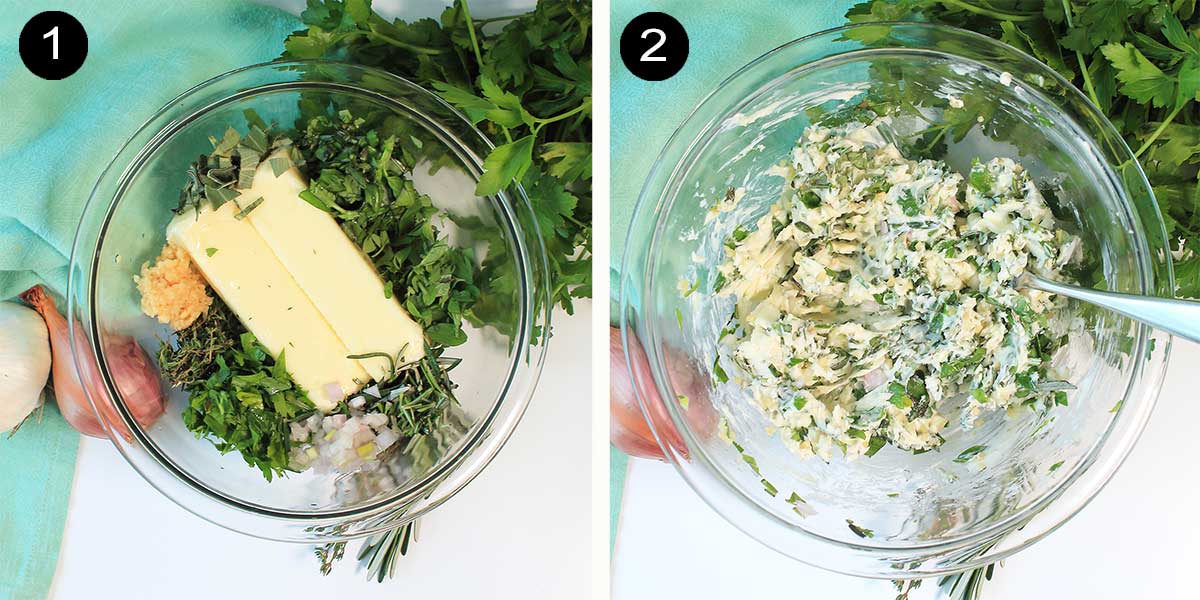 Place softened butter into bowl and add all chopped herbs, minced garlic and chopped shallot.
Stir until well mixed and herbs are evenly distributed throughout the butter.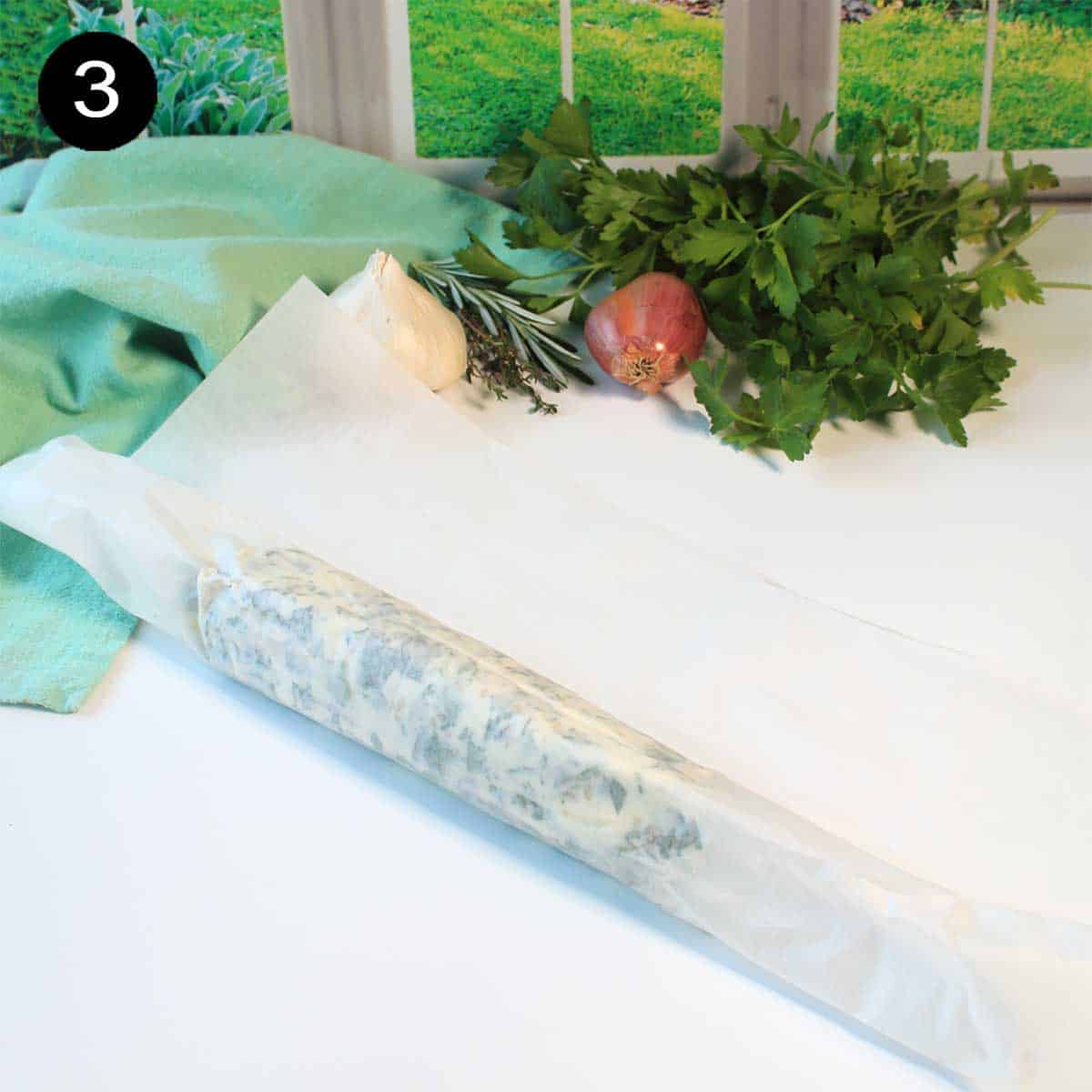 Place the butter mixture on a piece of parchment paper or waxed paper and roll it up tightly into a log. Place in the refrigerator to chill and harden for easy slicing.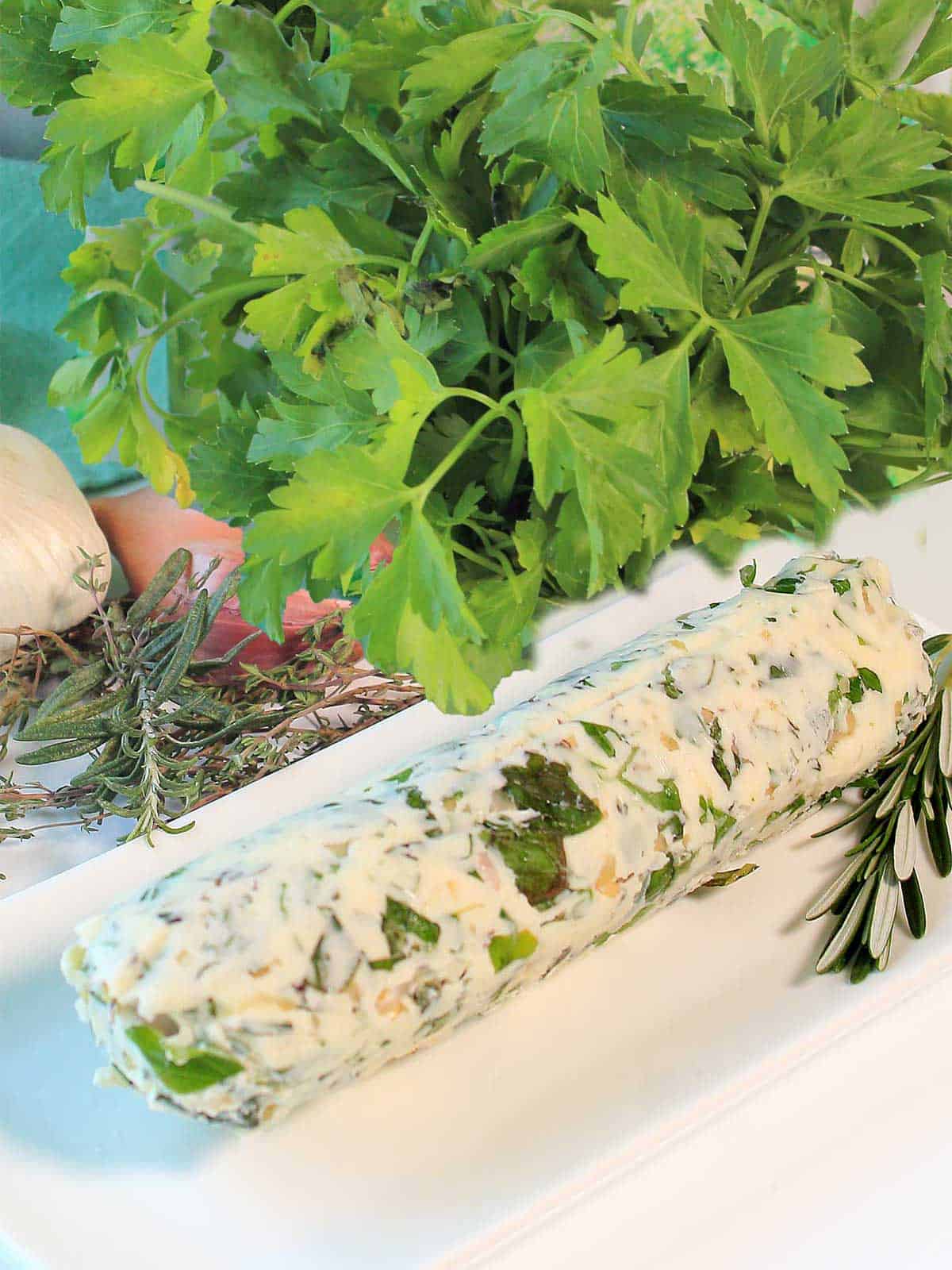 Chilled and ready to slice.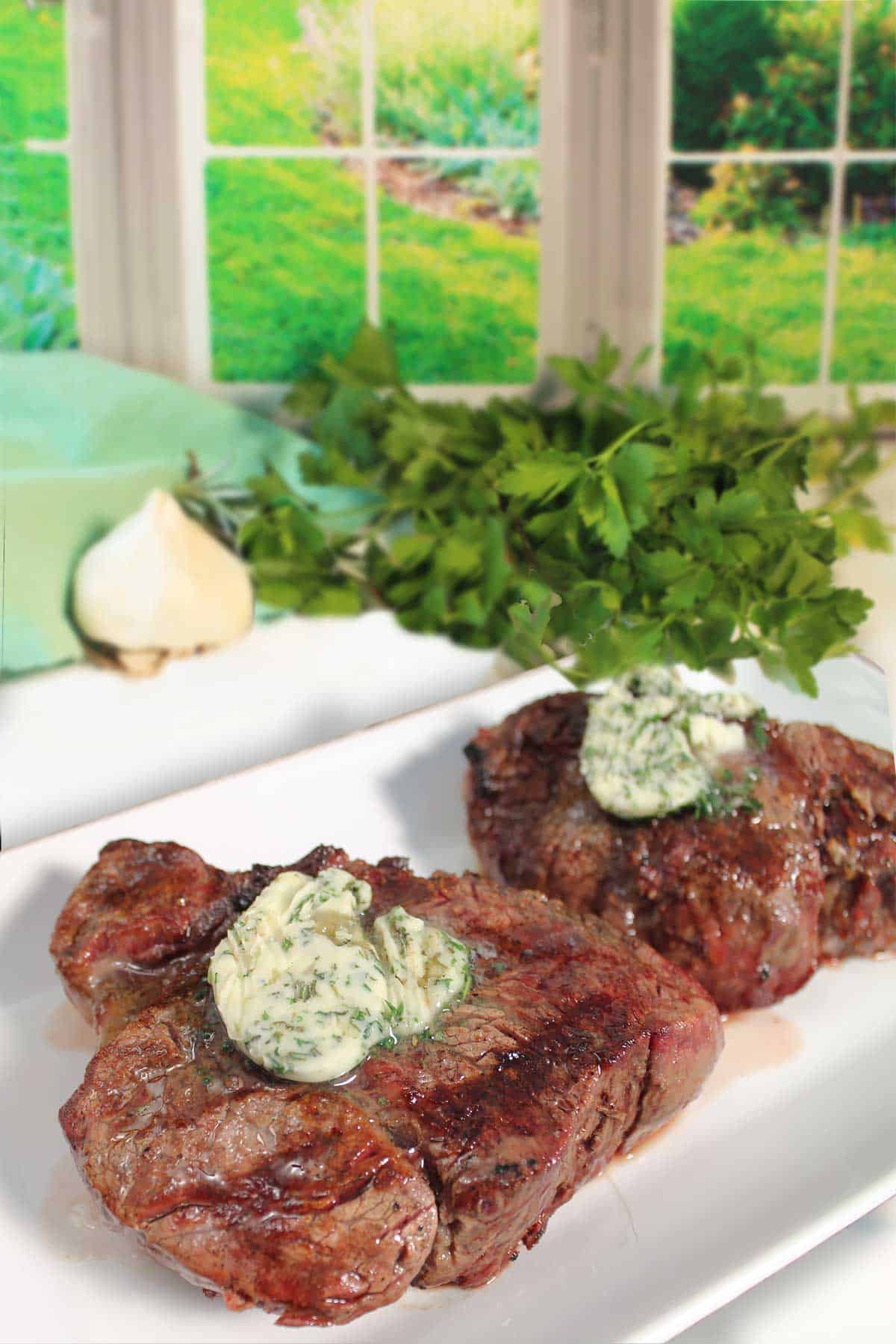 See easy! Now take a slice of your garlic herb compound butter and let it melt over that juicy steak. Perfection! But don't stop there! You can also use it as a spread on bread, drizzled over vegetables, or added to soups and stews for an extra boost of flavor. Enjoy!
Recipe Tips
Make sure the butter is softened at room temperature before using it for making compound butter.
Chop the herbs and garlic as finely as possible.
For whipped garlic herb butter, use an electric mixer to whip the butter until it is light and fluffy. Do not roll it into a log, instead place it in a small dish.
Use a spoon or rubber spatula to mix the garlic and herbs into the butter. Using your hands will cause the butter to melt.
Instead of rolling it into a log, you can place it into small sauce cups for individual servings. You can also put it in a small dish to use as a garlic and herb butter spread for bread.
Recipe Variations
Compound Butter with Dried Herbs - use half of the amount of each herb. You'll need to let the finished butter chill for an additional 24 hours before using it.
Roasted Garlic Compound Butter - roast the garlic for a more mellow flavor.
Black Garlic Compound Butter - use black garlic for a special rich flavor.
Lemon Garlic Herb Butter - add 1 teaspoon of lemon zest and a tablespoon of lemon juice.
Garlic Parmesan Compound Butter - add 2 to 3 tablespoons of grated parmesan cheese.
Not a fan of all the herbs? Leave out the ones you don't care for. Or make it with just a single herb. Popular ones are chive compound butter, dill compound butter, rosemary compound butter, and thyme compound butter.
Uses for Garlic Herb Butter
For Steak - it's great as a finishing butter melting on top of filet mignon, beef tenderloin, prime rib, ribeye steak, or any steak cut.
For Turkey - Spread it under the skin before roasting, frying, or smoking it.
For Salmon and Other Seafood - liven up seafood with fresh herbs and savory garlic.
Garlic and Herb Potatoes - Use it as a topping for baked potatoes or for roasting potatoes.
Garlic and Herb Pasta - Toss it with warm pasta or noodles.
Garlic Herb Butter Rice - Stir it into freshly prepared rice.
How to Store and Freeze
Store compound butter in an airtight container or put the wrapped log in a plastic storage bag. Keep it in the refrigerator for up to 2 weeks.
You can freeze compound butter for up to 6 months. Thaw it in the fridge overnight. Thawing it in the microwave is not recommended.
To freeze slices: place them on a baking sheet lined with parchment paper. Place the baking sheet in the freezer until the butter is frozen. Transfer the frozen compound butter slices to a freezer-safe container or plastic freezer bag.
To freeze cubes: place the butter in a silicone ice cube tray. Once the butter is frozen, remove the cubes and place them in a plastic freezer bag.
More Homemade Sauces
Find lots of easy sauce recipes right here on 2CM!
LOVE QUICK & EASY RECIPES? FOLLOW ME ON INSTAGRAM, FACEBOOK, & PINTEREST FOR ALL THE LATEST RECIPE INSPIRATION! PLUS JOIN MY EMAIL LIST AND RECEIVE A FREE E-BOOK.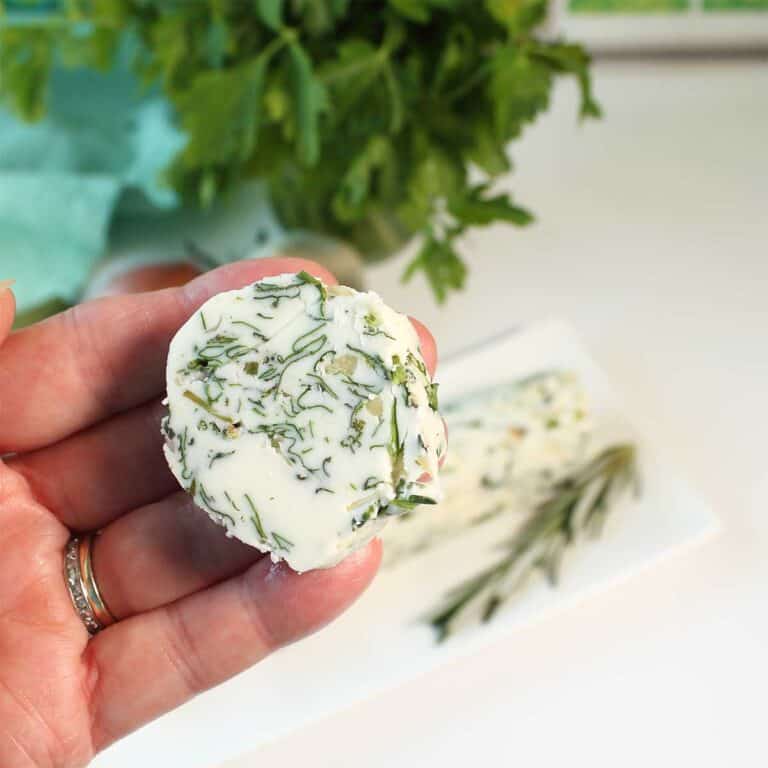 Garlic Compound Herb Butter
For a quick burst of flavor this rich and flavorful garlic herb compound butter is an easy way to take your steak, fish or vegetables to the next level.
Print
Rate
Ingredients
½

cup

butter

room temperature

1

Tablespoon

fresh parsley

finely chopped

1

Tablespoon

fresh basil

finely chopped

1 ½

teaspoons

fresh oregano

finely chopped

1 ½

teaspoons

fresh rosemary

finely chopped

1 ½

teaspoons

fresh thyme

finely chopped

½

teaspoon

fresh sage

finely chopped

1

teaspoon

minced garlic

½

teaspoon

minced shallot

Salt & pepper to taste
Instructions
In a medium bowl, combine softened butter with chopped herbs. Season to taste.

For the most flavor, place the butter on a piece of plastic wrap or waxed paper and form into a roll. Wrap tightly and place in refrigerator for at least 2 hours.

Remove from refrigerator when ready to use. Slice and top steaks, seafood, and vegetables.
Notes
STORE/FREEZE Store:  in an airtight container or a plastic storage bag. Keep it in the refrigerator for up to 2 weeks. Freeze: for up to 6 months. Thaw it in the fridge overnight. 
Nutrition
Calories:
104
kcal
|
Carbohydrates:
1
g
|
Protein:
0.2
g
|
Fat:
12
g
|
Saturated Fat:
7
g
|
Polyunsaturated Fat:
0.4
g
|
Monounsaturated Fat:
3
g
|
Trans Fat:
0.5
g
|
Cholesterol:
31
mg
|
Sodium:
92
mg
|
Potassium:
17
mg
|
Fiber:
0.3
g
|
Sugar:
0.04
g
|
Vitamin A:
435
IU
|
Vitamin C:
2
mg
|
Calcium:
13
mg
|
Iron:
0.3
mg