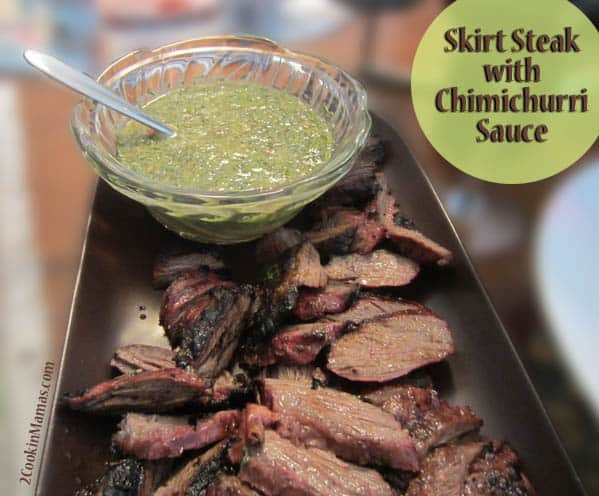 I remember a time when skirt steak was one of the cheapest cuts of beef you could buy but that was before the steak became popular for Mexican fajitas as well as this dish served with chimichurri sauce.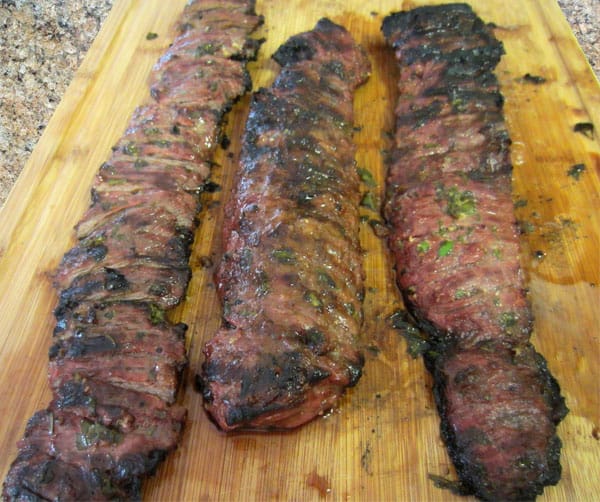 But I can't help buying this steak because it always comes out so tasty and grills up so fast. It is one of our family's favorite meals. The marinade used in this recipe makes the steak not only flavorful but tender and the grill gives it that smoky touch. You'll never want to fix this steak any other way! Oh, and it's gluten-free too!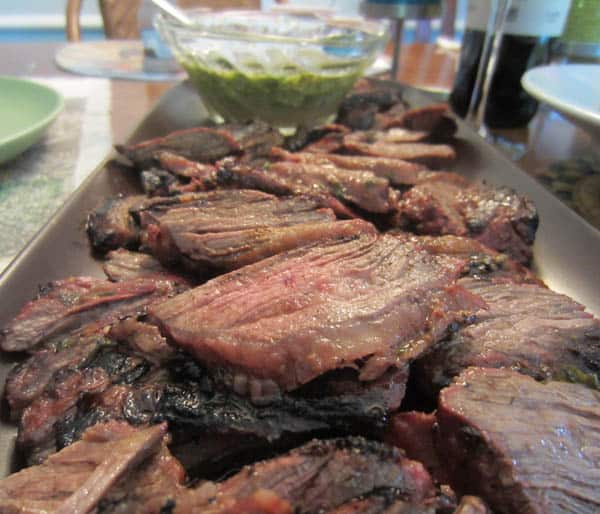 Start with an appetizer of homemade tortilla chips and your favorite salsa or this great homemade guacamole.
Hope you enjoy!
Skirt Steak with Chimichurri Sauce
Ingredients:
Marinade
1 cup light olive oil
⅔ cup sherry wine vinegar
2 Tablespoons lemon juice
1 cup parsley, chopped fine
4 Tablespoons fresh basil leaves, chopped fine
1 Tablespoon fresh oregano leaves, chopped fine
3 Tablespoons minced garlic
1 small shallot, chopped fine
¼ teaspoon black pepper
½ teaspoons salt
¼ teaspoon crushed red pepper
Steak
 2 lbs. skirt steak
½ teaspoon black pepper
1 teaspoon salt
Directions:
Mix all ingredients for marinade. Remove 1 cup of sauce to small bowl, cover with plastic wrap and set aside, keeping at room temperature. Pour remaining into resealable plastic bag.
Season steak with salt & pepper and place in bag with marinade. Seal bag and toss to coat. Marinate in refrigerator for 3-4 hours, turning occasionally.
Take steak our of refrigerator and let come to room temperature, about 30 minutes.
Preheat grill to high heat.
Remove steak from marinade, leaving on herbs that stick to meat, and discard marinade. Place steak on hot grill and cook for 4 minutes on each side for medium-rare, 6 minutes per side for medium.
Remove from grill to cutting board and let rest for 5 minutes prior to slicing. Slice across grain into 1-½″ strips. Serve with reserved chimichurri sauce on side.
Serves 4-6.
Wine Pairing: The bold flavors of this dish call for a bold red wine with rich acidity such as Macchia Mischievous Zinfandel. The jammy characteristics of a Malbec or Rioja would also pair quite nicely.
DON'T MISS A RECIPE!